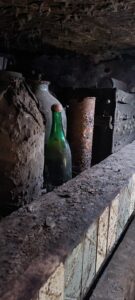 History
Moldova is an ancient winemaking country rich in unique traditions and discoveries. I'm sure when you think about wine, the first thing that comes into mind might not be Moldova, but the truth is, this country could literally be described as a sea of wine. The scale of Moldovan winemaking is so great that it is considered the biggest industry in the whole country and it has it has the highest number of vines per capita worldwide as well as some of the world's largest cellars. No wonder, when you speak to a Moldovan about wine, they will show you the most genuine pride you'll ever see.
The next step in history involves a prohibition era. On May 16, 1985, the Supreme Soviet of the USSR issued a Decree on measures to eradicate drunkenness and alcoholism and the production of homemade spirits, quickly followed by a by massive destruction of vineyards. Now, it's easier to understand why a country that has a bigger proportion of its land covered with vineyards than any other country. is not better known for its wines. It was only in 1991, after gaining its independence, that the Moldovan wine Industry was able to rebuild itself. Even then Russia remained the biggest export market and wines were made to favor the Russian palate, with sweeter wines mostly. Until another event hit the market. In March 2006, the Russian Federation imposed an embargo on the import of wines from the Republic of Moldova, valid for almost two years, which led to the loss of access of Moldovan winemakers to the Russian wine market, representing 80% of Moldovan alcoholic beverages.
The producers were forced to either look for other export markets or go Bankrupt, which many did. Devious work and investments were put into updating winemaking materials and learning more about the international market. While they may appear late to the game, Moldovan producers are incredibly dynamic and show know-how and passion. Their roots run deep and winemaking is still one of the priorities for the country. Probably even more now than ever. Today Moldovan counts 50 different export markets and a total of 338 wineries. The Republic of Moldova has an area of 112 thousand ha of vineyards, planted with over 50 technical grape varieties. Now, the country wine industry is working hard to sell its wares around the world, with a new generation of winemakers focusing on quality, not quantity. As well as the classic international grape varieties, Moldova is rightly proud of its indigenous varieties such as red grapes Feteasca Neagra and Rara Neagra, and the white variety Viorica.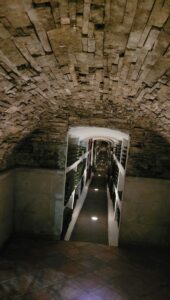 While on land you can see vines as far as the eye can see, perfectly straight-aligned, state-of-the-art winemaking facilities, gigantic steel tanks, and bottling lines that could make any small winemakers jealous, dare to step underground, and it's another world. The biggest estates in Moldova are the two state-owned Cricova and Milestii Mici. They both have impressive underground wine cellars. These are actually ancient stone quarries that were turned into "wine factories during the Soviet period, in the 1960s. These hundreds of kilometers of tunnels have won the title of the biggest wine collection in the world.
Visitors and tourists come in masses to visit these collections. You actually have to take a train to do the tour because it would be too long on foot and maybe a bit too creepy in the dark. While these are the bigger versions, all wineries have some sort of remnants of another time. At Asconi Winery, they have old bottles stored at the estate and no way of knowing exactly what they contain. Rare and unique relic of a different past such as handled-shaped bottles of 1994 mystery wines. Other special finds are hidden in the spectacular secret cellar of Castel Mimi, one of the most beautiful and modern estates.
in Moldova. When you go down underground, the secret cellar hides the oldest wine collection in the country, you can also fount centuries-old precious Rose Oil flasks that have been perfectly preserved. The beautiful stoned wine cellar was once covered in tiles, from the soviet era, communist decisions didn't always make sense and they needed the time to use these tiles so they did layers of it for nothing in the cellars. It took a lot of time and labor to find out these tiles were ruining the whole environment and aeration of the cellars and had to be taken all out. Often a harmony of incredible finds and rarities as well as the soviet residue of the past, underground Moldova is vast and rich in discoveries and exciting finds.