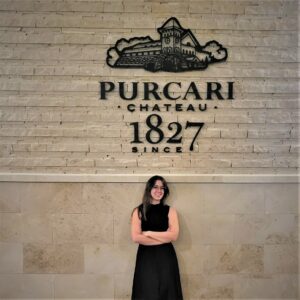 Purcari Winery is one of the oldest and most prestigious wine producers in Moldova, with a history that dates back to the 19th century. The winery is located in the Purcari village, in the southeastern part of the country, in a region that has been renowned for winemaking for centuries. Purcari Winery is famous for its high-quality wines, which are made from traditional grape varieties and aged in oak barrels. The winery's flagship wine is the Negru de Purcari, a red wine made from a blend of Cabernet Sauvignon, Merlot, and Rara Neagra grapes.
This wine is considered one of the best wines in Moldova, with a rich aroma of blackberries, spices, and vanilla, and a long, elegant finish. The Negru de Purcari has won numerous awards and accolades, including a gold medal at the Decanter World Wine Awards. It's a gem of a wine that not only succeed in showing the potential of the region in term of quality but also express Moldovan authenticity and style. In addition to the Negru de Purcari, Purcari Winery produces many other high-quality wines, including high-quality, traditional methods, elegant, and precise sparkling wines. All of the winery's wines are made from grapes grown in the Purcari vineyards, covering over 250 hectares. Purcari Winery is also renowned for its commitment to quality and innovation in winemaking.
The winery uses modern techniques to ensure the highest quality of its wines, while also preserving the traditional methods of winemaking that have been used in Moldova for centuries.