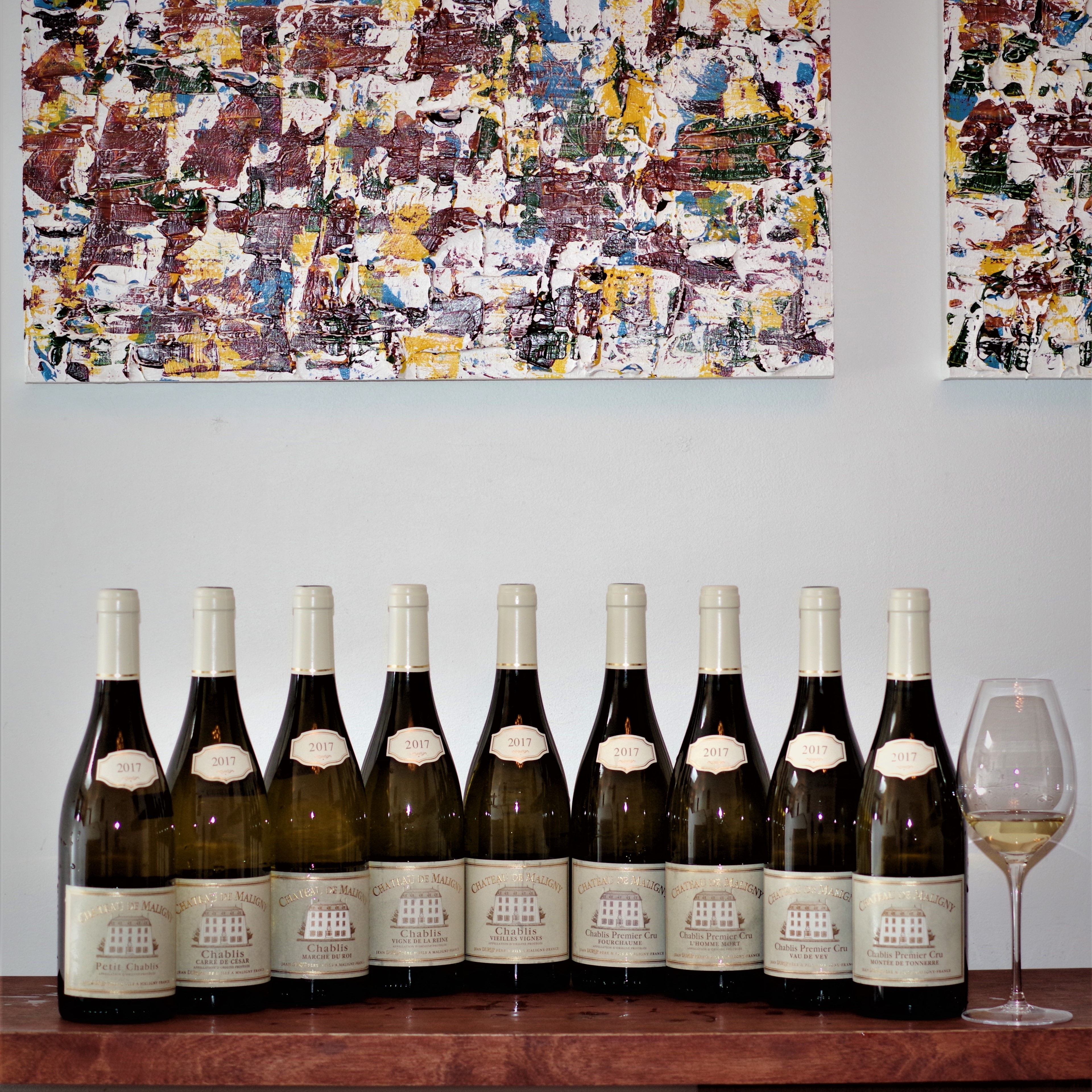 There are these kind of estates that hide a story so rich that it is impossible to tell it all. When every aspect of an estate is bound by a multitude of historical and geographical links. When every aspect of the terroir makes sense in the precise and distinct location, this is the ideal profile for creating great wines.
Château de Maligny is part of Chablis in the same way that Chablis is anchored in the Château de Maligny. It is from the power of this link, so distinctive, that it is possible to see the true face of Chablis. A fragmented Chablis with a unique terroir precision. Chablis is distinguished not only by its recognizable stylistic ability, but also by its subtle diversity. This isolated region, apparently apart, often pounded by frost and hail, varying from one vintage to the next and from one plot to another, is of a complexity that is not always given to it.
I was delighted to share this tasting with Mr. Jean Paul Durup, great winemaker and especially great speaker who has demonstrated us this endearing side of the appellation.
The Durup Family started back in 1560 but wasn't always situated in Maligny. Jean Paul's grandfather was originally from villy and was the first of his family to cross the Serein River and establish in Maligny with his grand-mother. At that time the vineyard was quite small and it wasn't until Durup Père started to take interest in the different parcels that the estate truly developed. He was called the vines fool as he was looking at the places that were impossible to work. The most abrupt slopes and arduous vineyards. The Maligny properties cover 170 hectares over the commune of Maligny and other parts of Chablis. It is now the largest estate in the appellation. The estate ferments and matures their wines in stainless steel without the use of wood to keep the historic & organoleptic Chablis identity.
The latest vintages in Chablis were catastrophic. 2015 was a close one, most producer were lucky enough to harvest before the hail, but others like Château de Maligny were hit only 3 days before their scheduled harvest. 2016 was strongly affected by frost and hail that destroyed a huge part of the yield. 2017 was as cold if not more, the frost came right when it shouldn't and buds couldn't keep up with it. On the other hand, 2018 is the light at the end of the tunnel, an immensely rich and textured vintage that is said to be magical & more than welcomed financially for the estates. After all, our world doesn't deserve a Chablis shortage, ever. The tough alone is dreadful. There's always protection options like sprinklers or 'Bougies' that you light up between the vines, but as Mr. Durup says : "We don't worry about the protected parcels, but the ones that aren't." Chablis is a delicate matter.
Château de maligny, Petit Chablis, 2017
Château de Maligny Petit Chablis is unusual in style and in provenance. The very ripe fruit character it showcase comes from parcels that are close to or alongside some Premier cru and Grand cru vineyards. One spécifique parcel is identical to Blanchot in terms of soil and exposition. Another in Maligny has an outstanding pinpoint south orientation. This makes an aromatic wine with this rather tasty stony flavor. Petit Chablis is often taken as pejorative, but it should be synonymous of affective & easy peasy. The role of the Petit Chablis is just for fun.
Château de maligny, La vigne de la reine, 2017
This plot is located in a very narrow valley (also called Mignotte valley) in which a particular micro-climate prevails. The sun's rays hit the poor stony ground of the valley, which stores this heat to restore it to the bunches. This Chablis is floral and mineral altogether with a pure vibrancy and rich flavors. Flexible & elegant.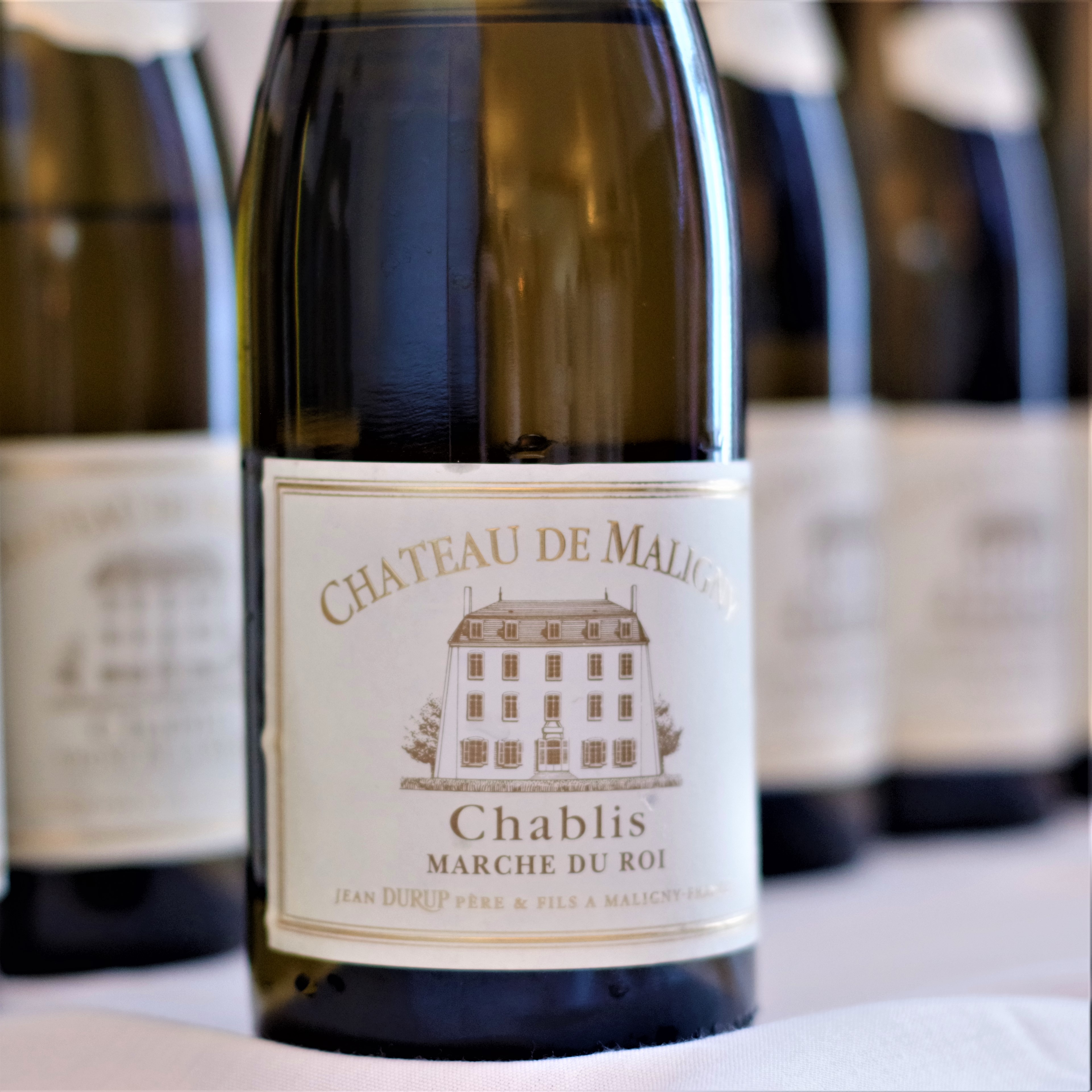 Château de maligny, Marche du Roi, 2017
La Marche du Roi is a historic site located between the Premiers Crus Montée de Tonerre and Mont de Milieu. Formerly, this coast was the border of the Kingdom of France vis-a-vis the Duchy of Burgundy from where the name which was given to him The March of the King. The 45% slope and poor soils gives it richness & precision. The fruitiness is cross-grained, textured and stressed. The wine is quite balanced etween the overwhelming minerality, acidity and tart green almonds feeling.
Château de maligny, Carré de césar, 2017
Carré de césar is the most typical and intense in terms of minerality with distinctive gun-flint. Situated close to La vigne de la reine but with a slope that is softer, these are the closest vines to the estate with a thigh style and a narrative frame on citrus fruits. This is schoolbook Chablis, a representative expression.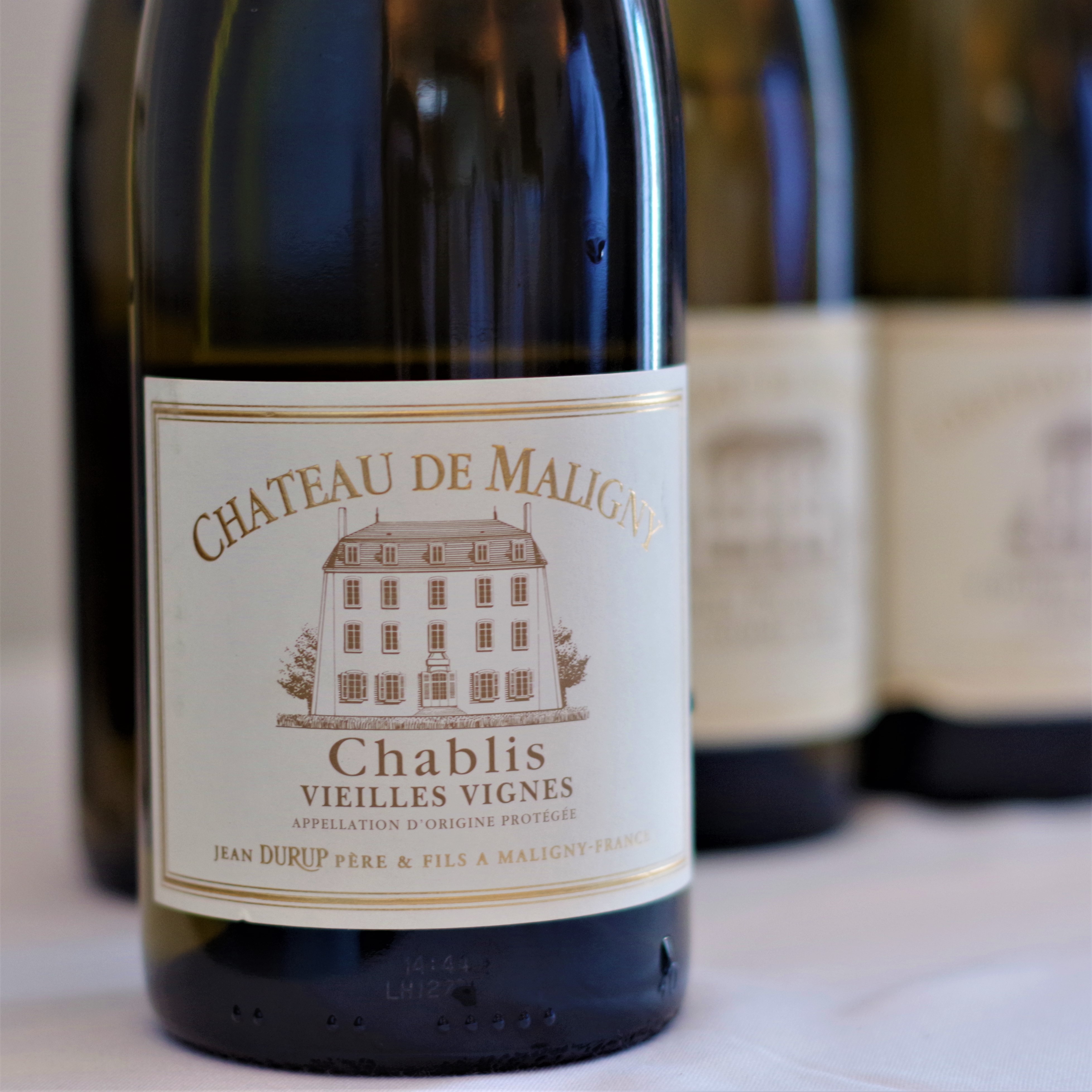 Château de maligny, Vieilles Vignes, 2017
By old vines, they mean true old vines planted back in 1905 (one of the two oldest in Chablis), 1926 & 1943. They had older vines from 1895 before, but the disastrous frost of 1985 made them crack with no hope of salvation along with a good amount of the vineyards as well. It's a generous wine, fleshy with ripe exotic fruits and an intense aromatic aspect. The honeyed and rich palate is lifted up by freshness & finesse. It's unique in its concentrated demonstration.
Château de maligny, Chablis Premier cru Fourchaume, 2017
Fourchaume is probably the most prestigious and recognized premier cru especially because it's the largest in scale. The vines destined for it are located in Lieux-dits such as l'Ardillier, La Grande Côte, Bois Séguin and l'Homme Mort. It's absolutely delicate & Floral as we would expect for a Fourchaume. It's soft & lighthearted. All the taste comes from the vibrant, pithy acidity and the straightforward structure.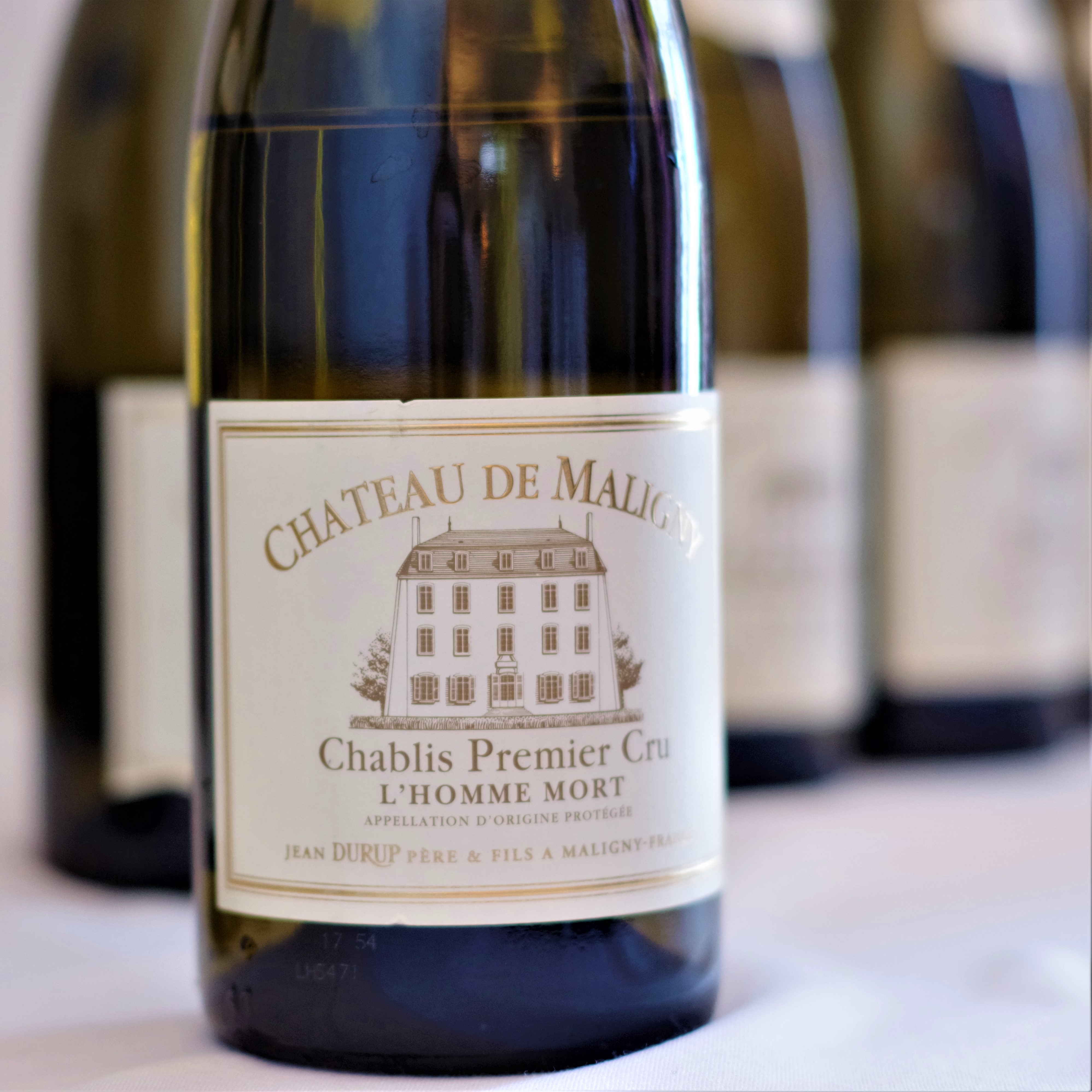 Château de maligny, Chablis premier cru L'Homme Mort, 2017
The Chablis Premier Cru L'homme Mort is one of the eight Lieux-dits that make up the Fourchaume climate. Just to complicate things, within the 17 Premier cru considered "flagship Premier Cru" there are 23 other Lieux-dits or climats that you can find on labels. L'homme Mort is one of them. This wine showcase added intensity and added wet rock characteristic compared to the other Fourchaume. It has the distinguished Chablisienne intensity & power with a nervous backbone.
Château de maligny, Chablis Premier Cru Vau de Vey, 2017
Vau de Vey is definitely not the most famous, but still deserves attention. It was extremely prestigious pre-phylloxera but was then left to abandon because it's arduous slope. It has a citrus fruit-forward approach. I'd say it's the only climat which is as much about grapefruit. The palate has a frivolous acidity, almost untamed but extremely pleasing. It is tasty, with finesse and meekness, tightly textured with and edgy finish.
Château de maligny, Chablis premier cru Montée de Tonerre, 2017
The only flaw of Montée de Tonerre from Mr. Durup point of view is that they only have 2 ha. It's the only cru that can bring this unique iodine character to Chablis. It's an intense and dramatic expression with a direct, masculine palate and an imposing mouthfeel. We have the sour citrus fruit, we have the wet stone character but with an outspoken style.