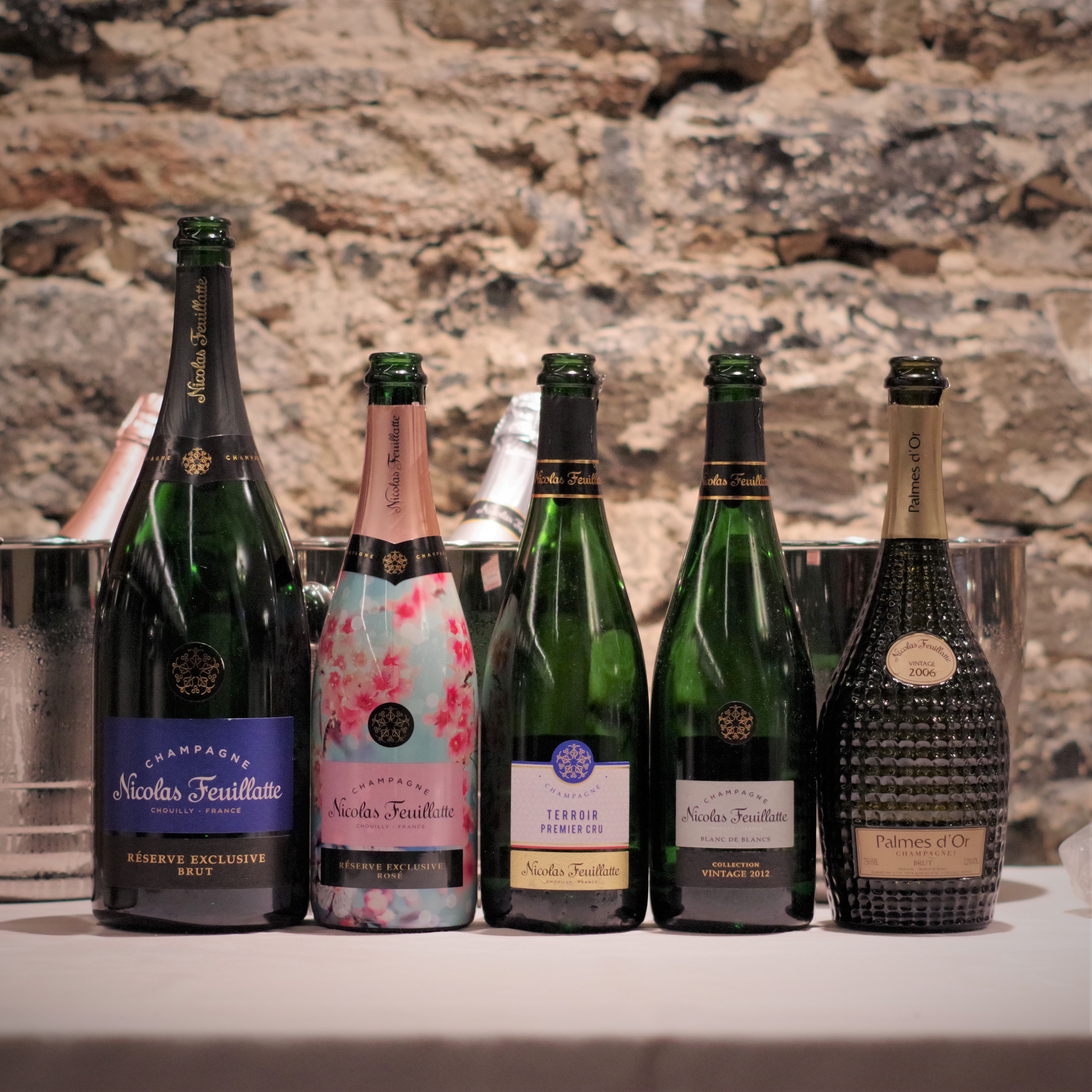 As the number one sold Champagne in France, third in the world, no wonder you know exactly what I'm talking about. The iconic blue labeled champagne that you've probably tried at least once before. What you may not know is that this champagne house is the ultimate cooperative success story. Champagne Nicolas Feuillatte, or should I say the CV-CNF (Centre vinicole – Champagne Nicolas Feuillatte) is the oldest and biggest cooperative in Champagne producing over 19 million bottles a year. It is said that one in every three grape growers provides for Feuillatte, that's about 4500 adhering winemakers and access to more than 2,250 hectares of all aspects of the unique Champagne vineyard. This is huge.
The very brand was started out of audacity and ambition, when Nicolas Feuillatte, a wealthy Parisian coffee importer, and Henri Macquart,founder of the centre vinicole de la Champagne after the excessive grape harvest of 1970, joined forces. For Feuillatte, his adventure had started with his brother in Ardre Valley near Reims, to create their own brand in order to please and spoil their personal friends. They rapidly understood that their friends' thirst was not so easily quenchable. Things have grown ever since. After he passed away in 2014, the brand was producing as much as 200 000 bottles.
The newest cuvée, Terroir Premier Cru has been announced recently at Prowein. Destined only to international markets, including Canada, is sourced from Premier Crus only, and is said to be the ultimate demonstration of the infinite palette of vineyards at the houses disposal.
Champagne Nicolas Feuillatte – Reserve Exclusive Brut
This Champagne represents 80% of the production. It's the most recognized and the most typical also. It's simple and drinkable, yet with an advanced maturity in terms of aromas, lemon confit and yellow apples. The first sip has a strong and wild onset, but afterwards, the acidity takes over and balance is found.
Champagne Nicolas Feuillatte РRos̩ Sakura Reserve Exclusive
Sakura is the Japanese word given to Japanese cherry trees and their flowers. Their flowering is called Hanami and marks the beginning of Spring, while offering absolutely superb landscapes. This limited edition will be available at the start of May, hopefully with some spring weather too. This Champagne, Â composed of 10% chardonnay, for elegance and finesse, 45% pinot noir for the structure and 45% Meunier for the fruitiness and suppleness.
A very dark and dense pink, this crispy rosé is based on a structured and controlled bitterness with a dark fruitiness of ripe wild berries and cranberries. It's a solid and firm rosé with a very lively and tasteful style.
Champagne Nicolas Feuillatte – Blanc de Blancs 2012
This Blanc de Blancs is so fresh and elegant, cloudy and aerial, especially compared to 2008 that was marked by more development. The overall feel is pure delicacy with light aromatic aspects, a lovely tension and heavy cracker saltiness. The finale ends on a nutty note, but still as vivid and pure as the very start.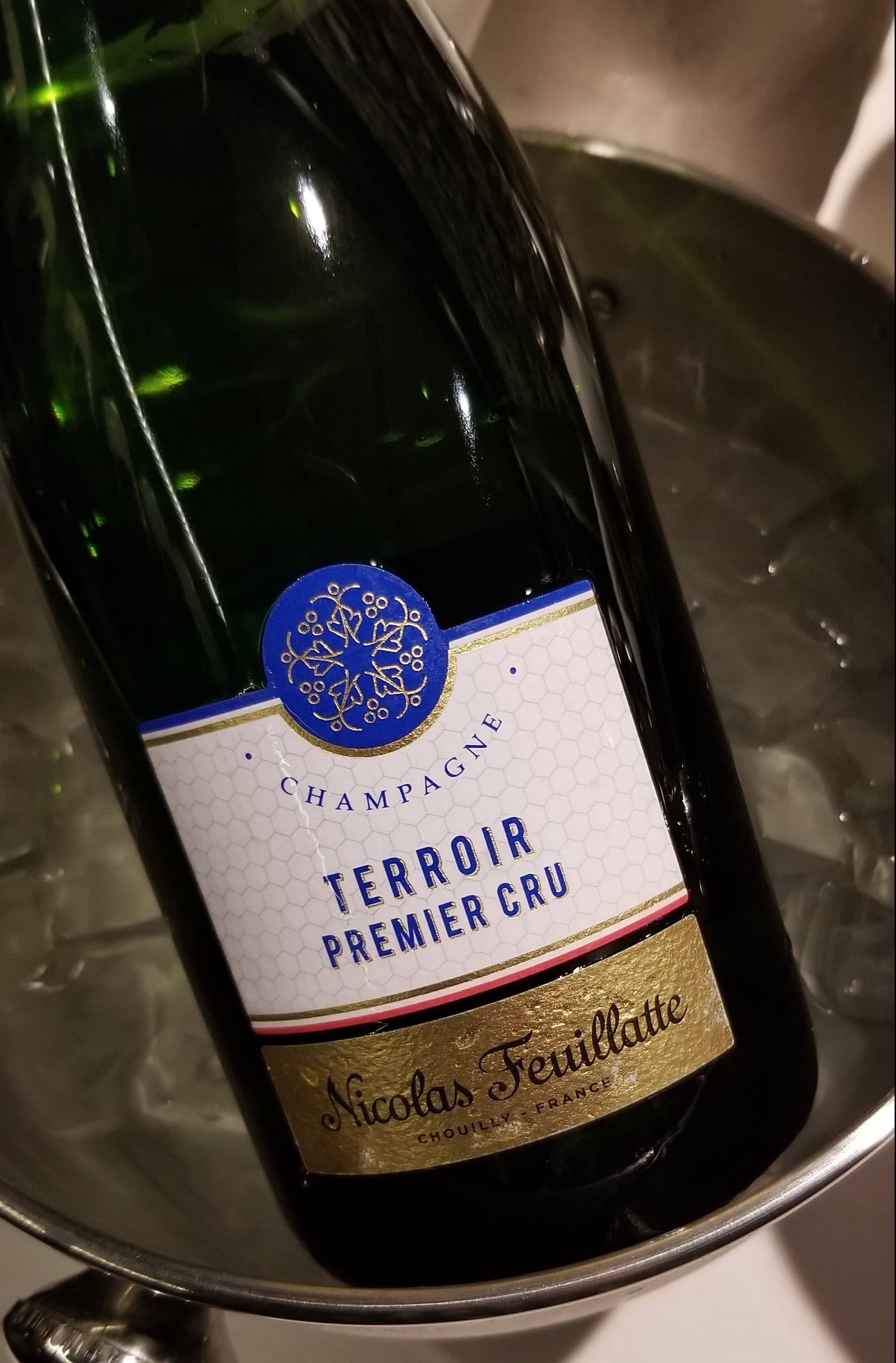 Champagne Nicolas Feuillatte – Terroir Premier Cru
This new exclusive Cuvée is made from exclusively premier Cru grapes from every part of Champagne, every style and distinctive character. Guillaume Roffiaen, chief Winemaker, presented it as adaptable. He even called it the fearless cuvée, because they tested it with unbelievable pairings and it would always work. The slight and sweet spices on the nose brings some sort of unity yet with a classy style. On the palate, it's a mix of the cuddle of Meunier, a duality of delicate and robust Pinot Noirs and the framing elegance of Chardonnay. The structure is pure minerality and tension with a rounding texture.
Champagne Nicolas Feuillatte – Palme d'Or 2006
Sourced only from Grand Cru vineyards, the Palme d'Or was meant to bring a maximum of intensity. In a search of aromatic richness and the limestone edge, Nicolas Feuillatte makes Champagne of strong and bold character. There's a maturity, a vinous aspect, a strong bitterness similar to what you find in ground cherries as well as hints of yogurt and extent in every aspect.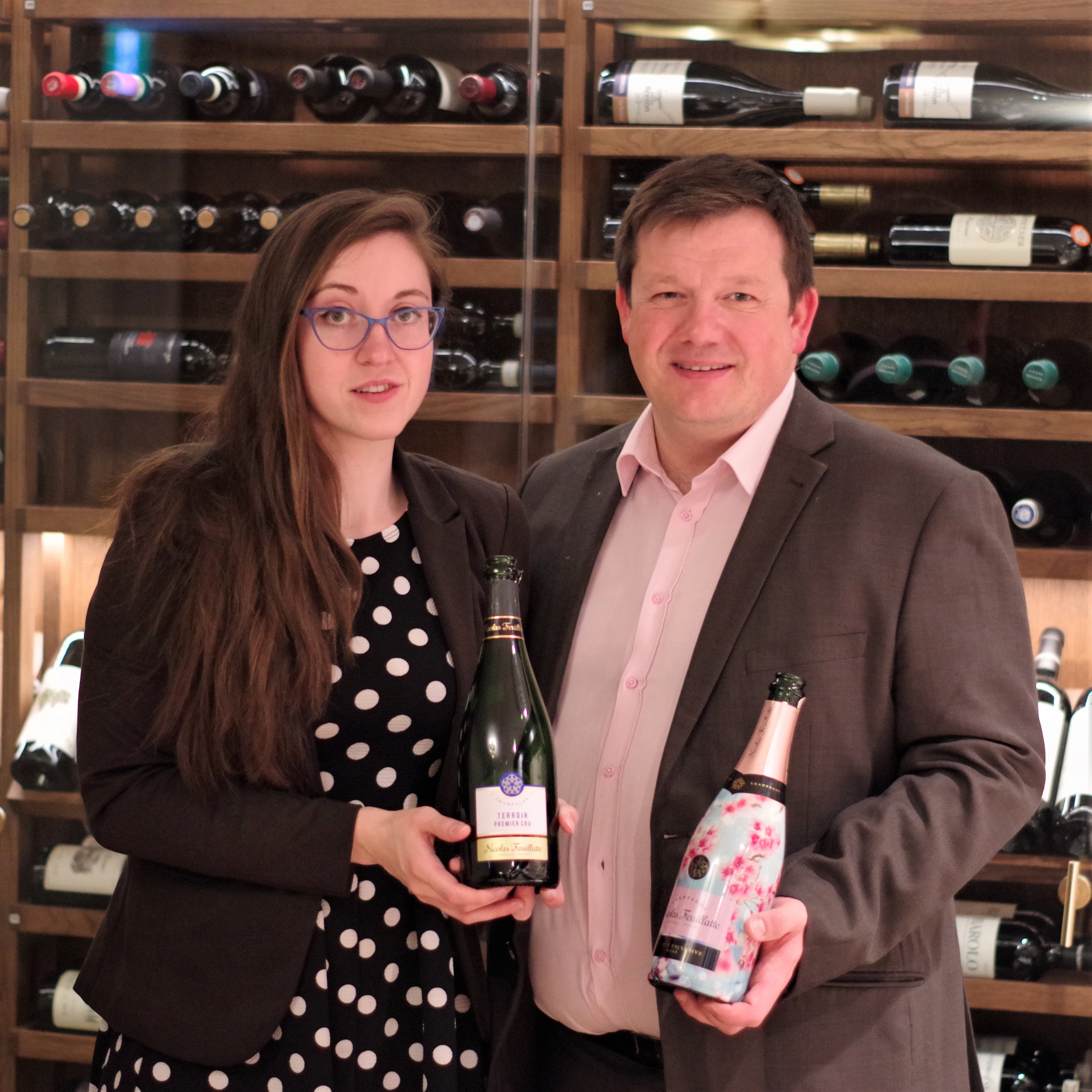 Nicolas Feuillatte nous a préparé une toute nouvelle cuvée : Terroir Premier cru, et même une cuvée limitée.
En tant que Champagne le plus vendu en France, le troisième au monde, il n'est pas étonnant que vous sachiez exactement de quoi je parle. Le champagne emblématique de couleur bleue que vous avez probablement déjà  essayé au moins une fois. Ce que vous ignorez peut-être, c'est que cette maison de champagne est l'histoire ultime d'un succès coopératif. Champagne Nicolas Feuillatte, ou devrais-je dire le CV-CNF (Centre vinicole – Champagne Nicolas Feuillatte) est la plus ancienne et la plus grande coopérative de Champagne produisant plus de 19 millions de bouteilles par an. Il est dit qu'un viticulteur sur trois fournit Feuillatte, ce qui représente environ 4 500 viticulteurs et donne accès à  plus de 2 250 hectares de tous les aspects de l'unique vignoble Champenois. C'est énorme.
La marque a été créée par audace et ambition lorsque Nicolas Feuillatte, un riche importateur de café parisien, et Henri Macquart, fondateur du centre vinicole de la Champagne après les vendanges excessives de 1970 se sont unis. Pour Feuillatte, son aventure avait commencé avec son frère à  Ardre près de Reims, pour créer leur propre marque afin de faire plaisir et gâter leurs amis personnels. Ils ont rapidement compris que la soif de leurs amis n'était pas aussi facile à  assouvir. Les choses ont grandi depuis. Après son décès en 2014, la marque produisait jusqu'à  200 000 bouteilles.
La nouvelle cuvée, Terroir Premier Cru, a été annoncée récemment à Prowein. Destinés uniquement aux marchés internationaux, y compris au Canada, la provenance est uniquement sur Premier Crus et il devra  être la démonstration ultime de la palette infinie de vignobles à la disposition de la maison.
 
Champagne Nicolas Feuillatte – Reserve Exclusive Brut
Ce champagne représente 80% de la production. C'est le plus reconnu et le plus typique aussi. C'est simple et buvable, mais avec une maturité avancée en termes d'arômes, de citron confit et de pomme jaune. La première gorgée a un début fort et sauvage, mais ensuite, l'acidité prend le dessus et l'équilibre est trouvé.

Champagne Nicolas Feuillatte РRos̩ Sakura Reserve Exclusive
Sakura est le mot japonais donné aux cerisiers japonais et à  leurs fleurs. Leur floraison s'appelle Hanami et marque le début du printemps, tout en offrant des paysages absolument superbes. Cette édition limitée sera disponible au début du mois de mai, avec une météo printanière espérons-le. Ce Champagne, composé à  10% de chardonnay, pour l'élégance et la finesse, à  45% de pinot noir pour la structure et à  45% de Meunier pour le fruité et la souplesse.
Un rose très foncé et dense, ce rosé croustillant repose sur une amertume structurée et contrôlée avec un fruité sombre de baies sauvages et de canneberges mûres. C'est un rosé solide et ferme avec un style très vif et de bon goût.
Champagne Nicolas Feuillatte – Blanc de Blancs 2012
Ce Blanc de Blancs est si frais et élégant, nuageux et aérien, en particulier par rapport à 2008 qui fut marqué par plus de développement. La sensation générale est pure délicatesse avec des aspects aromatiques légers, une belle tension et un gros salé. La finale se termine sur une note de noisette, mais toujours aussi vive et pure qu'au tout début.
Champagne Nicolas Feuillatte – Premier Cru Terroir
Cette nouvelle cuvée exclusive est élaborée exclusivement à  partir de raisins de premier choix issus de toutes les parties de la Champagne, de tous les styles et de tous les caractères. Guillaume Roffiaen, chef vinificateur, l'a présenté comme adaptable. Il l'a même appelée la cuvée « même pas peur », car ils l'ont testée avec des accords tous plus  incroyables que les autres avec toujours de belles surprises. Les épices légères et douces sur le nez apporte une sorte d'unité mais avec un style élégant. En bouche, c'est un mélange de caresse de Meunier, d'une dualité de Pinot Noirs délicats et robustes et de l'élégance cadrant du Chardonnay. La structure est pure minéralité et tension avec une texture arrondie.
Champagne Nicolas Feuillatte – Palme d'Or 2006
Provenant uniquement de vignobles Grand Cru, la Palme d'Or était censée apporter un maximum d'intensité. À la recherche de la richesse aromatique et du côté calcaire, Nicolas Feuillatte fait de ce Champagne un caractère fort et audacieux. Il y a une maturité, un aspect vineux, une forte amertume semblable à ce que vous trouvez dans les cerises de terre, ainsi que des notes de yogourt et de l'ampleur dans tous les aspects.