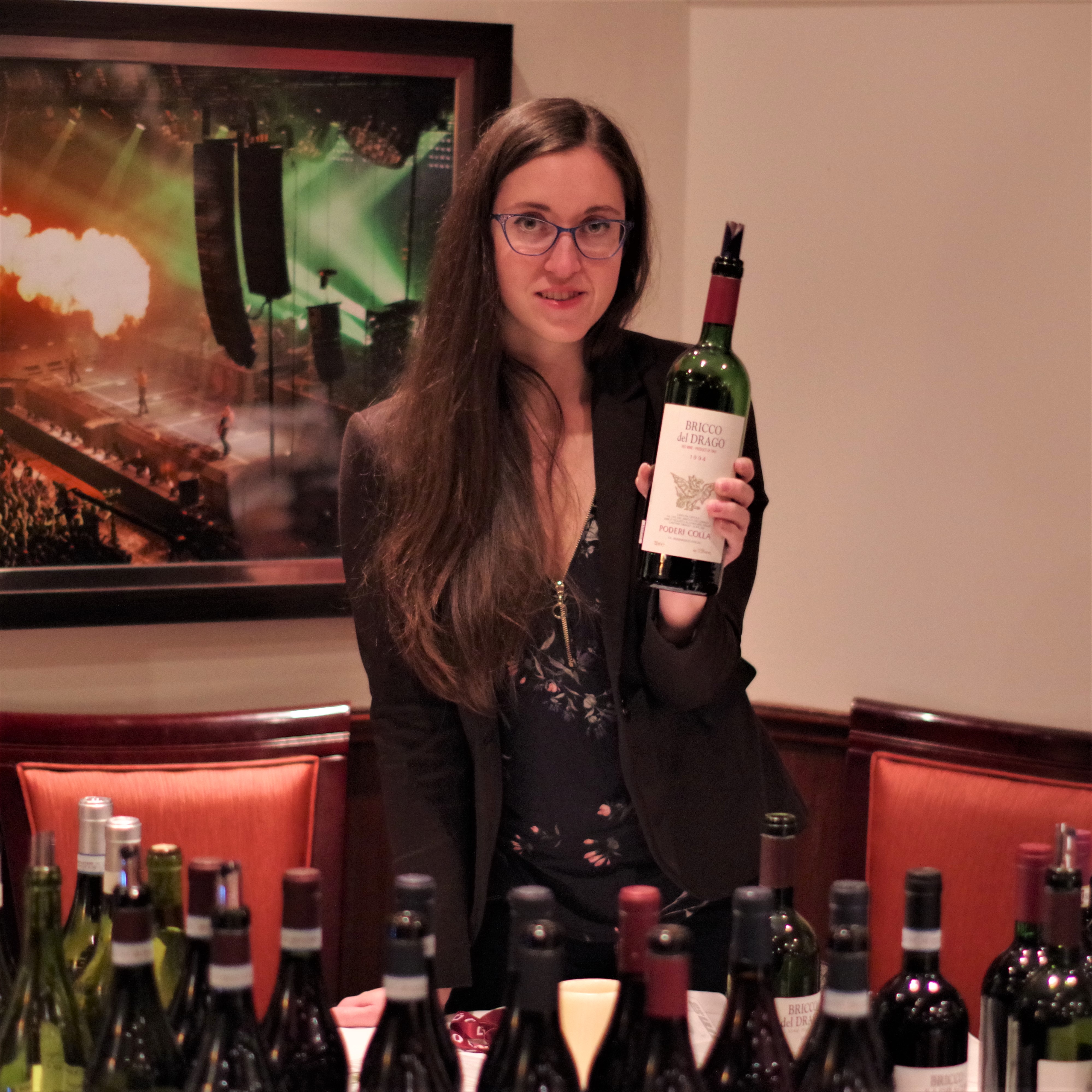 I had the chance to meet Tino Colla of Poderi colla the historic producer in Piedmont. They've been a winemaking family since the 18th century but the estate was founded in 1994 by this man, brother of the famous Beppe Colla. Beppe Colla is one of the great names of Piedmont wine, making the reputation of Prunotto before it was sold to Antinori by using his remarkable knowledge of where the best grapes were grown. He was one of the most important names in Piedmont as he helped established different appellations like Alba DOC for example. He was also the first to produce single cru bottlings. Obviously, this is a family that has been closely linked with not only the history of Piedmont, but the very development of it.
The estate is based on only four specific and specially chosen vineyards: Cascine Drago in San Rocco Seno d'Elvio in Alba, Tenuta Roncaglia in Barbaresco and Dardi Le Rose in Bussia from Monforte d'Alba and the recently acquired Bricco Bompè in Madonna di Como, Alba, all with rich distinctiveness. Generally speaking, what was astonishing from the wines was the precision, freshness, and liveliness in all of them. The goal of the estate is a humble one, they are building wines that must show finesse, balance, age potential but without any weight and with an expression as natural as possible. It might seem simple, but it's in this kind of control and restraint that we can see true mastery and know-how.
Pietro Colla Blanc de Noirs Extra Brut 2015
The first traditional method sparkling made in Piedmont was called Duca D'Allba and not a lot of people knew the recipe. Tino's Grand-father, Pietro Colla was one of the few producers who dedicated his life to the production of Spumante and that had the know-how to produce millions of bottles by himself. Remember at the time it was all manual disgorgement ( à la Volée). The Blanc de Noirs is in memory of this great man, a blend of Pinot noir with a small percentage of Nebbiolo. It's a sparkling filled with freshness and astringent acidity. It shows great autolytic complexity yet with a vinous taste representative of its varietals.
Langhe Riesling 2016
It's very rare to find Riesling in piedmont, but the family wanted a production of white wine, that wasn't Moscato, so they planted a few Riesling vines. The vineyard, planted n 1985 was the very first in Piedmont. The result is a very straightforward and precise wine yet with an outstanding, almost overwhelming texture.
Langhe Riesling 2010
We find the same texture yet in a developed and integrated way. This is a wine that could age another decade easily. It has barely changed so far.
Langhe Riesling 1994
This was the first vintage ever of this odd vineyard and it wasn't  an easy one. Yet, the wines still holds itself pretty well. It's cloudy and fading both in color and in aromas but the acidity is still strong. For a 24 years old wine, that wasn't expected to age much, it has more appeal then it should.
💙Dolcetto D'alba 2016, Pian Balbo
This Dolcetto is of such a vibrant and shiny color with delicate aromas of freshly picked flowers, cherries and prunes. It's a simple wine as expected of a Dolcetto but really pleasant. It's a sweetheart. With a price point ridiculously low this rooster label is a must try.
💙Pinot Nero 2015, Campo Romano
The campo romano is an extremely delicate wine, soft like the finest silk. It has the softness and gorgeously slightly tinted color of Pinot Noir yet with typical italien aromas of fresh cherries, olives and slight mushrooms.
Barbera d'Alba 2015, Costa Bruna
Costa Bruna shows a great intensity with a great and tasteful fruit character. This Barbera is planted on a Barbaresco Vineyard. The expression of the Barbera on this parcel was so proper and interesting that the estate decided to keep it that way, instead of replanting in Nebbiolo.
💙Barbera d'Alba 2005, Costa Bruna
Again, 2005 was not supposed to be a great vintage. Hopes were not very high as to the development of this wine, but as the saying goes: " You can see the real know-how of a winemaker in bad vintages". The 2005 is still lively and fresh with a fruit character that is very mature and integrated. A delicious wine with  a hint of smokiness and an outstanding balance.
Barbera d'Alba 1995, Costa Bruna
The smokiness gets pronounced in the vintage. The aromas are particuliary savory and we've completely lost the fruitiness of the Barbera. It would be impossible to guess the origin of this wine especially since Barbera has a young image problem.
Nebbiolo d'Alba 2015
First impression on this nebbiolo was quite closed. I had odd metallic aromas joined by rose petals and a salinity. A touch of spice would appear on the finale but overall the wine was short and shy.
Nebbiolo d'Alba 2009
All bet is on the structure in this wine. The aromas and flavors are extremely delicate but the drying tannins are completely overwhelming.
💙Langhe, Bricco del Drago 2010
Located right next to Barbaresco, Bricco del drago is the historic estate of the Family. It's a blend that has surprised many, 85% Dolcetto with 15% Nebbiolo. The wine is firm and structured, more than you'd expect from a Dolcetto. It shows so much potential for ageing and to develop and interesting elegance.
💙Langhe, Bricco del Drago 2004
Such an intense wine, with a burst of fruit and structure that is extremely pleasant. It's screaming langhe loud and clear!
💙Langhe, Bricco del Drago 1994
Quite developed on olives aromas but the way the structure fades to let dried fruits flavors shine is very interesting. It also helps the wine get an added length.
💙Barbaresco 2012, Tenute Roncaglie
This is basically lace on the palate. Extremely dry and texture but in such a sophisticated way and with such a globally elevated intensity. I understand that a lot of consumers are struggling to like Barbaresco wines, it's not the most pleasant and thirst quenching of wine, but when you find such a detailed expression like this one, it's satisfying on a whole other level.
Barbaresco 1998, Tenute Roncaglie
Still extremely intense and structured. However, the tannins are way more drying strangely. It doesn't have the intricate palate the the 2012 had because of this drying effect.
Barolo 2006, Bussia
This Barolo is very firm, not to be enjoyed already. It does show great potential with intricate aromas of dried flowers, tar and licorice. The power in this wine is overwhelming for now.
💙Barolo 1996, Bussia
When you tone down the power with a good 22 years of ageing, this Barolo shows such a complexity. You can't imagine the amount and intensity of aromas you get in this wine from tar and game, to spices and dark brewed coffee. Patience is a virtue and it's definitely an assets for this Barolo.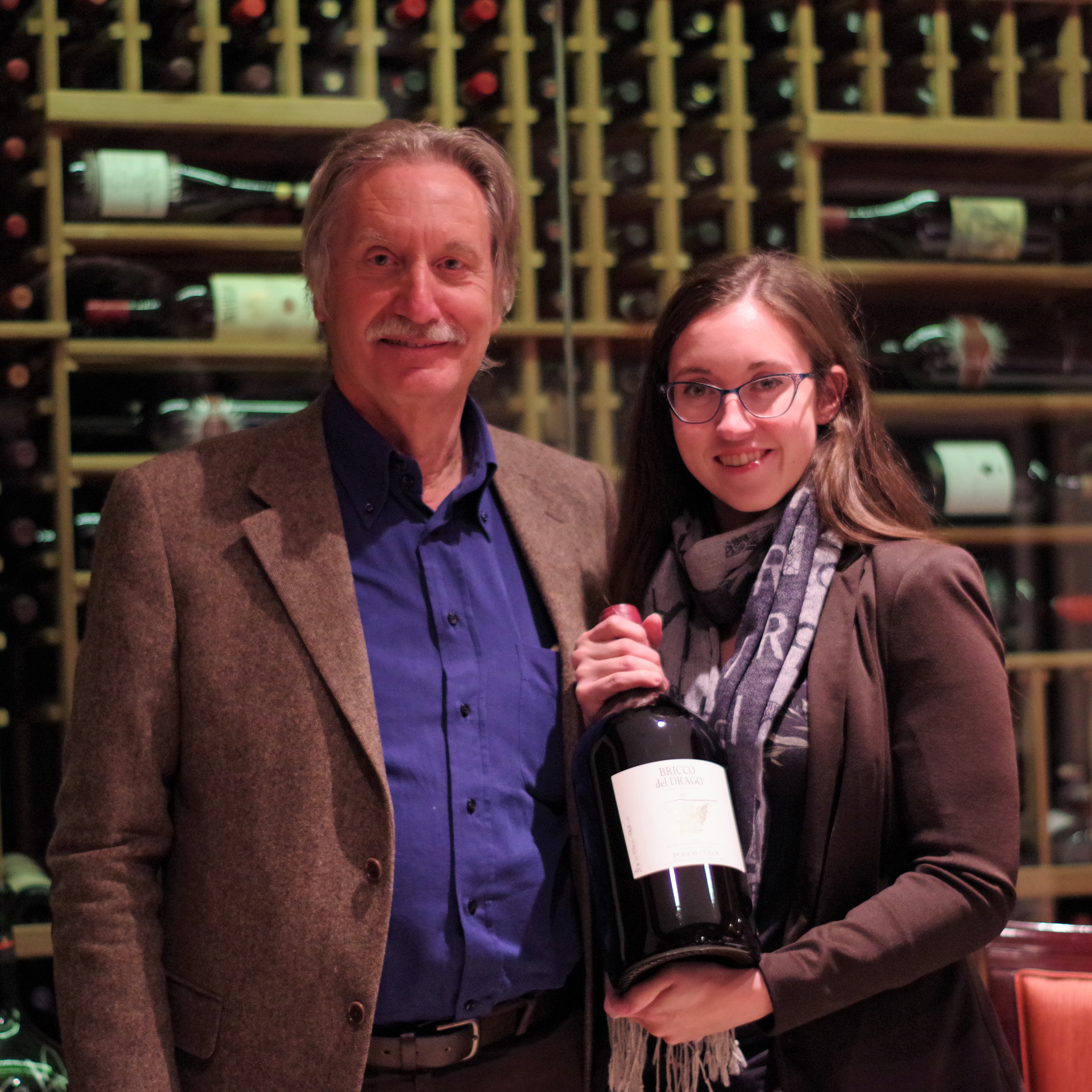 J'ai eu la chance de rencontrer Tino Colla de Poderi colla, producteur historique du Piémont. Cette famille viticole est instaurée depuis le XVIIIe siècle, mais le domaine a été fondé en 1994 par cet homme, frère du célèbre Beppe Colla. Beppe Colla est l'un des grands noms du vin piémontais. Il a fait la réputation de Prunotto avant sa vente à  Antinori, grâce à  sa connaissance remarquable des endroits où les meilleurs raisins ont été cultivés. Il était l'un des noms les plus importants du Piémont puisqu'il a contribué à  la création de différentes appellations, comme Alba DOC, par exemple. Il a également été le premier à  produire des bouteilles d'une parcelle sécifique. De toute évidence, il s'agit d'une famille étroitement liée à  l'histoire du Piémont, mais aussi à  son développement même.
Le domaine est basé sur quatre vignobles spécifiques et spécialement choisis: Cascine Drago à  San Rocco Seno d'Elvio à  Alba, Tenuta Roncaglia à  Barbaresco et Dardi Le Rose à  Bussia de Monforte d'Alba et le récemment acquis Bricco Bompè à  Madonna di Como , Alba, toutes avec un caractère distinctif riche. D'une manière générale, ce qui étonne chez les vins, c'est leur précision, leur fraîcheur et leur vivacité. L'objectif du domaine est humble: il élabore des vins qui doivent faire preuve de finesse, d'équilibre, avec du potentiel de vieillissement, mais sans aucun poids et avec une expression aussi naturelle que possible. Cela peut sembler simple, mais c'est dans ce genre de contrôle et de retenue que nous pouvons voir la vraie maîtrise et le savoir-faire.
Pietro Colla Blanc de Noirs Extra Brut 2015
Le premier vin pétillant de méthode traditionnelle fabriqué dans le Piémont s'appelait Duca D'Allba et peu de gens connaissaient la recette. Pietro Colla, le grand-père de Tino, était l'un des rares producteurs à avoir consacré sa vie à la production de Spumante et possédait le savoir-faire pour produire lui-même des millions de bouteilles. Rappelez-vous qu'à l'époque, tout était à dégorgement manuel (à la volée). Le Blanc de Noirs est à la mémoire de ce grand homme, un assemblage de Pinot noir avec un faible pourcentage de Nebbiolo. C'est un pétillant rempli de fraîcheur et d'acidité astringente. Il présente une grande complexité autolytique et un goût vineux représentatif de ses cépages.
Langhe Riesling 2016
Il est très rare de trouver du Riesling dans le piémont, mais la famille souhaitait une production de vin blanc, qui n'était pas du Moscato. Ils ont donc planté quelques vignes de Riesling. Le vignoble, planté en 1985, était le premier du Piémont. Le résultat est un vin très simple et précis, mais avec une texture exceptionnelle, presque écrasante.
Langhe Riesling 2010
Nous retrouvons la même texture mais de manière développée et intégrée. C'est un vin qui pourrait vieillir facilement une autre décennie. Cela a à  peine changé jusqu'à  présent.
Langhe Riesling 1994
C'était le premier millésime de ce vignoble unique et ce n'était pas un millésime facile. Pourtant, les vins se tiennent encore assez bien. Il est trouble, sa couleur et ses arômes s'effacent, mais l'acidité est toujours forte. Pour un vin de 24 ans, on ne s'attendait pas à beaucoup, il a plus d'attrait qu'il ne le devrait.
💙Dolcetto D'alba 2016, Pian Balbo
Ce dolcetto est d'une couleur si vive et brillante avec des arômes délicats de fleurs, de cerises et de pruneaux fraîchement cueillis. C'est un vin simple, comme on l'attend d'un Dolcetto, mais vraiment agréable. C'est un amour. Avec un prix ridiculement bas, cette étiquette de coq est un must.
💙Pinot Nero 2015, Campo Romano
Le campo romano est un vin extrêmement délicat, doux comme la soie la plus fine. Il a la douceur et la couleur merveilleusement légèrement teintée du pinot noir mais avec des arômes typiquement italiens de cerises fraîches, d'olives et de champignons légers.
Barbera d'Alba 2015, Costa Bruna
Costa Bruna montre une grande intensité avec un caractère de fruit excellent et savoureux. Ce Barbera est planté sur un vignoble de Barbaresco. L'expression de la Barbera sur cette parcelle était si appropriée et intéressante que le domaine a décidé de le conserver ainsi, au lieu de replanter du Nebbiolo.
💙Barbera d'Alba 2005, Costa Bruna
Encore une fois, 2005 n'était pas censé être un grand millésime. Les espoirs n'étaient pas très grands quant au développement de ce vin, mais comme le dit le proverbe: «Vous pouvez voir le vrai savoir-faire d'un vigneron lors de mauvais millésimes». Le 2005 est toujours vif et frais avec un caractère de fruit très mûr et intégré. Un vin délicieux avec un soupçon de fumée et un équilibre remarquable.
Barbera d'Alba 1995, Costa Bruna
Le côté fumé se manifeste de plus belle dans ce millésime. Les arômes sont particulièrement savoureux et nous avons complètement perdu le fruité de le Barbera. Il serait impossible de deviner l'origine de ce vin d'autant plus que le Barbera a un problème d'image sur la jeunesse.
Nebbiolo d'Alba 2015
Ma première impression sur ce nebbiolo était assez fermée. J'avais des arômes métalliques étranges rejoints par des pétales de rose et une salinité. Une touche d'épice apparaît sur la finale, mais dans l'ensemble, le vin était court et timide.
Nebbiolo d'Alba 2009
Tout le pari est sur la structure dans ce vin. Les arômes et les saveurs sont extrêmement délicats, mais les tanins qui assèchent sont déraisonables.
💙Langhe, Bricco del Drago 2010
Bricco del drago est situé juste à côté de Barbaresco, Bricco del Drago est le domaine historique de la famille. C'est un mélange qui a surpris beaucoup de gens, 85% Dolcetto et 15% Nebbiolo. Le vin est ferme et structuré, plus que ce que vous attendez d'un Dolcetto. Il montre tellement de potentiel de vieillissement et de développement avec une élégance intéressante.
Langhe, Bricco del Drago 2004
Un vin d'une telle intensité, avec un éclat de fruit et une structure extrêmement agréable. C'est comme si le vin criait « Langhe » haut et fort.
Langhe, Bricco del Drago 1994
Très développé sur les arômes d'olives, mais la façon dont la structure s'efface pour laisser briller les arômes de fruits secs est très intéressante. Cela aide également le vin à  obtenir une longueur supplémentaire.
💙Barbaresco 2012, Tenute Roncaglie
Ce Barbaresco est essentiellement de la dentelle en bouche. Extrêmement sec et texturé, mais d'une manière si sophistiquée et avec une telle intensité globalement élevée. Je comprends que beaucoup de consommateurs ont du mal à  aimer les  Barbaresco, ce n'est pas le vin le plus agréable et le plus désaltérant, mais lorsque vous trouvez une expression aussi détaillée comme celle-ci, elle est satisfaisante à  un tout autre niveau.
Barbaresco 1998, Tenute Roncaglie
Encore extrêmement intense et structuré. Cependant, les tanins sont beaucoup plus secs. Il n'a pas le palais aussi complexe que le 2012 à cause de cet effet desséchant.
Barolo 2006, Bussia
Ce Barolo est très ferme, il ne faut pas en profiter tout de suite. Il présente un fort potentiel avec des arômes complexes de fleurs séchées, de goudron et de réglisse mais la puissance de ce vin est écrasante pour le moment.
💙Barolo 1996, Bussia
Après 22 ans de vieillissement, ce Barolo affiche une telle complexité. Vous ne pouvez pas imaginer la quantité et l'intensité des arômes que ce vin dégage, du goudron au gibier en passant par les épices et le café noir. La patience est une vertu et c'est définitivement un atout pour ce Barolo.