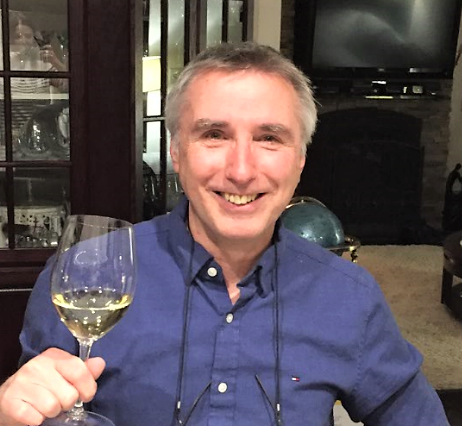 As a trained and passionate sommelier, wine for me is a question of pleasure, passion and constant discovery. The world of wine constantly amazes me as it is in perpetual change and it keeps me on my toes to stay abreast of these changes. Wine should also be fun and as such should not be taken too seriously. That is why I feel that once in a while a bit of humour is needed to bring us back to reality. As for you the readers, I have a responsibility of finding the wines with the best values and I have to entertain you with great stories about various producers we regularly meet. Yeah, that's it! I feel I need to ''Winetertain'' you!!
Website: vinformateur.com – Social Media: facebook.com/vinformateur
When did you realize that you were passionate about wine?
In 1984, I took wine lessons with none other than Jules Roiseux and that's when it all started. Then followed the entire series of wine courses of the SAQ and ultimately my course in sommellerie. My meeting with Benoît Major senior advisor at the SAQ accelerated this passion!
What is your favorite wine event?
In fact, every meeting with a winemaker or producer is a major event in my opinion. That's where it goes. As for events as such, I think I like The Great Tasting of Montreal. I also like the Master Classes that are well done especially Benevuto Brunello.
What are your plans for the coming year?
Wine trips especially press trips. This is my primary goal.
What is the most remarkable bottle you have had the chance to taste?
La Tâche 1999, blind tasted nonetheless. Let's say it was very good !!
Which wine destination is the most interesting in your opinion?
The region of Piedmont. The wines are extraordinary, the fabulous landscapes and the vine growers are simple and generous. In fact the producers are not from the nobility as in many other regions of Italy. They are people of the earth. Some " paesano "!
Sommelier formé et passionné, le vin est pour moi une question de plaisir, de passion et de découverte constante. Le monde du vin me surprend constamment car il est en perpétuel changement et me tient sur mes gardes pour rester au courant de ces changements. Le vin doit aussi être amusant et ne doit donc pas être pris trop au sérieux. C'est la raison pour laquelle j'ai le sentiment qu'il faut de temps en temps un peu d'humour pour nous ramener à  la réalité. Quant à  vous, lecteurs, j'ai la responsabilité de trouver les vins qui ont les meilleures valeurs et je dois vous divertir avec de belles histoires sur les différents producteurs que nous rencontrons régulièrement. Ouais c'est ça! J'ai besoin de "Winetertain" vous !!
Website: vinformateur.com – Social Media: facebook.com/vinformateur
 
Quand as-tu réalisé que tu étais passionné par le vin?
En 1984 j'ai pris des cours de vins avec nul autre que Jules Roiseux et c'est là que tout a débuté. Puis ont suivi toute la série de cours de vins de la SAQ et ultimement mon cours en sommellerie. Ma rencontre avec Benoît Major conseiller sénior à la SAQ a accéléré cette passion!
Quel est ton événement vin préféré?
En fait chaque rencontre avec un vigneron producteur est en soi un événement selon moi. C'est la que ça ce passe. Quant aux événements comme tel, je crois que j'aime La Grande Dégustation de Montréal. J'aime bien aussi les Master Class qui sont bien faits surtout celui sur les Brunello.
Quels sont tes projets pour l'année à  venir?
Les voyages de vin surtout les voyages de Presse. C'est mon objectif premier.
Quelle est la bouteille la plus remarquable que tu as eu la chance de goûter?
La Tâche 1999 dégusté en plus à l'anonyme. Mettons que c'était très bon!!
Quelle destination de vin est la plus intéressante à ton avis?
La région du Piémont. Les vins sont extraordinaires, les paysages fabuleux et les vignerons sont simples et généreux. En fait les producteurs ne sont pas issus de la noblesse comme dans bien d'autres régions de l'Italie. Ce sont des gens de la terre. Des ''paesano''!