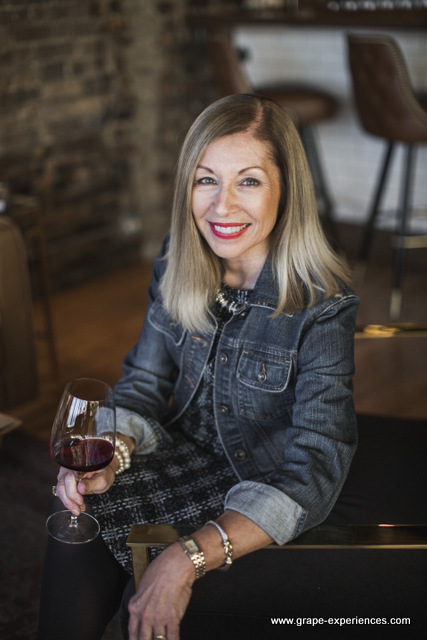 Cindy Rynning has been writing about wine on her award-winning wine blog, Grape Experiences, since 2011.  She passed the Wine and Spirit Trust (WSET) Level 3 program with Merit in 2012. Cindy is based in Chicago, Illinois and attends international and national trade tastings and media events, meets and interviews winemakers and others who share their stories, and writes about tastings, food and wine pairings, wine travels, and more. She travels extensively to wine regions around the world as a tourist and/or press trip participant.
She has written for a variety of print and digital publications including Crave Local, Wine Tourist Magazine, Drizly, and the wine club newsletter of Cooper's Hawk Winery and Restaurants. Currently, Cindy is a Top Shelf Blogger for Drizly and received a Drizly Blogger Award as Best Wine Blog – 2017. Cindy's site was recognized as one of the Top 100 Most Influential Wine Blogs in the world in 2015 and as the Lux International Magazine Best Wine Blog – US in 2016, 2017, and 2018. Two of her articles were finalists in the Millesima Wine Blog Awards – Wine Travel category in both 2017 and 2018.
A former educator, Cindy understands the value of lifelong learning and strives to share her knowledge of wine through writing, social media, personal wine tastings, and real-life conversation in order to inform, entertain, and inspire others to discover the beauty of our favorite beverage: wine.
http://www.grape-experiences.com/
When did you realize you were passionate about wine?
I've always loved wine, but once I began my wine education journey, I didn't realize that I had such a love for not only sipping, but learning about it. Several years ago, I decided to enroll in my first Wine & Spirits Education (WSET) course, an internationally recognized wine education program, in order to become more educated about wine. My intention was to understand the process of wine production, the regions of the world, the various grapes, and more with depth and breadth, I hoped to be inspired to take my already existing teaching career on a different path. After passing the WSET Level 2 class, friends and family asked "what are you going to do with all of this incredible information?" to which I responded, "I'll write about wine!", a noble statement to be sure! To that end, I began my website, Grape Experiences. A few months later, I enrolled in, then passed with Merit, the WSET Level 3 class. Writing for others is yet another form of teaching, of course, and I'm thrilled that my website has garnered thousands of readers on a consistent basis. Because of that, I've been offered many opportunities to visit wine regions throughout the world for "hands-on" learning, to attend events and classes hosted by winemakers and others, to taste wines that are exceptional examples of terroir, and to speak about wine in front of groups. I'm honored to share my stories.
What is your favorite wine event?
Although I thoroughly enjoy Master Class seminars and trade tastings where I can sip a variety of new-to-me or favorite wines, my preference is to visit domestic and international wine regions. Having conversations with those who are responsible for producing the wines, hearing personal stories about specific wineries as we walk through the vineyards, pairing wines with foods at lunch or dinner in a unique region, and actually experiencing a variety of cultures help me understand the people and wines in a way like no other.
What are your plans for the coming year?
I plan to travel to more wine regions (wherever that may take me!), pitch my stories to a variety of digital and print publications, and continue to share my love of wine through writing on my site, social media efforts, speaking engagements, and real-life conversation!
What is the most remarkable bottle you've had the chance to taste?
To me, enjoying and remembering a bottle of wine has to do with who I'm with, where I am, the emotions I feel, and of course how it tastes… It has absolutely nothing to do with the cost of the wine. That said, the most remarkable bottle of wine I've tasted (so far!) is Domaine Jacky Marteau "La Chipie" 2015 of Sauvignon Blanc grapes cultivated in the tiny appellation of Touraine Chenonceau. My husband and I visited the family run Domaine, located on the left bank of the River Cher in the Loire Valley, on a cool, rainy day in March. Ludivine Marteau took us on a car ride through the vineyards (windshield wipers on!), to the family home where we saw generations worth of photos and where her father was born, and to the tasting room. Throughout the visit, we had fascinating conversations about terroir, the history of the family and land, and more. "La Chipie", a term of endearment, refers to Ludivine's niece, Lola; the wine itself was from Domain's Touraine Chenonceau DO vineyard. We can't find this specific wine in the United States since only 5000 bottles were produced.
Which wine destination is the most interesting?
Oh, Joanie! This question is impossible to answer! I've visited a plethora of wineries in California regions of Sonoma, Napa Valley, Paso Robles, Santa Barbara, Lodi, and Livermore. Wineries in Portland, Oregon, the Finger Lakes in New York, the Monticello Wine Trail in Virginia, Dahlonega, Georgia (US), those in British Columbia, Canada, Montsant, the Sherry Triangle, and Murcia in Spain, the Vinho Verde region in Portugal, and the Loire Valley in France were amazing. Each is interesting and special in its own way… the food, villages, cities, people, terroir, wines! I have so many more destinations to explore!!! Italy? Hungary? Croatia? China? Australia? New Zealand? South Africa? I can't wait. Perhaps one day I'll be able to answer this question!!