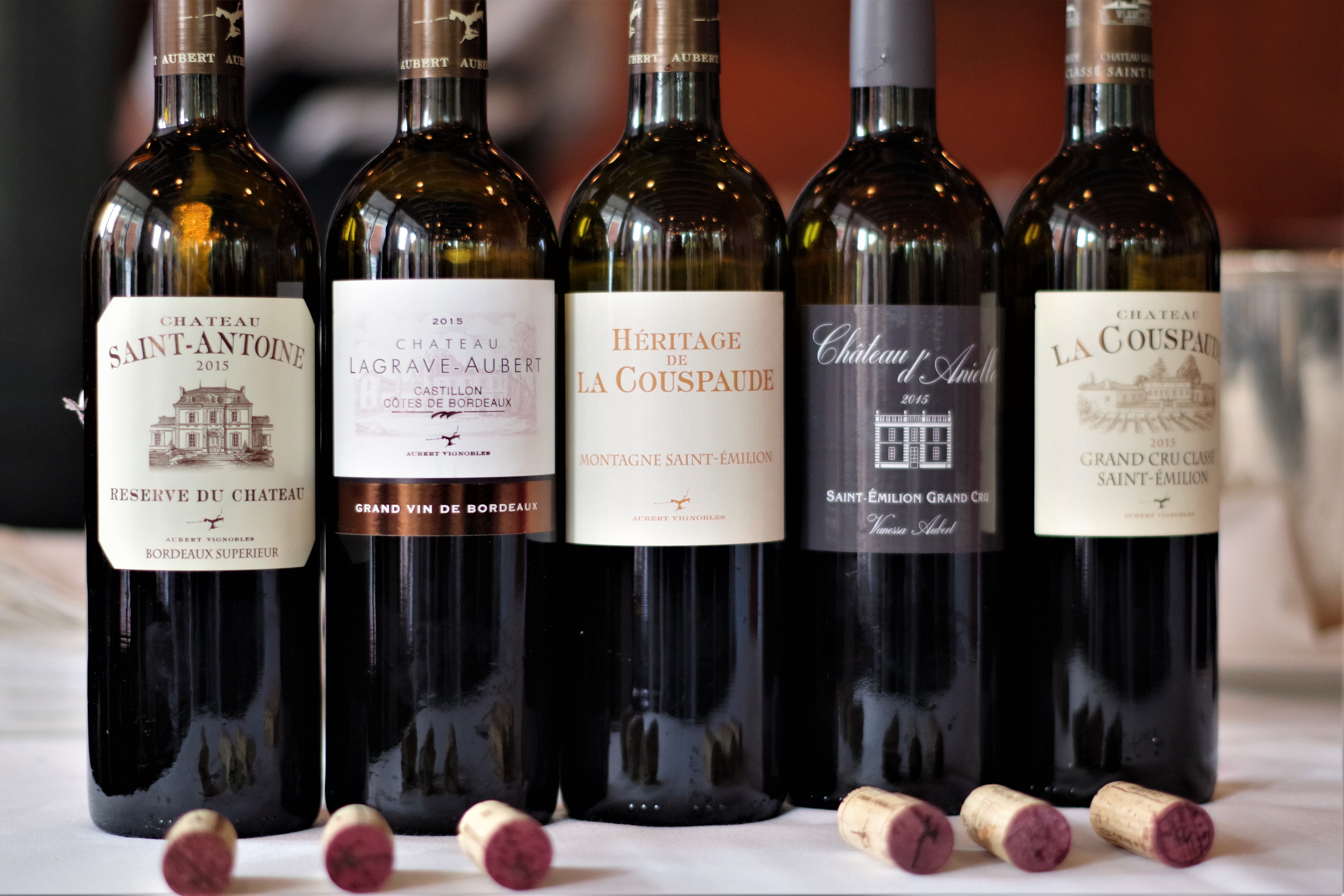 It's Château St-Antoine 10th anniversary on Quebec's Market! The wine that succeeded in becoming the number one Bordeaux wine sold in SAQ. With this huge success it might be time to dig a little further and learn a little bit more about Vignobles Aubert.
Vignobles Aubert is a family owned wine company that owns various Châteaux throughout Bordeaux. From the acquisitions through generations of the Aubert and Robin family, a decently prosperous marriage between Étienne Aubert and Édith Robin joined the two companies in to one. Their children and, now their grand-children are taking care of the estate as it is today. I had the chance to meet Vanessa Aubert, a genuinely talented and knowledgeable woman, of the latest generation directing this considerable vineyard.
Chateau Saint Antoine 2015
In 1970, this Entre-deux-mers estate was entirely converted to red wine instead of white. The concrete tanks are at the same time destroyed in favor of stainless steel tanks and general winemaking conditions were facilitated with helpful technology.
This production of a substantial 100 hectares is a classic Merlot/Cabernet franc blend. It has a bright color, on the pale side, with simple, humble expression and texture.
In 2017, the vineyards was heavily affected by the devasting Frost. 80% of the production was completely lost.
Lagrave-Aubert 2015
Château Lagrave-Aubert is a 20 hectares estate in Castillon Côtes de Bordeaux, an appellation that isn't as recognized as it should be. The wine is soft in all aspect except for its slightly grainy tannins. The aromas are sharp with a lovely intensity but with a main focus on oak, charcoal and bark.
L'héritage de la Couspaude 2015
Based in Montagne de Saint-Émilion, L'héritage de la Couspaude is not, as you may think, the second wine of Château la Couspaude. It's a small 5 ha on the hillside behind St-Émilion, straddling St-Georges satellite. The idea was to follow the same ideal and philosophy than Château La couspaude, yet in a more affordable matter. It's a strong and powerful wine with decent mouthfeel yet a very integrated balance overall.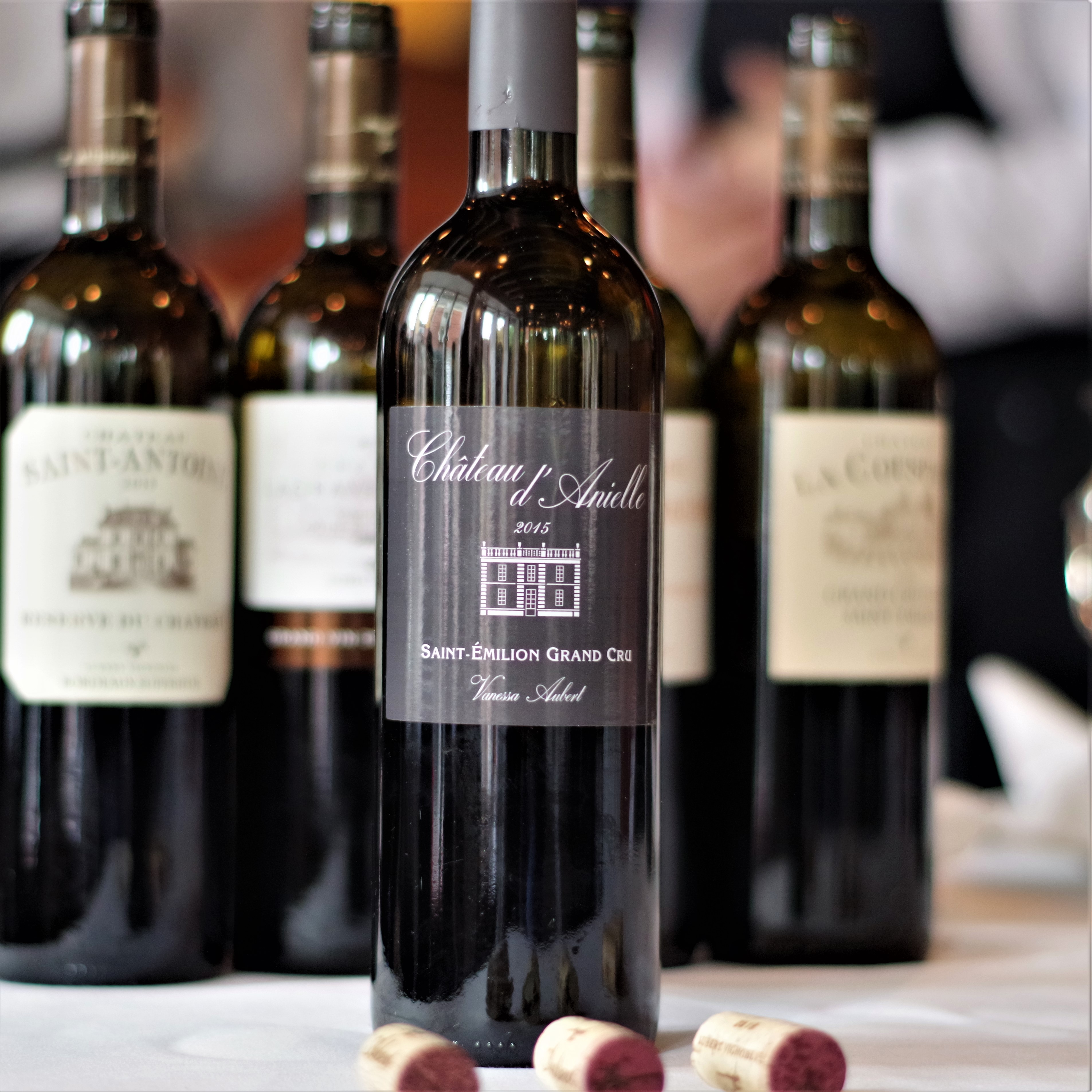 Château d'Anielle 2015
This is the new project of Vanessa Aubert. She just recently acquired this estate in St-Émilion. It was a true opportunity has land in this part of the region are getting seriously scarce. 2015 is the first vintage of this fruit-forward, expressive yet sensible wine. Withouth leaving the family's style, Château D'Anielle definitely has its own personality.
Chateau La Couspaude 2015
Château la Couspaude, St- Émilion Grand cru classé is actually a clos of 7 hectares. Unquestionably the flagship of the family's vineyards, located near the famous monolithic church, it's the finest wine of the family. It's a rich and refined cru which has a completely explosive first sip. It's enticing with a complexity that runs deep.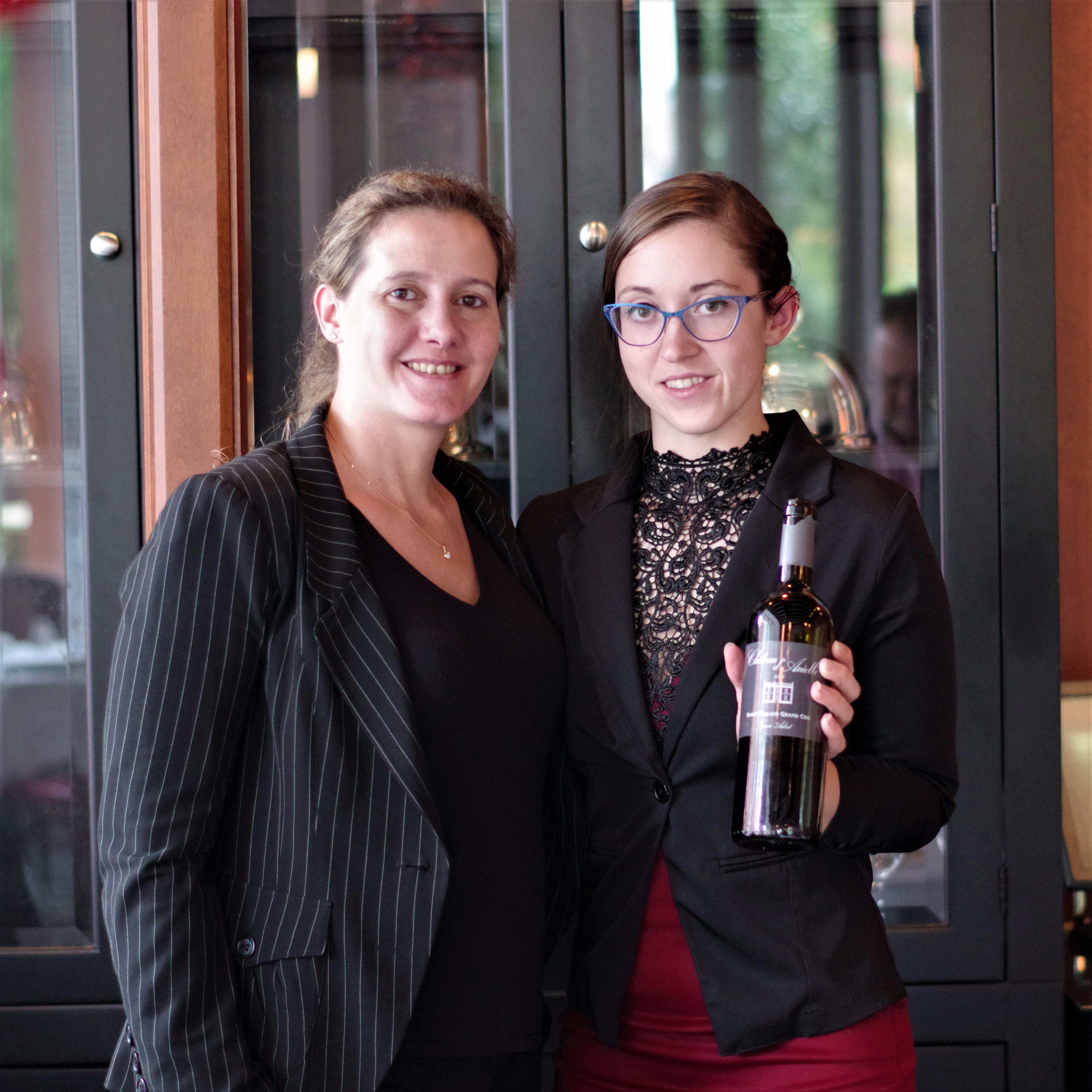 C'est le 10e anniversaire du Château St-Antoine sur le marché québécois! Le vin qui a réussi à  devenir le premier vin de Bordeaux vendu à  Saq. Avec cet énorme succès, il serait peut-être temps de creuser et d'en apprendre un peu plus sur les Vignobles Aubert.
Les Vignobles Aubert est une entreprise viticole familiale qui possède plusieurs châteaux à  Bordeaux. Des acquisitions des générations précédentes des familles Aubert et Robin qui s'unirent après un mariage relativement prospère entre Étienne Aubert et Édith Robin. Leurs enfants et maintenant leurs petits-enfants s'occupent du domaine tel qu'il est aujourd'hui. J'ai eu la chance de rencontrer Vanessa Aubert, une femme véritablement talentueuse et fascinante, de la dernière génération qui dirige ce vignoble considérable.
Château Saint Antoine 2015
En 1970, ce domaine de l'Entre-deux-mers a été entièrement converti en vin rouge au lieu de blanc. Les réservoirs en béton sont en même temps détruits au profit de réservoirs en acier inoxydable et les conditions générales de vinification ont été facilitées par une technologie utile.
Cette production de 100 hectares est un mélange classique de merlot et de cabernet franc. Il a une couleur vive, du côté pâle, avec une expression et une texture simples et humbles.
En 2017, le vignoble a été lourdement affecté par le gel dévastateur. 80% de la production était complètement perdue.
Lagrave-Aubert 2015
Le Château Lagrave-Aubert est un domaine de 20 hectares situé à  Castillon dans les Côtes de Bordeaux, une appellation qui n'est pas aussi reconnue qu'elle devrait l'être. Le vin est souple dans tous les aspects à  l'exception de ses tanins légèrement granuleux. Les arômes sont vifs avec une belle intensité mais avec un accent particulier sur le chêne, le charbon de bois et l'écorce.
L'héritage de la Couspaude 2015
Situé sur Montagne de Saint-Émilion, L'héritage de la Couspaude n'est pas, comme vous pouvez le penser, le deuxième vin de Château la Couspaude. C'est un petit 5 ha à  flanc de colline derrière St-Émilion, à  cheval sur le satellite St-Georges. L'idée était de suivre le même idéal et la même philosophie que Château La Couspaude, tout en restant plus abordable. C'est un vin fort et puissant avec une sensation en bouche décente mais un équilibre très intégré.
Château d'Anielle 2015
C'est le nouveau projet de Vanessa Aubert. Elle vient d'acquérir ce domaine à  St- Èmilion. C'était une véritable opportunité puisque les vignobles disponibles pour achat dans cette partie de la région se raréfient sérieusement. 2015 est le premier millésime de ce vin fruité, expressif et sensé. Sans abandonner du style familial, le Château D'Anielle a définitivement sa propre personnalité.
Château La Couspaude 2015
Château la Couspaude, Saint-Émilion Grand cru classé est en réalité un clos de 7 hectares. Incontestablement le fleuron des vignobles de la famille, situé près de la célèbre église monolithe, c'est le meilleur vin de la famille. C'est un cru riche et raffiné dont la première gorgée est complètement explosive. Tout à fait séduisant,  avec une complexité profonde.