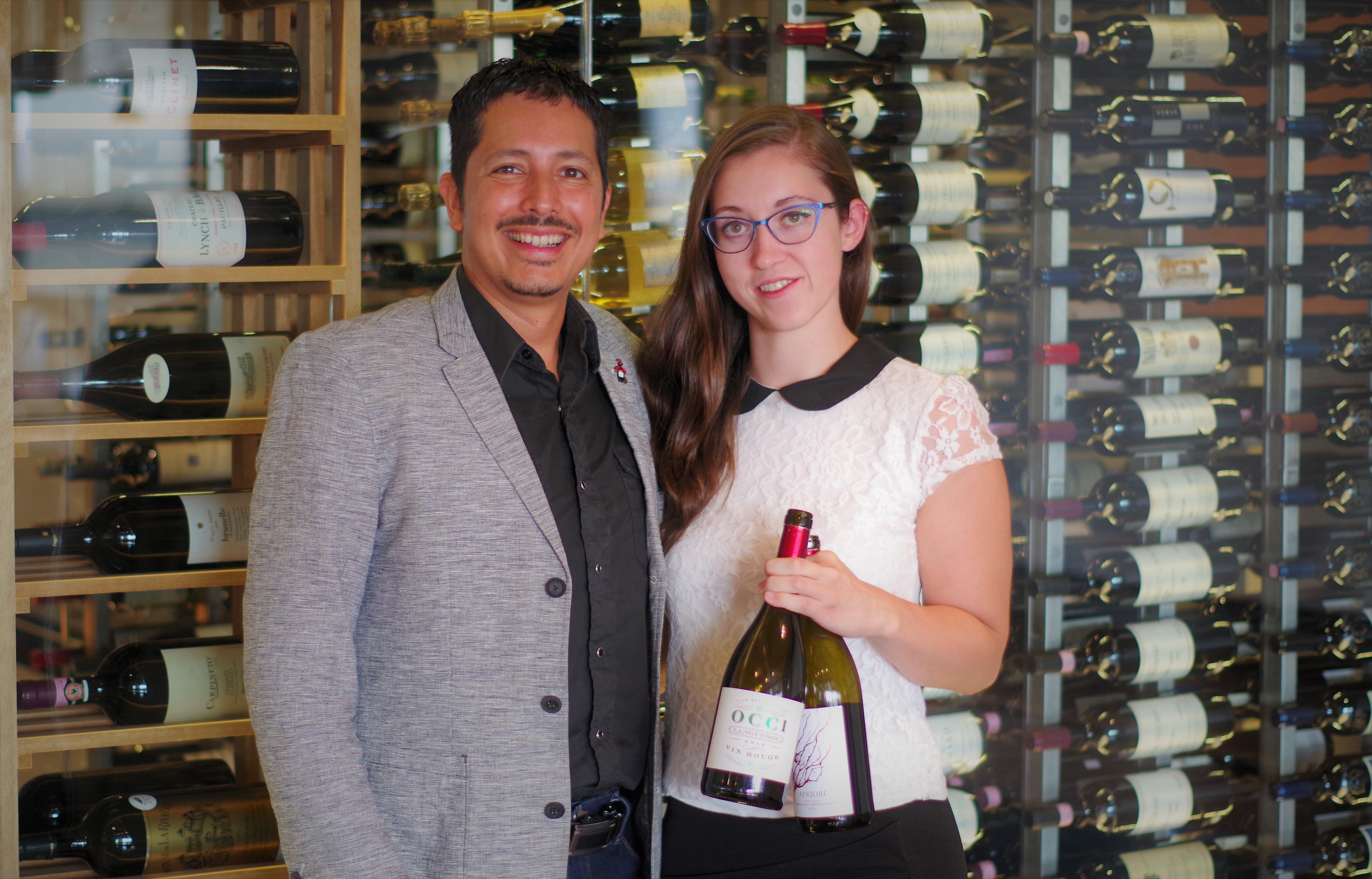 I had the chance and truly real pleasure to meet Martin Reyes on his recent stay in Montreal. I knew him without really knowing him, just dazzled by his career and his achievements as Master of Wine. The object of our meeting was to discuss (and taste, of course) a project that seems truly dear to him, his collaboration in creating Breton-Reyes Wines and the Occi Languedoc brand.
The story telling start with a tale of shared interest, taste and overall understanding between the two men. Patrice Breton, Quebec native who left his tech career to produce wines in Napa is the producer of the luxurious Vice Versa wines and the more accessible AÂ  Priori. The connection between the two was one of friendship more than business. Collaboration felt right and one destined for the Quebec market exclusively made sense.
💙Occi Languedoc Vin Rouge 2016
Occi was launched in 2014 and comes from three vineyards near Béziers with a backbone based on the trusty Syrah and this is what first strikes on tasting, a lovely syrah personality. It has a wide mouthfeel and a lingering structure. Yet,, the feeling is still soft and gentle. Fresh fruits, a touch on the tart side, are joined by an array of light spices and guarrigue. The refreshing acidity is more than welcome to brighten the wine.
💙A Priori Pinot Noir 2015, Sonoma coast
A Priori is in a way the little brother of Vice versa wines and affordable and more accessible brand with the same quality tough and winemaking experience behind it. The Pinot noir is a rustic and quite expressive one. It has neutral fruits but a very complex bouquet, one that include olive, hay, roasted nuts and a beasty character. A delight that's worth every penny it cost.
A Priori proprietary red 2015
This proprietary red blend based on Merlot and Cabernet Sauvignon has an outstanding intensity as precursory on the nose as it is tasteful on the palate. It feels classic for a Californian red but not as massive and overpowered as others may be. Funnily enough, in all its intensity, it still feels lean and fine, in comparison.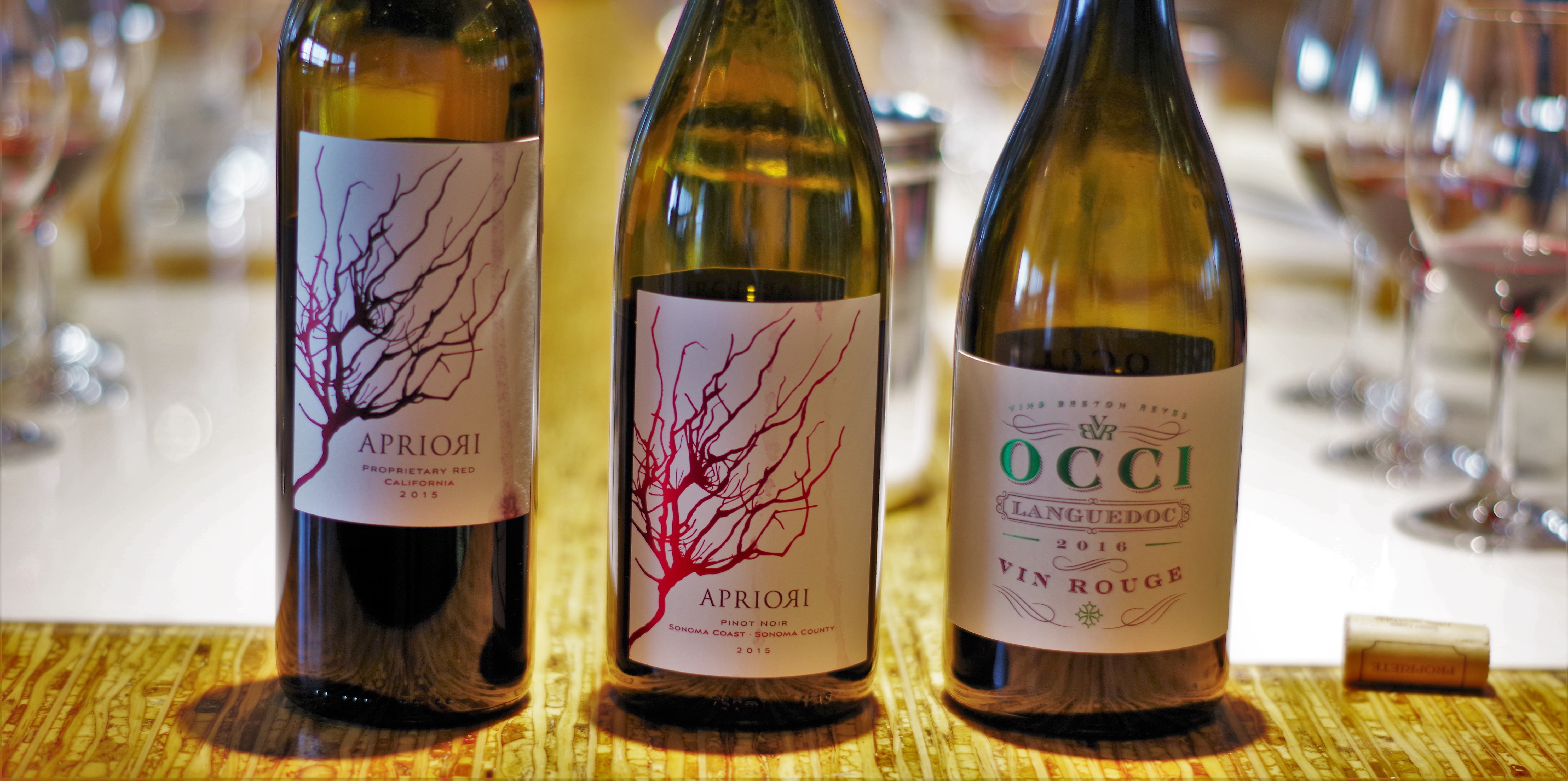 J'ai eu la chance et vraiment le plaisir de rencontrer Martin Reyes lors de son récent séjour à  Montréal. Je l'ai connu sans vraiment le connaître, juste éblouie par sa carrière et ses réalisations en tant que Master of Wine. L'objectif de notre rencontre était de discuter (et de goûter, bien sûr) un projet qui lui semble vraiment cher, sa collaboration à  la création de Breton-Reyes Wines et de la marque Occi Languedoc.
Le récit commence par une histoire d'intérêt partagé, de goût et de compréhension générale entre les deux hommes. Patrice Breton, originaire du Québec, qui a quitté sa carrière en technologie pour produire des vins à Napa est le producteur des vins de luxe Vice Versa et le plus accessible A Priori. La relation entre les deux était plus amicale que commerciale. La collaboration semblait juste et une exclusivement destinée au marché québécois faisait encore plus de sens.
💙Occi Languedoc Vin Rouge 2016
Occi a été lancé en 2014 et provient de trois vignobles près de Béziers avec une colonne vertébrale basée sur la fidèle Syrah et c'est ce qui frappe en premier à  la dégustation, une belle personnalité de Syrah. Le vin a une structure persistante. Pourtant, la sensation est encore douce et douce et agréable. Des fruits frais, une touche sur le côté acidulé, sont associés à  un ensemble d'épices légères et de garrigue. L'acidité rafraîchissante est plus que bienvenue pour égayer le vin.
💙A Priori Pinot Noir 2015, côte de Sonoma
A Priori est en quelque sorte le petit frère des vins Vice versa et une marque abordable et plus accessible, avec la même recherche de qualité et la même expérience. Le pinot noir est rustique et assez expressif. Il a des fruits neutres mais un bouquet très complexe qui comprend des olives, du foin, des noix rôties et un caractère bestial. Un délice qui en vaut la peine.
Un rouge propriétaire Priori 2015
Ce mélange rouge exclusif à base de merlot et de cabernet sauvignon a une intensité remarquable, précurseur au nez et tout autant savoureux en bouche. Il est classique pour un rouge californien mais pas aussi massif et surpuissant que d'autres. Curieusement, dans toute son intensité, il tend quand même sur la finesse, en comparaison.