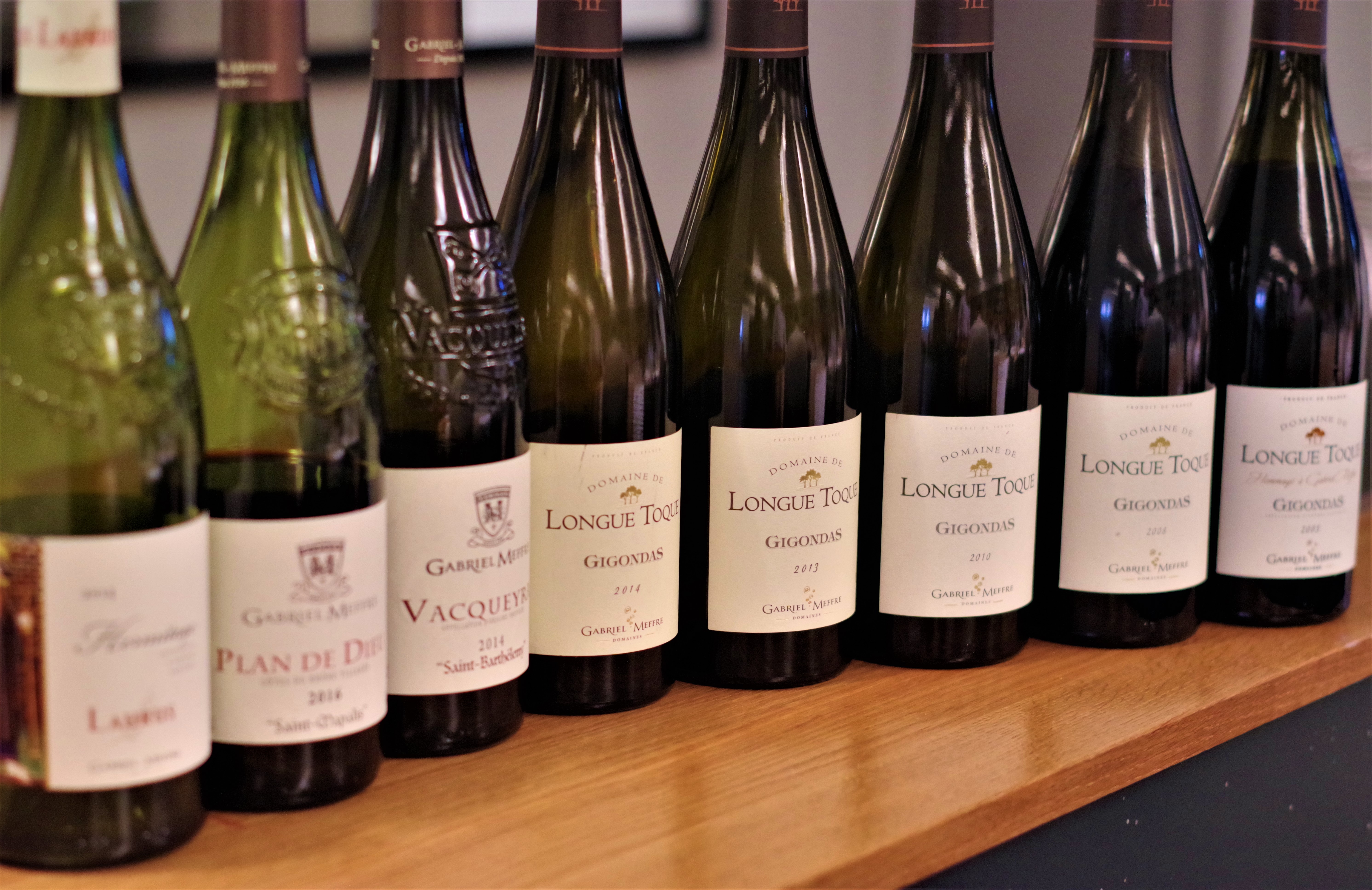 Gabriel Meffre was founded in 1936 by Gabriel and his wife Juliette when they created their 'Négociant' business in Gigondas. Juliette had a very important role in the estate as she took on responsibility of the estate while her husband left for WWII. The land started out with 7 hectares and had phenomenal growth. After the Longue Toque vineyard addition in 1999 and the Grand Escalion in Costières de Nîmes in 2001, it reached a total of about 800 hectares.
In 2016 the winery celebrated their 80th anniversary as a reference in the rhône valley and especially as prized ambassador of the Gigondas appellation.
Château Grand Escalion rosé – Costières de Nîmes 2017
2017 was the first vintage to include Mourvèdre in the Grenache/syrah blend. It's crisp and fresh with floral and fruity character. The nose is different from the palate as the initial crisp, tart red fruits are replaced by citrus and orange peel. It's a very provençal-style rosé.
Laurus Côtes-du-Rhône 2016
Laurus means « Laurel » in Latin, a Roman symbol of excellence. It's a blend of Roussanne, viognier, Bourboulenc and Grenache Blanc filled with intense pit fruits, peach and nectarine but also green notes of asparagus and artichoke. Overall, it falls flat and misses some acidity to balance the warming alcohol.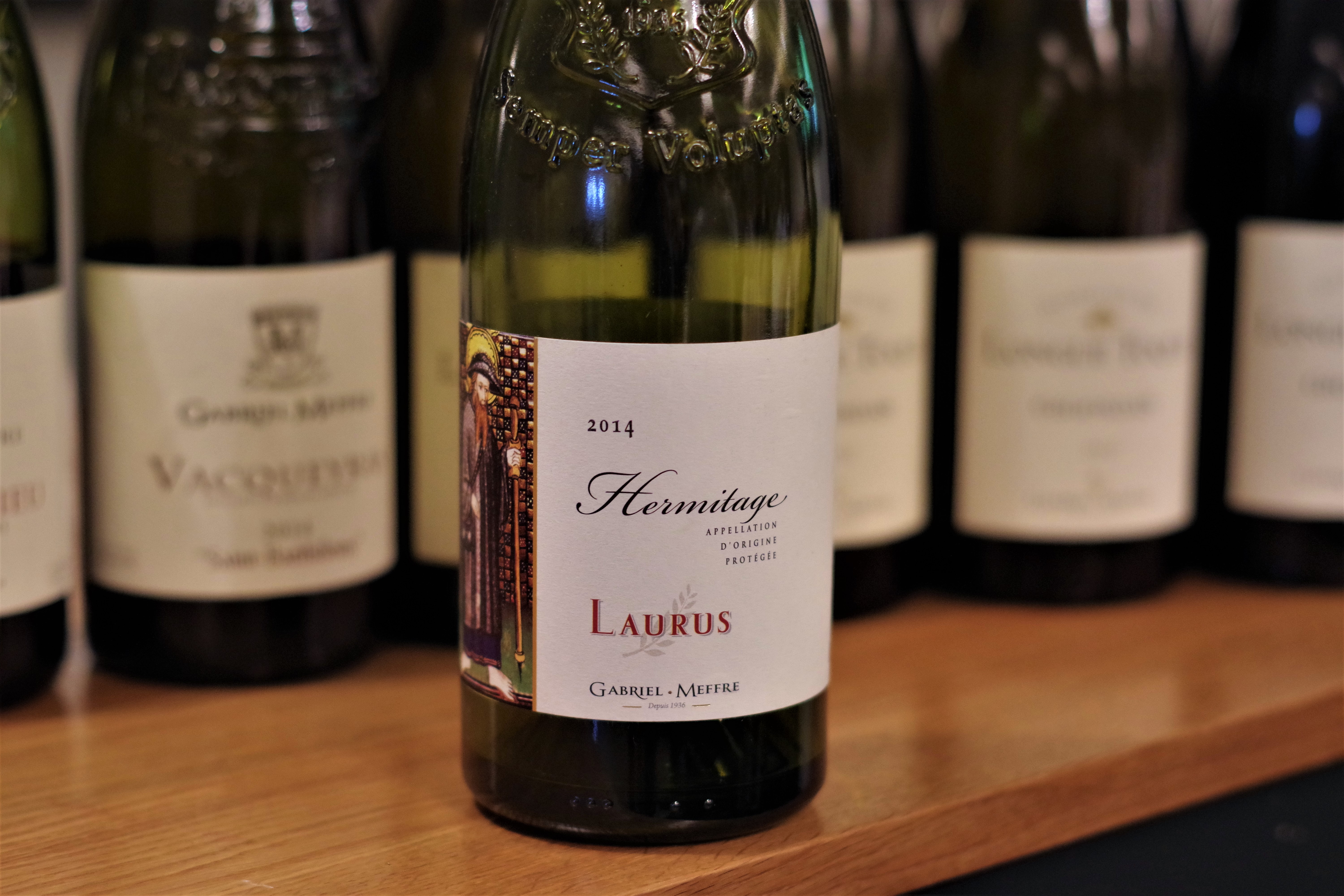 💙Laurus Hermitage 2014
Hermitage is a legendary Cru mostly reputed for its red. However, White Hermitage are extremely bold and age worthy delights. This 2014 is a 100% Marsanne which is quite rare as this is a very complicated grape to work with. It has a lovely deep golden color, as bright as the sunshine. The mouth feel is wide and rounded, layered and unctuous that has beautiful beeswax, buttered citrus, brioche, and toasted bread aromas and flavours. Only a thousand bottles are produced each year.
Gabriel Meffre, Côtes du Rhône Villages Plan de Dieu, 2016
This particular terroir of round pebbles and alluvial terraces showcase the very fruity and lush character that Grenache can bring although it is blended with Syrah and Mourvèdre. This pinkish rimmed and light wine has lovely blueberries, earth and spicy aromas as well as a slight prickly bitterness.
Gabriel Meffre, Vacqueyras, 2014
At a price point of 25$, this is a relatively affordable Vacqueyras. It has a very steely first impression but gets more complex and elegant as it opens up. The aromas tend more towards minerality and crushed rocks as the fruits are rather neutral. It's intense and silky on the palate.
💙Domaine de Longue Toque, Gigondas, 2014
The Gigondas wines of Domaine de Longue Toque spread out on 18ha, the Ouvèze river to the Dentelles de Montmirail. Before the acquisition in 1991 this vineyard belonged to the Chapalain family. The 2014 vintage has a very deep and concentrated smell almost sweet and candied because of the intense ripeness. It's reminiscent of chocolate coated cherries and cranberries. It's structured, yet very approachable and lengthy.
– 2013 was harsher and didn't have the same balance as 2014. It's quite drying.
– 💙2010 however was a turning point. It loses all the candied aspect and gains licorice, fur coat and jerky aromas. It is well-developed with lovely rounded tannins.
– 2008 has a slightly fading garnet color. It's quite expressive and opened. The bouquet is very complex and developped with aromas of cedar, sweet spices, tocbacco, hay and clove. However, it falls short on the palate and has a diluted faded taste.
-💙Domaine de Longue Toque, Gigondas,  Hommage à  Gabriel Meffre, 2003 is an exceptional Cuvée, only produced in great vintages. A beautiful tribute to founding Gabriel Meffre. The only vintages are 2003, 2010, 2013 and 2015. It's truly an inviting and enticing wine.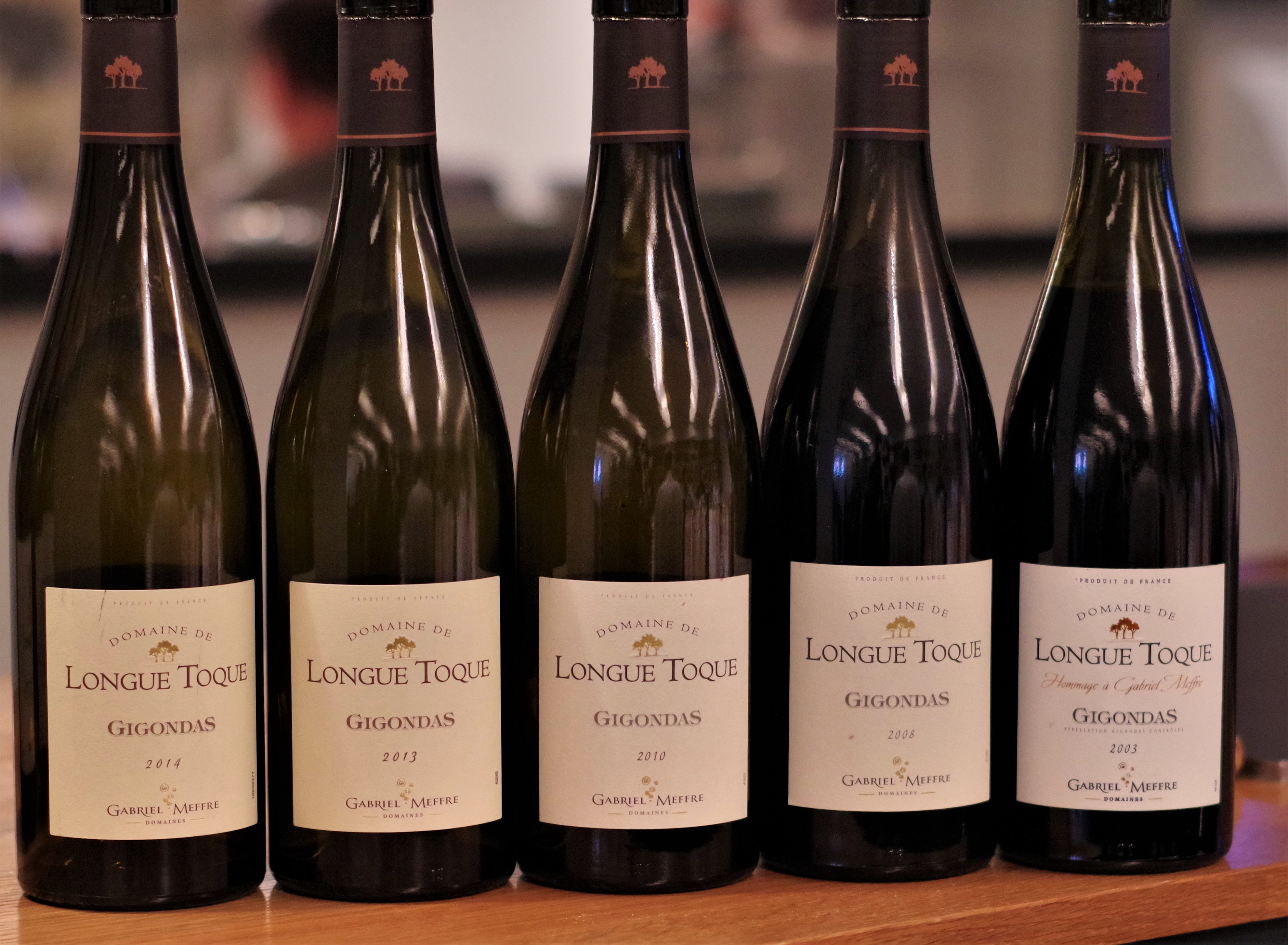 Gabriel Meffre
Gabriel Meffre a été fondé en 1936 par Gabriel et son épouse Juliette lors de la création de leur entreprise «Négociant» à  Gigondas. Juliette a eu un rôle très important dans la succession car elle a pris la responsabilité du domaine pendant que son mari partait pour la Seconde Guerre mondiale. La propriété a commencé avec 7 hectares et a connu une croissance phénoménale. Après l'ajout du vignoble de Longue Toque en 1999 et le Grand Escalion des Costières de Nîmes en 2001, il a atteint au total environ 800 hectares.
En 2016, la cave a fêté son 80e anniversaire en tant que référence dans la vallée du Rhône et surtout en tant qu'ambassadeur prisé de l'appellation Gigondas.
Ch̢teau Grand Escalion ros̩ РCosti̬res de N̨mes 2017
2017 a été le premier millésime à  intégrer le Mourvèdre au Grenache / Syrah. Il est frais et frais avec un caractère floral et fruité. Le nez est différent du palais car les fruits rouges acidulés et croquants sont remplacés par des agrumes et des écorces d'orange. C'est un rosé très provençal.
Laurus Côtes-du-Rhône 2016
Laurus signifie «Laurel» en latin, un symbole romain d'excellence. C'est un assemblage de Roussanne, de viognier, de Bourboulenc et de Grenache Blanc fourré de fruits à  noyau intense, de pêche et de nectarine mais aussi de notes vertes d'asperge et d'artichaut. Dans l'ensemble, il tombe à  plat et manque d'une certaine acidité pour équilibrer l'alcool chaud.
💙Laurus Hermitage 2014
Hermitage est un Cru légendaire réputé pour son rouge. Cependant, White Hermitage sont extrêmement audacieux et plaisent à  l'âge. Cette 2014 est une Marsanne à  100% ce qui est assez rare car c'est un cépage très compliqué à  travailler. Il a une belle couleur dorée, aussi brillante que le soleil. La bouche est large et arrondie, étagée et onctueuse avec de belles cires d'abeilles, d'agrumes beurrés, de brioche et de pain grillé. Seulement un millier de bouteilles sont produites chaque année.
Gabriel Meffre, Côtes du Rhône Villages Plan de Dieu, 2016
Ce terroir particulier de cailloux ronds et de terrasses alluviales met en valeur le caractère très fruité et luxuriant que le Grenache peut apporter bien qu'il soit associé à  la Syrah et au Mourvèdre. Ce vin rosé et léger a de beaux arômes de myrtilles, de terre et d'épices, ainsi qu'une légère amertume piquante.
Gabriel Meffre, Vacqueyras, 2014
À un prix de 25 $, il s'agit d'un Vacqueyras relativement abordable. Il a une première impression très solide mais devient plus complexe et élégant à  mesure qu'il s'ouvre. Les arômes tendent davantage vers la minéralité et les roches concassées car les fruits sont plutôt neutres. C'est intense et soyeux en bouche.
💙Domaine de Longue Toque, Gigondas, 2014
Les vins Gigondas du Domaine de Longue Toque étalés sur 18ha, l'Ouvèze aux Dentelles de Montmirail. Avant l'acquisition en 1991, ce vignoble appartenait à  la famille Chapalain. Le millésime 2014 a une odeur très profonde et concentrée presque sucrée et confite en raison de sa maturité intense. Cela rappelle les cerises enrobées de chocolat et les canneberges. C'est structuré, mais très accessible et long.
– L'année 2013 a été plus dure et n'a pas eu le même équilibre qu'en 2014. C'est assez sec.
– 💙2010 a cependant été un tournant. Il perd tout l'aspect confit et gagne de la réglisse, de la fourrure et des arômes saccadés. Il est bien développé avec de beaux tanins arrondis.
– 2008 a une couleur grenat légèrement décolorée. C'est très expressif et ouvert. Le bouquet est très complexe et développé avec des arômes de cèdre, d'épices douces, de tocbacco, de foin et de clou de girofle. Cependant, il manque court sur le palais et a un goût fané dilué.
-Domaine de Longue Toque, Gigondas, Hommage à  Gabriel Meffre, 2003 est une cuvée exceptionnelle, produite uniquement dans de grands millésimes. Un bel hommage à  la fondation de Gabriel Meffre. Les seuls millésimes sont 2003, 2010, 2013 et 2015. C'est vraiment un vin invitant et séduisant.