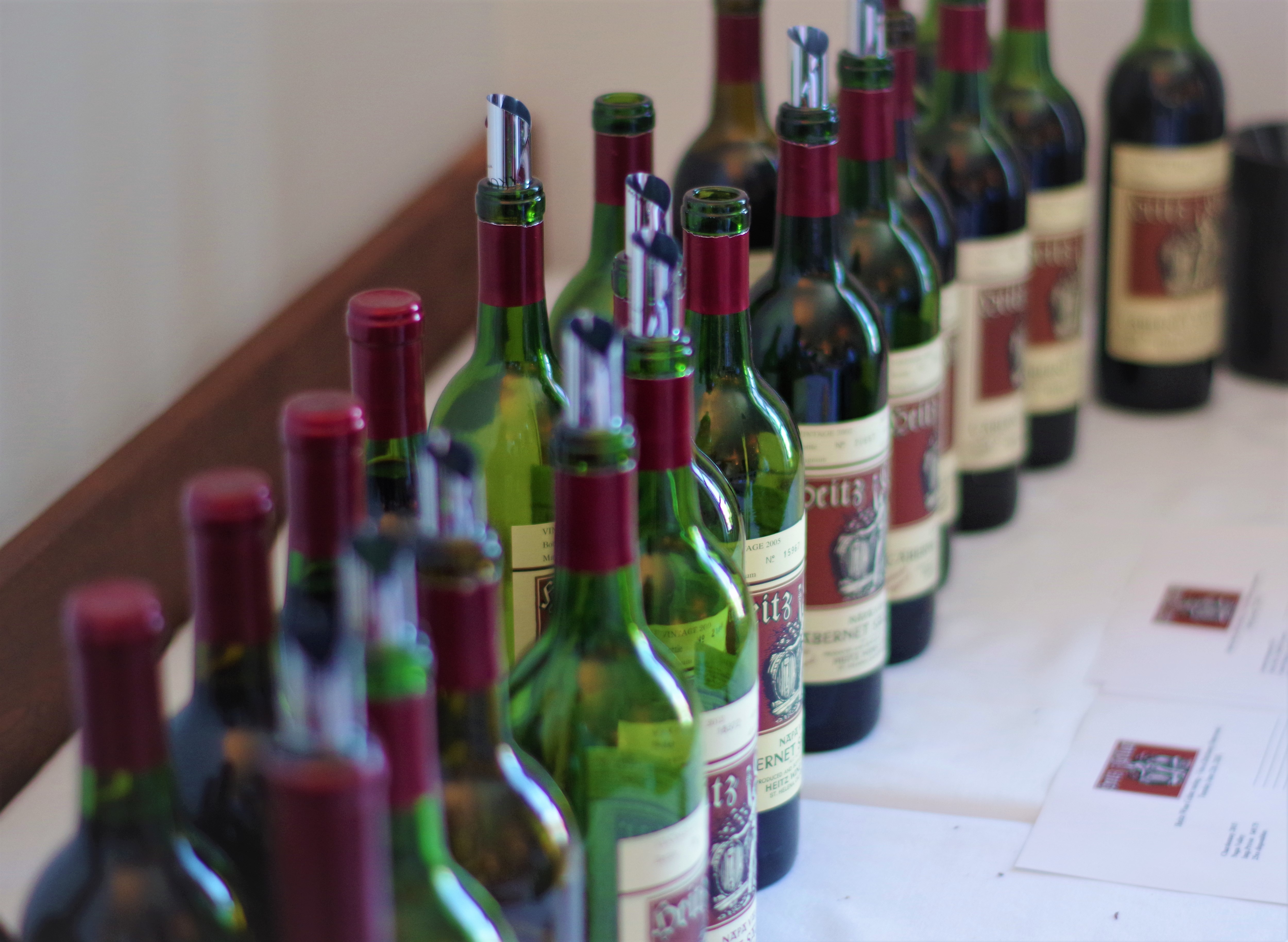 How refreshing it is to meet a fantastic lady as head winemaker of a Californian estate. Brittany Sherwood joined Heitz Wine Cellars to work the 2012 vintage and was attributed the well-deserved position of managing winemaker this year.
Heitz Cellars is one of the original "cult" producers of wine in Napa and has been around since 1961 when it was founded by Joe and Alice Heitz. They purchased the homestead of an old Italian-Swiss family and its eight acres of vineyards which include the now famous Martha's Vineyard and Trailside Vineyard. Now a new chapter awaits the vineyard as it has recently been purchased by billionaire businessman Gaylon Lawrence Jr. Even if his main industry focus has been agriculture, it's Lawrence's first project in the wine industry. Priorities following this new acquisition are supposedly focused on continuity, perpetuity of style, marketing and maybe a few new single vineyards.
Heitz cellar, Chardonnay 2016
Although focus has always been on cabernet Sauvignon, this Chardonnay has been produced since the beginning of the estate in 1961. Yet, since the 1990s, its style has changed from an extreme buttery wine to a more restrained style with cool fermentation and attention to freshness. It's still a creamy and rich wine with high acidity and a touch of sweetness but also a lively, zesty character.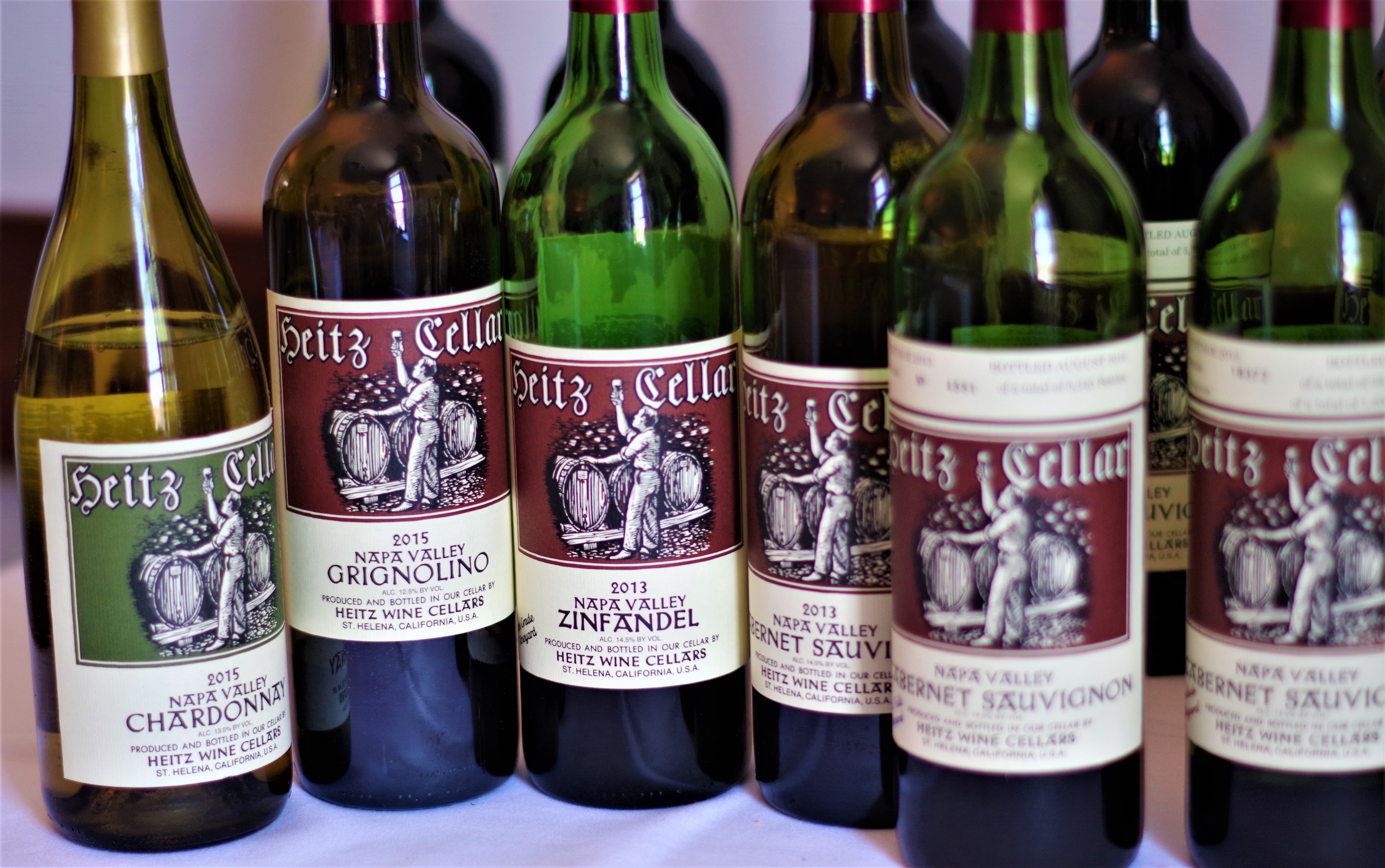 💙Heitz cellar, Grignolino, 2015
Grignolino is an oddity in California, especially as a single varietal wine. The previous owner of Heitz family first 8 hectares had planted this native Italian/ piedmontese variety. It's often referred as 'the little strawberry' which is the perfect descriptor. It's a very pale, bright fuchsia wine with easy aromas of candied cherries/strawberries, red liquorice and hibiscus. It's very delicately- structured and could be considered an appetitive wine, even served cool. It's a fun, lightweight and original addition to the portfolio.
Heitz cellar Zinfandel, Ink grade, 2013
This is not a Zinfandel! Well, it is but it doesn't taste like the saucy, jammy, sweet idea we have of zinfandel. This one has power, concentration and complexity. Highly aromatic crushed berries are escorted by lovely herbs, spices and a tangy, zesty aspect. It's atypical in a good way.
Heitz cellar Cabernet Sauvignon 2013
This wine is screaming of Cassis and blueberries. 2013 was declared as classic and very typical. It's full-bodied and almost coating as well as powerful, but not over powerful. A careful extraction limits the tannins to a silky texture.
Heitz cellar Cabernet Sauvignon Linda falls 2013
2013 was the first Linda falls vintage. As an inaugural vintage, this very tiny vineyard is set to show the concentration potential of Howell Mountain. Hence, the color is opaque and dark and the wine itself is a burst of intense taste of lingering black fruits and bark.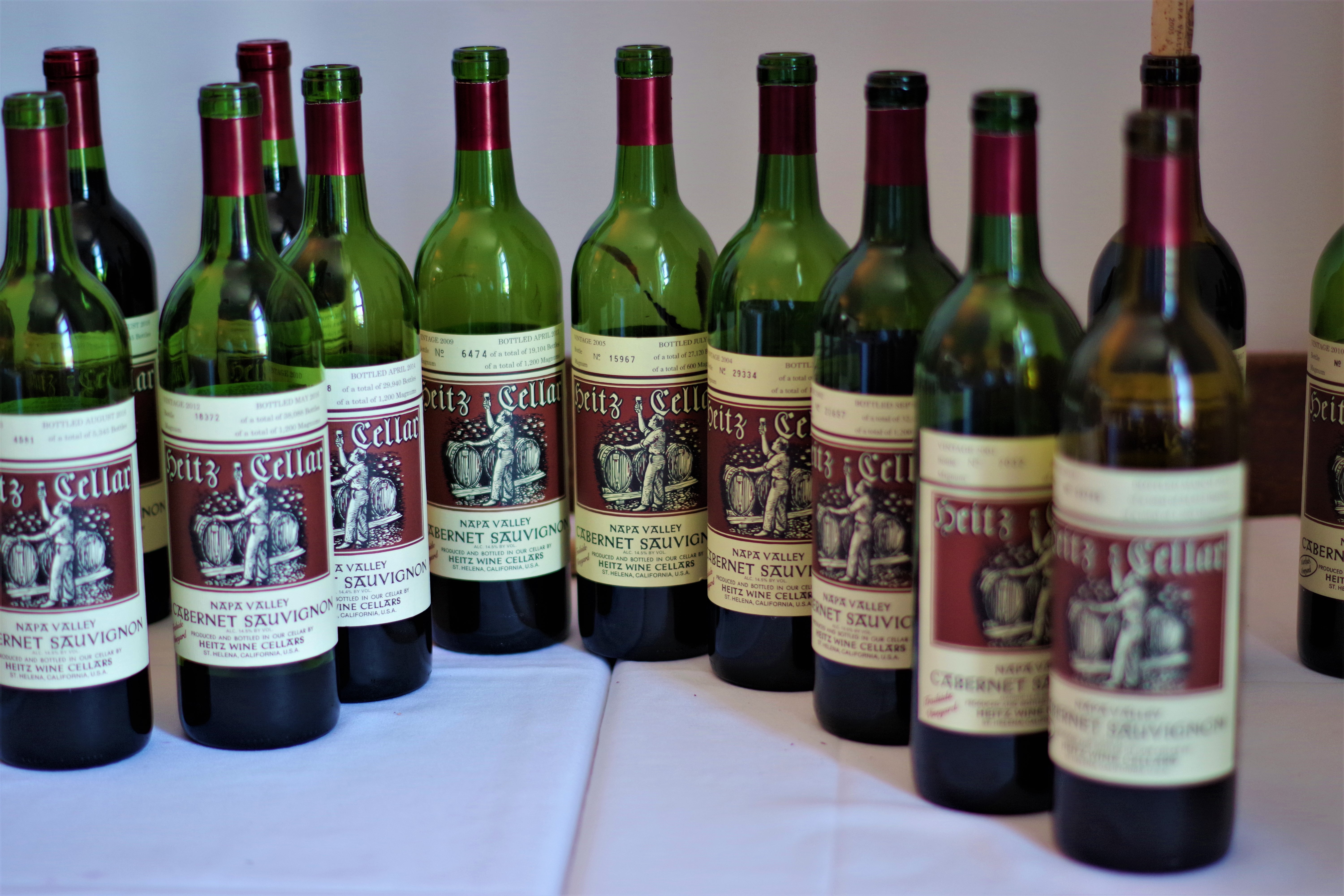 💙Heitz cellar cabernet sauvignon Trailside 2012
This Rutherford vineyard, purchased in  1984 is  their premium Cab that is second only to Martha's Vineyard. 2012 has proved to be voluptuous and bright. The depth and richness of the aromas include tart berries, moka, vanilla and interesting heated caramel on the finale. It's incredibly lenghty and tasty.
Heitz cellar Cabernet Sauvignon trailside 2010
This vintage is deeply aromatic but seems cooler than 2012. It's a rounded delight still going strong and robust but slightly showing its soft side. The nose is developed with aromas of chocolate, clove, bark and definitely not fruit-forward.
💙Heitz Cellar Cabernet Sauvignon trailside 2009
Very deeply colored, 2009 has rich cedar, peat, nutmeg. It evolved mostly towards spices and expresso except residual cooked blackberries.
Heitz Cellar Cabernet Sauvignon trailside 2005
It might not be a great time for 2005. Its taste is starting to get diluted and oxidative. As a vintage that has been described as luxurious and over the top, it's hard to fing those descriptors at the moment.
Heitz Cellar Cabernet Sauvignon trailside 2004
2004 is very elegant and refined with a vibrant freshness and a tart aspect. It's still a youngster and has a lot of surprises coming up for us. It definitely needed time to show its potential and finesse.
💙Heitz Cellar Cabernet Sauvignon trailside 2002
Impressively powerful and young, in a blind test, no one could call this a 16 years old wine. It is quite baffling how this 2002 has stood up through time and age. This luscious Rutherford expression even ends with a harmonious, lengthy finish.
Heitz Cellar Cabernet Sauvignon trailside 2001
2001 is definitely the most evolved and oxidative wine of the vertical tasting, by far. It may have been powerful at some point but now it fall bland and faded. Some tobacco, leather, earth and jerky aromas are still lovely but aren't enough to keep the wine awake.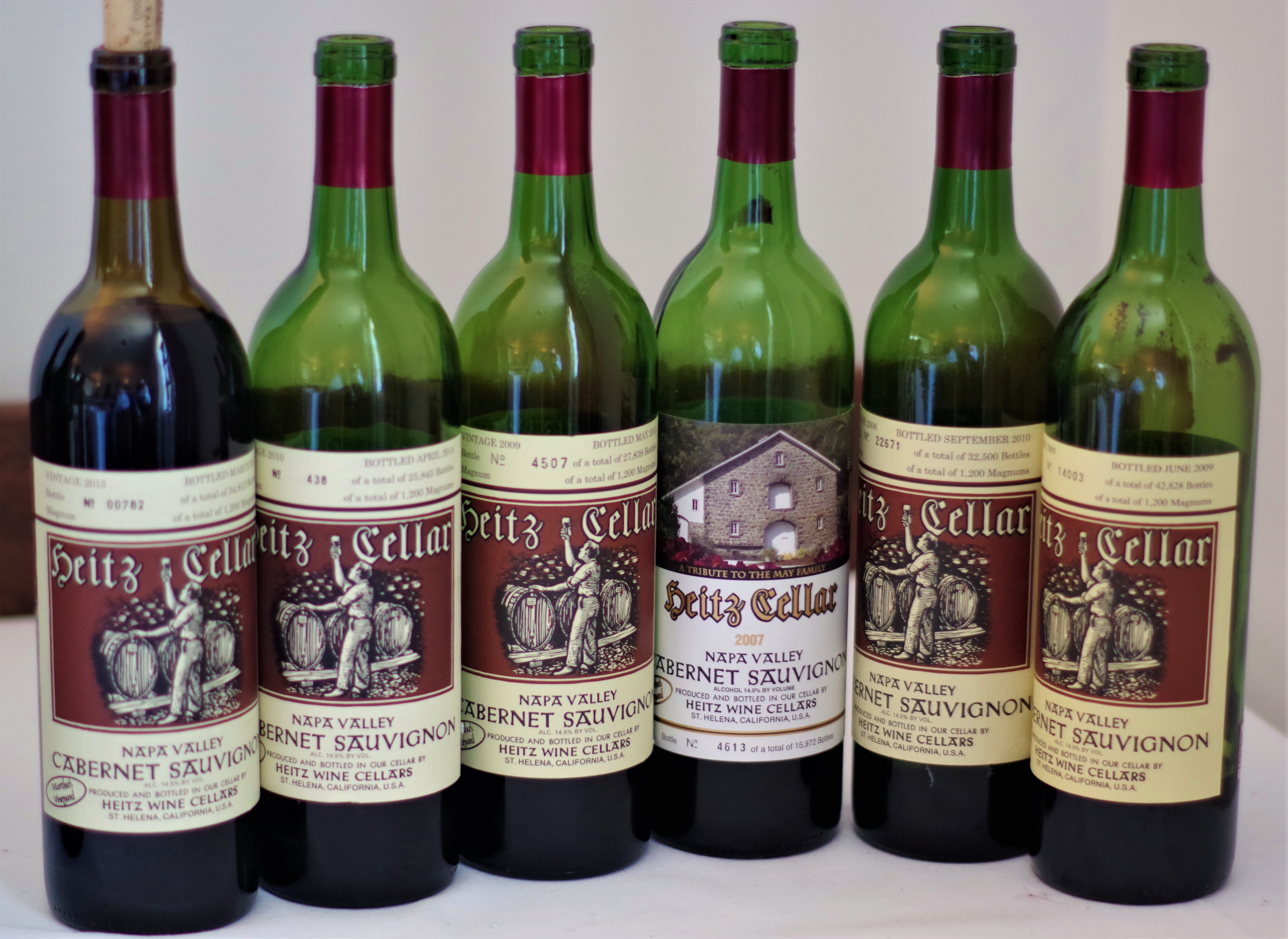 💙Heitz Cellar Cabernet Sauvignon Martha's vineyard 2013
An historic handshake between the Heitz family and the May family who owns the precious piece of land is recognized as one important relationship in winemaking history. The Heitz family's exclusive arrangement to buy the May family's grapes began with their first harvest and continues today. Martha's vineyard has always been characterized by a minty aspect. This character was much stronger in the 1970s, but nowadays, a 'green' character is often wrongly considered as unpleasant or even faulty. Martha's haven't lost all its personality, but now it's showcased in a more suptle and precise way.
I like the aromatic first impression of this single vineyard. It's lovely, fruity, concentrated and you can almost taste the warm sunshine in your glass.  It does have a strong, explosive taste with strong yet integrated tannins.
💙Heitz Cellar Cabernet Sauvignon Martha's vineyard 2010
2010 still holds the classic mint character but beside this, it's completely different. It's savory more than fruity with chocolate, smoke and a precise definition.
Heitz Cellar Cabernet Sauvignon Martha's vineyard 2009
It's amazing how each vintage is expressive and aromatic in their own way. 2009 is opulent with a depth of flavour. The deeply ripened fruits are joined by a mix of vanilla, oak, bark and tobacco. It's kind of in between the sun-drenched fruit of 2013 and the savory side of 2010.
Heitz Cellar Cabernet Sauvignon Martha's vineyard 2007
2007 has a closed and timid nose. The small amounts of aromas are fruit-centered mostly on tart blueberries and plum. The mouthfeel is elegant with a good length but is slightly restrictive and hidden.
💙Heitz Cellar Cabernet Sauvignon Martha's vineyard 2006
This vintage is quite developed even in its gorgeous garnet color. Its caramel, chocolate, coffee, soja and sweet dessert smell is very inviting. It's rich and reminiscent of mint chocolate on the palate, silky yet with a slight tangy finale.
💙Heitz Cellar Cabernet Sauvignon Martha's vineyard 2005
Martha's 2005 is dark, dense, firm and its concentration is simply delightful. It has an excellent backbone leading to firm plummy dark fruits, mocha, mineral, roasted herbs and pure mint flavors that are tight and flamboyant.