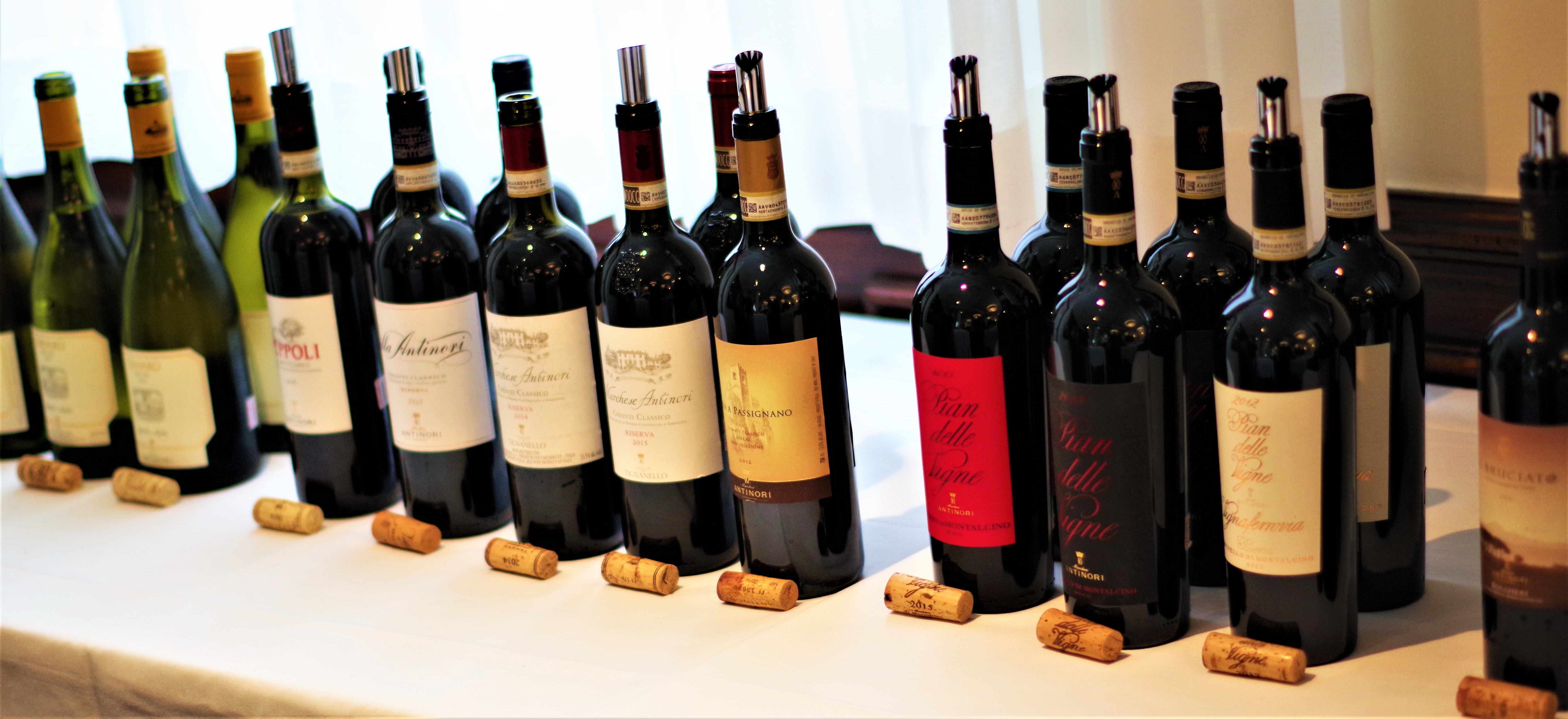 What was supposed to be a privileged small tasting commented by Francesco Visani, commercial director at Piero Antinori turned out to be some sport! A massive line-up of 19 wines from all the main Italian vineyards of this iconic family were presented in details.
Antinori started in Firenze back in 1385. It is now run by the 26th generation making it the tenth oldest family business, all fields combined. It is a very extensive vineyard with as much as 2200 hectares of vines in Italy only and another 500 hectares abroad. All combined, the Antinori dynasty, covers the most prestigious Italian appellations (Tuscany, Umbria, Puglia, Franciacorta and the piedmontese Prunoto) as well as new word destinations ( Napa, Washington, Chile)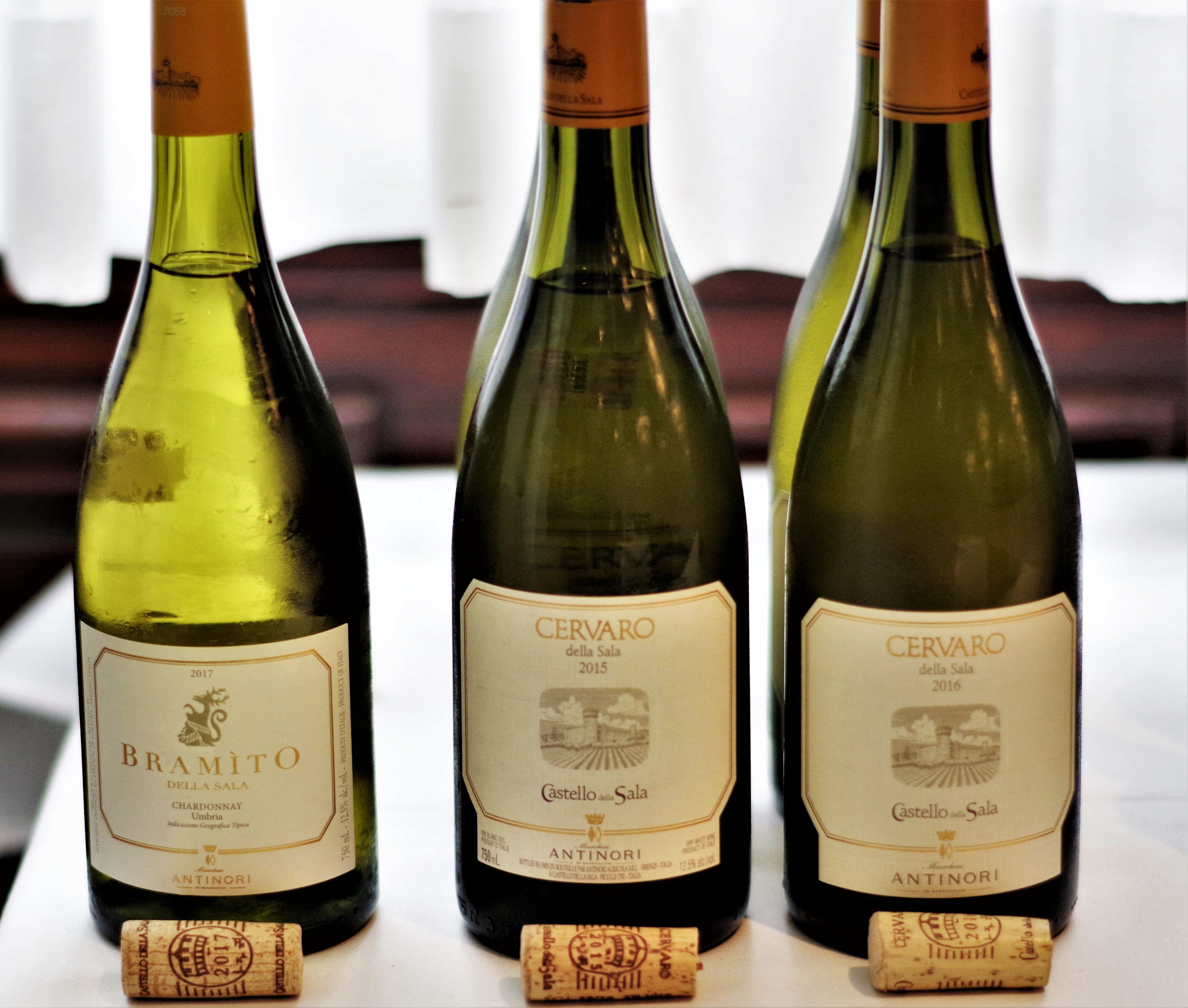 💙Castello de la sala
Castello de la Sala is the Antinori Umbrian estate. It has a fortress right next to Orvieto. It's a quite warm region, yet the wines tend to keep an amazing freshness.
It produces two different labels. The Bramito Chardonnay is kind of the little brother to Cervaro. It's very expressive and complex, with aromas of peach, melon, grilled hazelnuts, beeswax and dried apricot. There's a very pleasing minerality and salinity coming from the proximity of the sea and the windy, ventilated aspect.
Cervaro della Sala, has an upgraded intensity compared to Bramito. The Chardonnay is combined with 10% Grechetto which is essential in the structured style of this wine. It's a large and wide wine, yet effortless with a great acidity to balance the structure. The latest vintages have all been phenomenally good. 2014 was described as pure elegance. 2015 is very harmonious with a burgundian character. 2016 had some similarity to 2014, as a very tense and restrained wine filled with a classy elegance. The aromas are as various as possible including slightly roasted nuts, mild spices, honey, a flower bouquet, toast and a very cool, fresh feeling.
Villa Antinori Bianco, 2016
A refreshing blend of Trebbiano, pinot Gris, Pinot Blanc and Riesling. The honeyed and floral taste is delicate yet vibrant and very pleasing. It's a great summer terrace wine recently available on SAQ shelves.
Pèppoli, 2016 Chianti Classico Antinori
Owned by Piero Antinori since 1985, this extensive 62 hectares of vines was purchased to celebrate the 600th anniversary of the family presence in Chianti. Pèppoli is the entry level, affordable Chianti Classico. It has a charming fruit-centered character, a good acidity and soft, delicate mouthfeel.
Villa Antinori, 2015, Â Chianti Classico Riserva
This Riserva aged in Foudres, has supple yet quite present tannins. It is a good representation of a typical, simple Chianti Classico: fruit-forward with fresh cherries, a touch of spicyness and a touch of earthiness.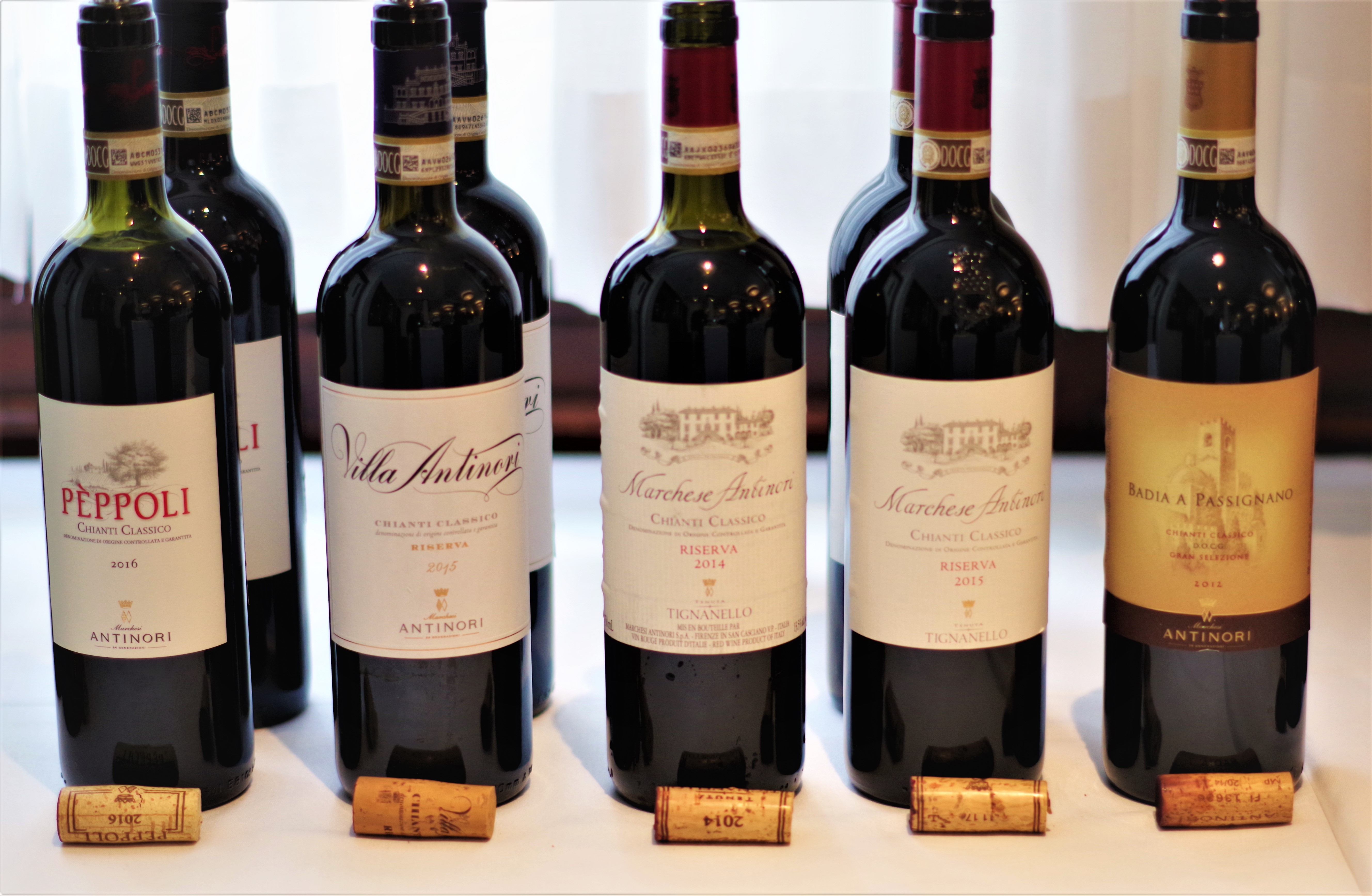 Marchese Antinori, Tenuta Tignanello, Chianti Classico Riserva
Not to be confused with Tignanello, the super-Tuscan. Tenuta Tignanello is actually the Antinori estate situated in Mercatale Val di Pesa in Chianti Classico. It's a ripe and deep wine with a steely minerality, black tea aromas and a slight bitterness.
2014 and 2015 were very different, contrasting even. While 2014 was difficult, cool and rainy with a very small selective volume, 2015 was way easier. With warmth and sunshine, nothing was really needed in the vines. The hard 2014 made some incredibly tense wines, light and elegant and 2015 had a profound fruit character.
💙Badia a Passignano, Chianti Classico, Gran Selezione, 2012
Badia a passignano estate is just 2 km away from Tenuta Tignanello. Made from 100% Sangiovese, this makes it develop and change color quite quickly. This wine comes from a very rigourous grapes selection and is quite typical of the all Sangiovese of Chianti Classico. It's a burst of aromas including black tea, mushrooms, hummus, dried prunes, peach pit, licorice and spices. The fresher climate of the summer gave it a very needed refreshing acidity.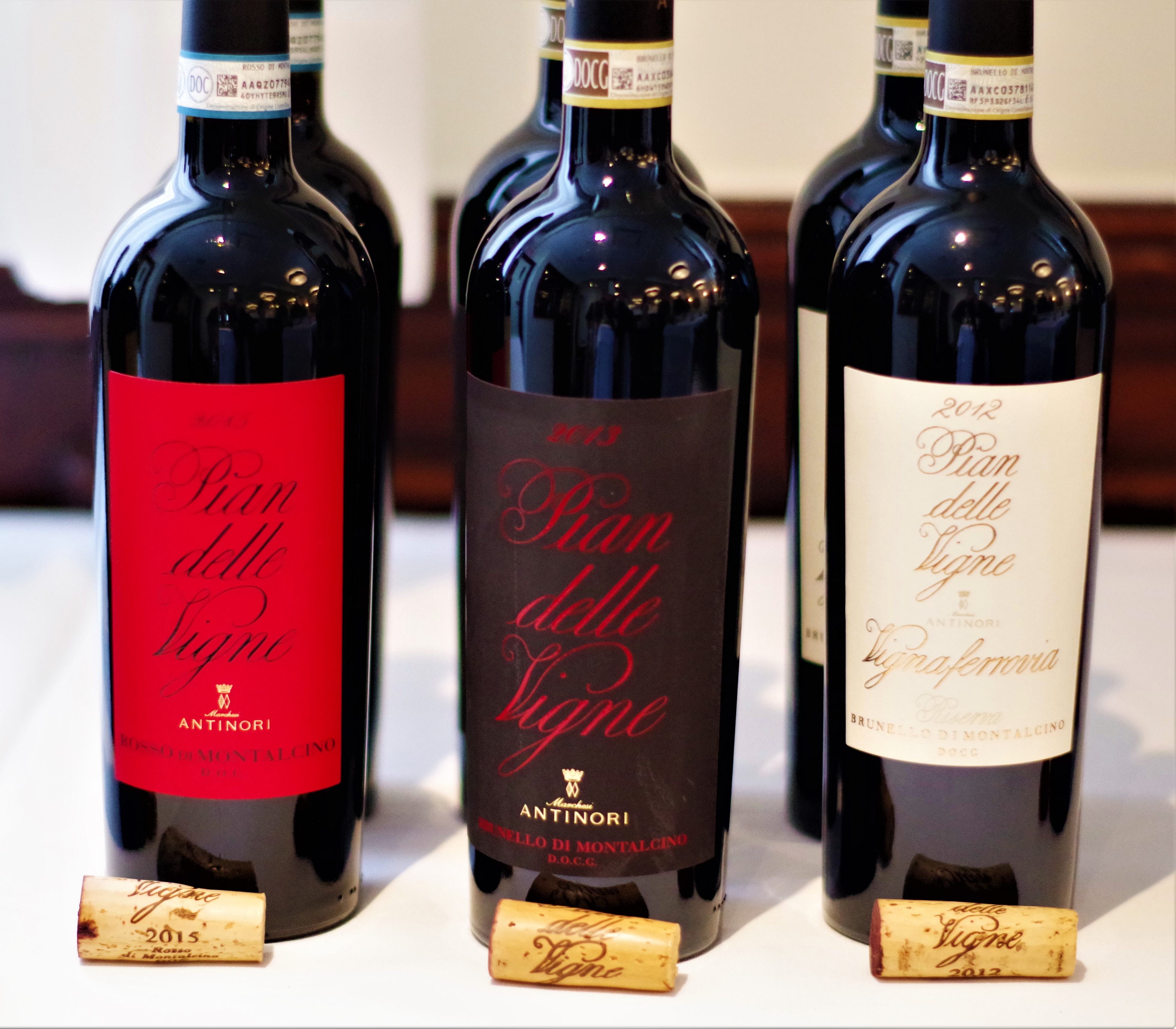 💙Pian delle vigne rosso 2015
The Pian delle vigne rosso is very pleasing, light but incredibly tasty. It's a mix of finesse and flavour. Surprisingly, Pian delle vigne is the only estate that doesn't have any marketing campaign or promotion pushing the sales. However, it's one of the Antinori wines with the most demand, increasing each year.
Pian delle Vigne 2013, Brunello di Montalcino
This Brunello is as tasty is filled with finesse as the rosso but with a grand, robust structure and added complexity. 2013 was great vintage rated 5* for what it's worth. Nonetheless, the balance and integral character are outstanding.
Pian delle vigne 2012, Brunello di Montalcino Vignaferrovia
Lovely slight brick colored wine. Vignaferrovia is a single vineyards characterized by concentration and body. Yet, tannins are soft and supple. Its aromas are quite smoky including tobacco, ashes, tar, mint and spices.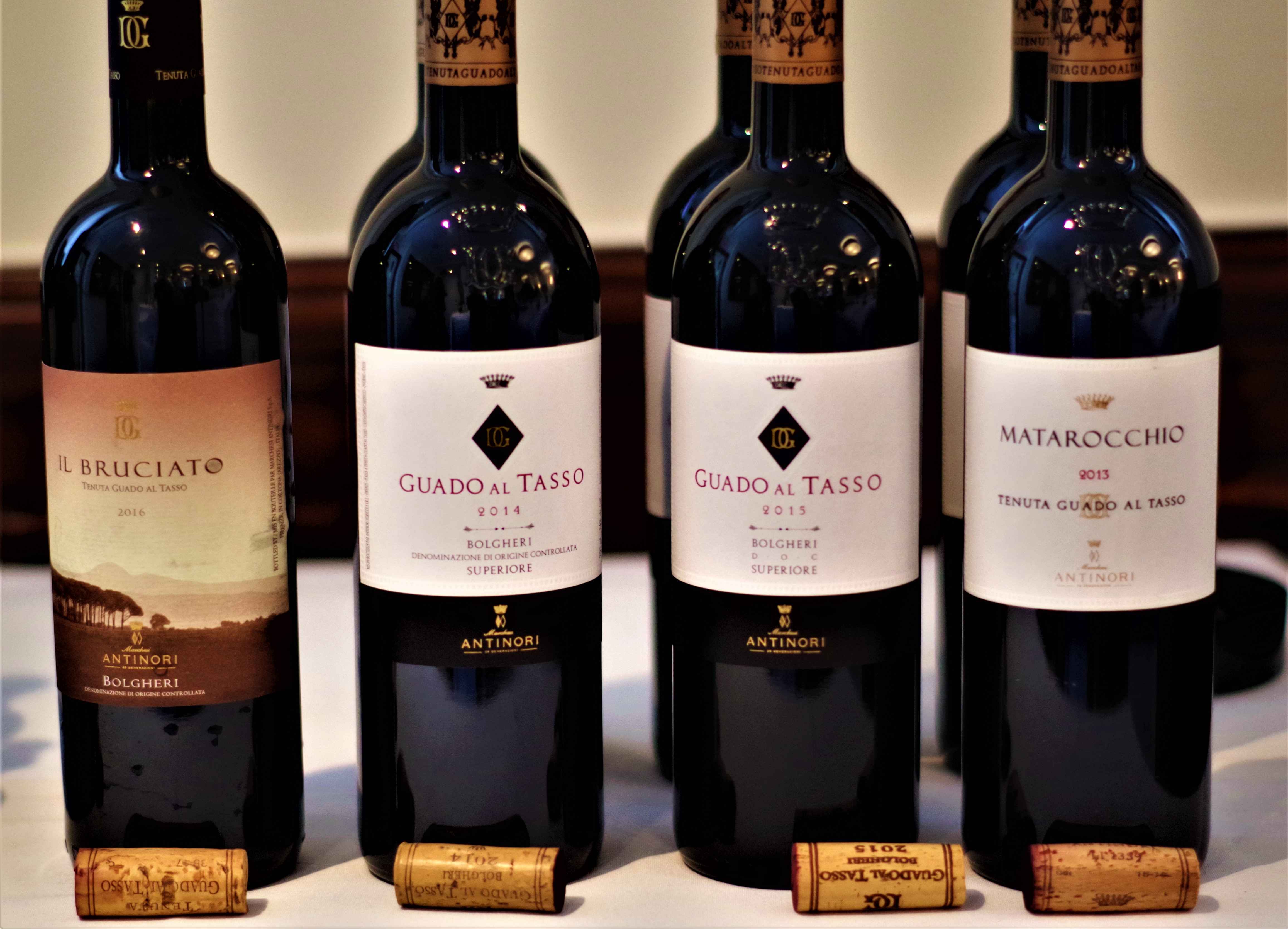 Il Bruciato  2016  Tenuta Guado al Tasso
Guado al Tasso is the Bolgueri Antinori estate with more than 300 hectare of vines. Of course, international grapes are planted as Bolgueri is known for. This wine is 60% Cabernet-Sauvignon, 30% Merlot, 10% Syrah. It has a deep cassis, blackberries, cocoa, anis and candied cherries smell that is simple but lovely. It has a very modern and new world approach especially on the nose. This wine has a relatively big production of around 900K bottles per year. Fortunately, as part of the Bolgueri DOC this is a very good value.
Bolgheri Superiore Guado al Tasso 2014
A very expressive wine with an explosive taste at the very first sip. It's aromatic, opened and wide with interesting roasted notes of chocolate, pecan, coffee and smoke joined by fresh, bright cherries. Of the total 1000 hectares of vines of the appellation, Antinori owns 300, a third of Bolgueri is Antinori's.
Bolgheri Superiore Guado al Tasso 2015
2015 is more tinted than its precedent. It's a warm and overripe with prunes and dates aromas. Obviously, it shows signs of youth but also a great potential. The tannins are robust and slightly integrated but you should drink 2014 now and 2015 later.
💙Guado al Tasso Matarocchio 2013
A very rare, small production and original wine, Matarocchio is a 100% cabernet franc. The variety takes a very specific dimension in the maritime and very sunny climate of Bolgueri. It's a gand wine, intense in every senses of the term. The lovely pink-rimmed wine has a supple and harmonious structure and explosive, complex aromas of Mint and bark, a very interesting minerality and a slight herbaceousness. Vibrant and exciting.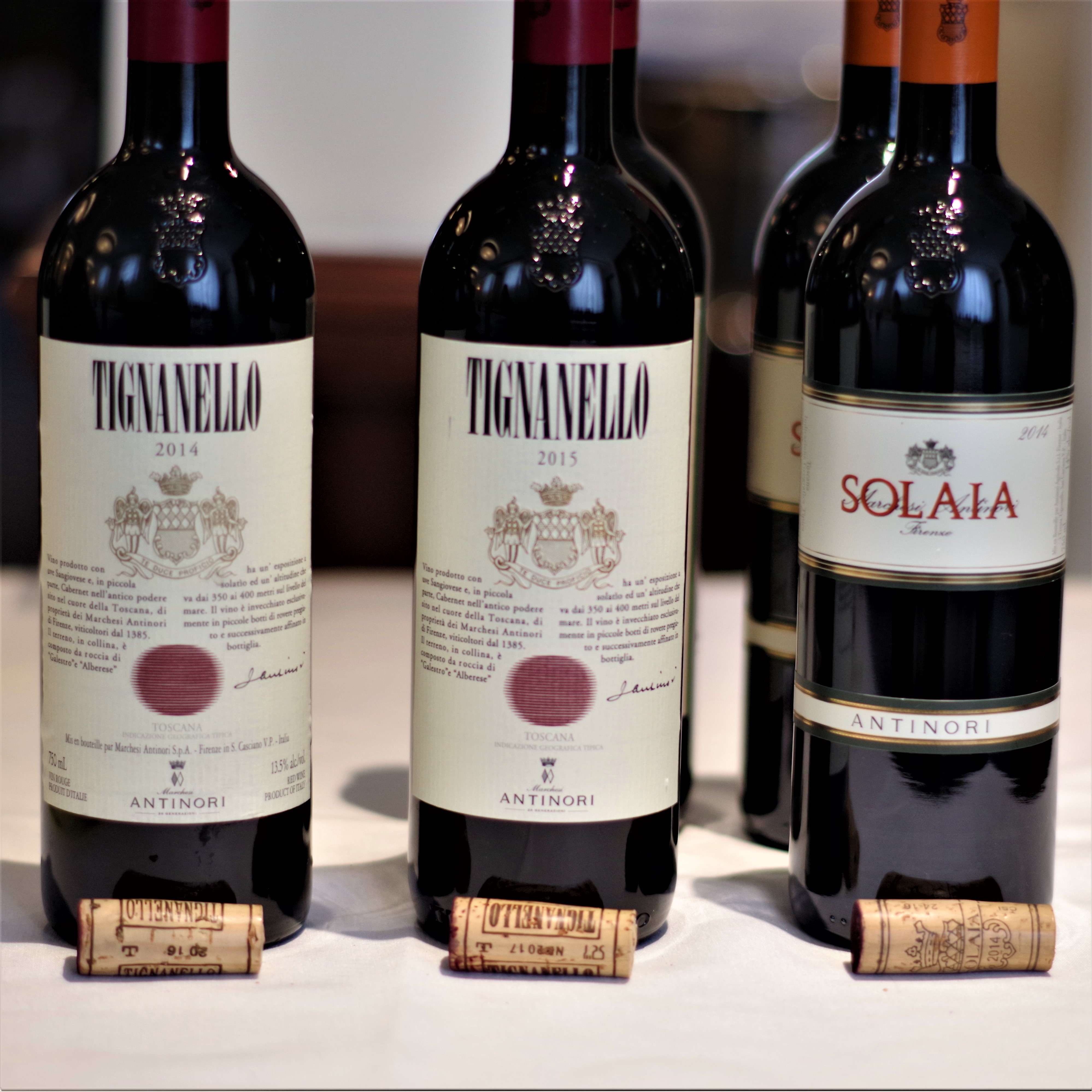 Tignanello 2014
Tenuta Tignanello is in the heart of chianti classic and was part of the origin and the rise of the super-tuscan category. It has been a chianti before, just to become a vino de Tavola and later, when allowed, an IGT Toscana. This very well-known, prestigious and acclaimed wine, is firm and voluminous. You should be careful with this 2014 vintage as it's not representative of the label. The very rainy weather was not favourable at all. It's still a complex and persistent wine but misses the intensity it has proved capable of.
💙Tignanello 2015
Very opaque, and dark, this wine is as concentrated as it can get. It's harsh palate needs some peace for 5 to 10 years before becoming gentler. Yet, the aromas are extremely promising. It has lots of aromatic spices, dried tomatoes, black tea, perpper mint and a slight herbaceousness. The bright acidity and impressive complexity also shows restraint which might transfer in finesse and elegance.
💙Solaia 2014
Solaia is a very small single vineyard of 10 hectares part of Tenuta Tignanello. It means "sunny" which is a reference to the special and favourable position of this specific parcel. While Tignanello was not at its best in 2014, Solaia proved to live up to its iconic status. It's rich and extremely expressive. Its aromas are clear, precise and pure including red licorice, black fruits, perfume and graphite. It definitely has power but is supple and very pleasing.