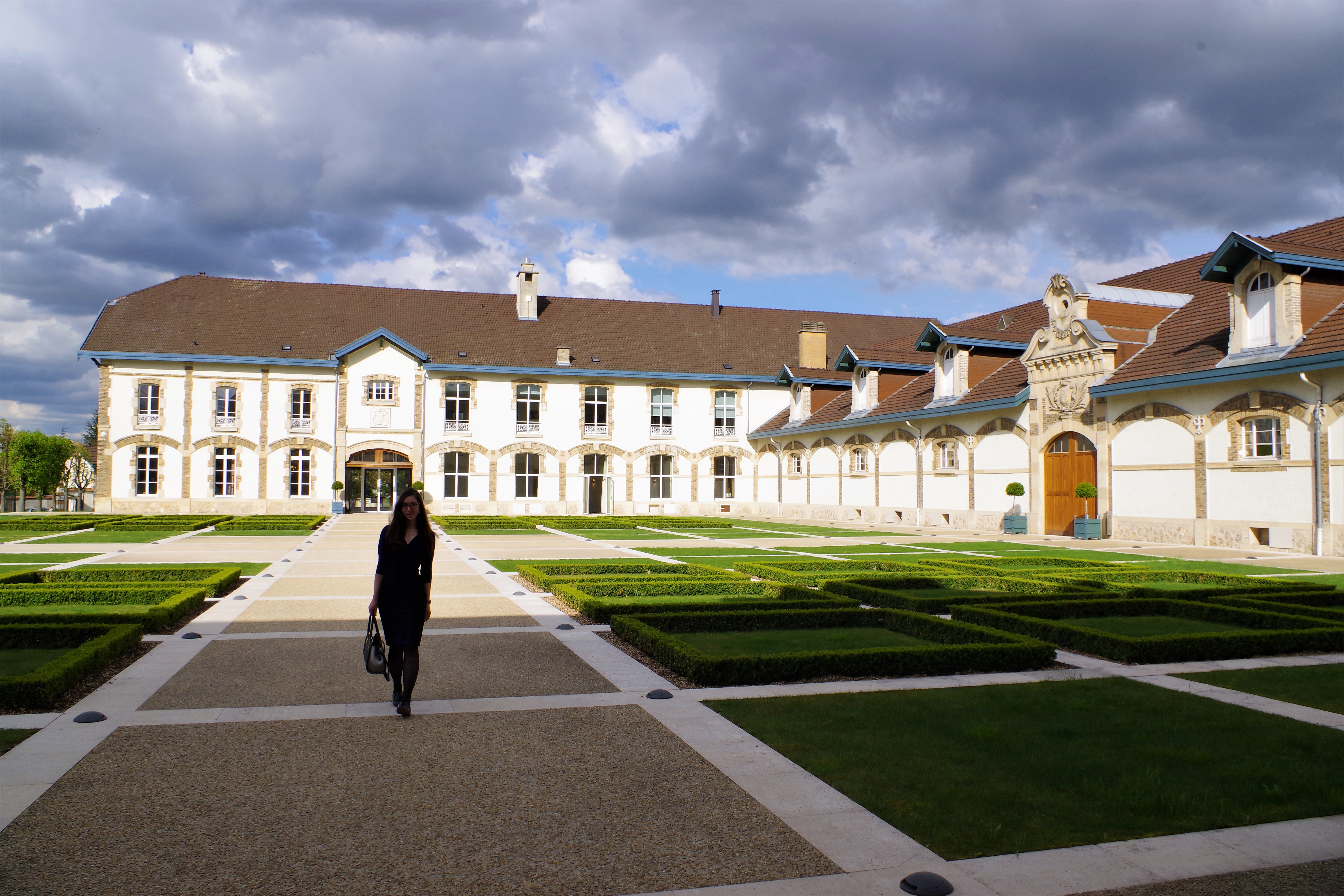 Champagne Ruinart, as the first established Champagne house in 1729, is quite unique. The House was founded by Nicolas Ruinart whose uncle, a Benedictine monk, Dom Thierry Ruinart had an intuition. He felt that the new "wine with bubbles", developed in his native Champagne was promised a bright future. This was one year after a Royal Decree in 1728 whereby Louis XV gave his consent for sparkling wines to be shipped. In the mid-18th century, Ruinart acquired chalk quarries just outside of Reims. It is now the very well-known Crayères classified as a historical monument by the UNESCO in 1931. Frédéric Panaïotis is the cellar master since 2007 and it is under the shade of the LVMH group that Ruinart has developed its very own style and personality famous for its Blanc de Blancs, with its distinctive and quite beautiful bottle shape.
After crossing the house's lobby and art room with take the dim-lighted stairs downward towards the poetic chalk cellars stretching 8 kilometers in length. In comparison to the manicured garden and very luxurious buildings upstairs, the caves had a rough life, with the hash marks of picks and chisels still visible in spots, intricate marks, scribbles and engravings from World War I, when hid in these humid cache when reims was nearly razed by German shelling. Of course, along those scars, there are stored bottles, ocean worth of dormant Champagne just waiting to be ready.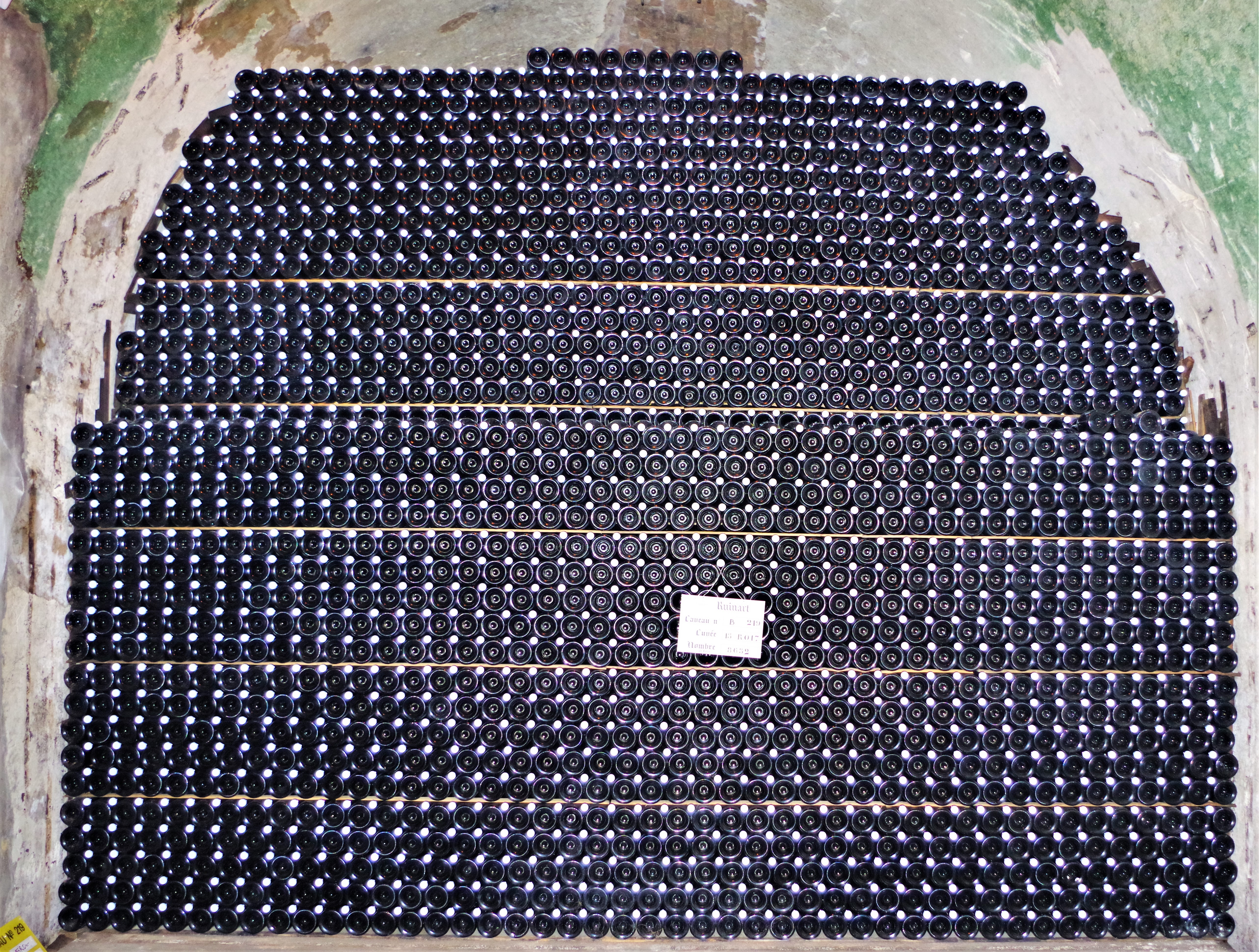 Champagne Ruinart, en tant que première maison de Champagne établie en 1729, est tout à  fait unique. La maison a été fondée par Nicolas Ruinart dont l'oncle, un moine bénédictin, Dom Thierry Ruinart avait une intuition. Il a estimé que le nouveau «vin avec des bulles», développé dans son Champagne natal était promis un avenir brillant. C'était un an après un décret royal en 1728 par lequel Louis XV a donné son consentement pour que les vins mousseux soient expédiés. Au milieu du XVIIIe siècle, Ruinart acquiert des carrières de craie juste à  l'extérieur de Reims. C'est aujourd'hui le très célèbre Crayères classé monument historique par l'UNESCO en 1931. Frédéric Panaïotis est le maître de chai depuis 2007 et c'est à  l'ombre du groupe LVMH que Ruinart a développé son propre style et sa personnalité réputée pour son Blanc de Blancs, avec sa forme de bouteille distinctive et assez belle.
Après avoir traversé le hall et la salle d'art de la maison, descendez les escaliers tamisés vers les caves poétiques de craie qui s'étendent sur 8 kilomètres. En comparaison avec le jardin bien entretenu et les bâtiments très luxueux à  l'étage, les grottes avaient une vie rude, avec les marques de pics et de ciseaux encore visibles, des marques complexes, des gribouillages et des gravures de la Première Guerre mondiale. Reims a été presque rasé par les bombardements allemands. Bien sûr, le long de ces cicatrices, il y a des bouteilles stockées, un océan de Champagne dormant n'attend que d'être prêt.