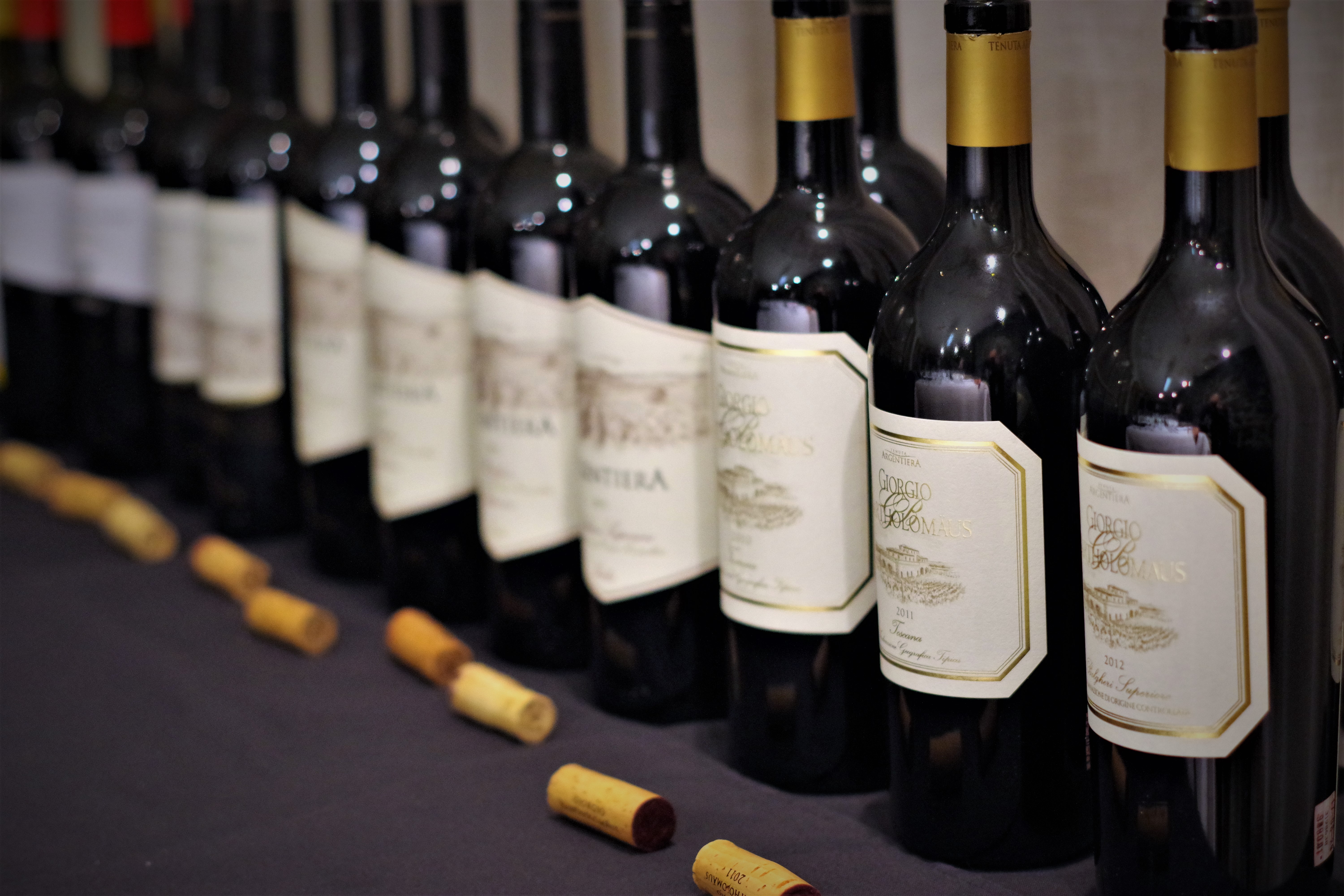 What defines Bolgheri, this tiny piece of Maremma? Is it the exceptional sense of place and terroir, their unusual use of international grape that kind of defies what makes Italian wine so wonderful or just the general attention and special care from this very unique place? It might be all of these reasons and more. At their heart, Bolgheri wines are really French in their composition, relying heavily on the Bordeaux trio of Cabernet Sauvignon, Merlot and Cabernet Franc, among other grapes. With a lack of tradition and a young history overall, before Mario Incisa della Rochetta planted cabernet sauvignon in 1948 which was to become Sassicaia, most of the land was used for cattles and also rosé wines.
Tenuta Argentiera is even younger than Bolgheri story itself. The estate was founded in 1999 by the Fratini family and their first ever vintage was the 2004. Argentiera, often confused for Argentine, refers to a silver mine nearby. It's the 5th largest estate of Bolgheri with 76 ha under vines in total. Situated on the Maremma coastline, the estate was previously part of the old Donoratico estate and then the Antinori family until 1999.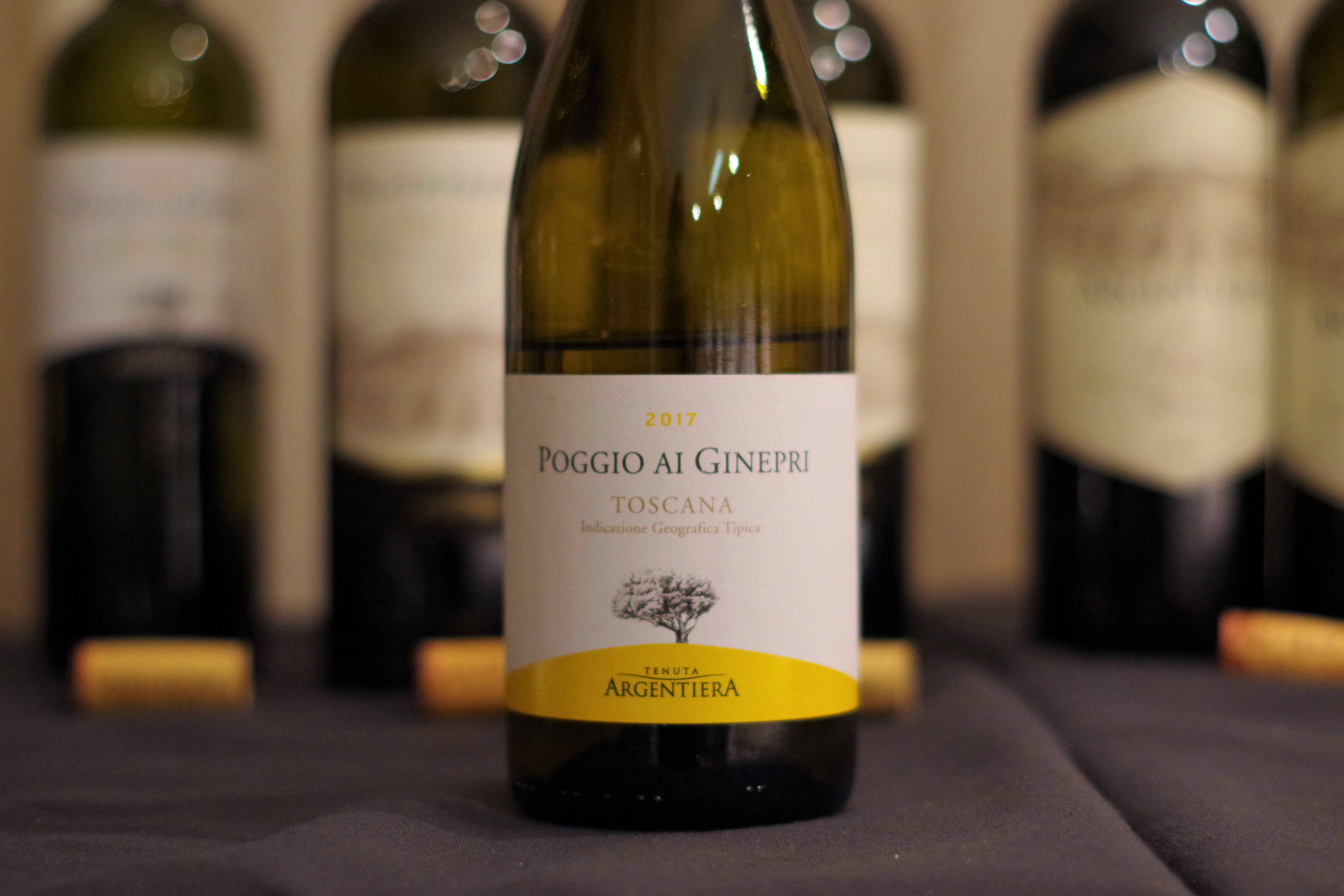 Poggio ai Ginepri 2017
An enjoyable Vermentino white with 20% sauvignon blanc. Even if 2017 was a very dry vintage, this wine is quite aromatic and will become larger with time as Vermentino usually does. It's salty with hints of honey and a very fresh feeling.
Poggio ai Ginepri rosso 2015 / 2016
Their entry level Bolgheri red is a very ripe and floral wine. Dark and expressive with notes of cherries, violets and spices. It's a blend of Cabernet Sauvignon, Cabernet Franc , merlot and Syrah although the syrah has been left out since 2016. The syrah is now used for rosé.
Villa Donoratico, 2015 / 2016
2015 has better integrated tannins than 2016 which is harsher. Both are still not ready to drink but shows great potential. They're fresh, balanced with an herbaceousness, tartness and sweet spiciness.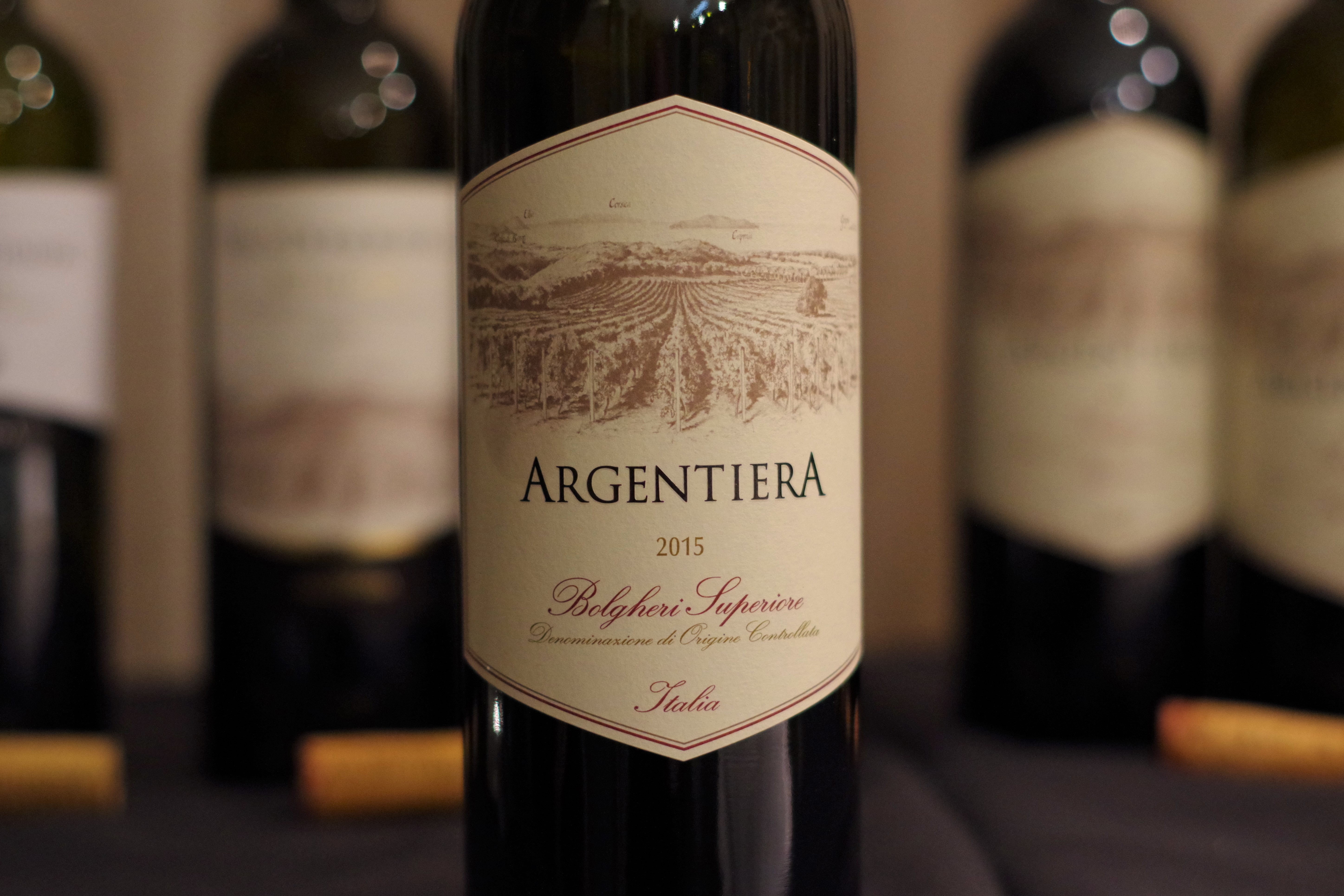 Argentiera 2010 / 2011 / 2012 / 2015
Bolgheri superiore which is their Flagship wine. Argentiera is obviously a bold and complex wine that is very sensitive to vintages. 2015 is young on tart red and black fruits but shows a great balance in acidity and minerality. 2014 was a bad vintage as it was very cold this year. 2013 was disastrous, hit by a huge hail storm, a good amount of the harvest was lost. 2012 is quite closed at first. It has steely, anisseed and bark aromas. It's coarse but not harsh. It is said to be very traditional of the Bolgheri style. 2011 is the complete opposite of 2012, explosive and aromatic. Ripe and fresh at the same time with lovely balsamic and eucalyptus aromas. Those characteristic are also found in the 2010 yet with a denser structure and mouthfeel.
Giorgio Barholomaus
Giorgio was the first nephew of the founder. This special cuvee is 100% Merlot which wasn't allowed before 2012 in the DOC Bolgheri. It was labeled as IGT before. The other special cuvee include Ophelia a 100% Cabernet sauvignon and Lavinia a 100% Cabernet Franc also named after the founder's nieces. Those single varieties are not exactly the style of the house which specialised in blends. Although, they are very interesting to understand what every varieties brings to the table.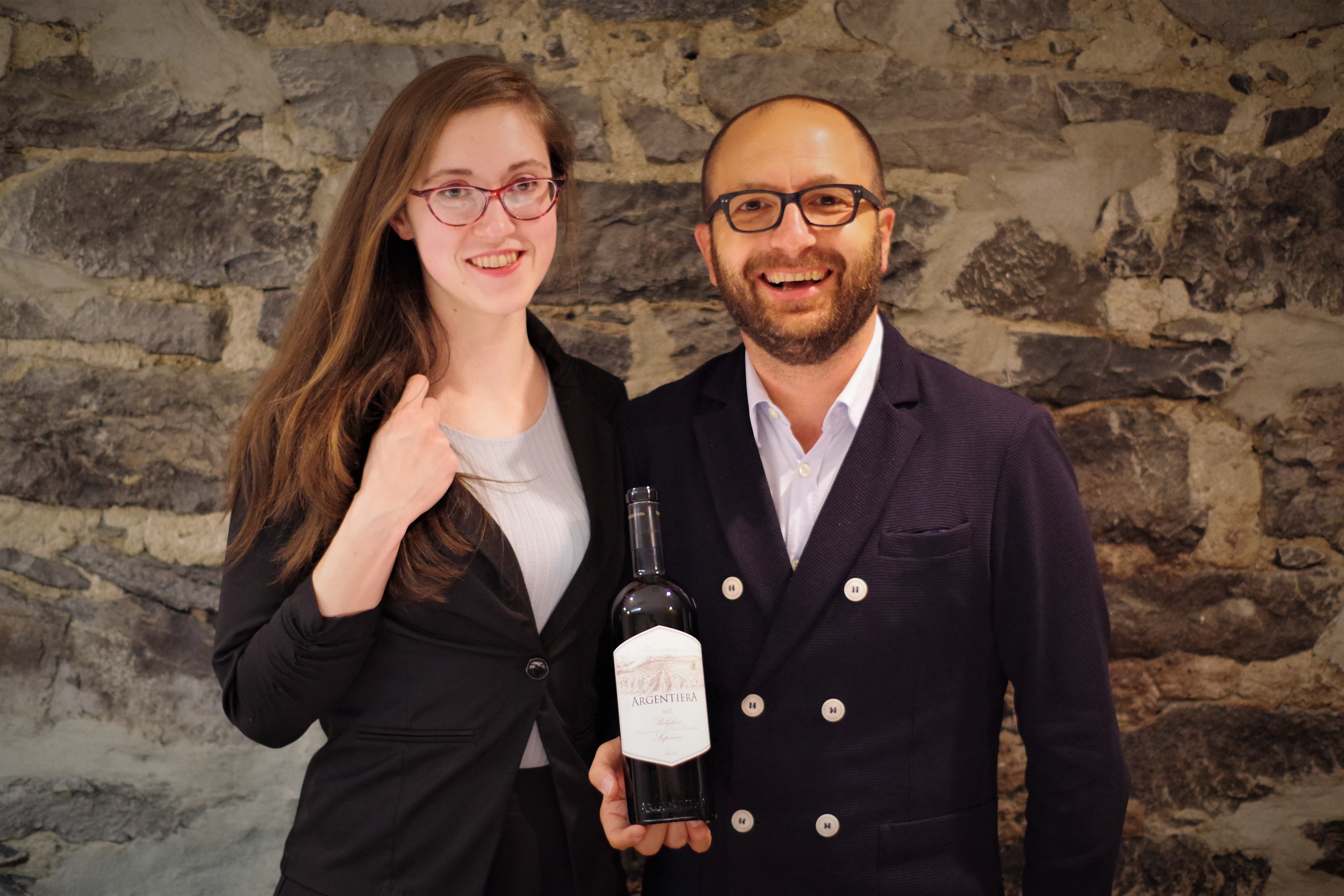 Massimo Basile, export director
 Qu'est-ce qui définit Bolgheri, ce petit morceau de Maremma? Est-ce le sens exceptionnel du lieu et du terroir, leur utilisation inhabituelle des cépages internationaux qui défie ce qui rend le vin italien si merveilleux ou juste l'attention générale et les soins spéciaux de ce lieu unique? Ce pourrait être toutes ces raisons et plus encore. En un  sens, les vins de Bolgheri sont vraiment français dans leur composition, en s'appuyant fortement sur le trio Bordelais de Cabernet Sauvignon, Merlot et Cabernet Franc, entre autres. Avec un manque de tradition et une jeune histoire en général, avant que Mario Incisa della Rochetta planta le premier plant de cabernet sauvignon en 1948 qui allait devenir Sassicaia, la plupart des terres étaient utilisées pour les bovins et aussi les rosés.
Tenuta Argentiera est encore plus jeune que l'histoire de Bolgheri elle-même. Le domaine a été fondé en 1999 par la famille Fratini et leur premier millésime a été le 2003. Argentiera, souvent et malheureusement confondu avec « Argentine », se réfère à  une mine d'argent à  proximité. C'est la 5ème plus grande propriété de Bolgheri avec 76 ha de vignes au total. Situé sur la côte de la Maremma, le domaine faisait auparavant partie de l'ancien domaine de Donoratico, puis de la famille Antinori jusqu'en 1999.
Poggio ai Ginepri bianco, 2017
Un agréable Vermentino blanc avec 20% de sauvignon blanc. Même si 2017 était un millésime très sec, ce vin est assez aromatique et deviendra plus arrondi avec le temps comme le fait habituellement le Vermentino. Il est salé avec des notes de miel et une approche très fraîche.
Poggio ai Ginepri rosso, 2015 / 2016
Leur niveau d'entrée en Bolgheri rouge est un vin très mûr et floral. Sombre et expressif avec des notes de cerises, de violettes et d'épices. C'est un assemblage de Cabernet Sauvignon, Cabernet Franc, Merlot et Syrah bien que la syrah ait été omise depuis 2016. La syrah est maintenant utilisée pour le rosé.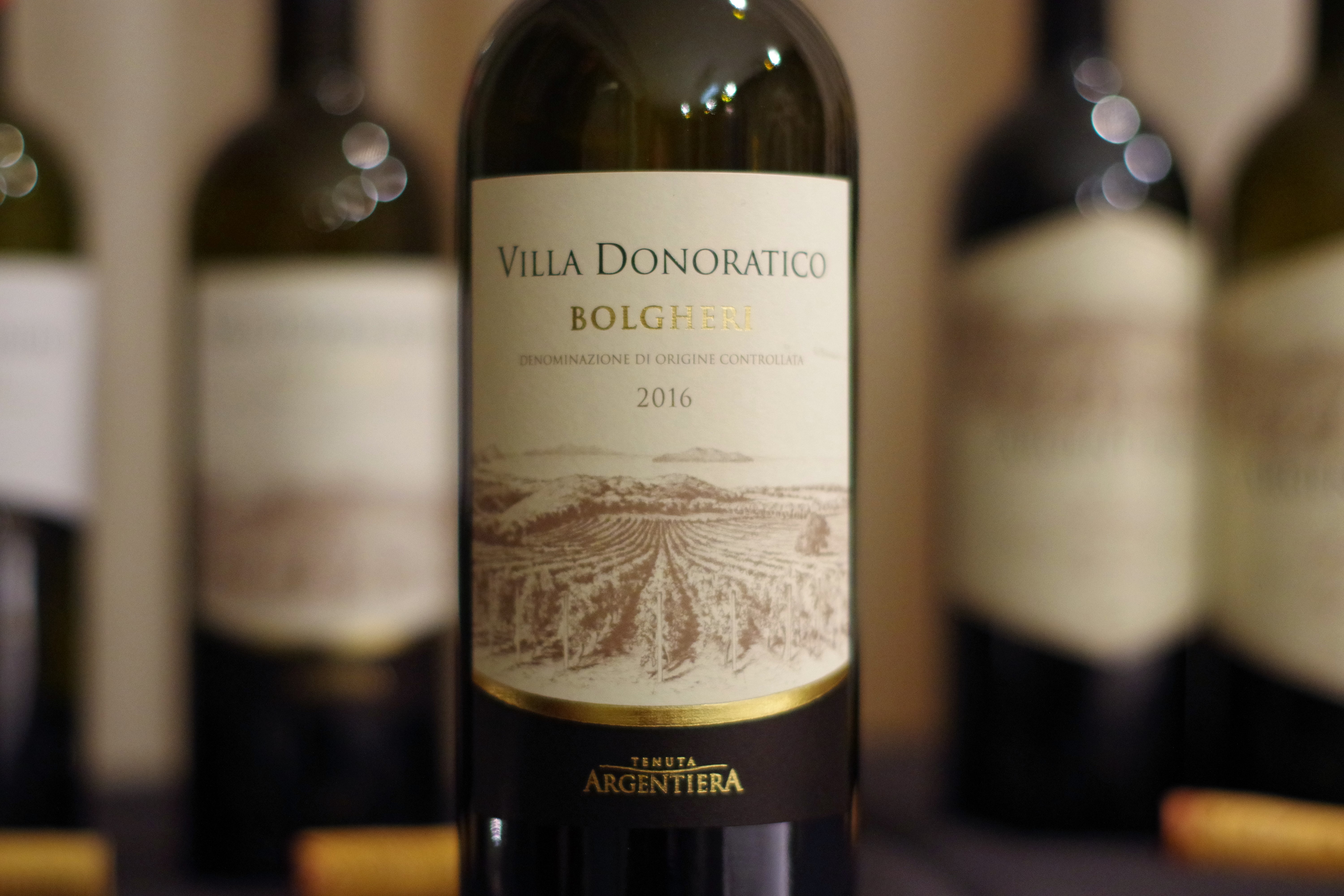 Villa Donoratico, 2015 / 2016
2015 a mieux intégré les tanins que 2016 ce qui est plus dur. Les deux ne sont toujours pas prêts à boire, mais montre un grand potentiel. Ils sont frais, équilibrés avec une touche herbacée, une bonne acidité et des épices douces.
Argentiera 2010 / 2011 / 2012 / 2015
Argentiera est leur Bolgheri supérieur, leur vin phare. Argentiera est évidemment un vin audacieux et complexe, très sensible aux millésimes. 2015 est jeune sur des fruits rouges et noirs acidulés mais montre un grand équilibre d'acidité et de minéralité. 2014 a été un mauvais millésime car il faisait très froid cette année. 2013 a été désastreuse, frappée par une énorme tempête de grêle, une bonne partie de la récolte a été perdue. 2012 est assez fermé au début. Il a des arômes d'acier, d'anisse et d'écorce. On dit qu'il est très traditionnel du style Bolgheri. 2011 est l'opposé complet de 2012, explosif et aromatique. Mûr et frais à  la fois avec de beaux arômes de balsamique et d'eucalyptus. Ces caractéristiques sont également trouvées dans le 2010 encore avec une structure plus dense et une sensation plus ample en bouche.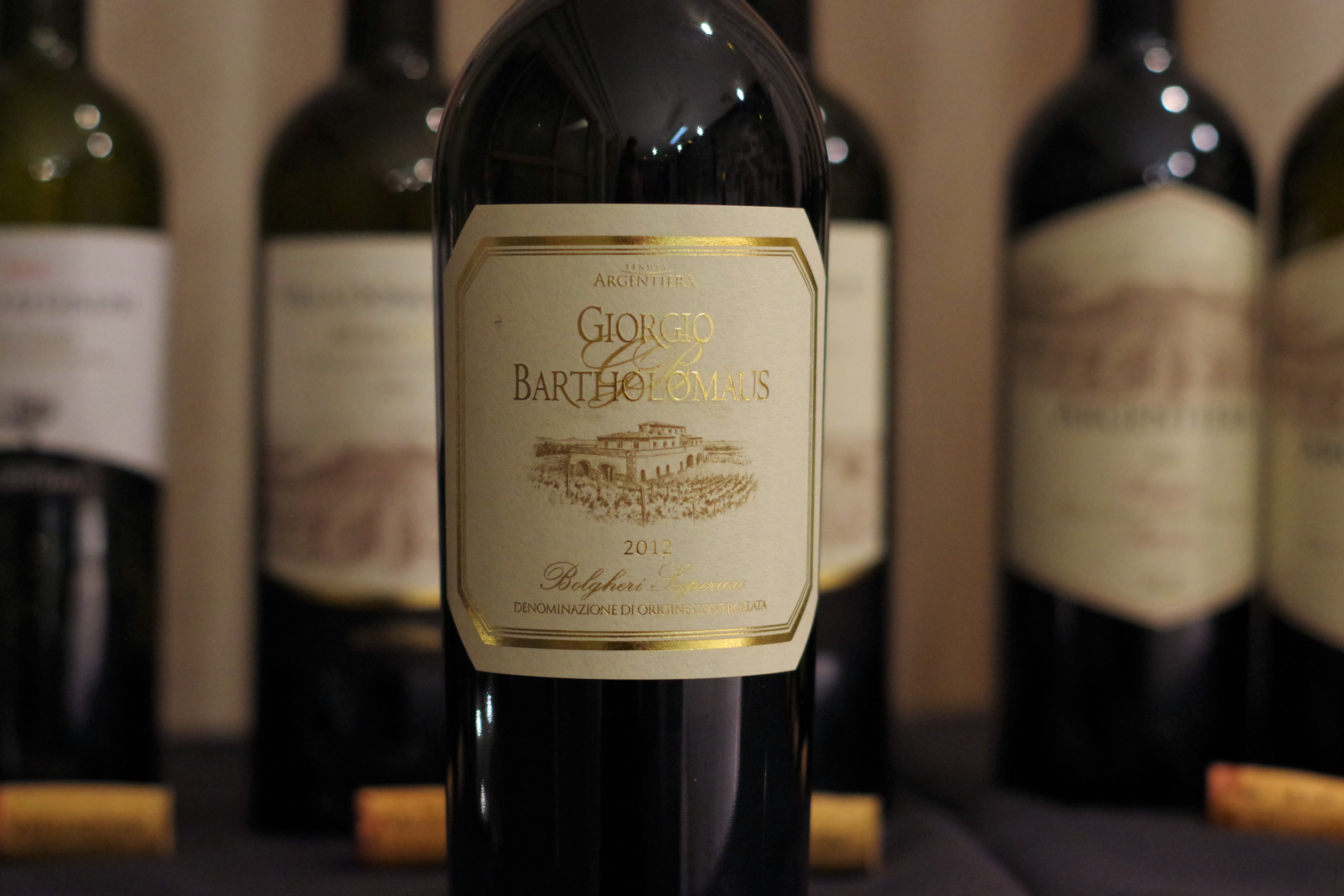 Giorgio Barholomaus
Giorgio était le premier neveu du fondateur. Cette cuvée spéciale 100% Merlot n'était pas autorisée avant 2012 dans le DOC Bolgheri. Il a été étiqueté comme IGT avant. L'autre cuvée spéciale comprend Ophelia 100% Cabernet Sauvignon et Lavinia 100% Cabernet Franc, également nommé d'après les nièces du fondateur. Ces variétés uniques ne sont pas exactement le style de la maison qui se spécialise dans les mélanges. Toutefois, ils sont très intéressants pour comprendre le potentiel et les caractéristiques de chaque variété.