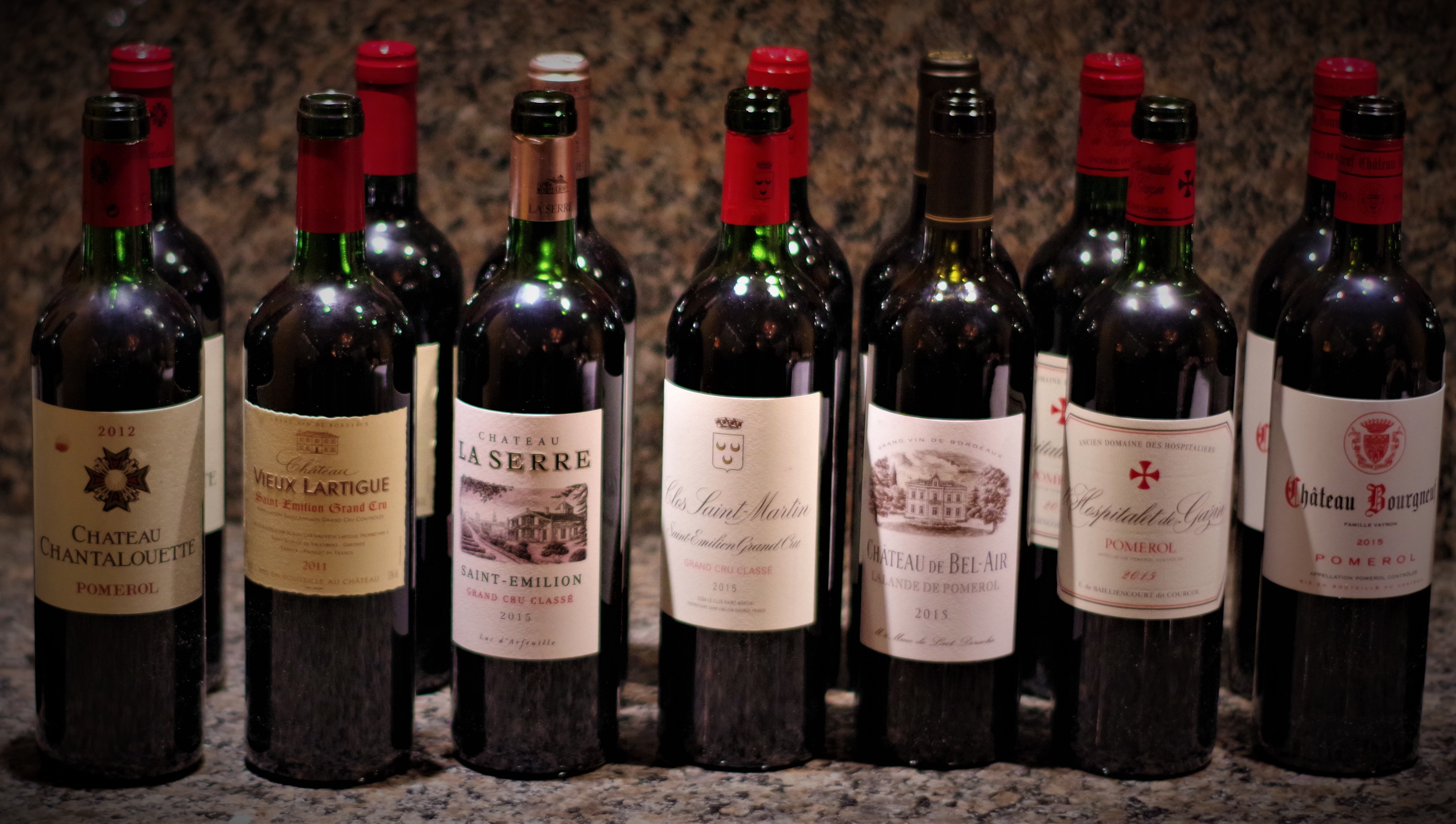 It was the 18th anniversary of the annual meeting that all the wine journalists in Quebec are waiting for with eagerness: the presentation of the wines of the Establishments Jean-Pierre Moueix, this time for the 2015 vintage. However, this time, and for the first time, I was humbly and excitedly joining this elite group of experts.
Jean-Pierre Moueix, was the emblematic founder of a real wine empire. Château Fonroque was the cradle of the family at the start until it became part of a bigger project in 1979. The younger son, Jean-Pierre Moueix, will make it flourish around a myth, that of Petrus, and an activity, that of the wine trade. This négociant-éleveur from Libournais started with only the family production (Château Fonroque) and those of a few neighbors only. In was in the 1950s that they started to acquire more estates and it escalated to the very famous Petrus. The following generation would later separate in two branches: Jean-François Moueix, one of Jean-Pierre's two sons, owns the Videlot Group, which includes Petrus and a very good trading company, Duclot ; Christian, also owner of Dominus in California, took the reins of the main company in 1991.
Beside his attributes as vineyard visionary, Moueix is also a discoverer of talent. Within the team we can find legendary names such Jean-Claude Berrouet and now his son Olivier, oenologist at Petrus, or the most dedicated figures such as Laurent Navarre, General Director for over 40 years.
With the imminent arrival of the 2015 primeurs, you'll have to keep an eye out as they are showing absolutely lovely. While the very first primeurs notes all pointed to Margaux as THE appellation of the vintage, opinions are now way more shared. It's safe to say 2015, under the sign of the heat and the sun with a constant attention to canopy followed by a fresher, milder september, was overall good; and Right banks are especially charming in their fruit, depth and balance.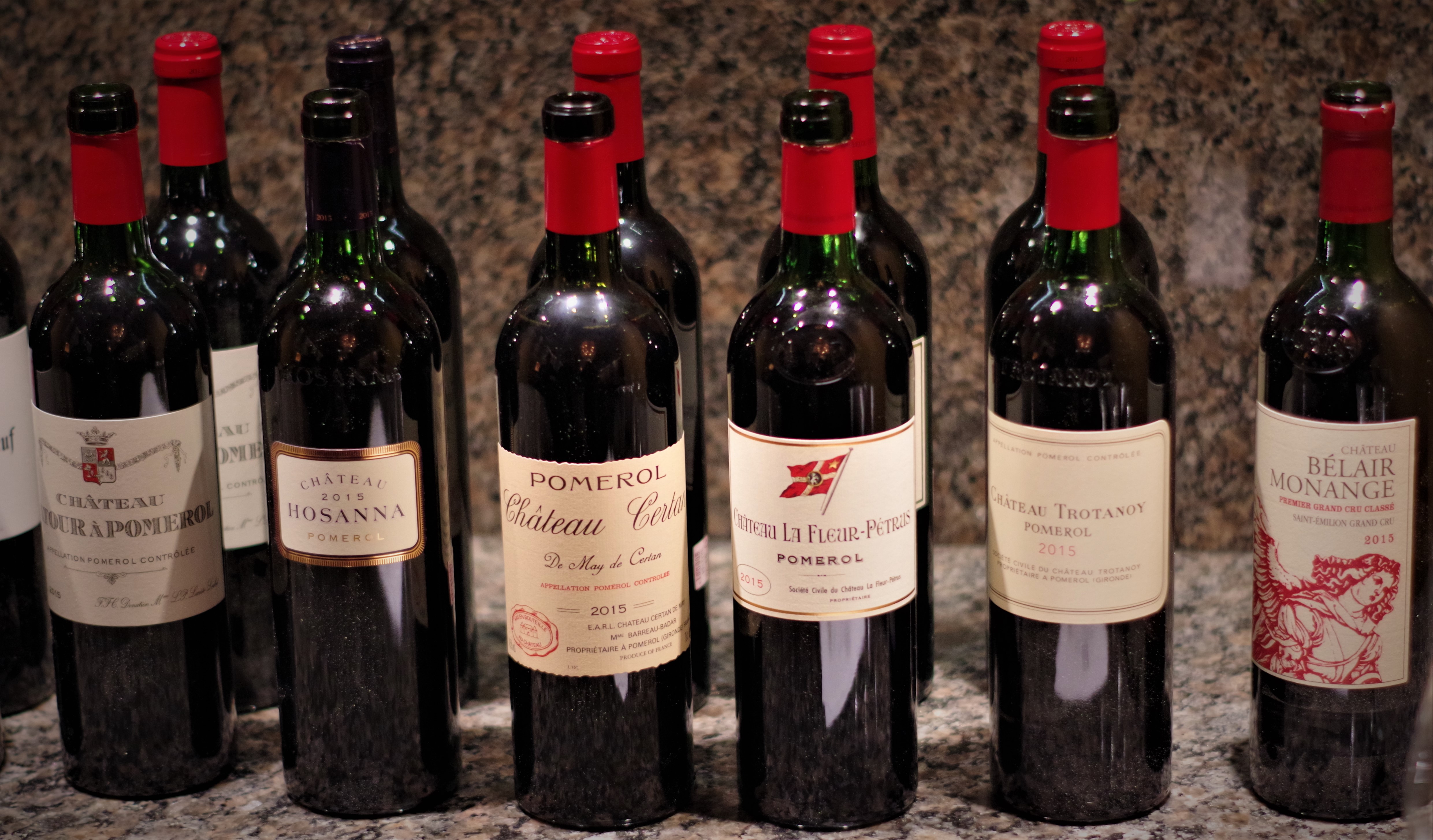 C'était le 18e anniversaire de la réunion annuelle que beaucoup de chroniqueurs vin du Québec attendent avec empressement: la présentation des vins des Établissements Jean-Pierre Moueix, cette fois pour le millésime 2015. Cependant, cette fois-ci, et pour la première fois, j'ai rejoint humblement et avec enthousiasme ce groupe d'élites et d'experts.
Jean-Pierre Moueix, était le fondateur emblématique d'un véritable empire du vin. Château Fonroque a été le berceau de la famille au départ jusqu'à  ce qu'il fasse partie d'un plus grand projet en 1979. Le fils cadet, Jean-Pierre Moueix, le fera s'épanouir autour d'un mythe, celui de Petrus, et d'une activité, celle de commerce de vin. Ce négociant-éleveur de Libournais a commencé avec seulement la production familiale (Château Fonroque) et celles de quelques voisins. Ce fut dans les années 1950 qu'ils ont commencé à  acquérir plus de domaines et escalader vers le très célèbre Petrus. La génération suivante se séparera par la suite en deux branches: Jean-François Moueix, l'un des deux fils de Jean-Pierre, possède le groupe Videlot, qui comprend Petrus et une très bonne société de négoce, Duclot; Christian, également propriétaire de Dominus en Californie, prendra les rênes de la société principale en 1991.
En plus de ses qualités de visionnaire viticole, Moueix est aussi un découvreur de talent. Au sein de l'équipe, nous pouvons trouver des noms légendaires tels que Jean-Claude Berrouet et maintenant son fils Olivier, Å"nologue chez Petrus, ou les figures les plus dévouées telle que Laurent Navarre, directeur général depuis plus de 40 ans.
Avec l'arrivée imminente des primeurs 2015, il faudra garder un Å"il sur eux car ils se montrent absolument ravissants. Alors que les toutes premières notes des primeurs pointaient vers Margaux comme l'appellation du millésime, les opinions sont désormais bien plus partagées. Il est possible de dire que 2015, sous le signe de la chaleur et du soleil avec une attention constante à  la canopée suivie d'un septembre plus frais et plus doux, était globalement bon; et les Rives Droites sont particulièrement charmants dans leurs fruits, leur profondeur et leur équilibre.
Favorite wines of the night!
Lalande-de-pomerol, Château de Bel-Air, 2015
I'm a big fan of lalande-de-Pomerol. Once again, one has proven to be better than many Pomerols. With a more than attractive price (34.75$), it is filled with a softness and an impressive complexity. Classic in style, it is an open, generous wine that will develop quickly.
Je suis une grande fan de Lalande-de-Pomerol. Encore une fois, l'un d'entre eux s'est avéré être meilleur que beaucoup de Pomerols. Avec un prix plus qu'attrayant (34.75 $), il est rempli d'une douceur et d'une complexité impressionnante. Classique dans le style, c'est un vin ouvert, généreux qui se développera rapidement.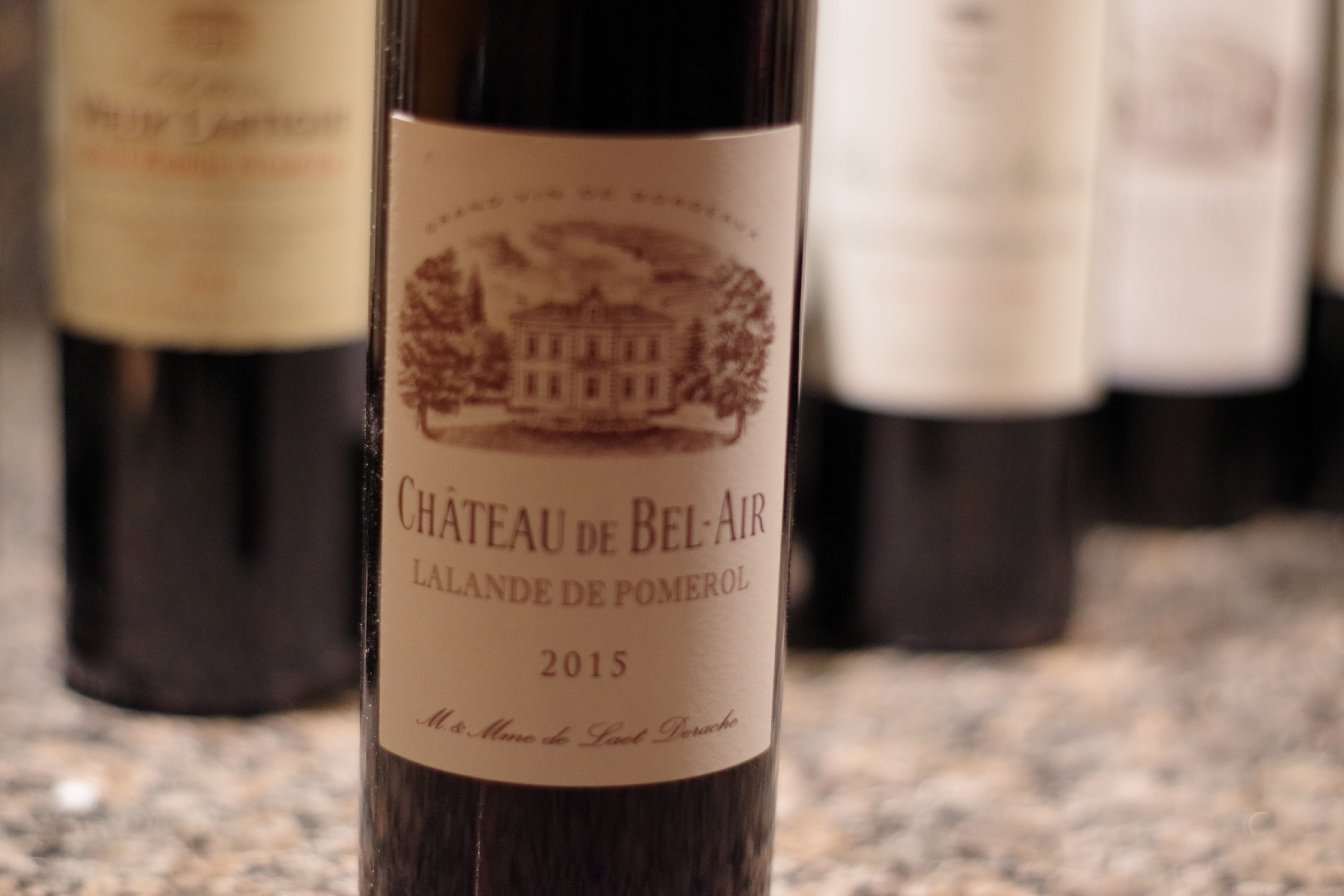 Pomerol, Château latour à Pomerol, 2015
This wine already has so much personality and stood out within the whole tasting. It is a concentrated wine. It shows great power and intensity along with just the right amount of fine acidity.
Ce vin a déjà  tellement de personnalité et s'est distingué dans toute la dégustation. C'est un vin concentré qui montre une grande puissance et intensité avec juste la bonne quantité d'acidité et de finesse.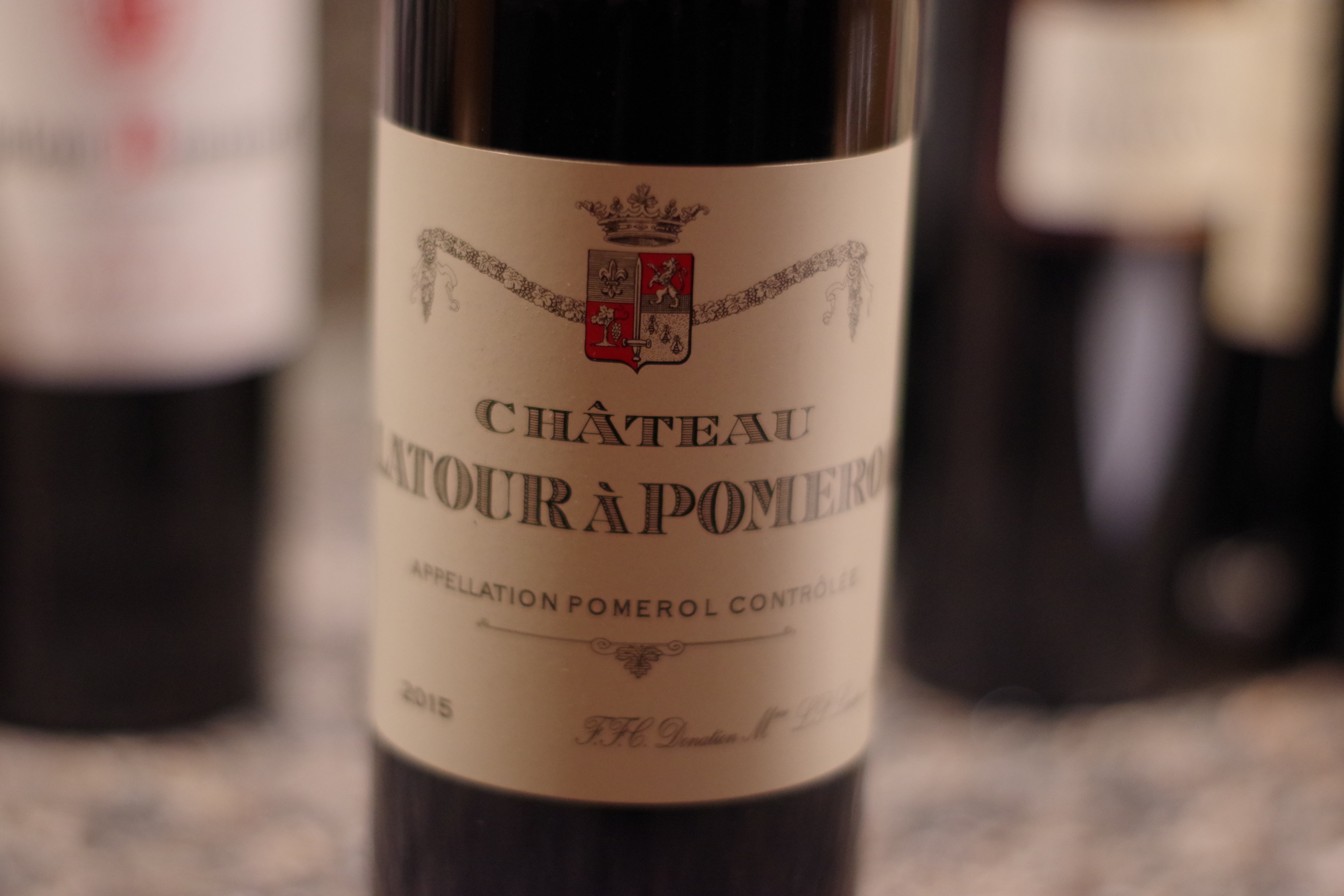 Pomerol, Château Certan de may, 2015
The wine has such a gorgeous color like a liquid ruby. It is very expressive, bold and explosive. Acidity, concentration and black fruits are all there, along with the tannins to withstand some time.
Le vin a une couleur magnifique comme un rubis liquide. Il est très expressif, audacieux et explosif. L'acidité, la concentration et les fruits noirs sont tous là , avec les tanins pour supporter un certain temps.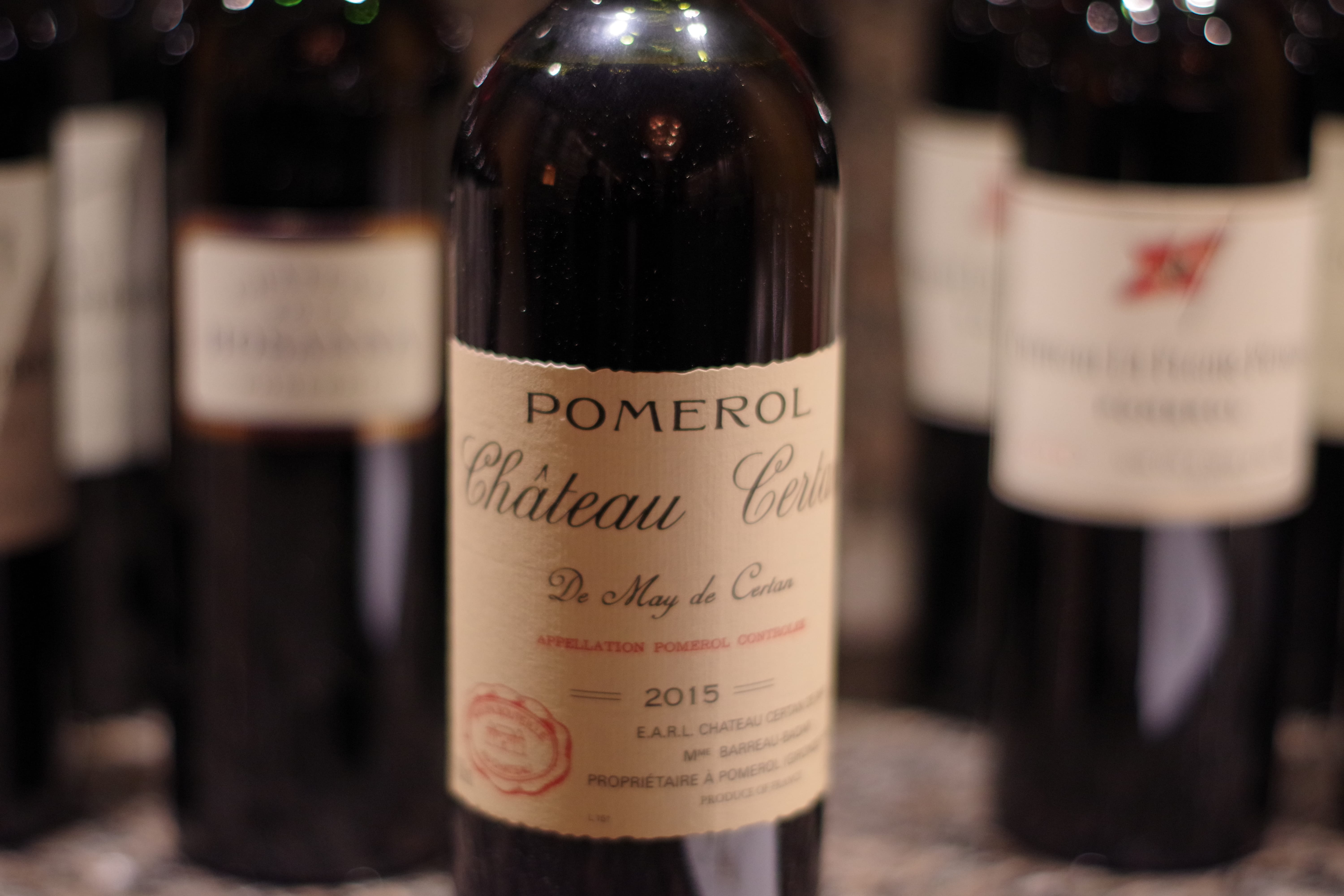 Pomerol, Château Trotanoy, 2015
This wine has superb fruit. The blackberries and black plums are succulent and chewy, giving the wine an opulent, exquisite character. This 90% merlot is to be taken seriously.
Ce vin a de superbes fruits. Les mûres et les prunes noires sont succulentes et moelleuses, donnant au vin un caractère opulent et exquis. Ce merlot à 90% doit être pris au sérieux.