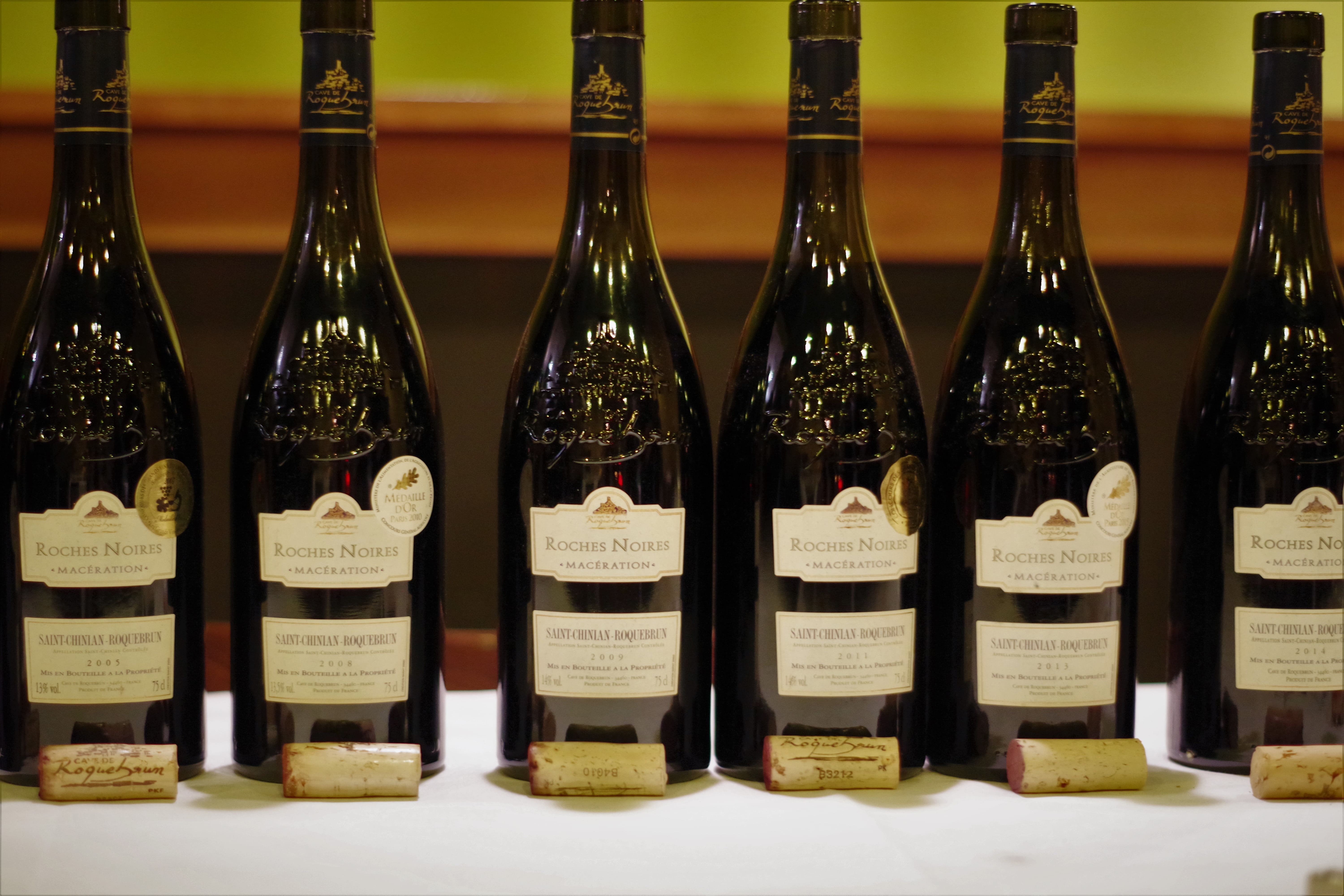 Languedoc has proven again to be a wonderful source of characterful, good-value wines, this time in the nestled area of Saint-Chinian and more precisely in Saint-Chinian Roquebrun, one of the two crus that were recognised in 2005. The chatty and extremely friendly Alain Rogier, director and winemaker at La cave de Roquebrun was passing by Montreal, which he's very familiar with, for a legendary vertical tasting of both Fiefs d'Aupenac and Roches Noires. The Coop, created in 1967, is located on the foothills of the Cévennes, about 35 km from Béziers. In the region, coop is quite widespread with 67% of the production concluded by the different coops. The appellation is still quite a hidden gem as is Cave de Roquebrun. With an incredible dedication to quality and expression, but attractive prices, it's a winning situation.
The key characteristics of the cooperative's wines come from their surprising carbonic maceration vinification, which does indeed give some very distinctive flavours, making for wines with immediate appeal. From there the production is separated between stainless steel for Roches noires and barriques ageing for Fiefs d'Aupenac. Two processes which makes all the difference.
Roches Noires
Impressive both in youth and age, Roches noires showed a consistent freshness and balance on all the 10 vintages from 1994 to 2014. Here's my favourite vintages:
1994 – Complex and diverse, lively acidity and a lovely softness both in as texture and bouquet.
1995 – Very elegant and still very alive and powerful. It has a complexity of aromas including tertiary of course but also bitter orange, dried flowers, balsamic and spices. Every swirl, every sip is a new surprise
2008 – Still young on the nose but explosive and tasteful like a bursting berry. It showed an impressive richness and a lingering minty finale. 2008 was a decisive vintage as it was the start of work on phenolic maturity.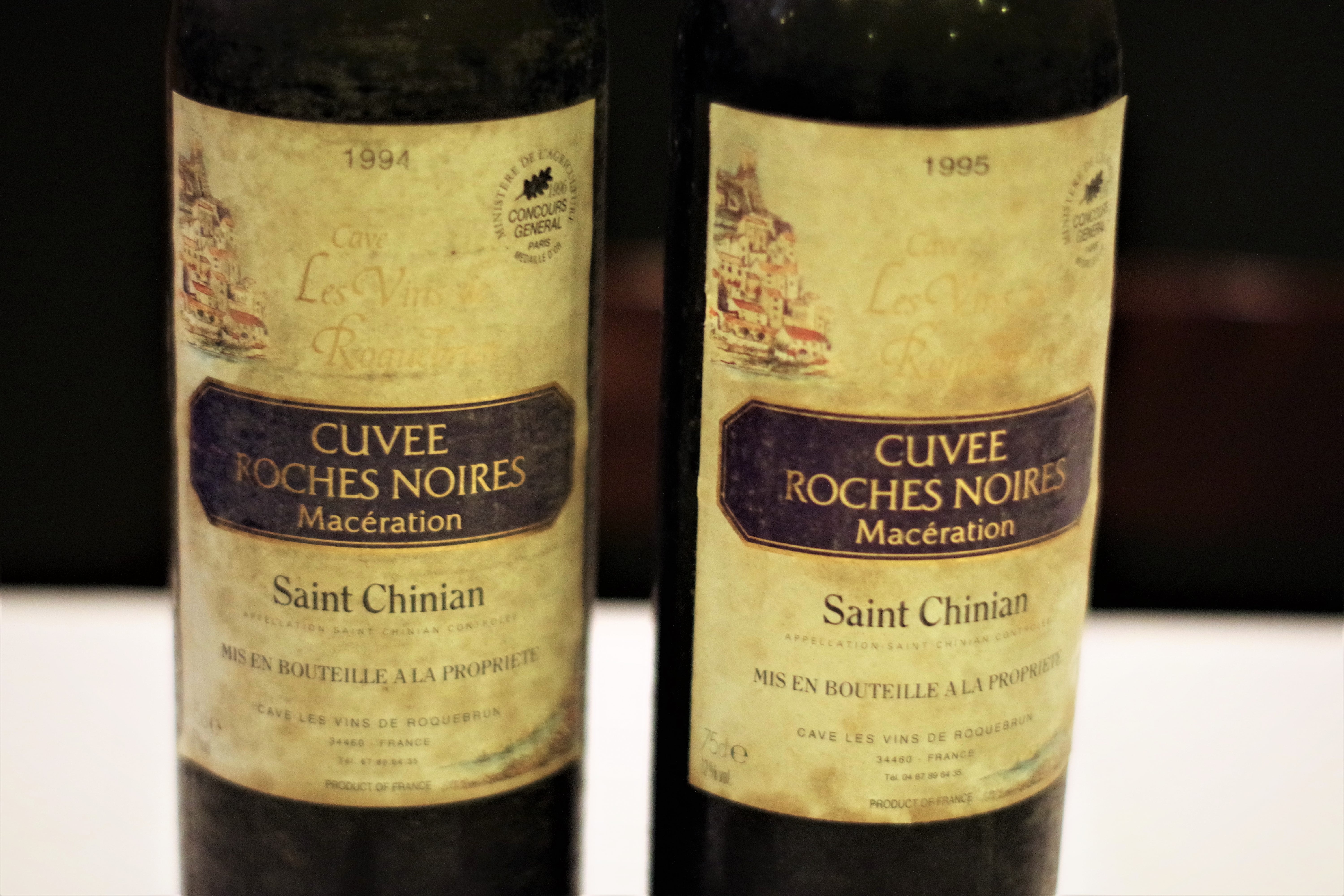 Fiefs D'Aupenac
From its deep colour to the immensely rich bramble fruit and cracked pepper flavours, Fiefs D'Aupenac shows a superior intensity overall. We had the chance to taste 11 vintages from 1995 to 2014, here's the notable ones:
1995 – Very different than the Roches Noires Cuvée already in the color that is more of a dim red than brick. Dense but soft with lovely empyreumatic and dried fruits notes.
2002 – Intense forester nose with aromatic sweet spices and definite bark aromas joining very ripe and rich fruits. The finale is very persistent and impressively homogeneous
2010 – Purplish, concentrated and dense with lovely, truffles, moka and olives aromas. A combination that is highlighted by the balance of the structure.
2014 – Completely and beautifully purple. The nose is composed of wild mushrooms, fresh cassis and strawberries covered in dark chocolate. It's lovely, silky and overall so harmonious.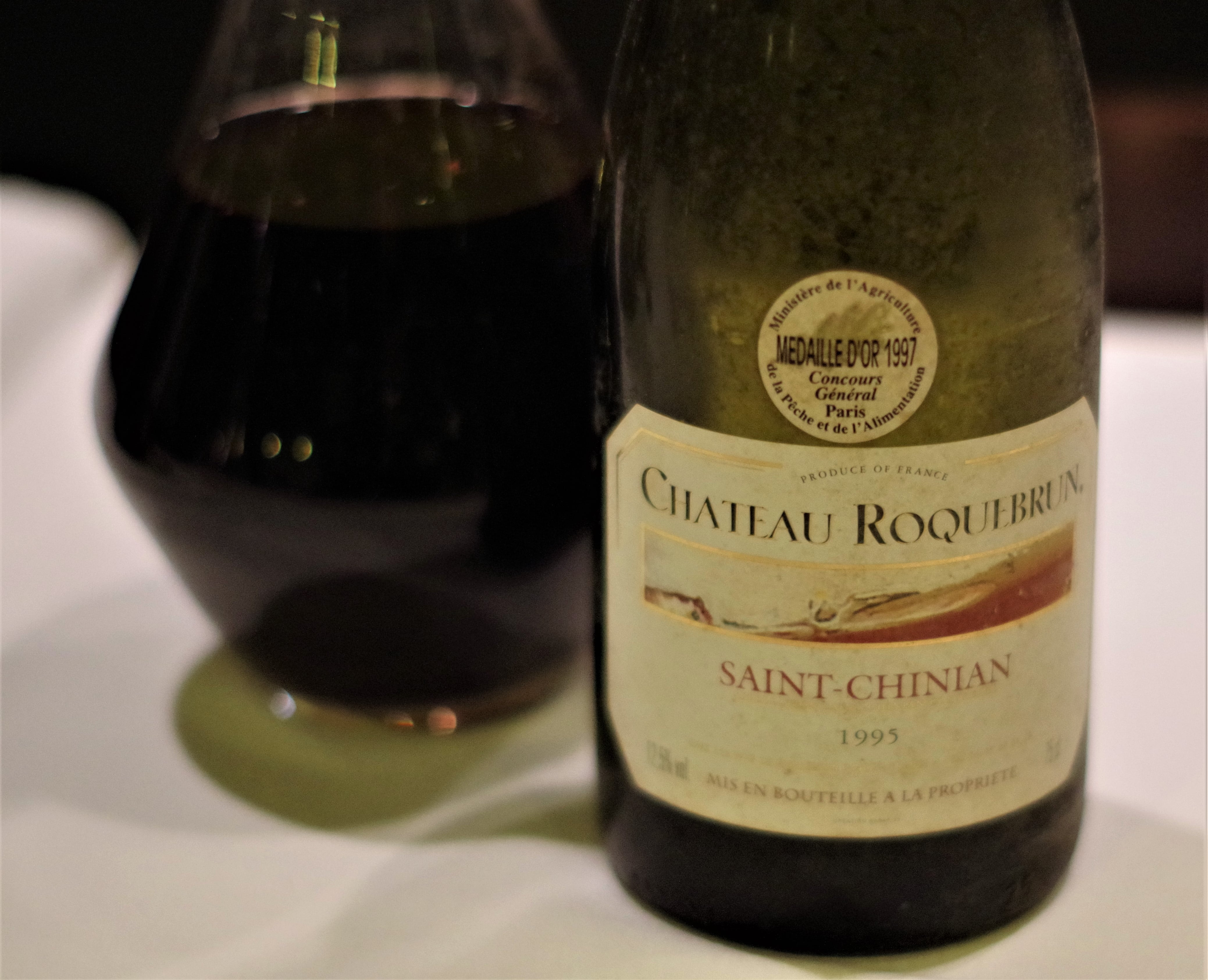 The Range of products isn't limited to those two wines. The Cave the Roquebrun also produces a very aromatic white version of the Fiefs D'Aupenac with dominant Roussane, The Seigneur D'Aupenac which is 80% Syrah, Terrases de Mayline, La Grange des Combes, Chemin des Olivettes in Coteaux du Languedoc and many more.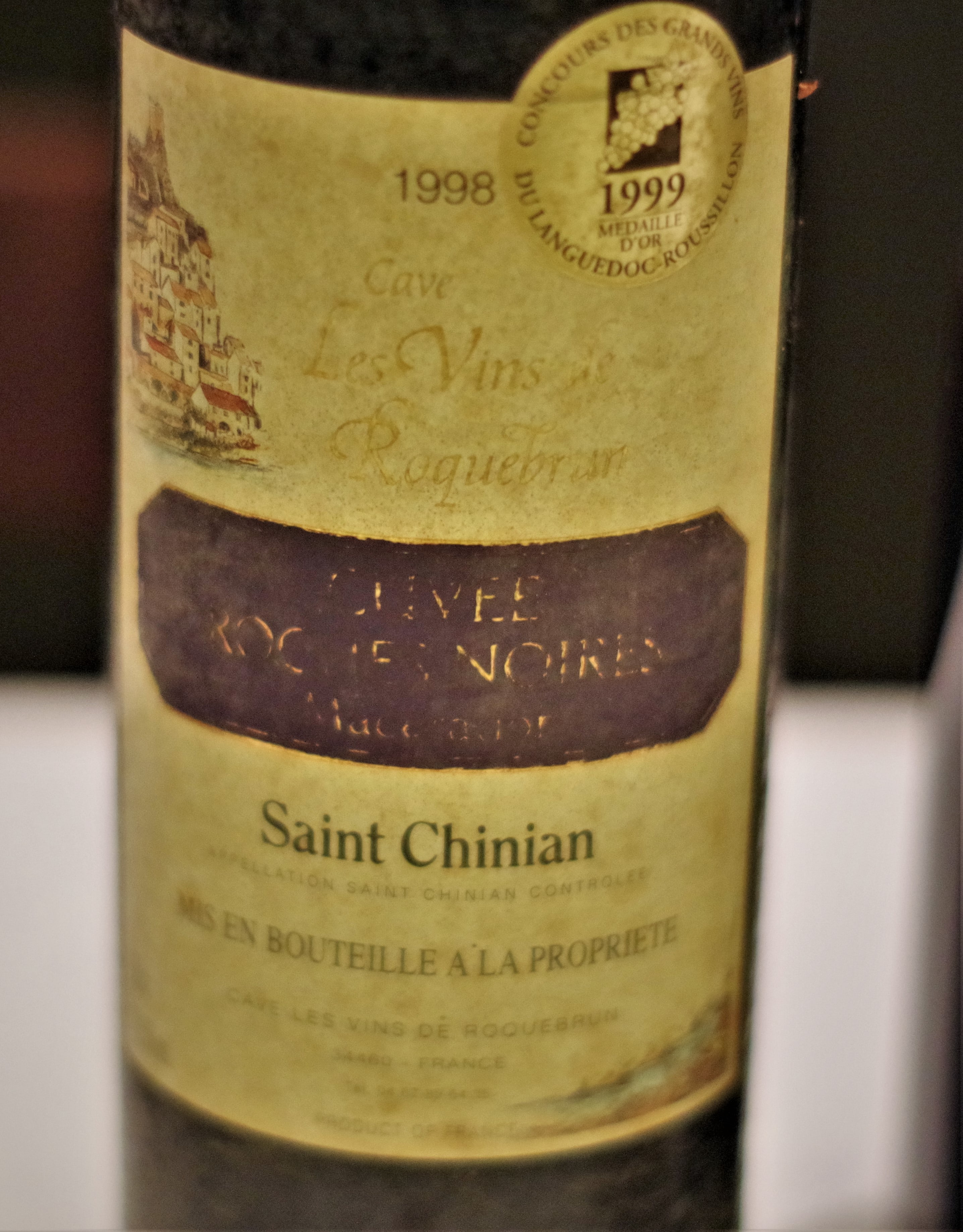 Le Languedoc s'est à  nouveau révélé être une merveilleuse source de vins de caractère et de bon rapport qualité-prix, cette fois dans la région nichée de Saint-Chinian et plus précisément à  Saint-Chinian Roquebrun, l'un des deux crus reconnus en 2005. Alain Rogier, directeur et viticulteur à  La cave de Roquebrun, était de passage à  Montréal, ville qu'il connaît bien, pour une légendaire dégustation verticale de Fiefs d'Aupenac et de Roches Noires. La Coop, créée en 1967, est située sur les contreforts des Cévennes, à  environ 35 km de Béziers. Dans la région, les coopératives sontassez répandues avec 67% de la production conclue par les différentes caves coopératives. L'appellation est encore un petit bijou caché, tout comme Cave de Roquebrun. Avec un dévouement incroyable à  la qualité et à  l'expression, mais des prix attractifs, c'est une situation gagnante.
Les principales caractéristiques des vins de la coopérative proviennent de leur étonnante vinification par macération carbonique, qui donne en effet des arômes très distinctifs, pour des vins immédiatement attrayants. De là , la production est séparée entre l'élevage en acier inoxydable
Roches Noires
Impressionnant à  la fois dans la jeunesse et l'âge, Roches noires a montré un
pour les Roches noires et en barriques pour les Fiefs d'Aupenac. Deux processus qui font toute la différence.e fraîcheur constante et un équilibre sur tous les 10 millésimes de 1994 à  2014. Voici mes millésimes préférés:
1994 – Complexe et diversifié, acidité vive et une belle douceur à  la fois dans la texture et le bouquet.
1995 – Très élégant et toujours très vivant et puissant. Il a une complexité d'arômes notamment tertiaire bien sûr mais aussi d'orange amère, de fleurs séchées, de balsamique et d'épices. Chaque inspiration, chaque gorgée est une nouvelle surprise
2008 – Encore jeune sur le nez mais explosif et savoureux comme une baie éclatante. Il a montré une richesse impressionnante et une finale mentholée persistante. 2008 a été un millésime déterminant car c'était le début des travaux sur la maturité phénolique.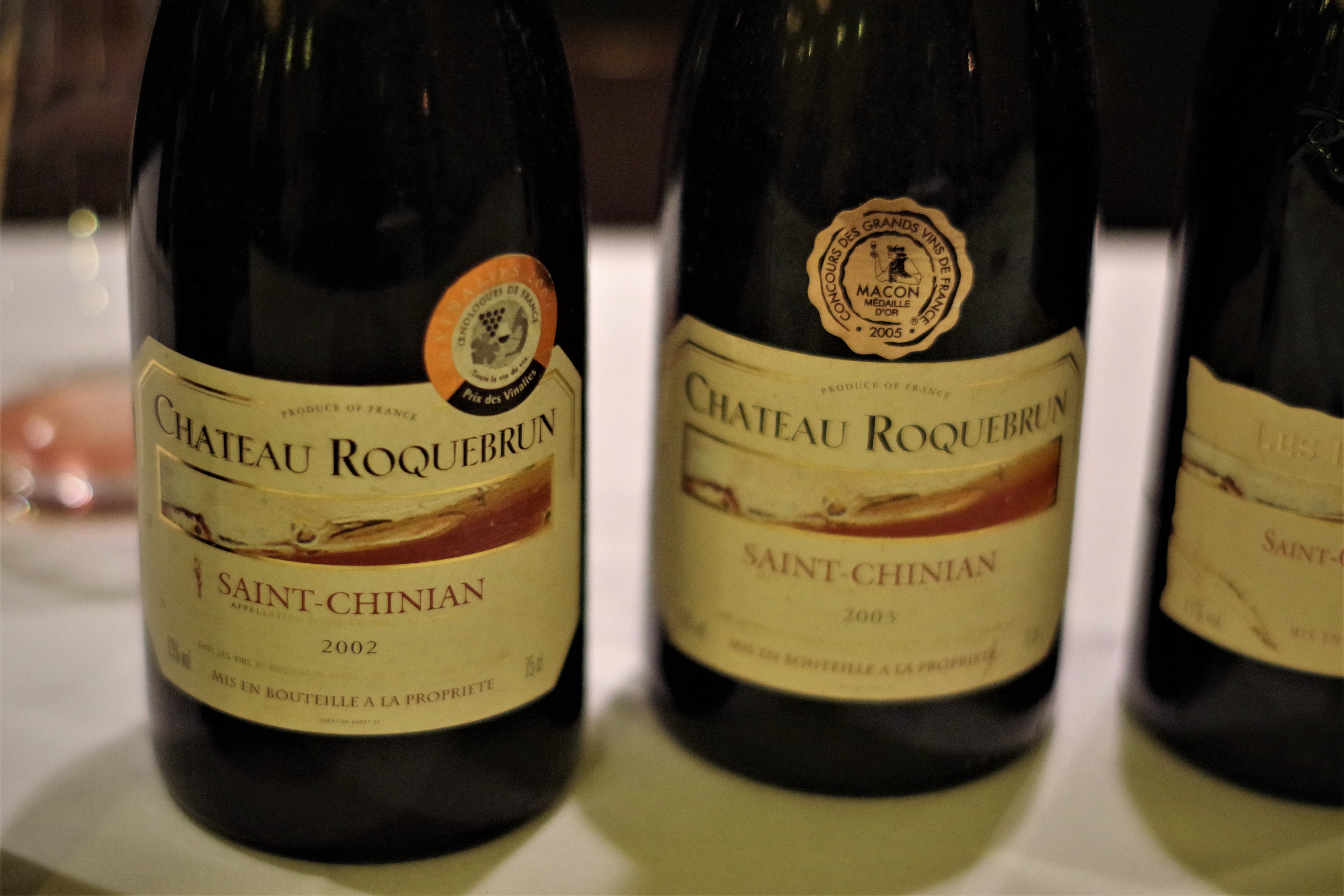 Fiefs D'Aupenac
De sa couleur profonde aux arômes de fruits de ronces immensément riches et de poivre concassé, Fiefs D'Aupenac montre une intensité globale supérieure. Nous avons eu la chance de déguster 11 millésimes de 1995 à  2014, voici les plus notables:
1995 – Très différent de la cuvée Roches Noires déjà  dans sa couleur plus rouge sombre que brique. Dense mais doux avec de belles notes empyreumatique et de fruits secs.
2002 – Nez forestier intense avec des épices douces aromatiques et des arômes d'écorce bien définis rejoignant des fruits très mûrs et riches. La finale est très persistante et incroyablement homogène, stable.
2010 – Violacé, concentré et dense avec de jolis arômes de truffes, de Moka et d'olives. Une combinaison qui est mise en évidence par l'équilibre de la structure.
2014 РCompl̬tement et magnifiquement violet. Le nez est compos̩ de champignons sauvages, de cassis frais et de fraises enrob̩es de chocolat noir. 2014 est adorable, soyeux et globalement si harmonieux.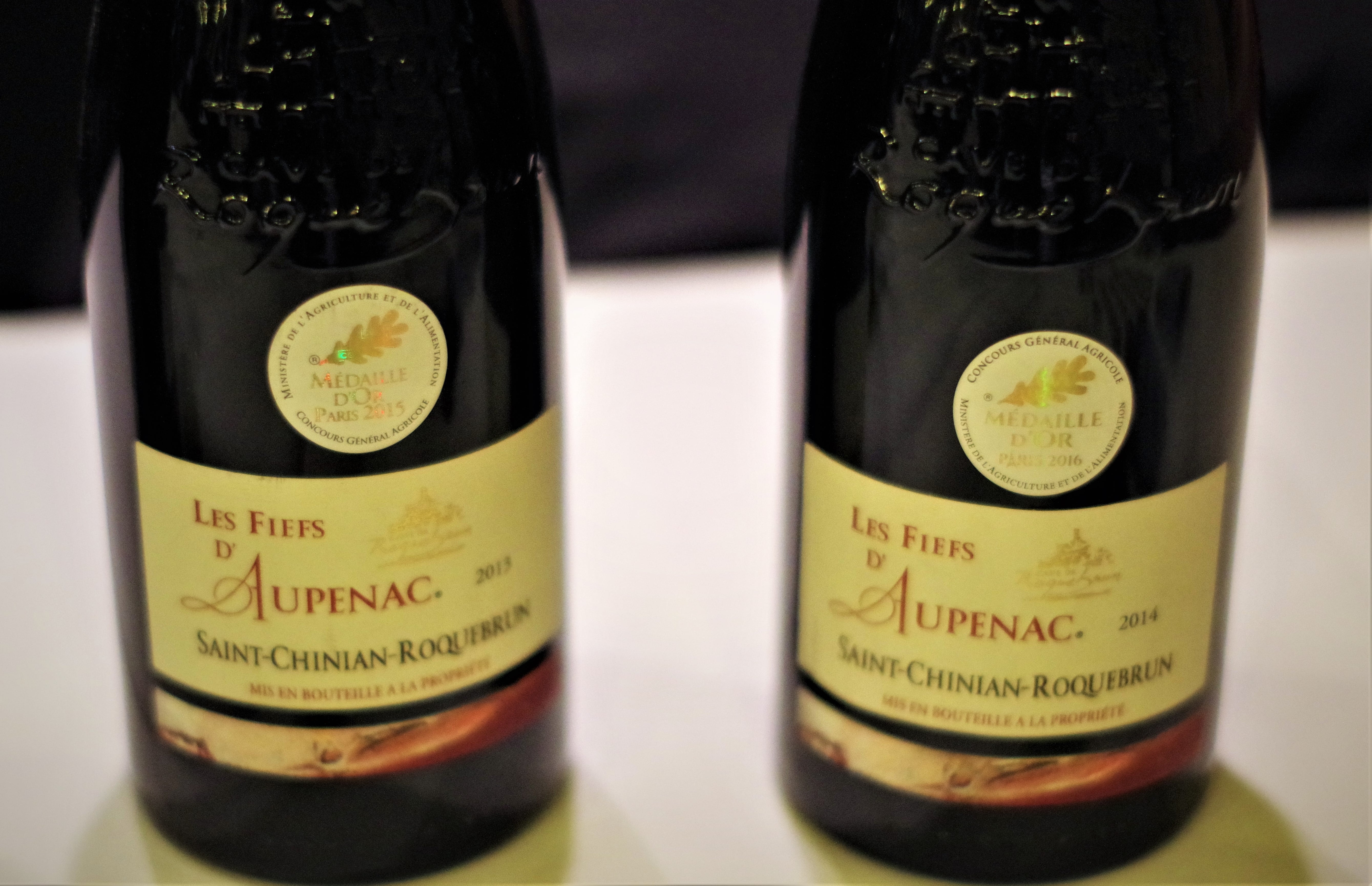 La gamme de produits ne se limite pas à  ces deux vins. La Cave le Roquebrun produit également une version blanche très aromatique des Fiefs D'Aupenac avec Roussane dominante, Le Seigneur D'Aupenac qui est 80% Syrah, Terrasses de Mayline, La Grange des Combes, Chemin des Olivettes dans les Coteaux du Languedoc et bien d'autres.