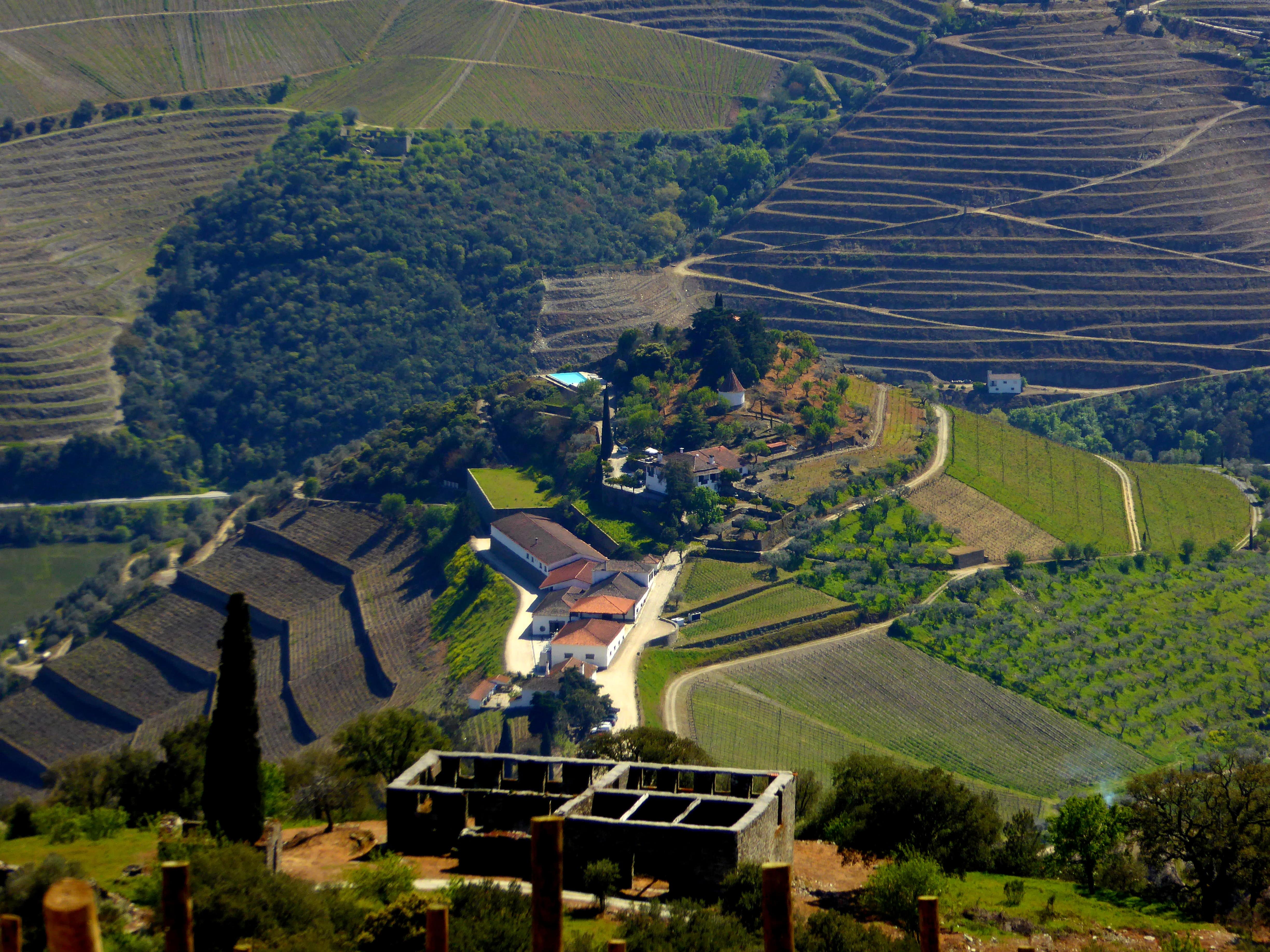 Quinta do Crasto started its very first operation in the 17th century and even received Feitoria status (the highest vineyard classification of the time). It was only in 1910 that it became part of the Roquette dynasty when Constantino de Almeida, a partner in the Port house of Constantino, bought it. Four generation later, the estate has changed a lot since. It started out only as a port house but following the change in Portuguese law (allowing single quintas to bottle and export wine), Crasto has been producing table wines since 1986, thus greatly expanding their portfolio.
Quinta do Crasto a commencé sa première opération au 17ème siècle et a même reçu le statut de Feitoria (le classement le plus élevé de l'époque). Ce n'est qu'en 1910 que le domaine a fait partie de la dynastie Roquette lorsque Constantino de Almeida, associé de la maison portuaire de Constantino, l'acheta. Quatre générations plus tard, le domaine a beaucoup changé depuis. Il a commencé seulement comme producteur de Porto mais suite au changement de la loi portugaise (permettant à  des quintas uniques de mettre en bouteille et d'exporter du vin), Crasto produit des vins de table depuis 1986, élargissant ainsi considérablement leur gamme de produits.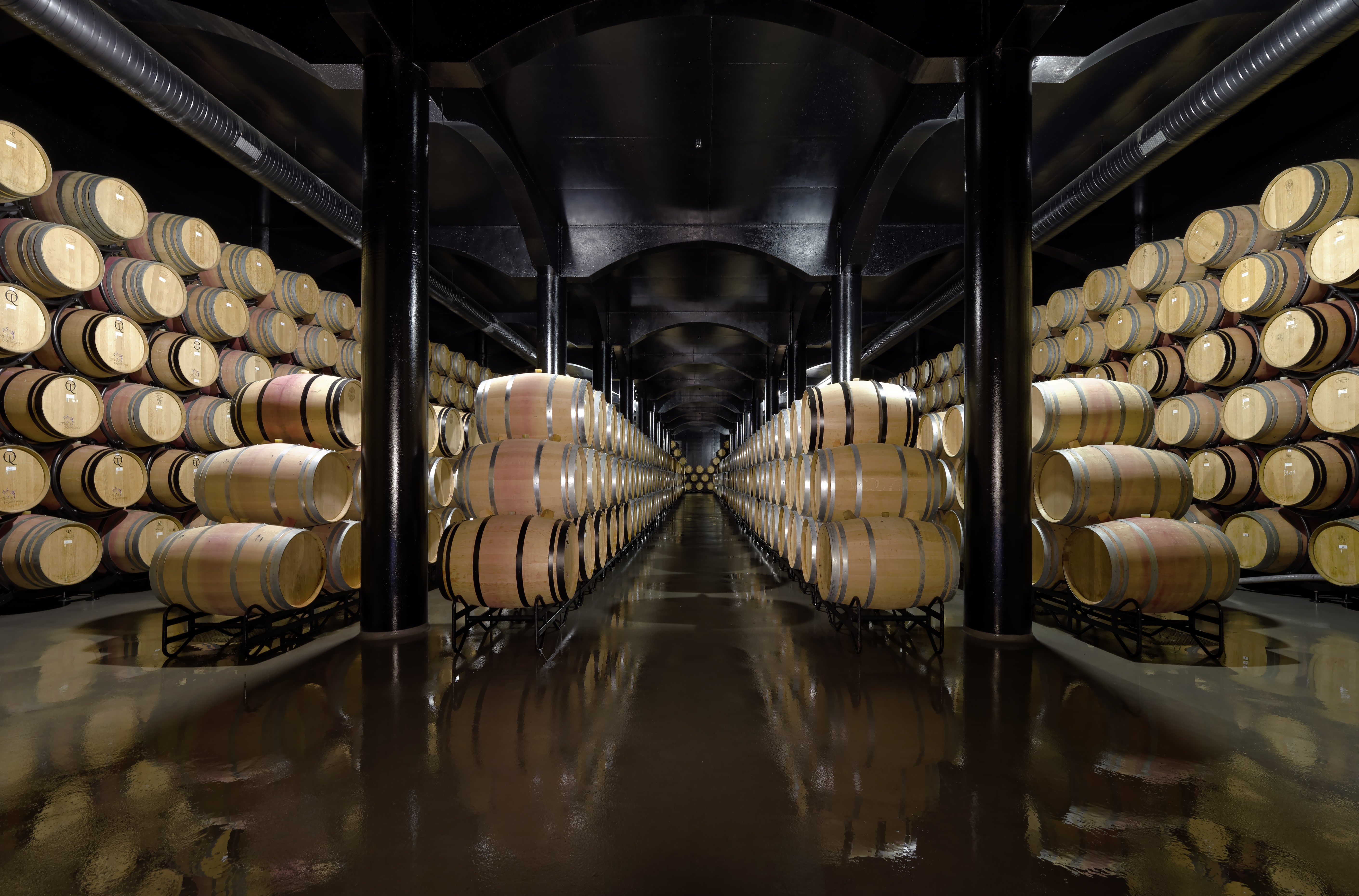 10 FACTS ABOUT QUINTA DO CRASTO
The name Crasto comes from the Latin castrum meaning "Roman fort".
Between 1758 and 1761, the Marquis of Pombal ordered the installation of 335 granite markers delineate the first ever Demarcated Region in the world. One of these stone pillars, or "marcos pombalinos" in Portuguese, dates back to 1758 and can still be seen today at the Quinta do Crasto nearby the century-old farm house.
Vinha Maria Teresa is a centenary plot of vines and one of the oldest on the estate planted in Socalcos. This peculiar plot is co-planted with a very vast array of varieties. In 2013, due to the advanced age of the Vinha Maria Teresa, Quinta do Crasto began the genetic mapping of each variety. The idea was to replace some of the dead vines with genetically identical varieties so that they might perpetuate the terroir and the field blend of such a unique plot.
On all the labels of Quinta do Crasto you may find a small spider logo. This is a statement to their eco-friendly approach and philosophy. The estate is not certified organic yet but still put forward the importance to contribute to the preservation of the biodiversity in the Douro River Valley.
They produces a range of wines simply called Crasto and Crasto superior. Those cannot be labelled with the mention Quinta as the grapes comes from their other newly expanded vineyard, Quinta da Cabreira in the upper Douro. However, the portugese law doesn't mention the bottleneck label where you can find the Quinta do Crasto full named.
The Vinha da Ponte plot inherited its name from a Roman bridge that runs alongside and that makes up part of a National Highway. All of its grapes are destined for the production of the Quinta do Crasto Reserva Vinhas Velhas wine except in exceptional vintages when it may be bottled as single vineyard. Quinta do Crasto Vinha da Ponte has only been produced in 1998, 2000, 2003, 2004, 2007, 2010, 2012 and 2014
The family has decided to play and experiment a little with different grape varieties such as Syrah and Alicante Bouschet in the new property of Quinta da Cabreira. This is a limited production of course, meant to prove and show the expression and uniqueness of the terroir.
For its Port wines, Quinta do Crasto has decided to maintain a century old tradition of foot trodden grapes. Each year, the grapes are kept in the five very large granite lagares for four days while for four hours a day a team of about ten people tread them with an unbreakable motivation.
2016 marks the release of a new Quinta do Crasto Colheita Port to the portfolio. It is an old Tawny produced from a single year, 1997, with grapes coming exclusively from the oldest vineyards of Quinta do Crasto. It ages in oak casks for 18 years before bottling. This wine is a tribute from the 4th generation of the family to Fernando Moreira d'Almeida, son of the famous Port producer Constantino de Almeida.
All the port wines are unfiltered to allow the wine to maintain its characteristics and evolve throughout the years.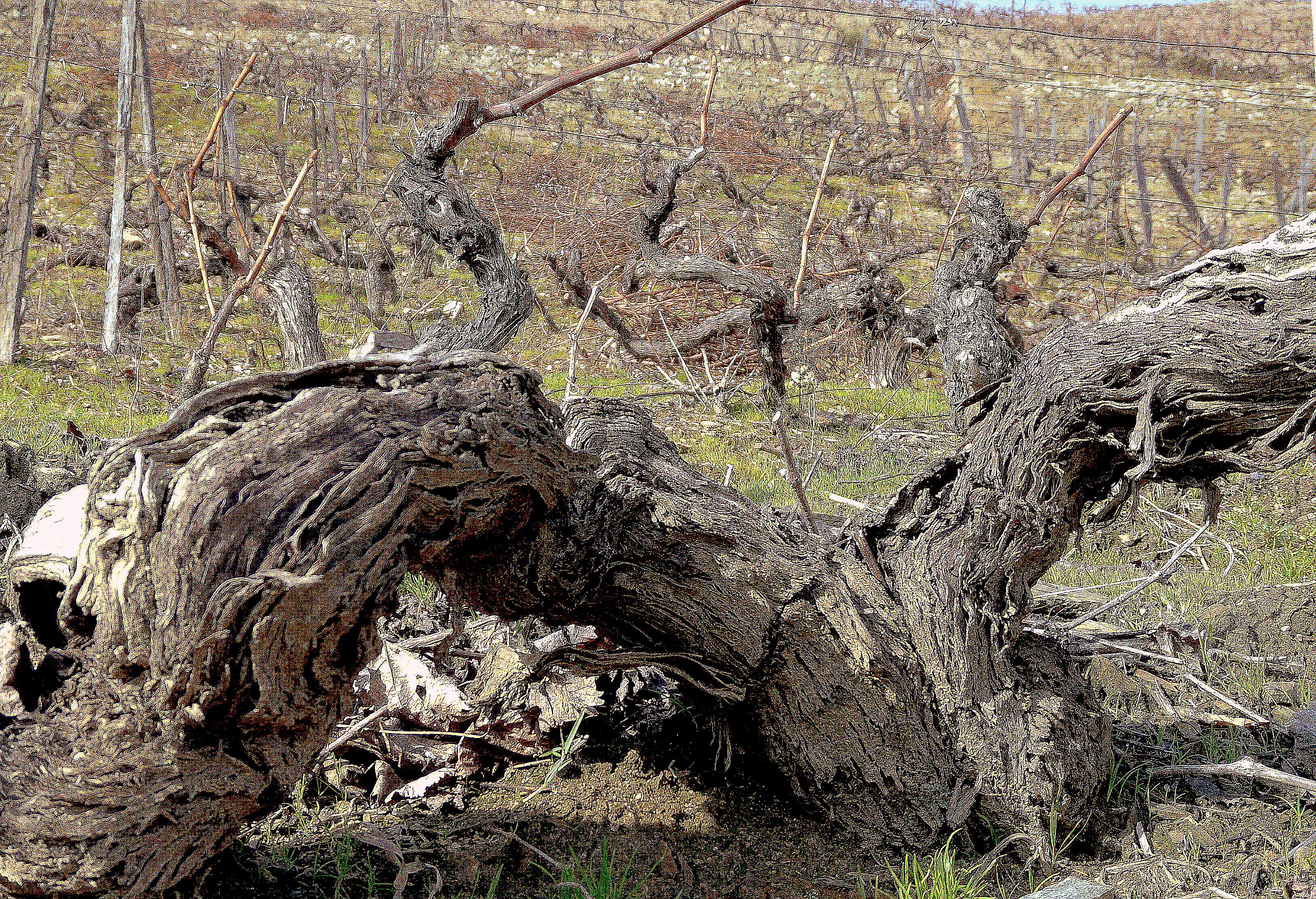 115 years old vine
10 INFORMATIONS SUR QUINTA DO CRASTO
Le nom Crasto vient du latin castrum signifiant «fort romain».
Entre 1758 et 1761, le Marquis de Pombal ordonna l'installation de 335 marqueurs en granite délimitant la toute première Région délimitée au monde. L'un de ces piliers en pierre, ou "marcos pombalinos" en portugais, date de 1758 et peut encore être vu aujourd'hui à  la Quinta do Crasto à  proximité de la ferme centenaire.
Vinha Maria Teresa est une parcelle de vigne centenaire et l'une des plus anciennes du domaine plantée sur des Socalcos. Cette parcelle particulière est co-plantée avec un très large éventail de variétés. En 2013, en raison de l'âge avancé de la Vinha Maria Teresa, Quinta do Crasto a commencé la cartographie génétique de chaque variété. L'idée était de remplacer certaines des vignes mortes par des variétés génétiquement identiques afin qu'elles puissent perpétuer le terroir et le mélange unique.
Sur toutes les étiquettes de Quinta do Crasto, vous pouvez trouver un petit logo d'araignée. C'est une attestation à  leur approche et philosophie écologique. Le domaine n'est pas encore certifié biologique mais a toujours mis en avant l'importance de contribuer à  la préservation de la biodiversité dans la vallée du Douro.
Ils produisent une gamme de vins simplement appelés Crasto et Crasto superior. Ceux-ci ne peuvent pas être étiquetés avec la mention Quinta car les raisins proviennent de leur autre vignoble nouvellement élargi, Quinta da Cabreira dans le Douro supérieur. Cependant, la loi portugaise ne mentionne pas l'étiquette de goulot où vous pouvez trouver le nom complet de Quinta do Crasto.
La parcelle de Vinha da Ponte a hérité son nom d'un pont romain qui longe la route et qui fait partie d'une route nationale. Tous ses raisins sont destinés à  la production du vin Quinta do Crasto Reserva Vinhas Velhas, sauf dans les millésimes exceptionnels où il peut être mis en bouteille en tant que cuvée parcellaire. La Quinta do Crasto Vinha da Ponte n'a été produite qu'en 1998, 2000, 2003, 2004, 2007, 2010, 2012 et 2014
La famille a décidé de jouer et d'expérimenter un peu avec différents cépages tels que Syrah et Alicante Bouschet dans la nouvelle propriété de Quinta da Cabreira. C'est une production limitée, bien entendu, destinée à  prouver et montrer l'expression et l'unicité du terroir.
Pour ses Portos, Quinta do Crasto a décidé de maintenir la tradition centenaire de cépages foulés à  pied. Chaque année, les raisins sont conservés dans les cinq très grands lagares en granite pendant quatre jours tandis que quatre heures par jour, une équipe d'une dizaine de personnes les piétinent avec une motivation inébranlable.
2016 marque la sortie d'un nouveau Porto Quinta do Crasto Colheita. C'est un vieux Tawny produit d'un seul millésime, 1997, avec des raisins provenant exclusivement des plus anciens vignobles de Quinta do Crasto. Il est vieillit en fûts de chêne pendant 18 ans avant la mise en bouteille. Ce vin est un hommage de la 4ème génération de la famille à  Fernando Moreira d'Almeida, fils du célèbre producteur et fondateur Constantino de Almeida.
Tous les portos ne sont pas filtrés pour permettre au vin de conserver ses caractéristiques et d'évoluer au fil des années.