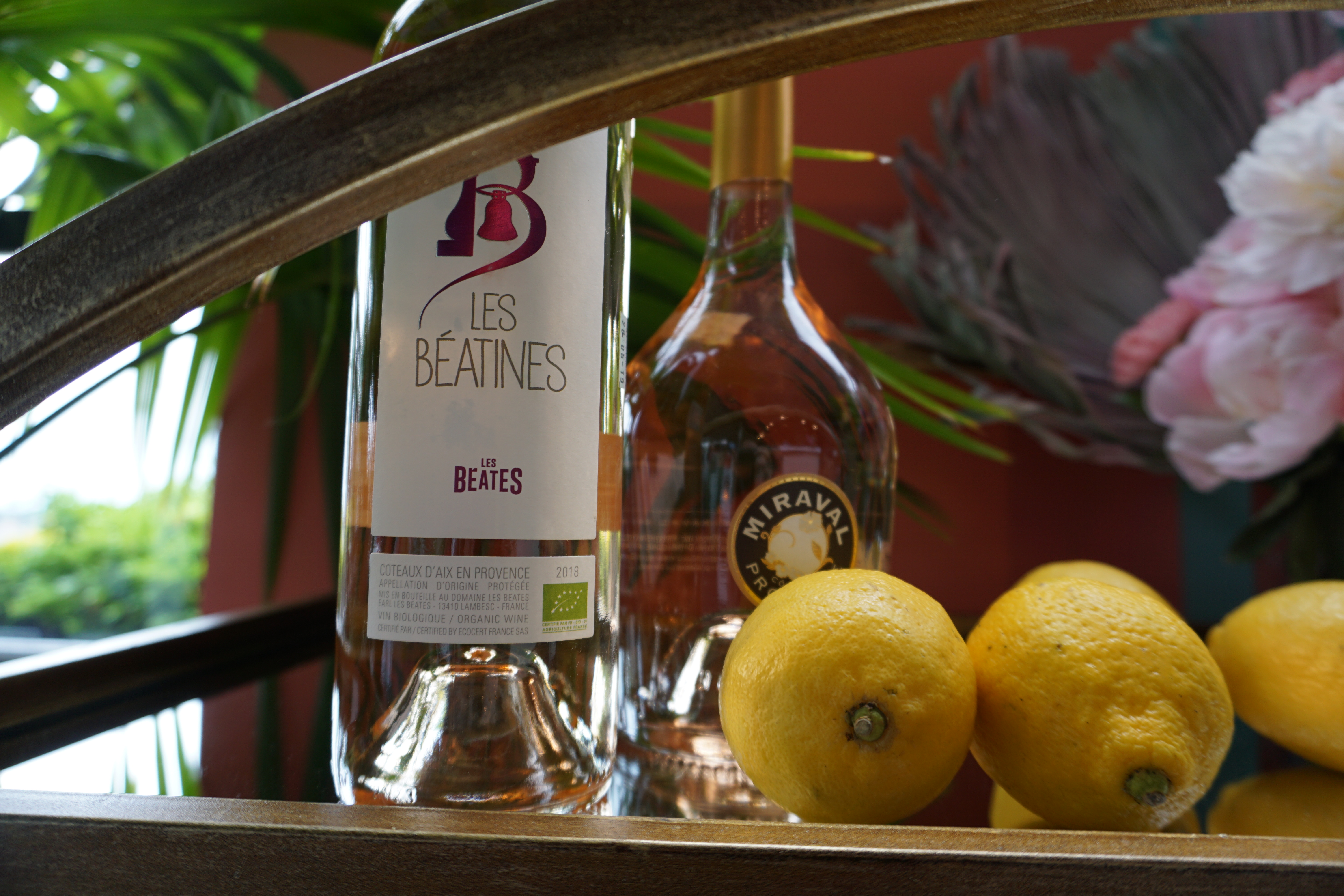 Provence, so beautiful, so welcoming, is perhaps more recognized  as a sun destination for many French and many foreigners, but also for the success not only dazzling, but rather exemplary of their rosés. 5% of the world's rosés come from Provence, it may seem little to you, but for such a small region and facing all the world production, they are positioned as the rosé leader in the world, well ahead of all the competition.
So what makes the difference? Producers in Provence wake up every day to make rosé. It is not just another product in their range, it is their priority and often their exclusivity. Everything is adapted in order to make rosé, the best possible rosé, from the grape varieties chosen up to each stage of winemaking. It is a specific know-how that was developed there, unparalleled expertise. It has also become a way of life, a habit linked to a desire for discovery and conviviality. Drinking rosé is trendy, but drinking rosé de Provence is classy!
Designations
Essentially, Provence and its almost 27,000 hectares is divided into three PDOs: Côtes de Provence, Coteaux d'Aix-en-Provence, Coteaux Varois en Provence. Each of them has very specific characteristics and together they represent 85% of the Provence vineyard. There are also 6 other smaller but unique appellations: Bandol, Bellet, Cassis, Coteaux de Pierrevert, Les Baux de Provence and Palette.
The Coteaux d'Aix-en-Provence vines are the most westerly of Provence wines. It's a bit like the gateway to the Mistral towards the rest of Provence. Coming from Bouches-du-Rhône, it will then cross the entire coastal region.
Coteaux Varois de Provence is also called the heart of Provence. It is the smallest of the three appellations with only 2,600 hectares. The soil is mainly composed of Limestone, combined with the altitude, the result gives wines with good acidity, complex aromas and structure.
Côtes de Provence was the first appellation recognized in 1977, it is the largest with 71% of the production. Since it is more extensive, many factors affect the vines. The influence of the sea, the hills, the Mistral form notable differences across the vineyard. It is for this reason that there is research and development work at the level of the Sub-regions. There are currently four and they are called terroir denominations.
Sainte Victoire
Recognized in 2005, the Côtes de Provence Sainte-Victoire vineyard is located at the foot of the Sainte-Victoire Mountain. Rather mountainous and continental with just enough Mistral to protect the vines from potential disease.
Pierrefeu
PierreFeu was recognized fairly recently in 2013. Between sea and mountains, PierreFeu benefits from a beautiful combination of maritime and continental. This denomination of terroir is often associated with the aromas of Garrigue and fennel.
La Londe
Recognized in 2008, with LaLonde, we get even closer to the Sea. That is to say, more wind, less precipitation and a particularly temperate climate.
Frejus
Recognized in 2005, like Sainte-Victoire, Fréjus is one of the only places characterized by the presence of volcanic soils, but also sandy-clay and stony. Among them are the Tibouron, a red grape originally from Greece but now almost exclusively associated with Provence.
Notre-Dame-des-Anges
Since the beginning of the year, a brand new terroir nomination has emerged: Notre-dame-des-anges. At more than 700 meters above sea level, it is protected from maritime influence, and has large temperature differences between winter and summer. The name Notre-Dame-des-Anges comes from an emblematic summit which dominates the whole region with viticultural meaning and a historical link
The recognition of a new terroir is part of a very important guideline for the appellation. The project to delimit and identify the different regions is a priority. It's a process that takes time, but is already well underway. For now, the name has been accepted, but the Ministry of Agriculture has not signed the decree. As soon as this is done and announced, the winemakers will be able to declare the wines of the next harvest, 2019, in Notre-Dame-Des-Anges, Côtes de Provence.
Valérie LeLong, Export Marketing & Communication Manager at CIVP, has agreed to enlighten us on the concept of terroir Designation
" It is more than a selection, the union of the Côte de Provence appellation does the work well upstream. For example, for the Ste Victoire, which had their approval at the level of the INAO in 2005, one must have started at least ten years beforehand.
In fact, the concept is on a very specific territory, to define with the local winemakers, what brings them together or not. If a denomination of terroir exists on a defined geographical space, there is a typicity of soils, climate and especially collective production which is defined. In other words, the winemakers work in the same way on the same type of soil and on a defined territory.
The winemakers are enormously committed, and nothing can be done if they are not there and if they have not already started working together beforehand. They must have the same typicity of rosés, reds. They don't make it. This typicity exists because their working method, combined with the soil and the climate made it already exist. The INAO does not recognize the existence of the terroir designation unless all these factors are combined. Then, a specification is added to that of the Côtes de Provence. Generally, these specifications will be more restrictive than that of generic designation. Certain number of grape varieties to use, dates of wine release or longer aging, etc. Currently, apart from Lalonde which has been recognized as white, the other appellations are only on reds and rosés.
The union is currently working on two other zones, two other potential denominations of terroir. They have been working with winegrowers in the sector for several years now. On average, it takes ten years to gather all the information."
Some suggestions
Château Ste-Roseline
It all started from a source where a hermit decided to settle. Then, Roseline was transformed through the decades into an Oratory and an Abbey. In the 14th century, the site became one of the first vineyards in Provence even before Provence was a wine region. Aurélie BERTIN TEILLAUD is now at the head of this property, succeeding not only her father, but also many important figures in viticulture in the region including Baron Henri de Rasque de Laval who was at the origin of the 18 classified growths from Provende and the Provence wine syndicate.
Domaine les Béates, Les béatines 2018
This estate located in the commune of Lambesc was acquired by Jean-Pierre Terrat in 2002, long supported by Michel Chapoutier in an approach to adapt the vineyard to biodynamic culture. The vineyard now pursues biodynamic principles and the lunar calendar, but abandoned certification after ten years to focus on quality. Characterized by tension and salinity, the wines offer a very satisfactory expression.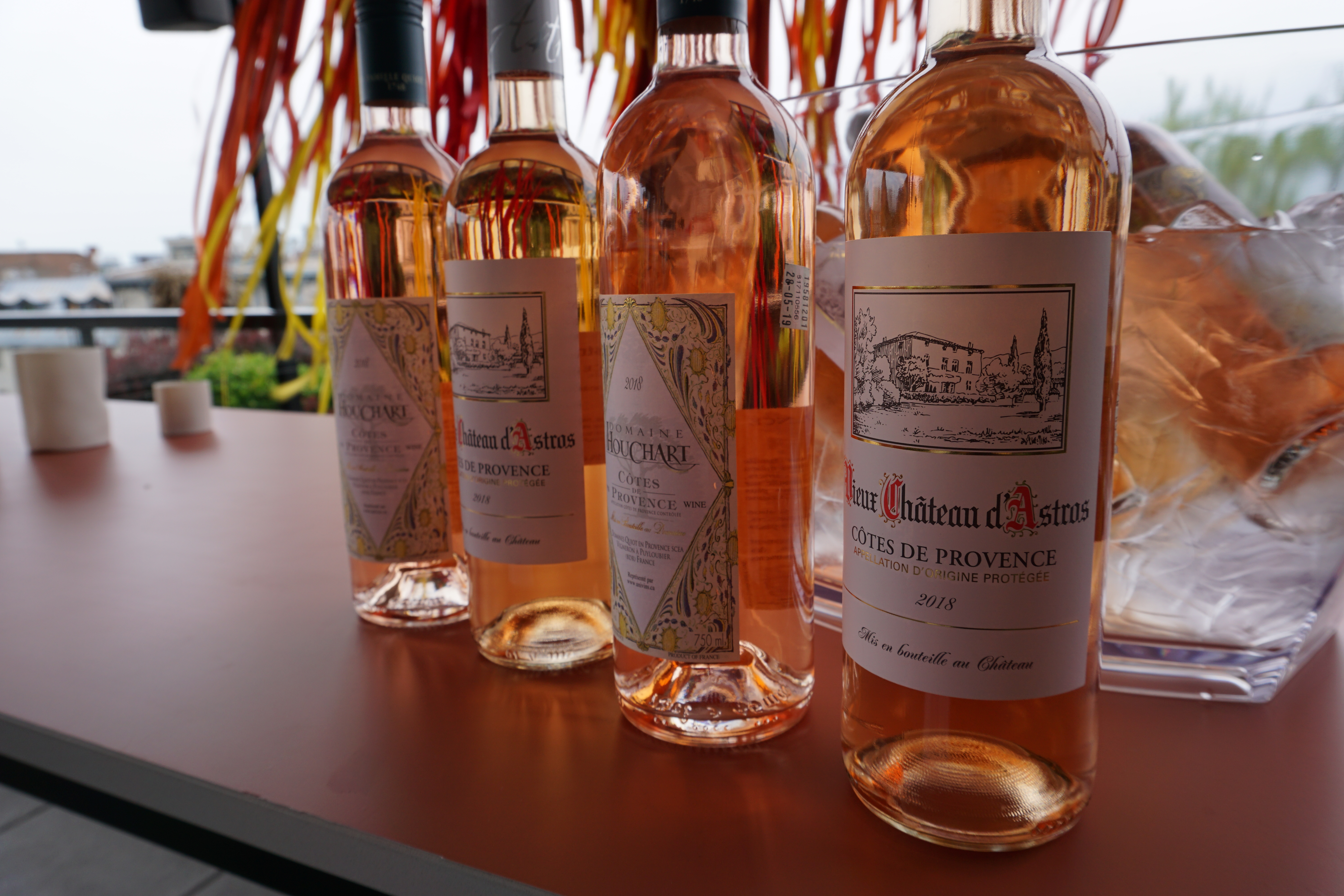 LES VINS DE PROVENCE – Tout le monde cherche à avoir un air de Provence.
La Provence, si belle, si accueillante n'est peut-être plus reconnue qu'en tant que destination soleil pour bien des français et bien des étrangers, mais aussi pour le succès pas seulement fulgurant, mais plutôt exemplaire de leur rosés. 5% des rosés proviennent de la Provence, cela peut vous paraître peu, mais pour une si petite région et face à toute la production mondiale, ils se placent comme leader du rosé dans le monde, bien devant toute la compétition.
Alors, qu'est-ce qui fait la différence? Les producteurs en Provence se réveillent à tous les jours pour faire du rosé. Ce n'est pas qu'un autre produit dans leur gamme, c'est leur priorité et souvent leur exclusivité. Tout est adapté dans le but de faire du rosé, le meilleur rosé possible, à partir des cépages choisis jusqu'à chaque étape de la vinification. C'est un savoir-faire spécifique qui s'est développé, une expertise sans pareille. C'est aussi devenu un mode de vie, une habitude liée à une envie de découvertes et de convivialité. Boire du rosé, c'est tendance, mais boire du rosé de Provence, c'est la classe!
Appellations
Essentiellement, la Provence et ses presque 27 000 hectares  est séparée en trois AOP : Côtes de Provence, Coteaux d'Aix-en-Provence, Coteaux Varois en Provence. Chacune d'entre elles ont des caractéristiques bien précises et ensemble, elles représentent 85% du vignoble provençal. On compte aussi 6 autres appellations plus petites, mais uniques : Bandol, Bellet, Cassis, Coteaux de Pierrevert, Les Baux de Provence et Palette.
Les vignes des Coteaux d'Aix-en-Provence sont les plus à  l'ouest des vins de Provence. C'est un peu la porte d'entrée du Mistral vers le reste de la Provence. Venant des Bouches-du-Rhône, il traversera ensuite toute la région côtière.
Coteaux Varois de Provence est aussi appelé le cœur de la Provence. C'est la plus petite des trois appellations avec seulement 2600 hectares. Le sol est majoritairement composé de Calcaire, combiné à l'altitude, le résultat donne des vins avec une bonne acidité, des arômes complexes et de la structure.
Côtes de Provence a été la première appellation reconnue en 1977, c'est la plus grande avec 71% de la production. Puisqu'elle est plus étendue, de nombreux facteurs viennent affecter les vignes. L'influence de la mer, des collines, du Mistral forment des différences notables à travers le vignoble. C'est pour cette raison qu'il y a un travail de recherche et de développement au niveau des Sous-régions. Il y en a présentement quatre et on les nomme dénominations de terroir.
Sainte Victoire
Reconnue en 2005, le vignoble des Côtes de Provence Sainte-Victoire se situe au pied de la Montagne Sainte-Victoire. Plutôt montagneux et continental avec juste assez de Mistral pour protéger les vignes de maladies potentielles.
PierreFeu
PierreFeu  été reconnue assez récemment en 2013. Entre mer et Montagnes, PierreFeu profite d'une belle combinaison de maritime et de continental. Cet dénomination de terroir est souvent associé aux arômes de Garrigue et de fenouil.
LaLonde
Reconnue en 2008, avec LaLonde, on se rapproche encore plus de la Mer. C'est-à -dire, plus de vent, moins de précipitation et un climat particulièrement tempéré.
Fréjus
Reconnue en 2005, tout comme Sainte-Victoire, Fréjus est l'un des seuls endroits caractérisé par une présence de sols volcaniques, mais aussi sablo-argileux et caillouteux. On y retrouve entre autres, le  Tibouron, un cépage rouge originaire de Grèce mais maintenant presque uniquement associé à la Provence.
Notre-Dame-Des-Anges
Depuis le début de l'année, une toute nouvelle de nomination de terroir a vu le jour : Notre-dame-des-anges. À plus de 700 mètres d'altitude, elle est protégée de l'influence maritime, et présente de grands écarts de température entre l'hiver et l'été. Le nom Notre-Dame-des-Anges vient d'un sommet emblématique qui domine tout le terroir ayant une signification viticole et un lien historique
La reconnaissance d'un nouveau terroir fait partie d'une ligne directrice très importante pour l'appellation. Le projet de délimitation et d'identification des différents terroirs est une priorité. C'est un procédé qui prend du temps, mais qui est déjà bien entamé. Pour l'instant, La dénomination a été acceptée, mais il manque la signature du décret par le ministère de  l'agriculture. Dès que ce sera fait et annoncé, les vignerons pourront déclarer les vins de la prochaine récolte, 2019, en Notre-Dame-Des-Anges, Côtes de Provence.
Valérie LeLong, Responsable Marketing & Communication Export au CIVP, sur le concept de dénomination de terroir
C'est plus qu'une sélection, le syndicat de l'appellation côte de Provence fait le travail bien en amont. Par exemple pour les ste victoire, qui ont eu leur agrément au niveau de l'INAO en 2005, on doit avoir commencé au moins dix ans en amont.
En fait, le concept est sur un territoire bien précis, de définir avec les vignerons locaux, ce qui les réunis ou pas. Si une dénomination de terroir existe sur un espace géographique  défini, il y a une typicité de sols, de climat et surtout de production collective qui est définie. C'est-à -dire, que les vignerons travaillent d'une même façon sur un même type de sols et sur un territoire défini.
Les vignerons sont énormément engagés, et rien ne peut se faire si eux n'y sont pas et si en amont ils n'ont pas déjà commencer à travailler ensemble. Ils doivent avoir une même typicité de rosés, de rouges. Ils ne le fabrique pas. Cette typicité existe parce que leur méthode de travail, allié au sol et au climat faisait que ça existait déjà . L'INAO ne reconnait l'existence de la dénomination de terroir que s'il y a tous ces facteurs réunis. Ensuite, un cahier des charges viennent s'ajouter à celui des Côtes de Provence. Généralement, ce cahier des charges sera plus restrictif que celui d'appellation générique. Certains  nombre de cépages à utiliser, des dates de relâchement des vins ou d'élevage plus long, etc. Actuellement, à part Lalonde qui a été reconnu en Blanc, les autres appellations ne sont que sur rouges et rosés.
Le syndicat travaille actuellement sur deux autres zones, deux autres potentielles dénominations de terroir. Ça fait plusieurs années déjà qu'ils travaillent avec les vignerons du secteur. En moyenne, ça prend une dizaine d'année pour regrouper toutes les informations.
Quelques suggestions
Château Ste-Roseline
Tout est parti d'une source ou un ermite décida de s'installer. Ensuite, Roseline se transforma à travers les décennies en en Oratoire et en Abbaye. Au XIV siècle, le site devint un des premiers vignobles de Provence avant même que la Provence soit une région viticole. Aurélie BERTIN TEILLAUD est maintenant à la tête de cette propriété, succédant non seulement à son père, mais aussi à de nombreux importants personnages de la viticulture de la région dont le baron Henri de Rasque de Laval qui fur à l'origine des 18 crus classés de Provende et du syndicat des vins de Provence.
Domaine les Béates, Les béatines 2018
Ce domaine situé sur la commune de Lambesc a été acquis par Jean-Pierre Terrat en 2002, longtemps épaulé par Michel Chapoutier dans une démarche d'adaptation du vignoble à la culture biodynamique. Le vignoble poursuit maintenant les principes biodynamiques et le calendrier lunaire, mais a abandonné la certification au bout d'une dizaine d'années pour se concentrer sur la qualité. Caractérisé par une tension et une salinité, les vins offrent une expression très satisfaisante.