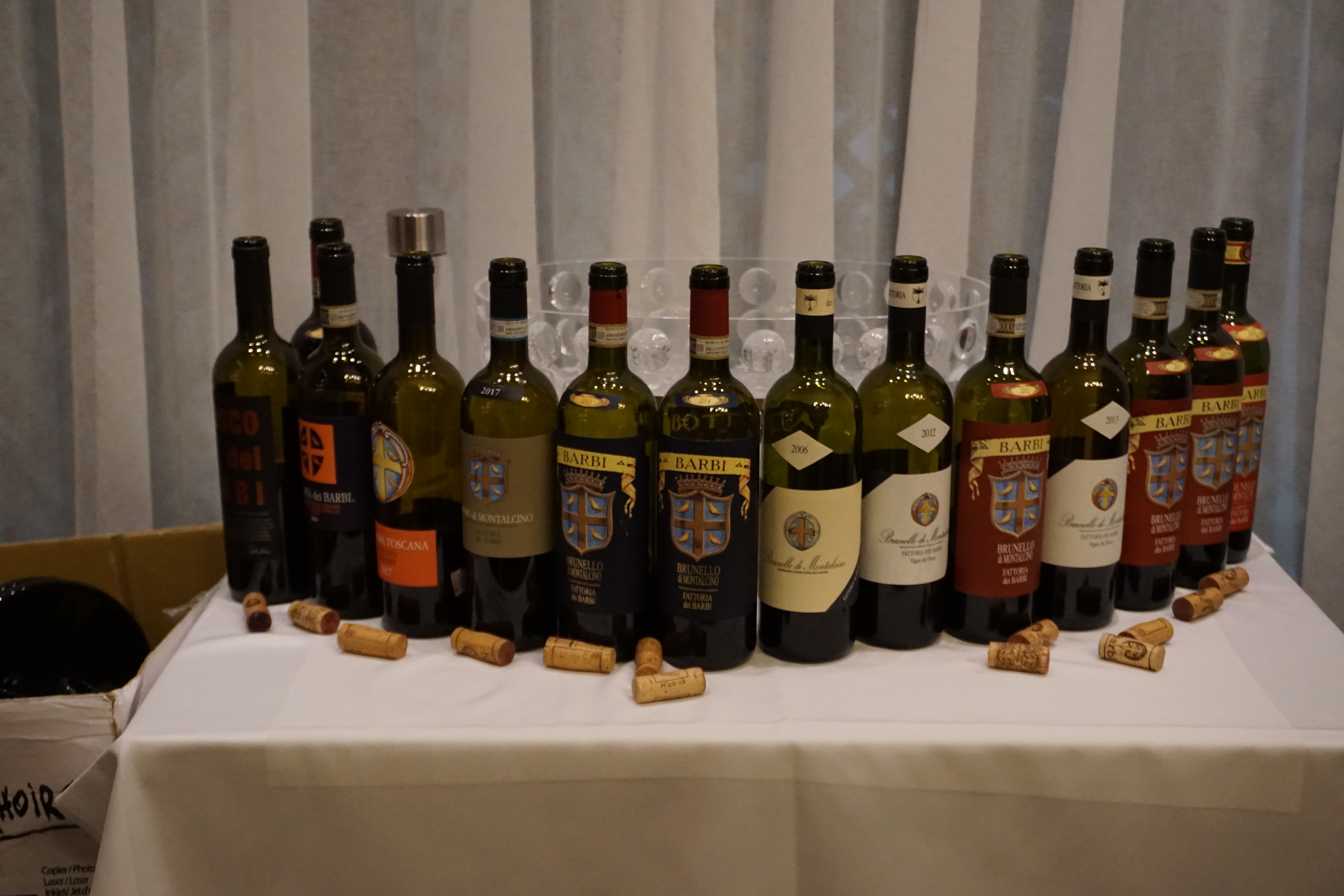 As the first Brunello imported in the USA, and with a growing part of the production destined to export, 55% going towards 60%, Fattoria dei Barbi  is a historic estate that continues to be a pioneer in Tuscan wines. If the name doesn't sound a clue, the very recognizable blue label might. This Brunello is he benchmark of the estate, consistent, classic and made every year, independently of the vintage conditions.
The estate is one of only five in Montalcino that have continuously operated for over 100 years. The Colombini family has owned land in Montalcino since 1352, but only acquired Fattoria dei Barbi in the end of the 18th century. They were one of the first families, right after Biondi-Santi, to produce brunello. This might just appear as the past for you, but for old world classic wines like this, history, status and tradition is part of the wine. And again, without a rich past, the cellar wouldn't be as full. It hides some very ancient treasures and visitors might get a sight of Brunellos and Vin santos dating back to 1870.
BRUSCO & ROSSO
What's the difference? Rosso is an official DOC, it's made of 100% sangiovese and just shows the potential of elegance of this majestic grape varieties. It's not a very restrictive DOC and there's many style of Rosso and it's sometimes called the Picolo Brunello ( small Brunello) But this one stands on its own. The Brusco was first produced in the late 60s. It's a deposited name only Barbi can use and it's made as an approachable wine with 10% Merlot.
In 1997, the family bought a new estate in Scansano of 20 hectares. While there's no new land planting permitted in Brunello di montalcino, Scansano & Maremma are regions still open for developpement.
Fattoria dei Barbi, Brusco dei Barbi 2016
Brusco is meant to be a lighter and more economical option for the Barbi portfolio. In reality, it's quite a treat. Lovely fruity expression on dried, fleshy plums with decent amount of empyreumatic notes, coffee and smoke. It has good strength and a dense backbone. It has everything to support a good tomato based plate.
Fattoria dei Barbi, Morellino di Scansano 2016
Even lighter than the Brusco in my opinion, the Morellino is simply based on fresh sour cherries and a touch of green olives. Perfectly fresh and easy drinking.
Fattoria dei Barbi, Maremma 2017
The youth of this wine can be felt in drying tannins and bitterness that follows in the finale. It is bold, intense & traditional in style. The alcohol is warming. It's a tough little fellow that'll probably get softer with age.
Fattoria dei Barbi, Rosso di Montalcino 2017
The house likes to call its rosso wine one of the most versatile at the table. Flexible, almost queasy, it still has a tight but tamed tannic structure. For them it is not a little Brunello, but a wine of its own. It shows a great expression of fumed dried cherries, tobacco, dried tomato pesto and some mint on the finale.
Fattoria dei Barbi, Brunello di Montalcino blue label 2013
This wine is an explosion of flavors with a great variety in its aromatic profile: Underbrush, dark spices, herbs, wild berries aromas lead the nose. The solid palate offers Maraschino cherry, prune and ground clove alongside firm tannins.
Fattoria dei Barbi, Brunello di Montalcino blue label 2014
For a vintage that was legendary bad, the most difficult since 2002. They lost 40% of the production to mold this year and there was no riserva nor cru made. The result was this deep and mature expression for the Brunello with a bitter and gamey palate.
VIGNA DEL FIORE
Created by Francesca Colombini in 1981 as her 50th anniversary self-proclaimed gift, this is the very feminine and winsome single vineyard of the estate. It literally means Flower vineyard but in fact it relates to the local river called Fiore. It is broad with an incredible expression and substance, especially in the voluptuous 2007.
Fattoria dei Barbi, Brunello di Montalcino Vigna del Fiore 2013
2013 was a peculiar vintage. Very closed on the nose, but overly expressive on the palate. Tannins are integrated and balanced with an immediate pleasantness from the overall tasty intensity. It could be considered a modern vintage with its hints of bitterness and frilly characteristics.
 
Fattoria dei Barbi, Brunello di Montalcino Vigna del Fiore 2012
Vintage 2012 was very tense & elegant. There's a delicate softness on the texture, but with a clear and delicious intensity. You'll find juicy aromas of very ripe red fruits, as well as coffee & dark chocolate notes. The bright acidity makes it quite quaffable.
 
Fattoria dei Barbi, Brunello di Montalcino Vigna del Fiore 2006
A pure and decisive proof that Brunello needs time to express its true potential. The 2006 was a true beauty with its very complex aromas of plums, molasses, leather, Tuscan tobacco as well as hint of violets, bitter chocolate, blood orange and a salty, umami filled finale. It's a savory but extremely soft intricate vintage.
RISERVA
Opinions differ concerning which wine of Fattoria dei Barbi is the best one between Vigna del Fiore and the Riserva. I guess this is personal opinion. The riserva is definitely more reserved, and open up slower. It doesn't give itself right away and you have to wait for it to open up. It is more structured and mature.
Fattoria dei Barbi, Brunello di Montalcino Riserva 2013
The lithe, linear palate offers dried cherry, tobacco and star anise alongside polished tannins and firm acidity. Again, 2013 surprises by the originality of its flavor profile including black olive, artichoke, bean sprouts and heavily roasted character.
Fattoria dei Barbi, Brunello di Montalcino Riserva 2012
Traditional expression made with a very reduced production this year. It's tight, austere, with savory hazelnut and coffee aromas. The palate is bold and wide with polished tanins.
Fattoria dei Barbi, Brunello di Montalcino Riserva 2010
Only 3900 botlles of 2010 was produced. The color is darker than usual with browning sides. Remember, back in 2010, it was a new day for Brunelle, an upsurge for international market. Its in this context of heavy interest that this firework expression was made. It's a powerful wine that hides it behind a soft touch.
Fattoria dei Barbi, Brunello di Montalcino Riserva 2001
For a 2001, I'm astonished by the bright and lively expression. Steely, juicy with soy sauce and truffled aromas, the complexity of this vintage is impressive and developing. This brunello offers a pretty bouquet, showing elegance and restraint at the same time. There are layers of small berry fruit, spice and leather, with dusty, dry tannins.