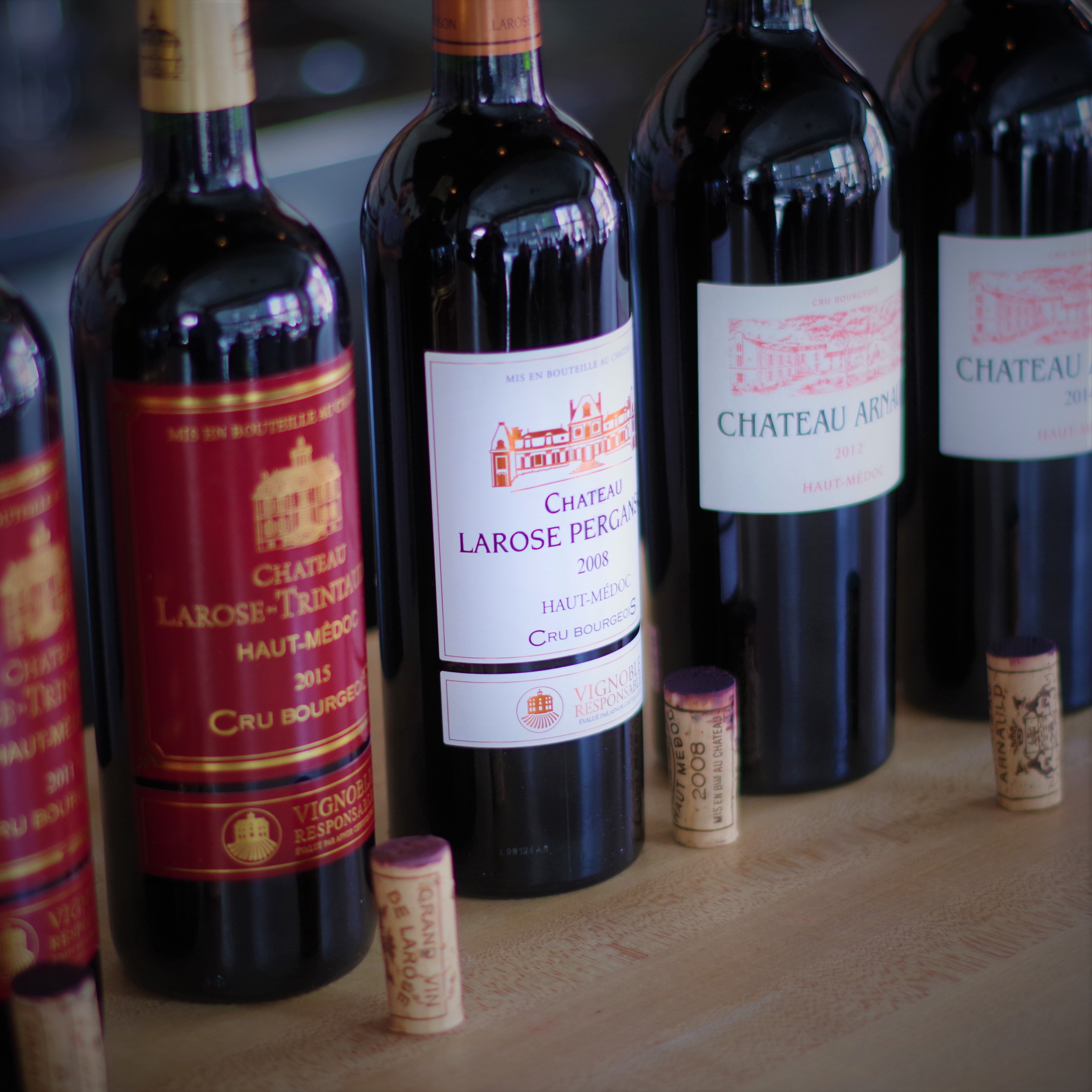 "Le plus grand plaisir d'un vigneron, c'est de partager. "  –  "The biggest pleasure of a winemaker, is sharing. "
Château Larose-Trintaudon had the pleasure to announce the imminent arrival of the 2015 vintage of Larose-Trintaudon in Quebec. 2015 was characterized by two parameters, mostly. First, it's the most aromatic vintage of the decade. It was dry and hot until September raising anxieties. If the dry tendency would've continued, we would've been looking at overripe wines from the very small berries. Luckily, September came with a long-awaited rainfall, enough to give back freshness to the wine. Beside this incredible intensity, the wines are characterized by a charm and pleasant style. The wines are globular with rounded & soft tannins.
Monsieur Franck Bijon, general director, explained that he aims for stability, a balance and a quality in terms of tannins with a controlled extraction. The role of the winemaker is to take wines with its context and be able to have an adapted approach.
Vignobles Larose truly have an historic past, linked to some of the most influencal character in Bordeaux. Initially, Domaine Perganson was owned by Jean-Pierre du Pontet of the famous Pontet-Canet. It will then go through the hands of Mr. Henry Delaroze who will expand the estate by acquiring 15 additional hectares that are to become Larose-Trintaudon. The first vintage of both Larose-Perganson and Larose-Trintaudon will be 1841. Of course, things have changed since and the estate has grown into one of the largest vineyards of the Médoc by its area and its production. It was only in 2007 that Château Arnaud was added to the portfolio, a smaller estate in size but with the same notoriety as Cru Bourgeois Supérieur. The plan for all three estates is to gain the highest achievement on the soon to be announced new Cru Bourgeois classification in march 2020. The new classification will be separated in three categories: Cru Bourgeois, Cru Bourgeois Supérieur & Cru Bourgeois Exceptionnels.
Another big news for the group is the new acquisition of Château Tour de Pez in Saint-Estèphe at the end of January. Over the next 10 years, Franck Bijon believes they'll be able to make it into a great Grand Cru. All of the Château has investments planned in the next few years  to bring their standards and quality to new hights.
Château Larose-Perganson 2008
Nothing would've been possible without Larose-Perganson. It was the very start of the adventure. With its unique clay and clay-limestone soil, the estate can quickly become quite rustic in taste, more full-bodied with matter. This is something to be careful about and consider in terms of the desired style. 2008 was a complicated year. In the end, the blend was deiced with a majority of Merlot, which is not always the case. The color is starting to turn to a lovely tiled color. The aromas boasts of Cherry pit, dates, nothing overripe but instead with a slight vegetal note that brings a touch of freshness. The structure is thick and tight with a palate very similar to the nose. It's a steady wine overall.
Chateau Larose-Trintaudon 2011
You may already know Larose-Trintaudon as one of the best affordable Bordeaux on the shelves. I always thought of it as this great wine that can please everyone. He's appreciated each and every time. 2011 was a very classical vintage, pretty similar to 2001 in style. Dried fruits and cranberries aromas have a helping hand from cedar and tobacco. Some pretty classical aromas. It's filled with taste, a distinct fruitiness and an easy-going charm.
Chateau Larose-Trintaudon 2015
2015 is still a pleasure wine, one that is uncomplicated, but compared to 2011, it has this added touch of concentration. There's an array of red fruits and berries aromas from wild strawberries to candied raspberries. There's a slight oak presence in support that's very subtle and completely disappear on the palate. It's fruit-forward and palatable but also very well-balanced.
Chateau Arnaud 2012
Château Arnaud is a small property of only 17 hectares. It's truly a special case as they put all the care and dedication possible into the production of Château Arnaud. The vines have an average of 45 years old but the true advantage is in the impressively low yields: 10 000 feet per hectares, the same density than the very best first growths. Very dark in color, almost opaque, we're further than the luscious fruits of Trintaudon. Instead, Arnaud offers a very savory side with pecan nuts, Cigar smoke, and some mixed spices. It's a powerful wine characterized by its concentration and density. Although the strong tannins of the Cabernet Sauvignon give a push at first, they develop as very integrated and smooth.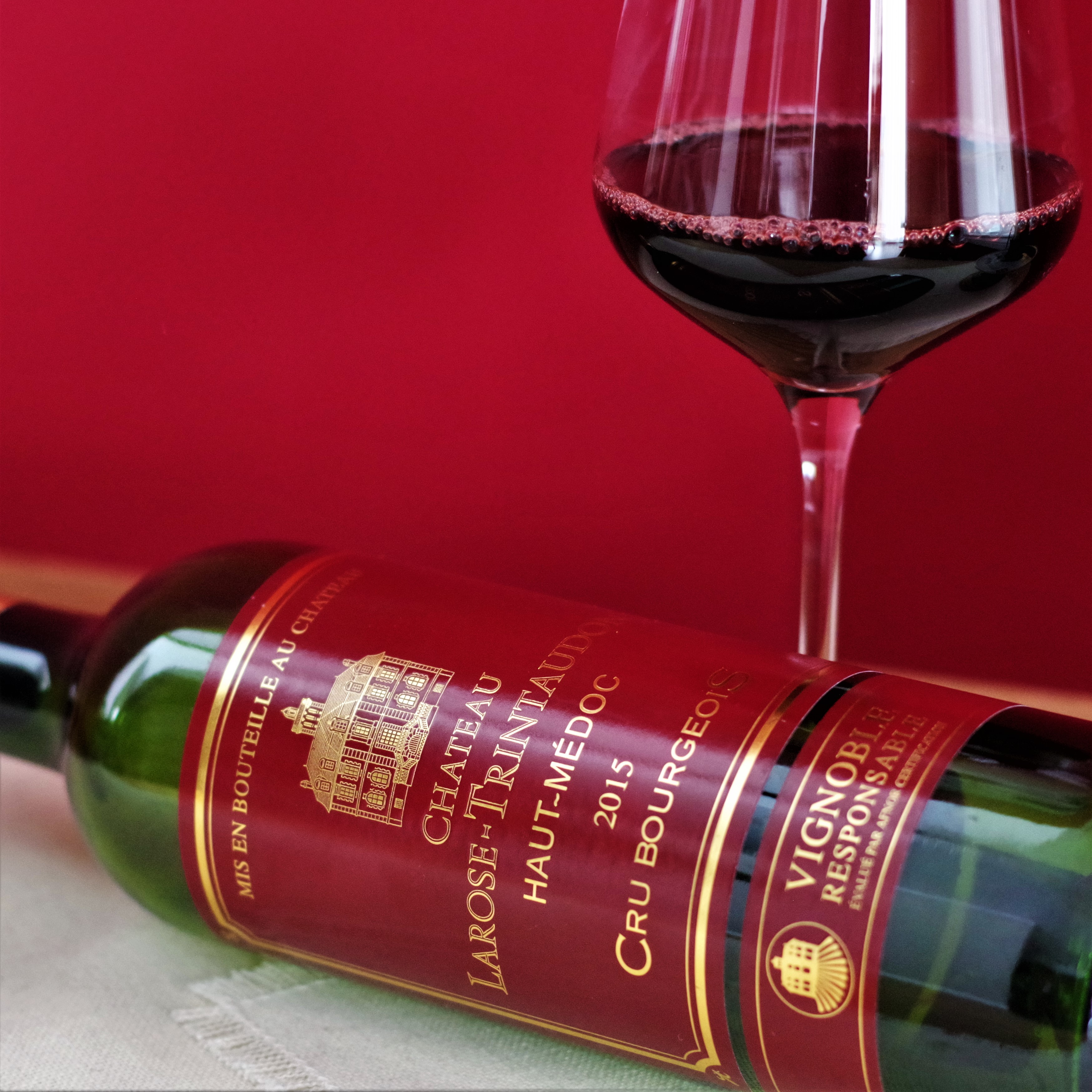 Château Larose-Trintaudon a eu le plaisir d'annoncer l'arrivée imminente du millésime Larose-Trintaudon 2015 au Québec. L'année 2015 a été caractérisée principalement par deux paramètres. Tout d'abord, c'est le millésime le plus aromatique de la décennie. Il faisait sec et chaud jusqu'en septembre, suscitant des inquiétudes. Si la tendance sèche continuait, il aurait fallu s'attendre à  des vins trop mûrs provenant des très petites baies. Heureusement, le mois de septembre est arrivé avec une pluie attendue depuis longtemps, suffisante pour redonner de la fraîcheur au vin. Outre cette intensité incroyable, les vins se caractérisent par un style charmant et agréable. Les vins sont globulaires avec des tanins ronds et souples.
M. Franck Bijon, directeur général, a expliqué qu'il visait une stabilité, un équilibre et une qualité en termes de tanins avec des extractions contrôlées. Le rôle du vigneron est de prendre les vins avec leur contexte et de pouvoir adopter son approche.
Les Vignobles Larose ont véritablement un passé historique, lié à  certains des personnages les plus influents de Bordeaux. Au départ, le Domaine Perganson était la propriété de Jean-Pierre Pontet du célèbre Pontet-Canet. Il passera ensuite aux mains de M. Henry Delaroze qui étendra le domaine en acquérant 15 hectares supplémentaires qui deviendront Larose-Trintaudon. Le premier millésime de Larose-Perganson et de Larose-Trintaudon sera 1841. Bien sûr, les choses ont changé depuis et le domaine est devenu l'un des plus grands vignobles du Médoc par sa superficie et sa production. Ce n'est qu'en 2007 que Château Arnaud a été ajouté au portefolio, un domaine plus petit mais de même notoriété que le Cru Bourgeois Supérieur. Le plan pour les trois domaines est d'obtenir la plus haute marche du nouveau classement du Cru Bourgeois qui sera annoncé en mars 2020. Le nouveau classement sera séparé en trois catégories: Cru Bourgeois, Cru Bourgeois Supérieur et Cru Bourgeois Exceptionnels.
Une autre grande nouvelle pour le groupe est la nouvelle acquisition du Château Tour de Pez à Saint-Estèphe fin janvier. Franck Bijon pense pouvoir faire de ce domaine un grand cru au cours des 10 prochaines années. Tous les investissements du Château sont planifiés au cours des prochaines années pour que leurs normes et leur qualité atteignent de nouveaux sommets.
Château Larose-Perganson 2008
Rien n'aurait été possible sans Larose-Perganson. C'était le début de l'aventure. Avec son sol argileux et argilo-calcaire unique, le domaine peut rapidement devenir assez rustique en goût, plus corsé en matière. C'est une chose à  laquelle il faut être prudent et que l'on doit considérer en termes de style souhaité. 2008 a été une année compliquée. Au final, l'assemblage a été composé d'une majorité de merlot, ce qui n'est pas toujours le cas. La couleur commence à  devenir d'une belle couleure tuilée. Les arômes se vantent de noyaux de cerise, de dattes, rien de trop mûr mais plutôt avec une légère note végétale qui apporte une touche de fraîcheur. La structure est épaisse et serrée avec une bouche très semblable au nez. C'est un vin stable dans l'ensemble.
Château Larose-Trintaudon 2011
Vous connaissez peut-être déjà  Larose-Trintaudon comme l'un des meilleurs Bordeaux abordables sur les tablettes. Je l'ai toujours considéré comme ce grand vin qui peut plaire à  tout le monde. Il est apprécié à  tout coup. L'année 2011 était un millésime très classique, assez similaire à  2001. Les arômes de fruits secs et de canneberges recoivent un coup de pouce du cèdre et du tabac. Quelques arômes assez classiques. C'est plein de goût, de fruité distinct et de charme facile à  savourer.
Château Larose-Trintaudon 2015
2015 est toujours un vin de plaisir, simple, mais comparé à  2011, il a cette touche de concentration supplémentaire. Il renferme une variété d'arômes de fruits rouges et de baies allant de la fraise des bois aux framboises confites. Une légère présence de chêne à  l'appui est très subtile et disparaît complètement en bouche. Le focus est sur le fruit, mais aussi sur l' équilibré.
Château Arnaud 2012
Le Château Arnaud est une petite propriété de seulement 17 hectares. C'est vraiment un cas particulier car ils ont mis tout le soin et le dévouement possibles dans la production de Château Arnaud. Les vignes ont en moyenne 45 ans mais le véritable avantage réside dans les rendements remarquablement bas: 10 000 pieds par hectare, la même densité que les meilleurs premiers crus. De couleur très sombre, presque opaque, nous sommes plus loin que les fruits succulents de Trintaudon. Au lieu de cela, Arnaud offre un côté très savoureux avec des noix de pécan, de la fumée de cigare et des épices mélangées. C'est un vin puissant caractérisé par sa concentration et sa densité. Bien que les tanins puissants du cabernet sauvignon donnent une impulsion au début, ils se développent de manière très intégrée et douce.