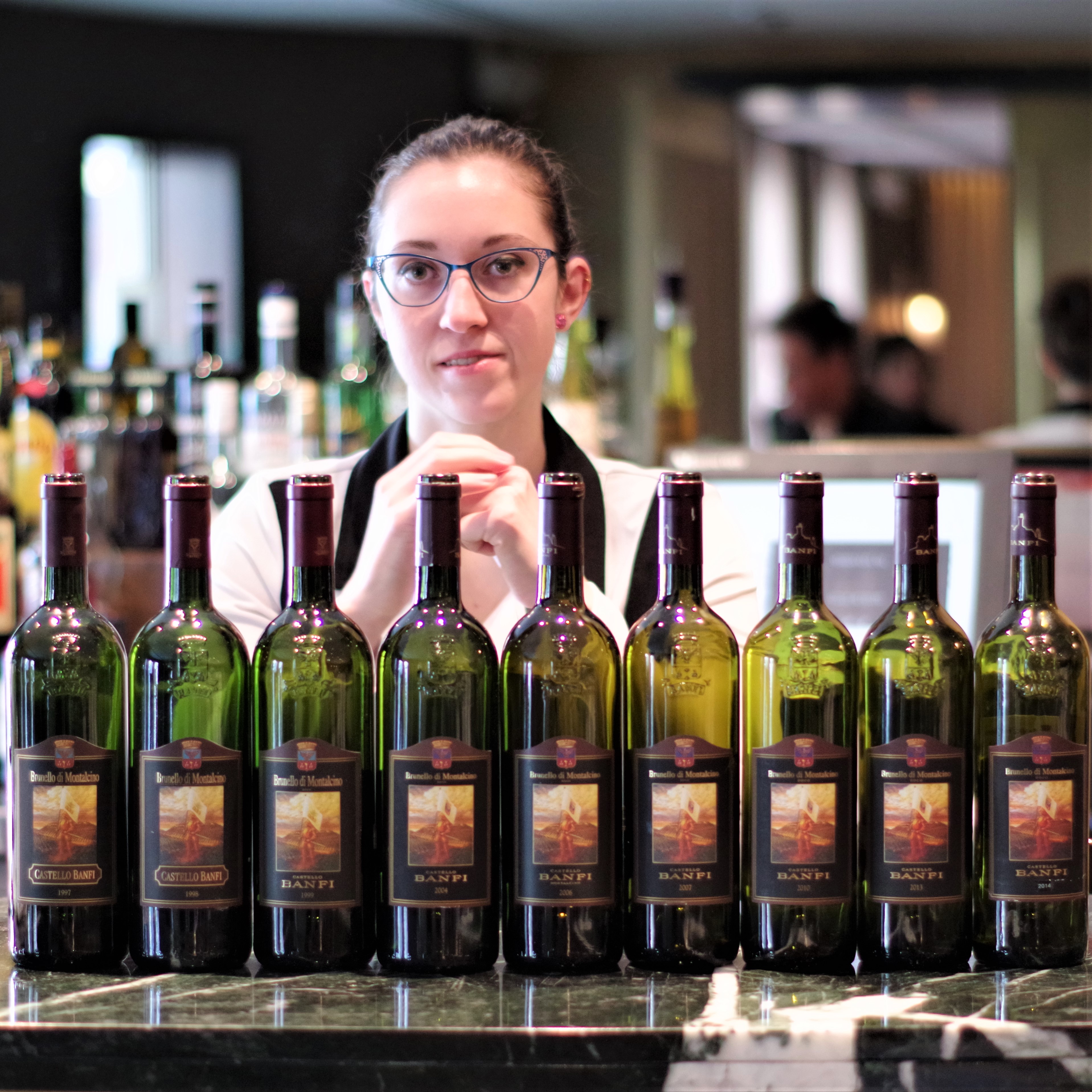 The Banfi group is a leading brand in Italy. However, the heart of this company is the more than honoured family-owned estate called Castello di Banfi in Montalcino. The famous estate has had a sorrowful lost this year after the demise of their winemaker, Rudy Buratti earlier this year. He dedicated his life and career to Brunello and achieved star status at Castello di Banfi. Buratti joined the team back in 1983 and became chief winemaker in 1999, the same year Enrico Viglierchio became general manager. Buratti was part of the original team that isolated and registered 15 optimal clones of Sangiovese in a pursuit of further knowledge and excellence. In the same idea, he was co-author with various other colleagues and professor, of The Pursuit of Excellence, a case study detailing Banfi's research and development over the past 35 years.
In tribute to his lifelong dedication, let's explore some wines with the most precise and tailored expression of the vintages and place that were made under his care. Brunello is such a capricious and fanciful variety that we can get major and unique variations through the year.
Brunello di Montalcino, Castello di Banfi 2014
This will be the released in the beginning of 2019. For now, 2014 is pale and brilliant but with a sketchy & unfinished touch. The slightly drying tannins are not completely integrated and seem isolated. The aromas are subtle and delicate with no apparent personality. There's definitely potential in term of freshness but misses concentration and depth. With the delicacy, it could perfectly develop into an elegant and posh vintage.
Brunello di Montalcino, Castello di Banfi 2013
For me, 2013 was a classic expression of Brunello. It has great balance, a crunchy fruit character and soft spices. There was so much rain this vintage that it created a lot of quantity issue. We had to change bottle as the first one was stale and dusty.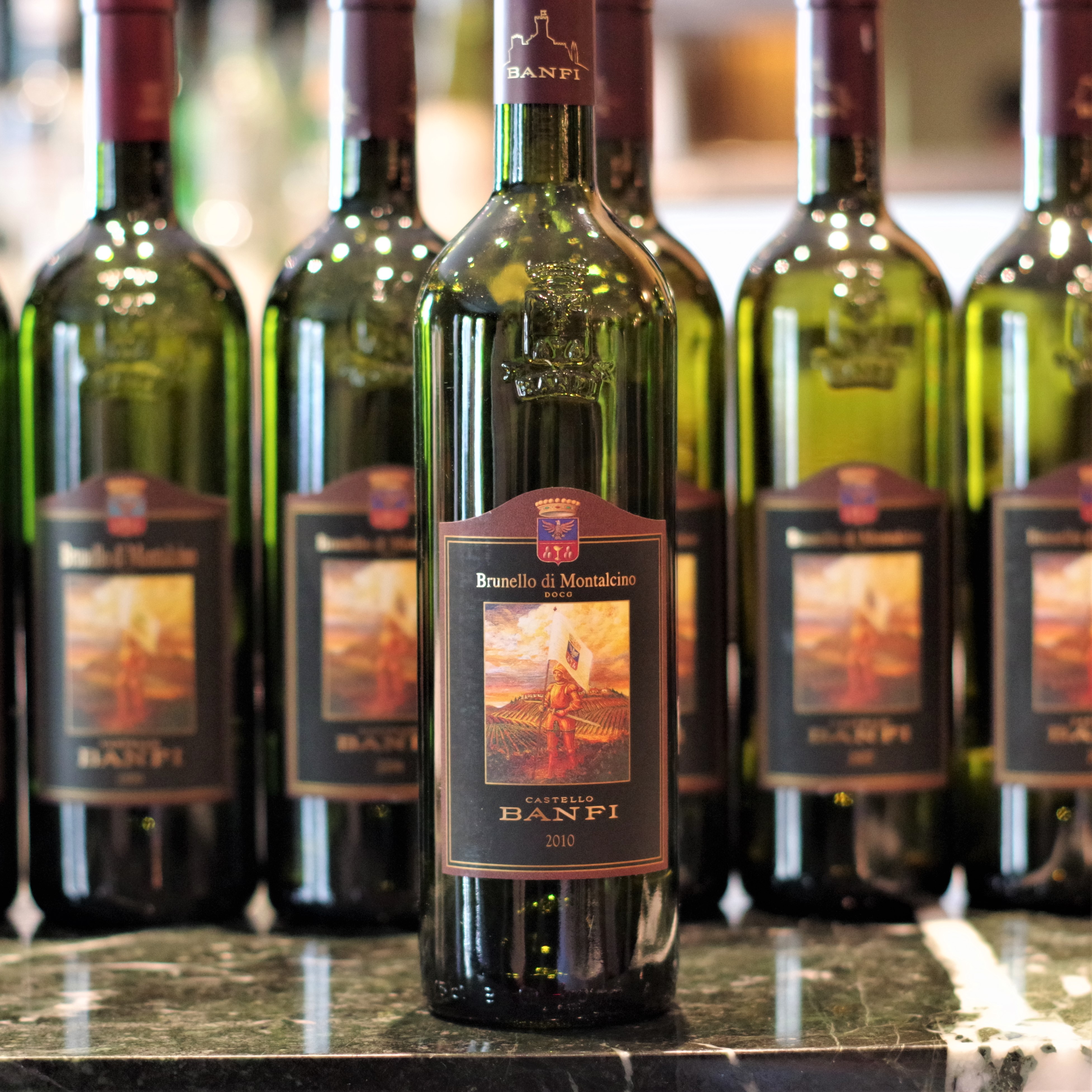 💙💙Brunello di Montalcino, Castello di Banfi 2010
One of the great Montalcino vintages. It is showing beautifully right now with concentration & intensity levels that are above average. It's like a burst of intensity on the palate. The flavors profile is still fruit-forward and not as developed as I would've though. Probably, an outcome of structured expression. It shows black-fruits, prunes, peaches, and a peppery side that is brought back stronger on the palate.
💙💙💙Brunello di Montalcino, Castello di Banfi 2007
This was a personal favourite. 2007 has all of its personality in its unique aromas. The color is completely orange of a flamboyant shade and it smells like the creamiest of milk chocolate at first. The bouquet opens up with just a little bit of time on a complex mix of nuts & spices. The palate is strong in an energetic and stimulating way with vibrant acidity and mellow finale.
Brunello di Montalcino, Castello di Banfi 2006
2006 has a faded color and a lack of shine. The acidity is intense but has nothing but bitterness to support it. The wine had strong reductive notes and an unbalanced finish. 2006 was a very warm vintage, and the grapes had unusual hard skins. The harvest took place late because of this aspect.
Brunello di Montalcino, Castello di Banfi 2004
2004 was similar to 2006 but even staler, more off-centered and reductive. Something went terribly wrong.
💙Brunello di Montalcino, Castello di Banfi 1999
1999 was pretty much a normal and regular vintage but it chose to show in an unusually deep and mature way. When we say that Sangiovese is unpredictable, this is a good example. The maturity of the fruits is outstanding, mixed with complex aromatic herbs, licorice and clove. It has a young and lively palate that was just slightly smoothed with age.
💙💙Brunello di Montalcino, Castello di Banfi 1998
The 1998 is completely empyreumatic with aromas of dark chocolate, heated caramel and a smoky, roasted side. The structure is full-bodied and fluffy with just the ideal level of smoothness. This vintage was quite cold and completely underestimated because it was shaded by the great 1997. I found it elegant with a unique development and a special, nonesuch style.
💙💙Brunello di Montalcino, Castello di Banfi 1997
Even with the frost that affected the vineyards, the vintage ended up with a productive summer and achieved good phenolic maturity in the end. 1997 is considered as one of the greatest vintages in Montalcino. It has intense, bursting aromas with a complex development. The acidity level is extreme for its age with aromas of freshly squeezed orange juice, caramel, Italian coffee, hazelnuts, musk and very distinctive Tar and Tobacco. There's also hints of residual fruits that are rather hidden similar to bruised plums and dried figs. It's completely worthy of the vintage's praise.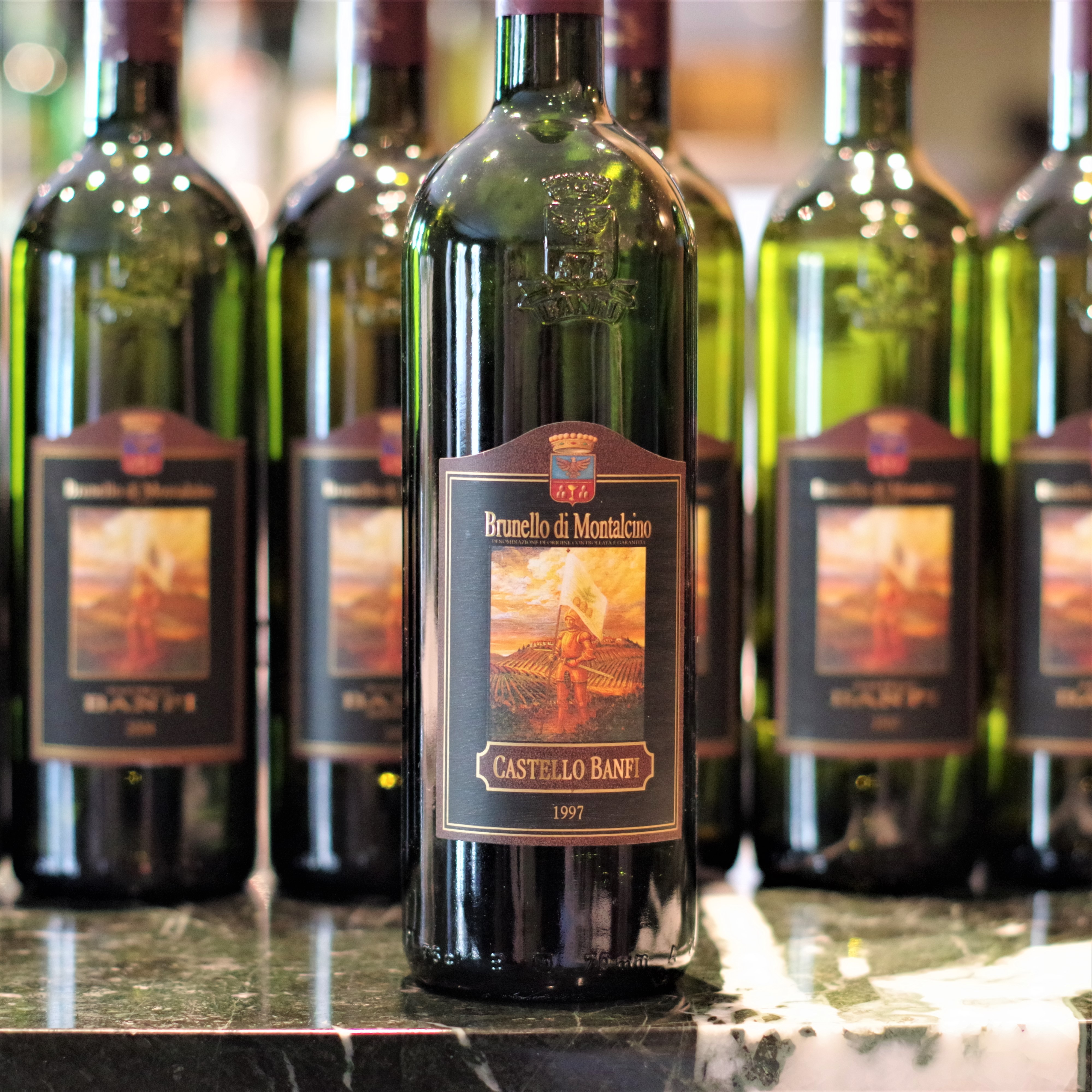 Banfi
Le groupe Banfi est une marque leader en Italie. Cependant, le cÅ"ur de cette société est le domaine familial plus que respecté, appelé Castello di Banfi à  Montalcino. Le célèbre domaine a subi une triste perte après le décès de son oenologue, Rudy Buratti, plus tôt cette année. Il a consacré sa vie et sa carrière au Brunello et a obtenu le statut de célébrité à  Castello di Banfi. Buratti a rejoint l'équipe en 1983 et est devenu vigneron en chef en 1999. La même année, Enrico Viglierchio est devenu directeur général. Buratti faisait partie de l'équipe originale qui a isolé et enregistré 15 clones optimaux de Sangiovese afin de poursuivre ses connaissances et de parvenir à  l'excellence. Dans le même esprit, il a été co-auteur avec divers collègues et professeurs de : The Pursuit of Excellence, une étude de cas détaillant les activités de recherche et développement de Banfi au cours des 35 dernières années.
En hommage à son dévouement tout au long de sa vie, explorons quelques vins avec l'expression la plus précise et la plus adaptée des millésimes et du lieu qu'il a produits. Le Brunello est une variété tellement capricieuse et fantaisiste que nous pouvons avoir des variations majeures et uniques à chaque millésime.
Brunello di Montalcino, Château de Banfi 2014
2014 n'est pas encore disponible, il sera mis en vente au début de 2019. Pour l'instant, 2014 est pâle et brillant mais avec une touche incomplète et inachevée. Les tanins légèrement asséchants ne sont pas complètement intégrés et semblent isolés. Les arômes sont subtils et délicats, sans personnalité apparente. Il y a un potentiel certain en termes de fraîcheur mais manque de concentration et de profondeur. Avec la délicatesse, il pourrait parfaitement se transformer en un millésime élégant et chic.
Brunello di Montalcino, Château de Banfi 2013
Pour moi, 2013 était une expression classique de Brunello. Il présente un bon équilibre, un caractère de fruit croquant et des épices douces. Il y avait tellement de pluie ce millésime qu'il y a eu un problème de quantité. Nous avons dû changer de bouteille car la première était fade et poussiéreux.
Brunello di Montalcino, Château de Banfi 2010
Un des grands millésimes de Montalcino. Il s'exprime magnifiquement en ce moment avec des niveaux de concentration et d'intensité supérieurs à  la moyenne. C'est comme une explosion d'intensité en bouche. Le profil des arômes est toujours fruité et pas aussi développé que je l'aurais pensé. Probablement le résultat d'une expression structurée. Il montre des fruits noirs, des pruneaux, des pêches et un côté poivré qui est ramené plus fortement en bouche.
Brunello di Montalcino, Château de Banfi 2007
C'était un favori personnel. 2007 a toute sa personnalité dans ses arômes uniques. La couleur est complètement orange d'une nuance flamboyante et ça sent le chocolat au lait le plus crémeux. Le bouquet s'ouvre avec un peu de temps sur un mélange complexe de noix et d'épices. La bouche est énergique et stimulante, avec une acidité vibrante et une finale moelleuse.
Brunello di Montalcino, Château de Banfi 2006
2006 a une couleur fanée et un manque de brillance. L'acidité est intense mais n'a que de l'amertume pour la supporter. Le vin avait de fortes notes réductives et une finale déséquilibrée. L'année 2006 a été très chaleureuse et les raisins avaient une peau dure inhabituelle. La récolte a eu lieu tardivement à  cause de cet aspect.
Brunello di Montalcino, Château de Banfi 2004
L'année 2004 a été similaire à  2006, mais encore plus modérée, plus décentrée et réductrice. Quelque chose a très mal tourné.
Brunello di Montalcino, Château de Banfi 1999
L'année 1999 a été plutôt un millésime normal et régulier, mais il a choisi de se montrer d'une manière inhabituellement profonde et mature. Lorsque nous disons que le sangiovese est imprévisible, c'est un bon exemple. La maturité des fruits est remarquable, mélangée à  des herbes aromatiques complexes, à  la réglisse et au clou de girofle. La bouche est jeune, vive et légèrement lissée avec l'âge.
Brunello di Montalcino, Château de Banfi 1998
Le 1998 est complètement empyreumatique avec des arômes de chocolat noir, de caramel chauffé et un côté fumé et rôti. La structure est corsée et moelleuse avec juste le niveau idéal de finesse. Ce millésime était plutôt froid et complètement sous-estimé, car il avait été ombragé par le grand 1997. Je le trouvais élégant avec un développement unique et un style spécial et différent.
Brunello di Montalcino, Château de Banfi 1997
Même avec le gel qui a affecté le vignoble, le millésime s'est terminé par un été productif et a finalement atteint une bonne maturité phénolique. 1997 est considéré comme l'un des plus grands millésimes de Montalcino. Il présente des arômes intenses et éclatants au développement complexe. Le niveau d'acidité est extrême pour son âge avec des arômes de jus d'orange fraîchement pressé, de caramel, de café italien, de noisettes, de musc et des arômes très distinct de goudron et tabac. Il y a aussi des notes de fruits résiduels qui sont plutôt cachés, comme des prunes et des figues sèches. C'est tout à  fait digne des louanges du millésime.