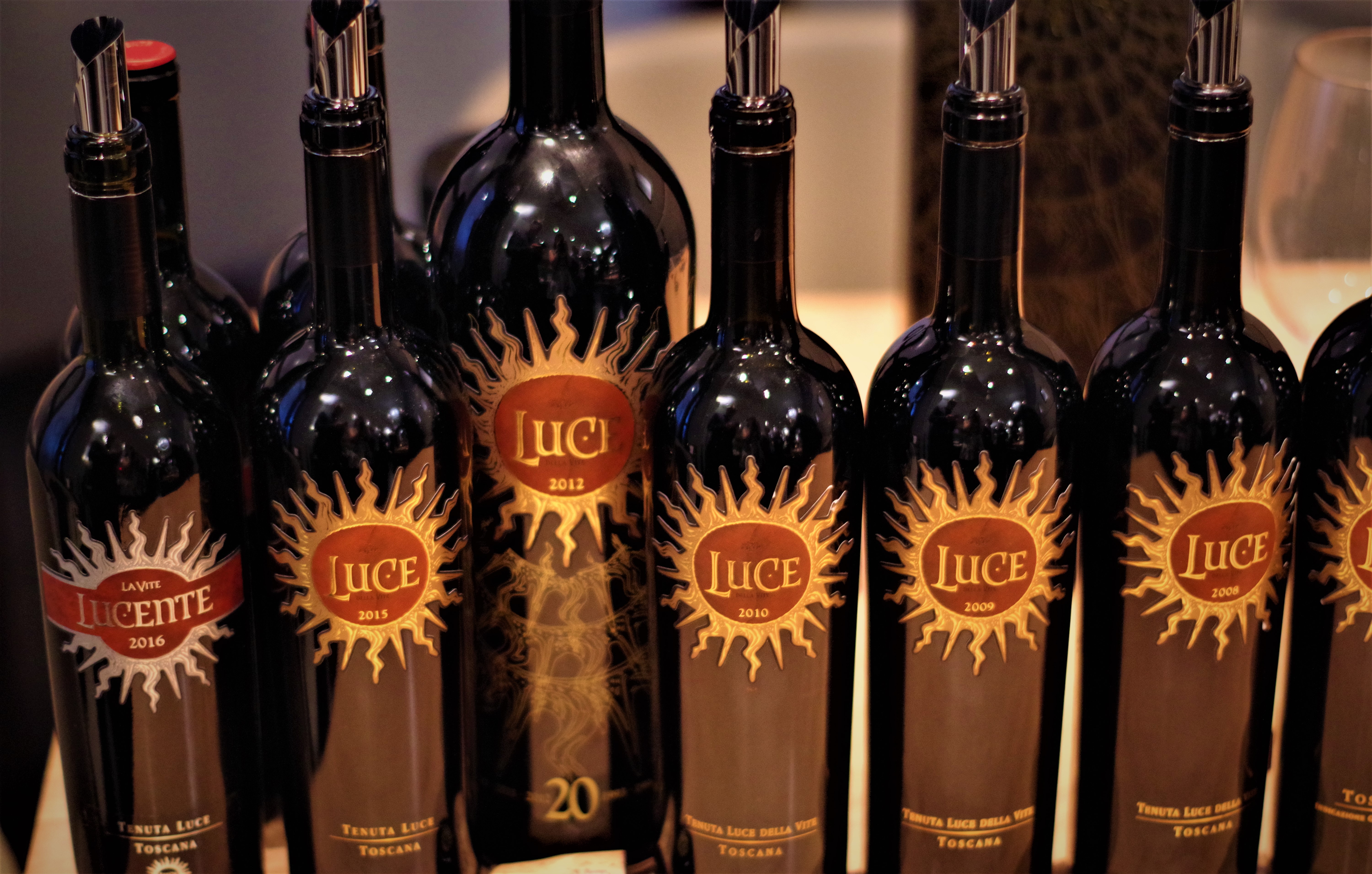 In 1995, two major family from the new world and the old world joined forces on the new project of creating a world-class Italian wine. The Frescobaldi's and the Mondavi's, with the same love of the Italian wine culture and the Italian land started the Luce della Vite ambitious joint-project. Luce was the first wine ever produced in Montalcino by blending Sangiovese and Merlot grapes. Combining the roundness and suppleness of Merlot with the structure and elegance of Sangiovese seems an obvious idea, but it took two well established winemakers, Lamberto Frescobaldi and Tim Mondavi, to do that in the land of the world renowned Brunello di Montalcino, a wine made strictly from 100% Sangiovese. Now, and since 2004, Luce della Vita is solely owned by the Frescobaldi family although, their Californian partners still owns financial interest in the company. The shining sun on the Luce has Tuscan heritage and will remain so, burning and glowing for many years to come.
Lucente 2016
Lucente is somehow the little brother of Luce. Even the barrels that have seen some Luce are reused for Lucente afterwards. It's an approachable and definitely more affordable option. The higher pourcentage of Merlot makes it extremely soft with aromas of confit, juicy cherries. It's luscious in its intensity.
💙Luce 2015
All the appeal of 2015 vintage, in my opinion, is in the tannins. The finesse of the tannins is one I have rarely experimented. The maturity of the grapes stands out to show how heated and sunny this vintage was.
💙Luce 2012
The fruits character of the 2012 is extremely ripe. Everything's still fruit-forward, yet in a concentrated and cooked way. It was also one of the recent rather warm vintages and it absolutely shows in the wine. I love when a wine speaks strongly of a place and a time.
Luce 2010
2010 for Luce was a complete disaster! It's the words of …. Not mine. Frequent rainstorms and an harsh conditions made the wine tight and jarringly exaggerated in terms of raisined fruits aromas and Highly tannic structure.
Luce 2009
I can see a potential in terms of freshness and acidity, but it's absolutely overpowered by the astringent and overly extracted taste. It misses the finesse and balanced maturity we know Luce, and other super Tuscan can achieve.
Luce 2008
It seems as we go back in time, the tannins grow stronger and the wines gains magnitude. It's bold, powerful and rich even for a super Tuscan, with depth and maturity. The super oaky, ripe black fruits and chocolate aromas couldn't be riper.
Luce 2007
In comparison, 2007 seems much diluted as far as its texture and intensity goes. The aromas are not as complex. It shows a savoury side with roasted coconut and caramel with a touch of simple blackberries. There's a tension that remains latent.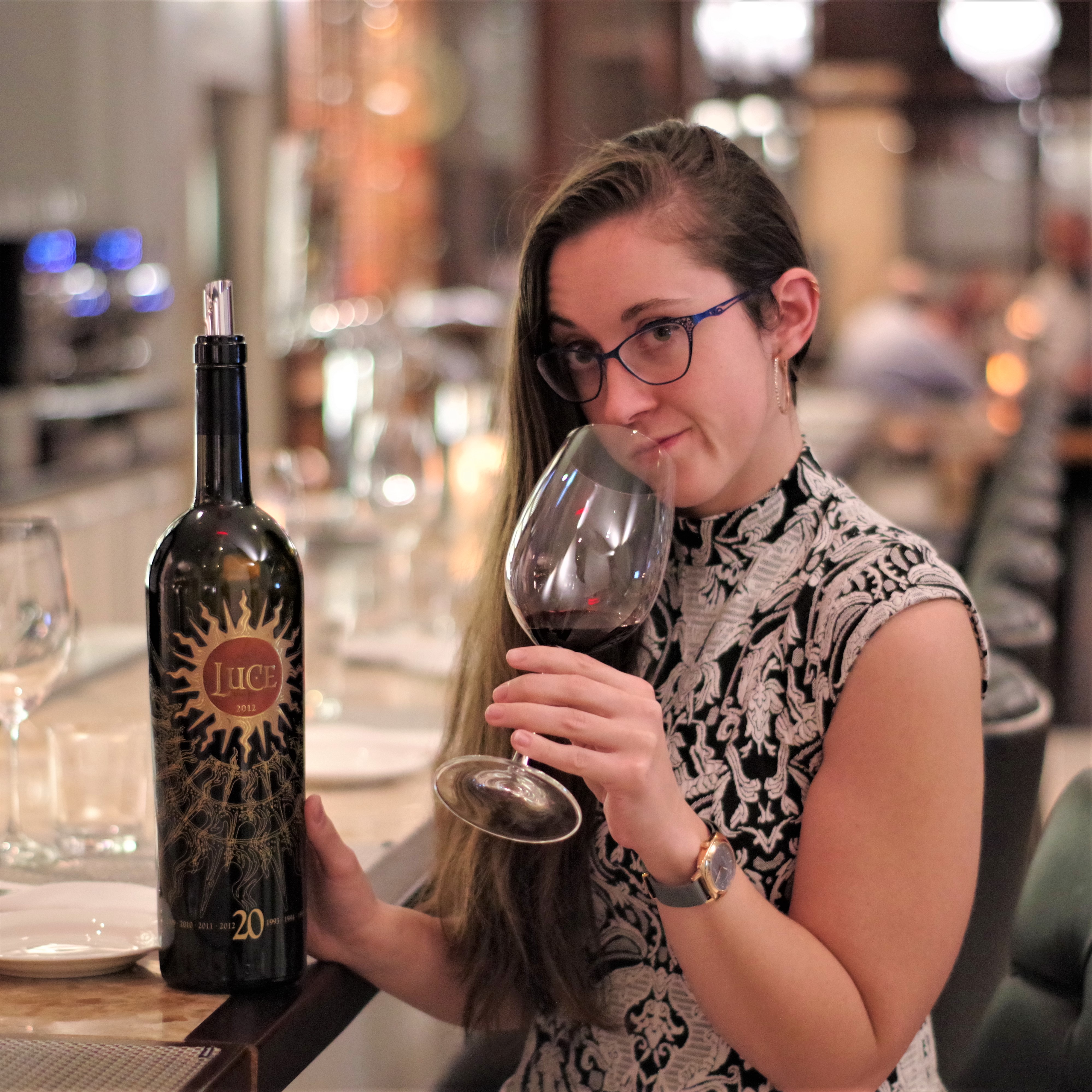 💙💙💙Luce 2006
The vintage 2006 is and extremely distinct turning point in terms of style. The merlot side of the blend seems to fade to let the wonderful potential of the Sangiovese shine. We are getting more traditional Tuscan. The aromas have completely changed, including a lovely balsamic note, white tobacco, fresh herbs and even scrubland. The tannins are also evolved and integrated bringing maturity, suppleness and good length.
💙💙Luce 2004
2004 was the end of the joint venture with the Mondavi. In terms of style, there's similarities to 2006, really mature and integrated tannins with a pleasant texture and complexity. This time we get a touch more of elegance and finesse with fresh green olives and earl grey tea.
💙Luce 2001
2001 was stuck with massive frost. The harvest started almost completely on secondary buds. The profile is on concentration, latent power and vibrant aromas. There's a touch of Umami in the style which helps in bringing intensity to the wild berries and chocolate aromas. There's a good balance concerning alcohol and acidity that keeps the flavours as persistent.
💙💙💙Luce 2000
The 2000 vintage has an advanced development yet with a vivid freshness. It shows a pleasant bitterness and mostly an empyreumatic bouquet. It's extremely precise for such an evolved wine and the characteristic acidity of Sangiovese holds everything up together and will for a couple of years further.
💙Brunello di Montalcino 2013
Pretty much a traditional expression of Brunello, but in a very serious and explosive expression. It's a burst of taste and satisfactory delight. There's tons of juicy, mature black fruits, dried flowers, an earthy side, spices, toffee, almonds and tactful leather aromas. It's full-bodied and mouth-watering and a good softly grippy tannins.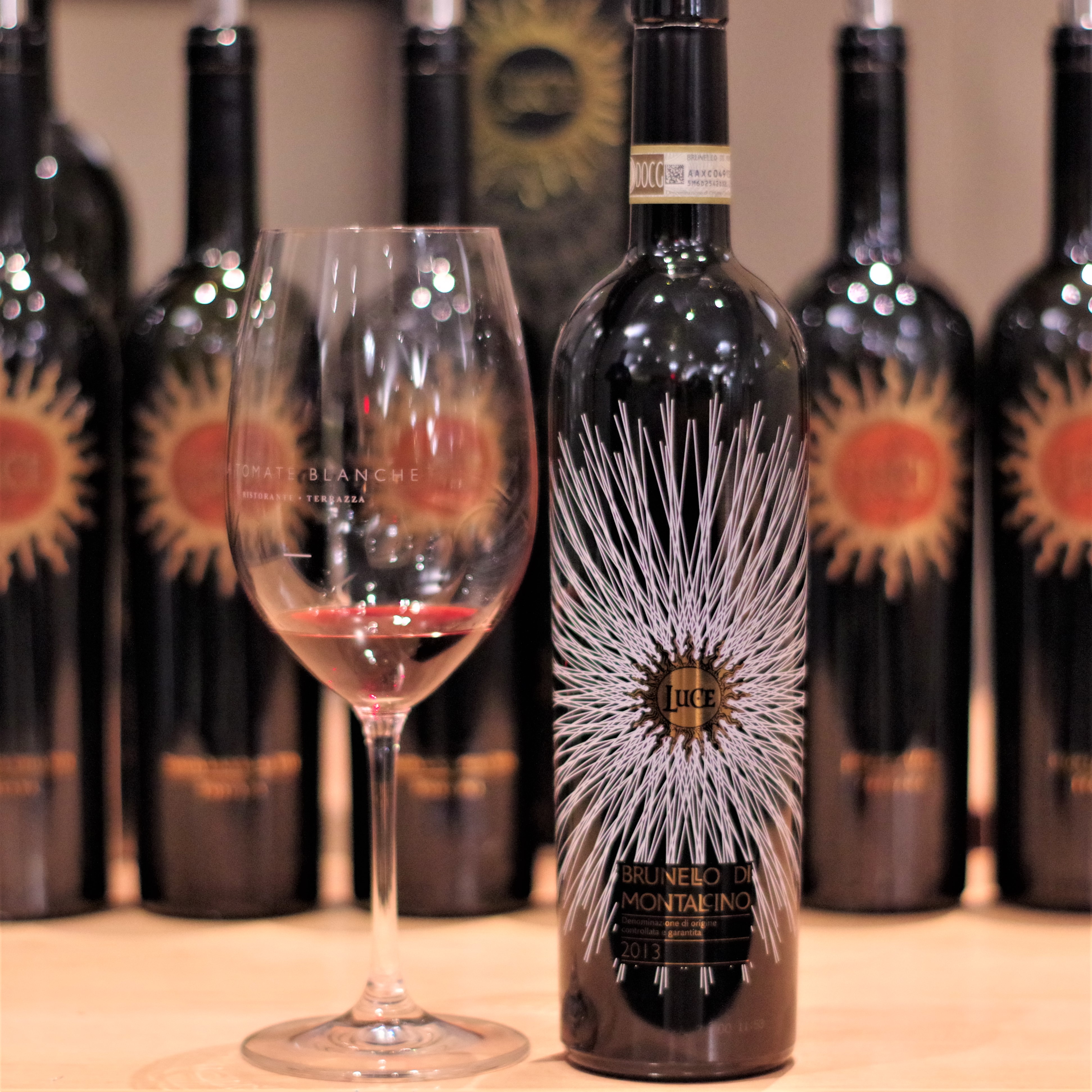 Luce РLa lumi̬re de la Toscane
En 1995, deux grandes familles du nouveau monde et de l'ancien monde ont uni leurs efforts pour créer un vin italien de classe mondiale. Les Frescobaldi et les Mondavi, partageant le même amour de la culture du vin et du territoire italiens, ont lancé l'ambitieux projet conjoint Luce della Vite. Luce a été le premier vin produit à  Montalcino en assemblage de Sangiovese et de Merlot. Combiner la rondeur et la souplesse du merlot avec la structure et l'élégance du sangiovese semble une idée évidente, mais il a fallu deux vignerons bien établis, Lamberto Frescobaldi et Tim Mondavi, pour le faire au pays du renommé Brunello di Montalcino, un vin fabriqué strictement de 100% Sangiovese. Depuis 2004, Luce della Vita appartient exclusivement à  la famille Frescobaldi, bien que leurs partenaires californiens possèdent toujours des intérêts financiers dans la société. Le soleil brillant sur l'étiquette de Luce a un héritage toscan et le restera, brûlant et rougeoyant pendant de nombreuses années.
Lucente 2016
Lucente est en quelque sorte le petit frère de Luce. Même les barils ayant vu du Luce sont réutilisés pour Lucente par la suite. C'est une option idéale et nettement plus abordable. Le pourcentage plus élevé de merlot le rend extrêmement doux avec des arômes de cerise confite et juteuse. Il est succulent dans son intensité.
💙Luce 2015
Tout l'attrait du millésime 2015, à  mon avis, réside dans les tanins. La finesse des tanins est une expérience que j'ai rarement expérimentée. La maturité des raisins se démarque pour montrer à  quel point ce millésime était chaud et ensoleillé.
💙Luce 2012
Le caractère fruité de 2012 est extrêmement mûr. Tout est encore fruit, toujours concentré et cuit. C'était aussi l'un des millésimes récents plutôt chauds et cela se voit absolument dans le vin. J'aime quand un vin parle fortement d'un lieu et d'un temps.
Luce 2010
2010 pour Luce a été un désastre complet! Ce sont les mots de… Pas le mien. Des pluies torrentielles fréquentes et des conditions difficiles ont rendu le vin serré et  exagéré en termes d'arômes de fruits secs et de structure très tannique.
Luce 2009
Je peux voir un potentiel en terme de fraîcheur et d'acidité, mais il est absolument débalancé par son goût astringent et excessivement extrait. Il manque la finesse et la maturité équilibrée que Luce, et autres super toscans peuvent atteindre.
Luce 2008
Il semble qu'au fur et à  mesure que nous remontons dans le temps, les tanins se renforcent et les vins prennent de l'ampleur. C'est audacieux, puissant et riche, même pour un super toscan, avec profondeur et maturité. Les arômes très boisés, de fruits noirs mûrs et de chocolat sont on ne peut plus compoté.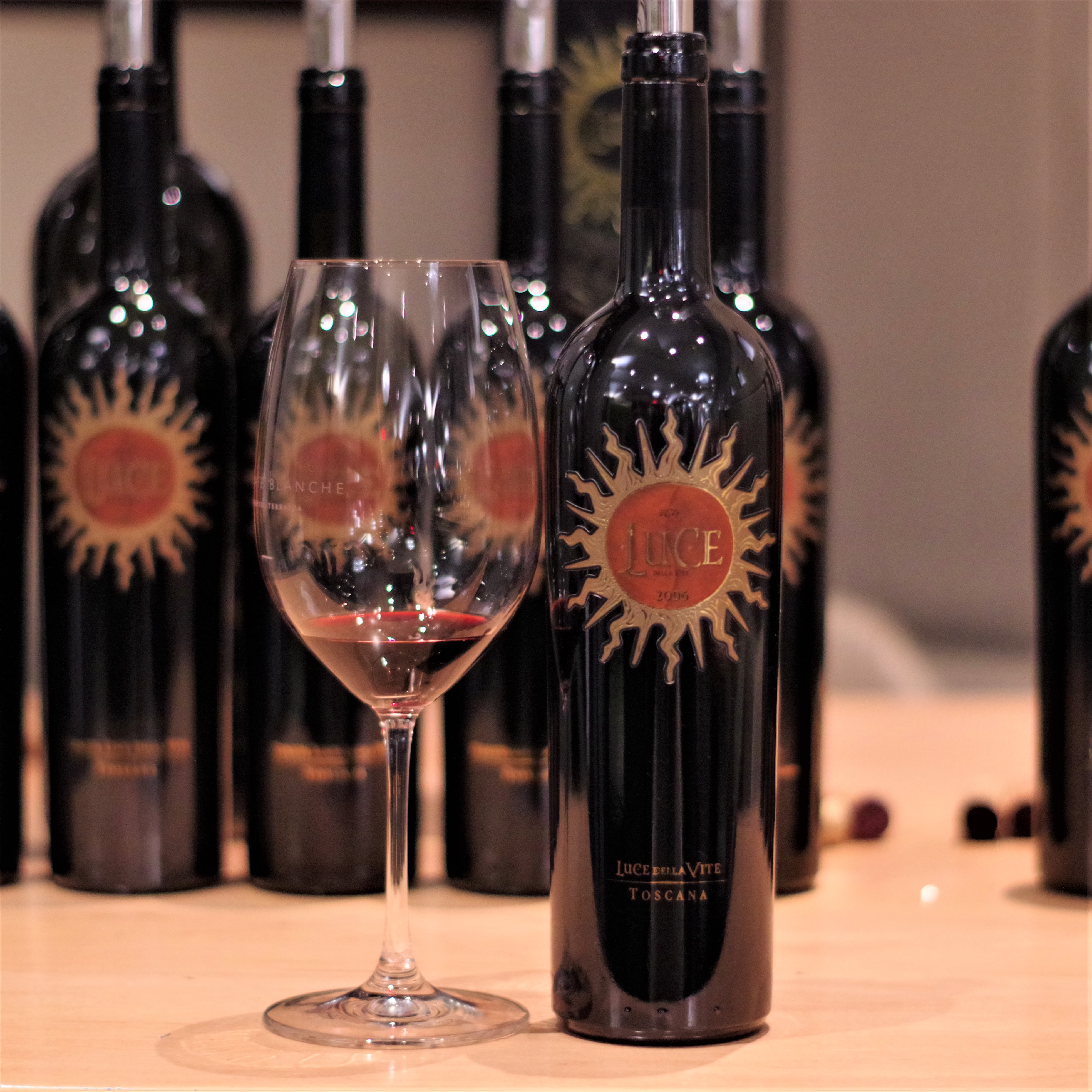 Luce 2007
En comparaison, 2007 semble dilué en ce qui concerne sa texture et son intensité. Les arômes ne sont pas aussi complexes. Il présente un côté savoureux avec de la noix de coco rôtie et du caramel avec une touche de mûre simple. Il y a une tension qui reste latente.
💙💙💙Luce 2006
Le millésime 2006 est un tournant extrêmement distinct en termes de style. La partie merlot du mélange semble s'estomper pour laisser briller le merveilleux potentiel du sangiovese. Il est en train de devenir plus traditionnel toscan. Les arômes ont complètement changé, notamment une belle note balsamique, du tabac blanc, des herbes fraîches et même de la garrigue. Les tanins sont également évolués et intégrés apportant maturité, souplesse et bonne longueur.
💙💙Luce 2004
L'année 2004 a été la fin de la joint-venture avec Mondavi. En termes de style, il existe des similitudes avec 2006, des tanins bien mûrs et intégrés avec une texture et une complexité agréables. Cette fois, nous obtenons une touche supérieure d'élégance et de finesse avec des olives vertes fraîches et du thé Earl Grey.
💙Luce 2001
L'année 2001 a été marquée par un gel massif. La récolte a commencé presque complètement sur les contre-bourgeons. Le profil est sur la concentration, la puissance latente et les arômes vibrants. Une touche d'Umami dans le style contribue à  donner de l'intensité aux arômes de fruits sauvages et de chocolat. Il existe un bon équilibre entre l'alcool et l'acidité qui maintient les saveurs persistantes.
💙💙💙Luce 2000
Le millésime 2000 a un développement avancé mais une fraîcheur vive. Il montre une amertume agréable et surtout un bouquet empyreumatique. C'est extrêmement précis pour un vin aussi évolué et l'acidité caractéristique du Sangiovese résiste à tout et va durer encore quelques années.
💙Brunello di Montalcino 2013
Une expression plutôt traditionnelle de Brunello, mais très sérieuse et explosive. C'est un éclat de goût et un délice satisfaisant. Il y a des tonnes d'arômes de fruits noirs mûrs juteux, de fleurs séchées, un côté terreux, d'épices, de caramel au beurre, d'amandes et de cuir délicat. C'est corsé et savoureux, avec de bons tanins légèrement mordants.