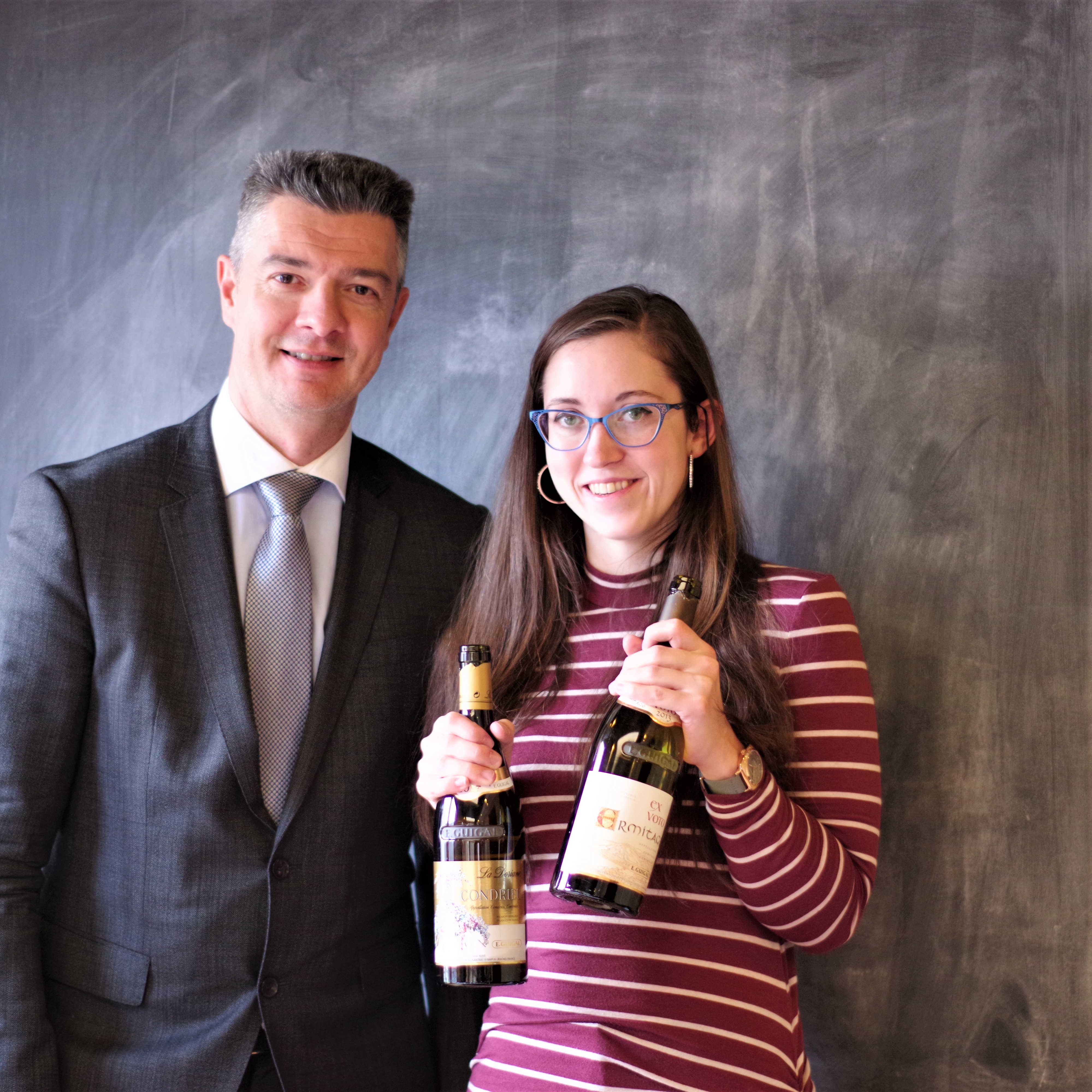 After a mere 25 years looking in Chateauneuf-du-Pape to acquire the best suited estate in the region, Guigal has found what they were looking for in an estate they would have never guessed themselves. Domaine de Nalys, simply renamed Château de Nalys to mark the start of a rebirth, has been officially announced on Monday, November 5th. Nalys was owned by the gigantic insurance company Groupma since 1975. Obviously, after 33 years under such uninvolved owner ship, the estate had suffered from lack of investment and development. However, upon an uninterested visit, Philippe Guigal fell completely in Love, not with the winery or the estate's image, but with the amazing vineyard. He could not understand how such a terroir that had been carefully selected and organized by the innovative former owner, Dr. Duffays, could produce wines destined for Costco.
With the potential and their know-how, the Guigal has already started to work on the estate difficult areas to bring the best of it. Concerning the winemaking facilities, the plan is to bring everything down and start new. In the vineyards, what was urgent and imperative was to fill in the gaps. Vines had not been replanted and tended carefully and with an overhead view, you could see holes in the vineyard. They also bought some of the neighbours land bringing the 40ha estate to a bigger 60ha. Within the next 3 to 4 years, the estate should be completely converted to Organic, just because it's so easy in the South that it makes sense. This will be the first steps towards success.
The specificity that were particuliarly suited with Guigal was the percentage of white grapes planted. Dr. Duffays helped to make the white wines of the appellation known, and it represent 17% of the production. It's huge in comparison with the rest of the appellation which is around 5%. All 13 grape varieties are planted on the vineyards between three different plots surrounding the Château, the first of which takes the name of the estate: "Nalys" and the others sit on two of the great terroirs of the appellation: "le Bois Sénéchal", a lieu-dit of which they own 75% and a northern part of "La Crau".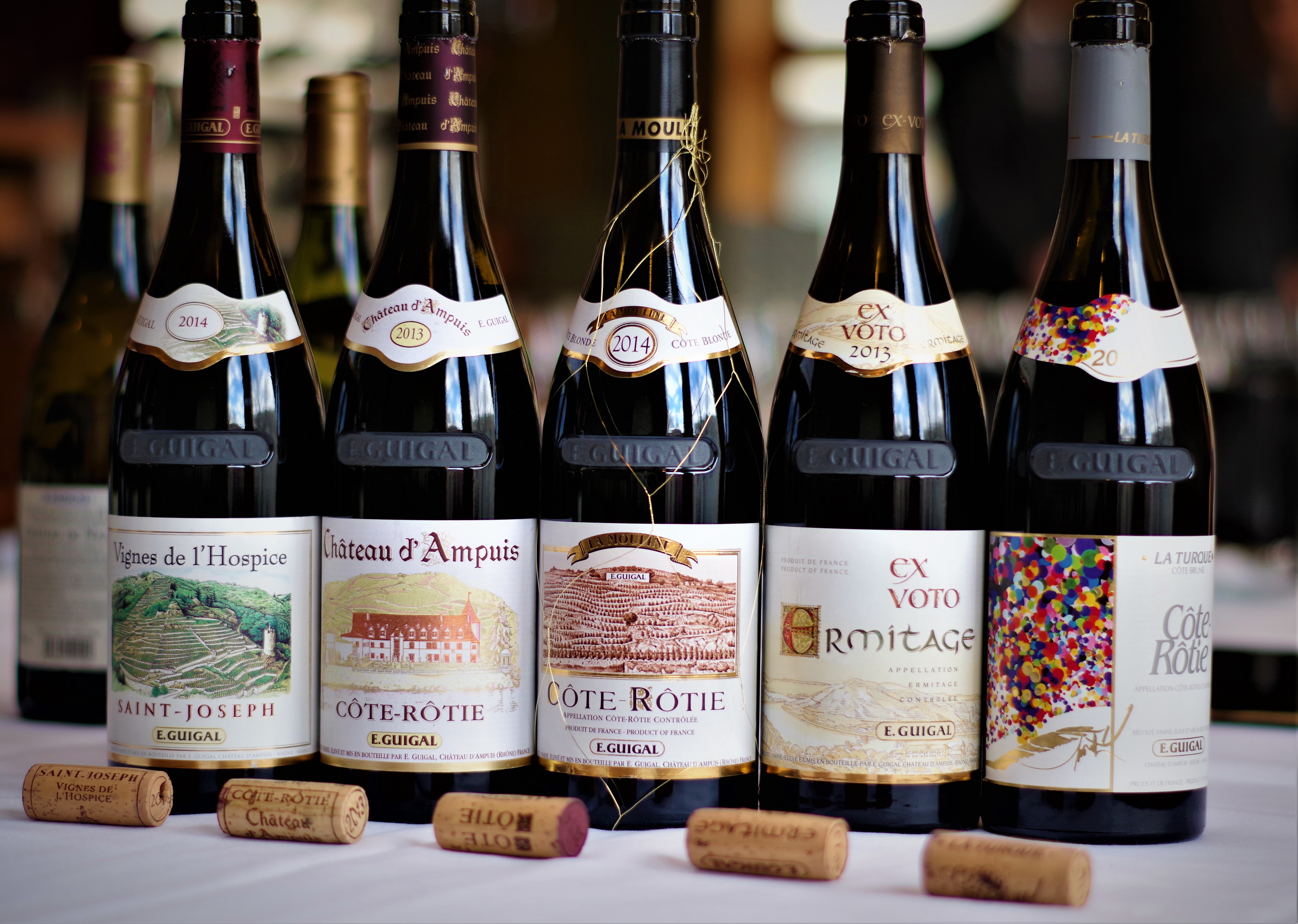 WHITES
Chateauneuf-du-pape Blanc 2017
With the acquisition of the new estate, came other advantages for the Guigal family. Suddenly, neighbours and other producers in the region would start to offer their grapes in Négoce. They did not have the contacts nor sufficient sourcing to do a Négoce wine before but with the newly acquired partnership they have access to the best quality of raw material. The style is typically generous within showing any sign of weight. It's a simple wine, yet wheedling and flattering with the creamy honeyed texture.
Saintes-pierres de Nalys Blanc 2017
Delicate and crystalline, especially for the appellation. It's a wine with a floral approach with fresh fruits and a very chiselled palate.
Château de Nalys Blanc 2017
The new work on Château de Nalys has been based on important factor. A balance of structure and softness. While Saintes-Pierres was mostly on a delicate side, Château de Nalys is way bolder and richer. It's a profound wine with a lot of amplitude on the palate.
Condrieu 2015
It was a special tasting since we got to taste the new addition to the Guigal Portfolio, but also their usual amazing northern Rhône wines. Why not! It's agood way to compare how their northern producing origin is affecting their southern production. 2015 for the Condrieu was a particularly rich and mature vintage. It's transcribed in the wines in the form of a quite present alcohol level and rich, bruised aromas.
Condrieu la doriane 2017
La doriane is such a balance wine, something that is hard to achieve in condrieu, but when kit happens, it makes something magical. There's a stunning complexity and maturity yet with elegance and intensity. The smell would overwhelm the other glasses nearby.
Ex voto Ermitage Blanc 2013
The white Ex Voto is not made on every vintage. It needs to be perfect, every time, no exception. It's the favourite wine of Eve Guigal because she always finds a familiar note of Acacia honey. It's definitely a powerful wine so much in the aromas that are particularly unique as in the bold and divine structure.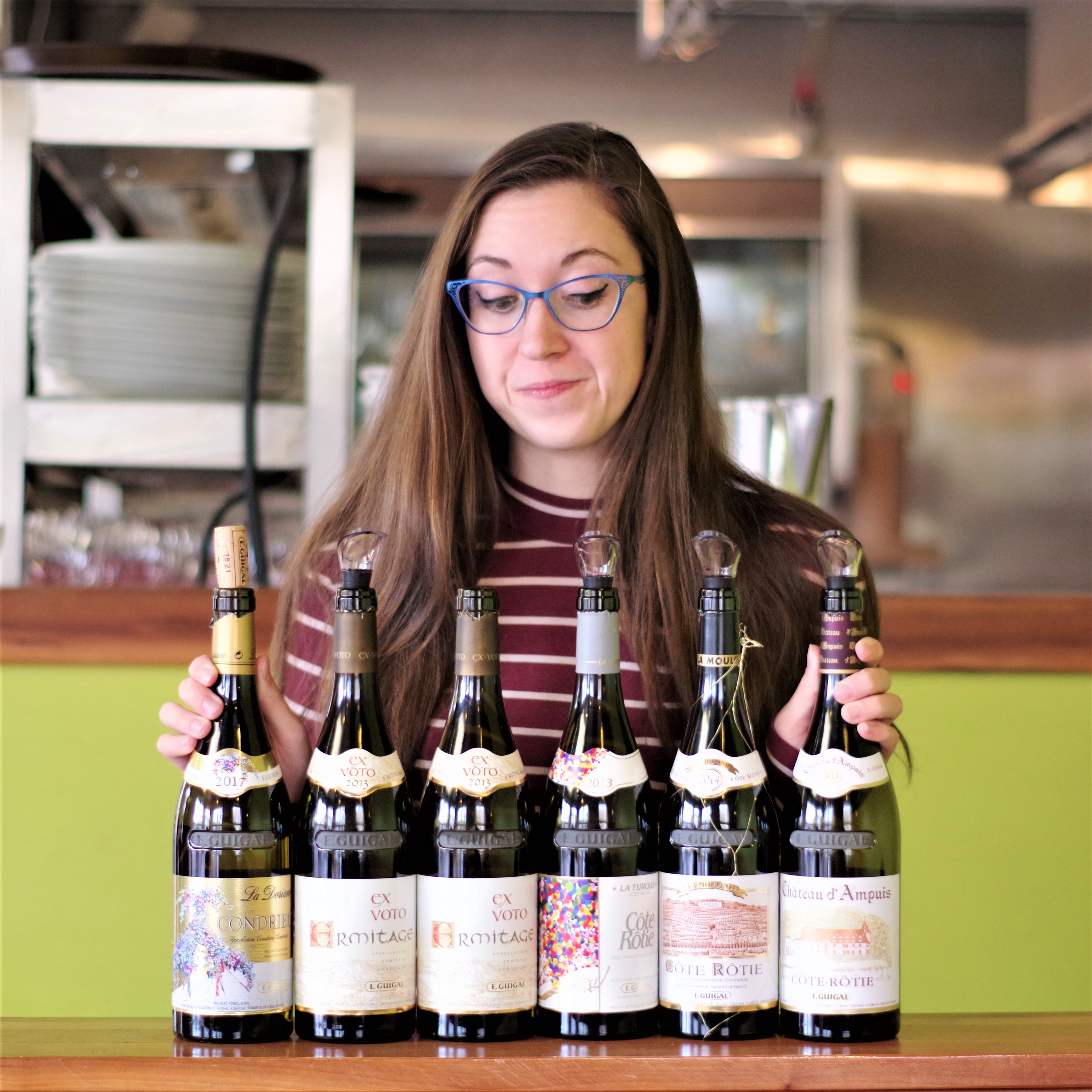 REDS
Chateauneuf-du-Pape 2015
From 70% of old Grenache and 15% of Mourvèdre, the wine has chew, matter. With a 3 years of aging in Foudres, It might show tight in youth. However, it has the strength to integrate it later on.
Saintes-Pierres de Nalys 2016
This Chateauneuf is particularly fresh with fair and legible fresh fruit aromas, youth and a nice purity. It's a pleasure wine, to be enjoyed with no worries.
Château de Nalys 2016
With the same duality between the Grand vin and the Saintes-pierres than in the whites, this wine has way more strength and maturity. The vintage helped a lot in getting that maturity of fruits and tannins but there was also a whole new level of blend and winemaking behind. In my opinion, it shows how great the potential of this estate is for future vintages.
Crozes-Hermitage 2015
Surprisingly, I didn't find any of the Vegetal note that are so characteristic of Crozes-hermitage. Instead, I got a perfect phnolic maturity and lovely white pepper aromas.
Château D'ampuis, Côte Rôtie 2013
2013 was a very rustic vintage and it's extremely apparent in the wines that are bolder and more structured than their regular form. Even so, Château d'Ampuis is always a treat for me. Give me such an handsome and worthy Syrah, mix it with unbelievable acidity and I'm in heaven. It's made from the seven peripheral parcels surrounding La Mouline and La Turque, a mix of both Côte Brune and Côte Bonde: Le Clos "Côte Blonde", La Garde "Côte Blonde", La Grande Plantée "Côte Blonde", La Pommière "Côte Brune", Le Pavillon Rouge "Côte Brune". Le Moulin "Côte Brune" La Viria "Côte Brune".
La Mouline 2014
If there's just one prestigious wine that you should try in your life, La Mouline might be a great candidate to consider. 2014 was an expression on elegance and finesse. Nothing's out of place to get just the upmost pure and tender taste. The 11% of Viognier is creating and intricate layer of aromatic complexity, filled with subtlety that could be described as fine lace. It's a seductive wine whatsoever.
La Turque 2013
Again, 2013 is strongly showing its personality. Côte Brune and especially LA turque is already originally on spices, tannins and strength. However, 2013 brings it to a whole new level. Like Phillipe Guigal said:" It's a Côte Brune that is very Brune".
Ex voto 2013
Absolutely massive and robust in style. This is a big ermitage even for an ermitage.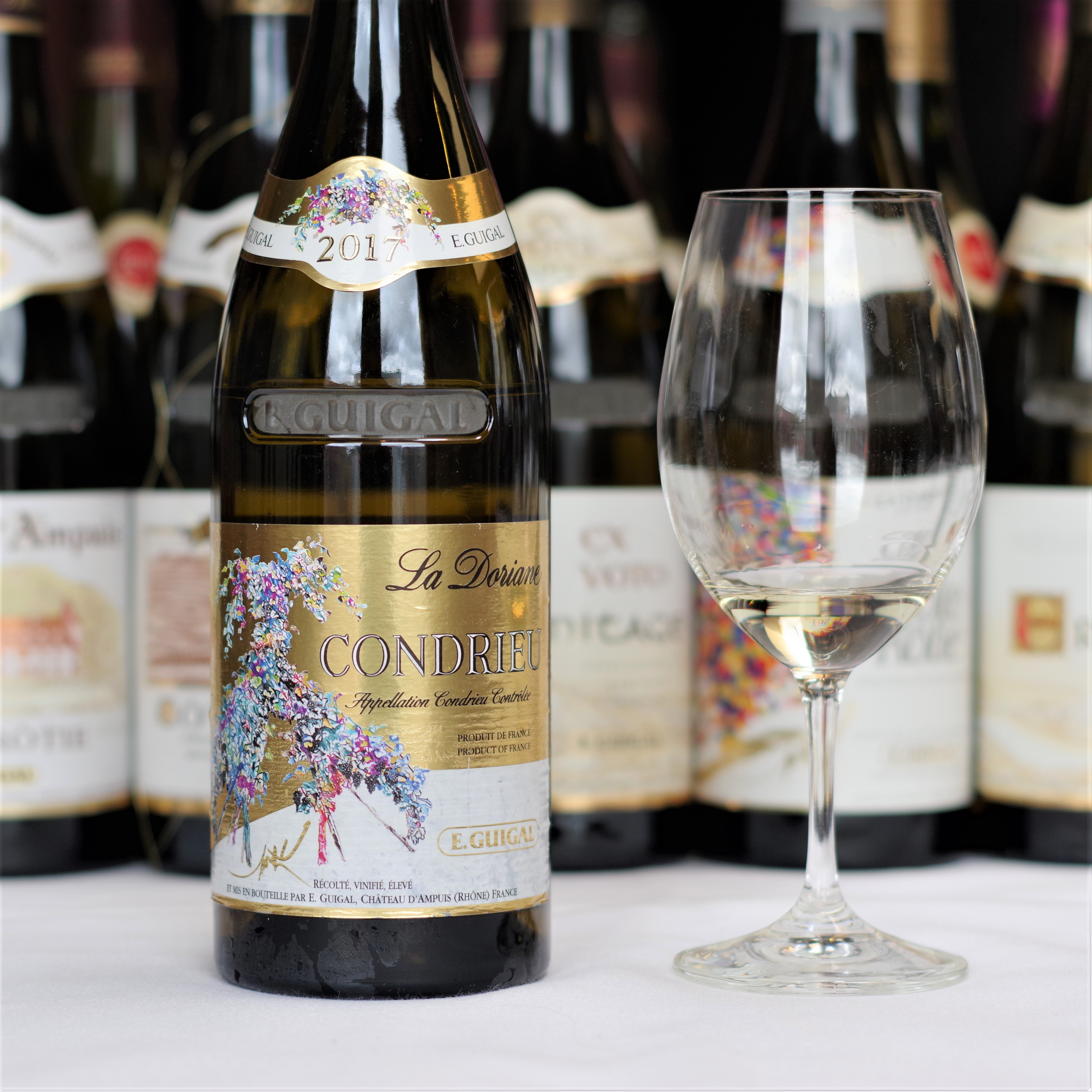 Le Domaine Guigal a enfin trouvé un domaine à Châteauneuf-du-Pape après 25 ans de recherche!
Après 25 années passées à  essayer d'acquérir à  Châteauneuf-du-Pape le domaine le mieux adapté à  la région, Guigal a trouvé ce qu'il cherchait dans un domaine qu'ils n'auraient jamais deviné. Le Domaine de Nalys, simplement renommé Château de Nalys pour marquer le début d'une renaissance, a été officiellement annoncé le lundi 5 novembre. Nalys appartenait à  la gigantesque compagnie d'assurance Groupma depuis 1975. Après 33 ans passés sous une telle propriété, le domaine souffrait d'un manque d'investissement et de développement. Cependant, lors d'une visite indifférente, Philippe Guigal est tombé complètement amoureux, non pas de l'image de la cave ou de la propriété, mais de l'étonnant vignoble. Il n'arrivait pas à  comprendre comment un tel terroir, soigneusement sélectionné et organisé par l'ancien propriétaire innovant, le Dr. Duffays, pouvait produire des vins destinés à  Costco.
Fort de son potentiel et de son savoir-faire, Guigal a déjà  commencé à  travailler sur les zones difficiles du domaine pour en tirer le meilleur parti. En ce qui concerne les installations de vinification, il est prévu de tout détruire et de recommencer. Dans les vignes, il était urgent et impératif de combler les lacunes. Les vignes n'avaient pas été replantées et entretenues avec soin. Avec une vue aérienne, on pouvait voir des trous dans le vignoble. Ils ont également acheté des terres appartenant à  leurs voisins, ce qui porte le domaine de 40 ha à  un plus grand de 60 ha. Au cours des 3 à  4 prochaines années, le domaine devrait être complètement converti en agriculture biologique, tout simplement parce que c'est tellement facile dans le Sud que c'est logique. Ce seront les premiers pas vers le succès.
La spécificité particulièrement adaptée à  Guigal était le pourcentage de raisins blancs plantés. M. Duffays a contribué à  faire connaître les vins blancs de l'appellation et représente 17% de la production sur le domaine. C'est énorme par rapport au reste de l'appellation, qui est d'environ 5%. Les 13 cépages sont plantés dans les vignobles entre trois parcelles différentes entourant le château. La première prend le nom du domaine: «Nalys» et les autres se trouvent sur deux des grands terroirs de l'appellation: «le Bois Sénéchal». , un lieu-dit dont ils sont propriétaires à  75% et une partie nord de «La Crau».
BLANCS
Châteauneuf-du-Pape Blanc 2017
Avec l'acquisition du nouveau domaine, la famille Guigal a eu d'autres avantages. Soudain, les voisins et les autres producteurs de la région commencaient à  offrir leurs raisins à  Négoce. Ils n'avaient auparavant ni contacts ni approvisionnements suffisants pour élaborer un vin de Négoce, mais avec les partenariats nouvellement acquis, ils ont accès à  la meilleure qualité de matière première. Le style est généralement généreux et ne présente aucun signe de poids. C'est un vin simple, pourtant séduisant et flatteur à  la texture crémeuse, mielleuse.
Saintes-pierres de Nalys Blanc 2017
Délicat et cristallin, surtout pour l'appellation. C'est un vin à  l'approche florale avec des fruits frais et une bouche très ciselée.
Château de Nalys Blanc 2017
Le nouveau travail sur le Château de Nalys a été basé sur un facteur important. Un équilibre de structure et de douceur. Alors que Saintes-Pierres était plutôt délicat, le Château de Nalys est beaucoup plus riche et audacieux. C'est un vin profond avec beaucoup d'amplitude en bouche.
Condrieu 2015
Ce fut une dégustation spéciale puisque nous avons pu goûter la nouvelle addition du portefeuille Guigal, mais aussi leurs étonnants vins du nord du Rhône. Pourquoi pas! C'est un bon moyen de comparer l'impact de leur origine comme producteur du Nord sur leur production du Sud. 2015 a été pour le Condrieu un millésime particulièrement riche et mature. Il est retranscrit dans les vins sous la forme d'un niveau d'alcool assez présent et de riches arômes meurtris.
Condrieu la Doriane 2017
La Doriane est un vin tellement équilibré, difficile à  obtenir en condrieu, mais quand le miracle arrive, cela donne quelque chose de magique. Il existe une complexité et une maturité étonnante, mais avec élégance et intensité. L'odeur, les arômes empiétait sur les autres verres à  proximité.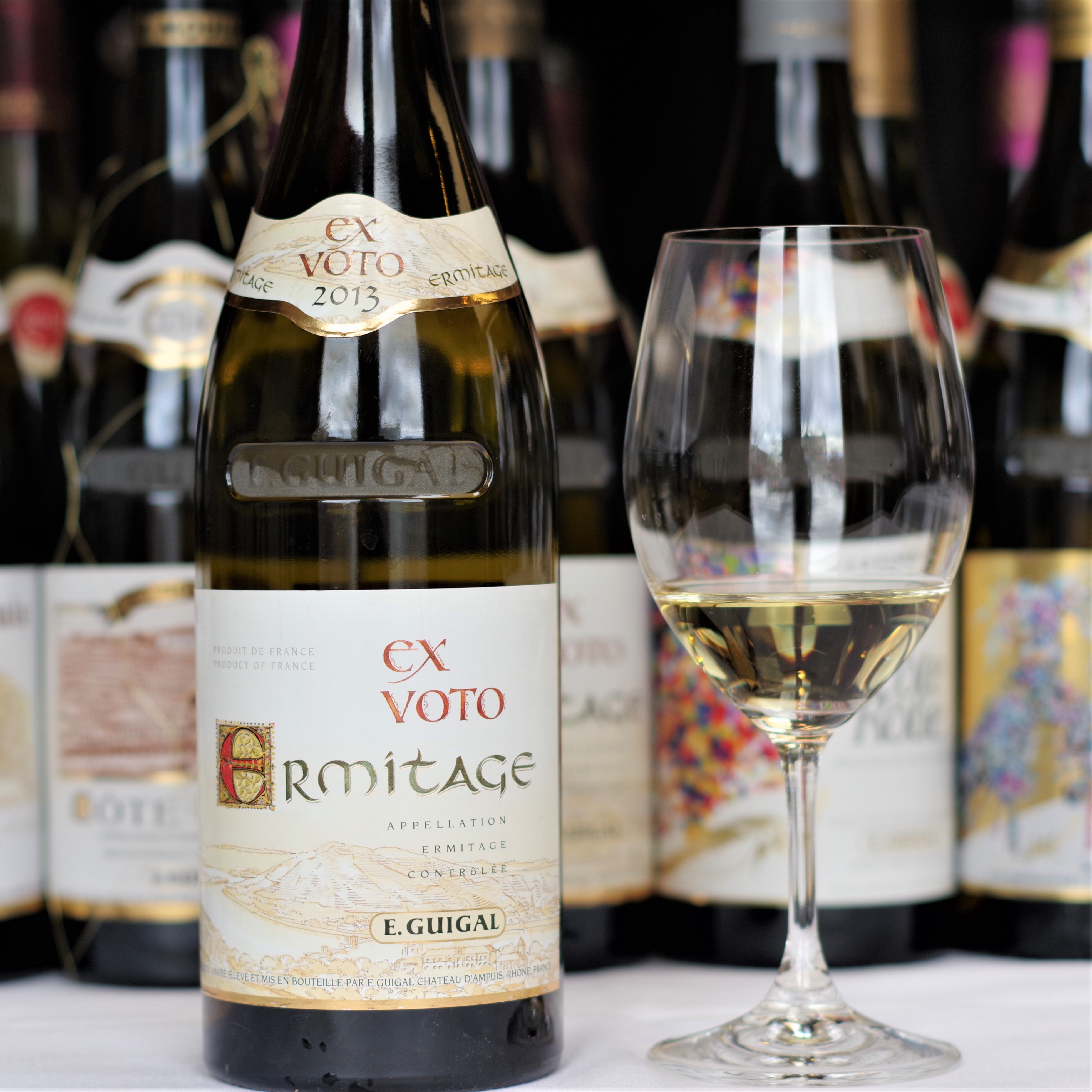 Ex-voto Ermitage Blanc 2013
L'ex Voto blanc n'est pas fait sur tous les millésimes. Il doit être parfait, à  chaque fois, sans exception. C'est le vin préféré d'Eve Guigal car elle trouve toujours une note familière de miel d'Acacia. C'est vraiment un vin puissant tant par ses arômes particulièrement uniques que par sa structure audacieuse et divine.
REDS
Châteauneuf-du-Pape 2015
Fait de 70% de Grenache et 15% de Mourvèdre, le vin a de la mâche et de la matière. Avec 3 ans de vieillissement en Foudres, il pourrait paraître serré en jeunesse. Cependant, il a la force de l'intégrer plus tard.
Saintes-Pierres de Nalys 2016
Ce Châteauneuf est particulièrement frais avec des arômes de fruits frais clairs et lisibles, une jeunesse et une belle pureté. C'est un vin de plaisir, à savourer sans soucis.
Château de Nalys 2016
Avec la même dualité entre le Grand vin et les Saintes-pierres que chez les blancs, ce vin a beaucoup plus de force et de maturité. Le millésime a beaucoup aidé à  obtenir cette maturité de fruits et de tanins, mais il y avait aussi un tout nouveau niveau d'assemblage et de vinification. À mon avis, cela montre à  quel point le potentiel de ce domaine est considérable pour les futurs millésimes.
Crozes-Hermitage 2015
Étonnamment, je n'ai trouvé aucune des notes Végétales si caractéristiques de Crozes-Hermitage. Au lieu de cela, j'ai une parfaite maturité phénolique et de beaux arômes de poivre blanc.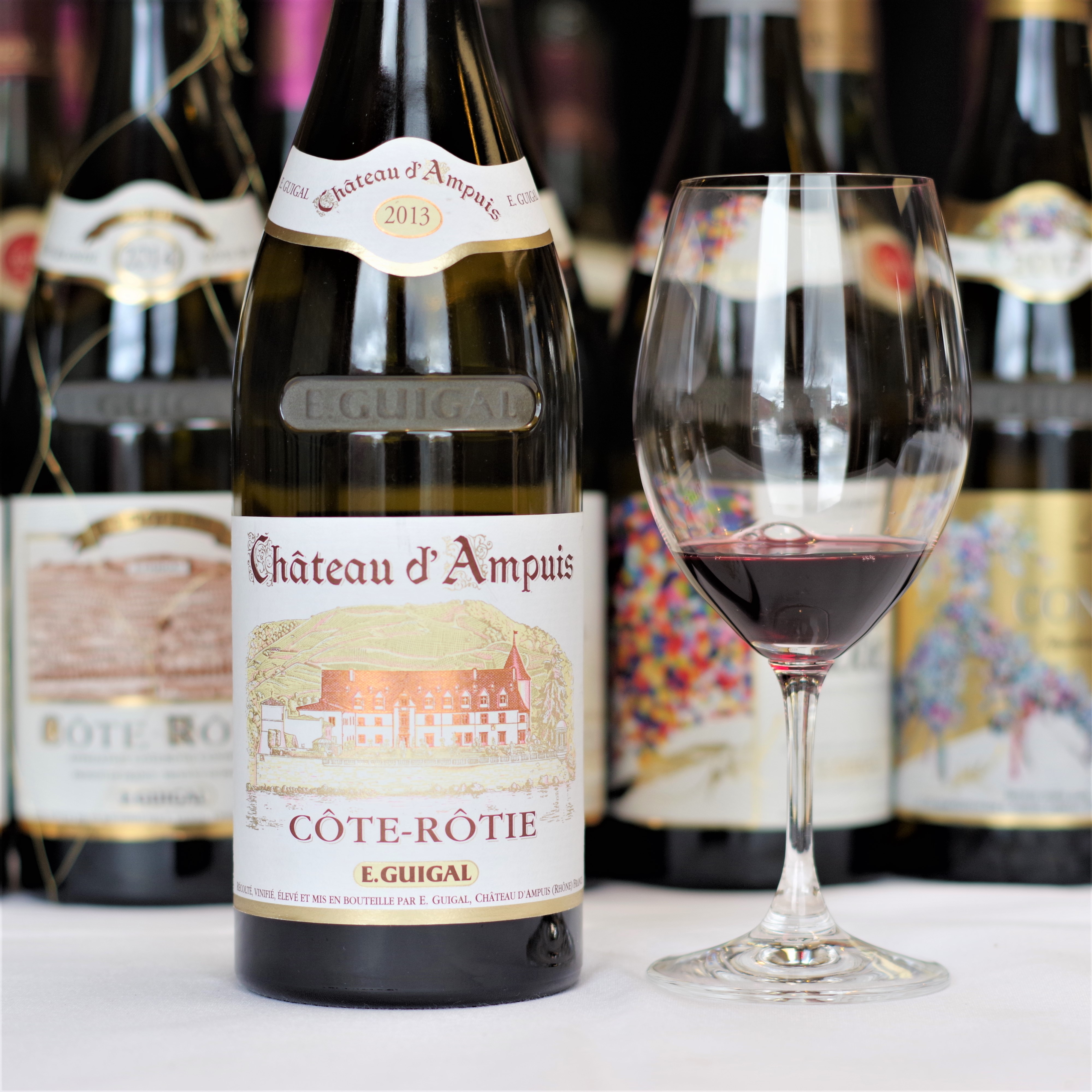 Château D'ampuis, Côte Rôtie 2013
L'année 2013 a été très rustique et se retrouve dans les vins plus audacieux et structurés que leur forme habituelle. Néanmoins, Château d'Ampuis est toujours un régal pour moi. Donnez-moi une si belle et digne Syrah, mélangez-la avec une acidité incroyable et je suis au paradis. Il est composé des sept parcelles périphériques entourant La Mouline et La Turque, un mélange de Côte Brune et de Côte Bonde: Le Clos "Côte Blonde", La Garde "Côte Blonde", La Grande Plantée "Côte Blonde", La Pommière "Côte Brune ", Le Pavillon Rouge" Côte Brune ". Le Moulin "Côte Brune" La Viria "Côte Brune".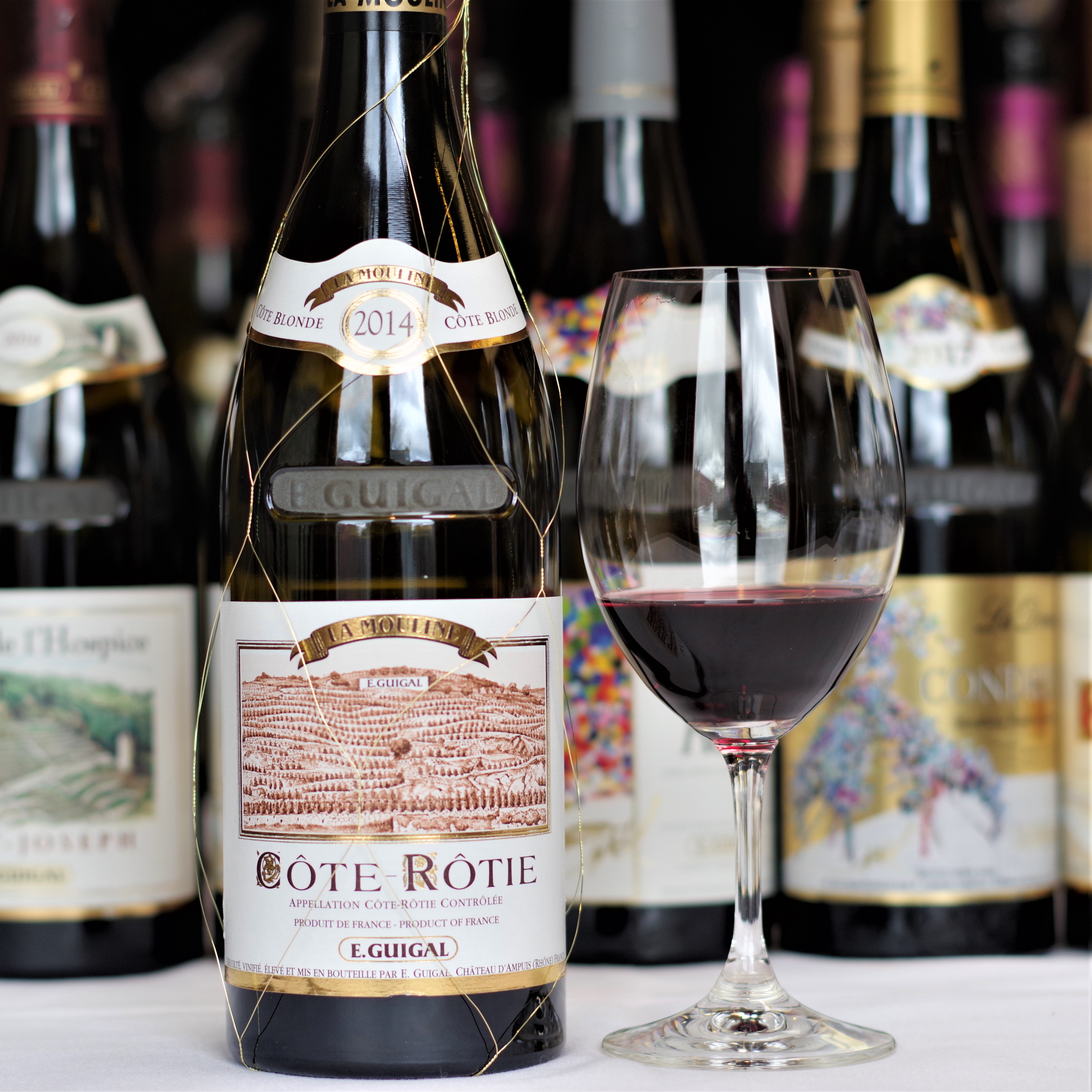 La Mouline 2014
S'il n'y a qu'un seul vin prestigieux que vous devriez essayer dans votre vie, La Mouline pourrait être un excellent candidat à  considérer. L'année 2014 était une expression d'élégance et de finesse. Rien n'est déplacé pour obtenir le meilleur goût pur et tendre. Les 11% de Viognier créent une complexité aromatique bien ficelée, pleine de subtilité que l'on pourrait qualifier de fine dentelle. C'est un vin tout à  fait séduisant.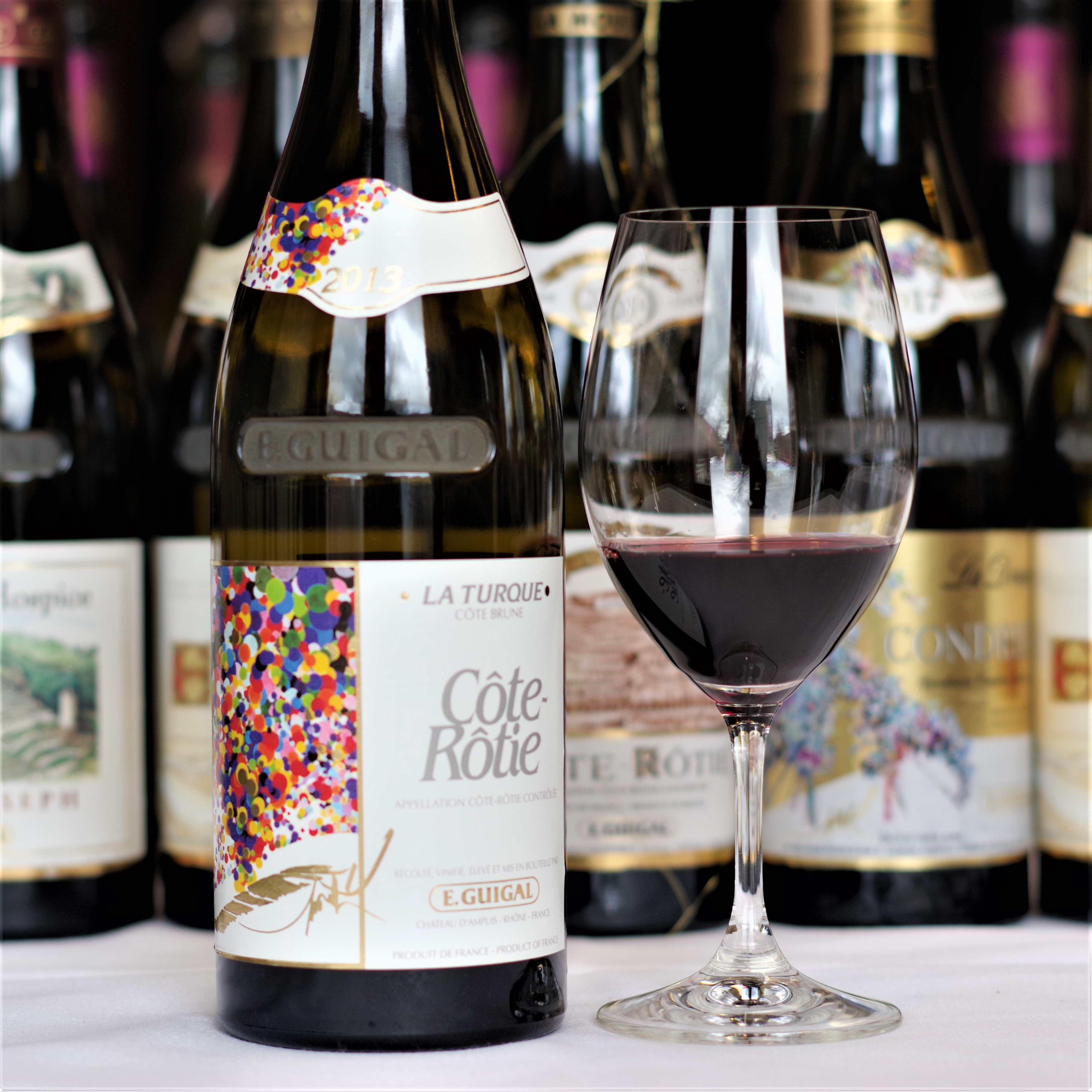 La Turque 2013
Encore une fois, 2013 montre fortement sa personnalité. La Côte Brune et surtout LA turque est déjà  à  l'origine sur les épices, les tanins et la force. Cependant, 2013 apporte un tout nouveau niveau. Comme disait Phillipe Guigal: "C'est une Côte Brune qui est très Brune".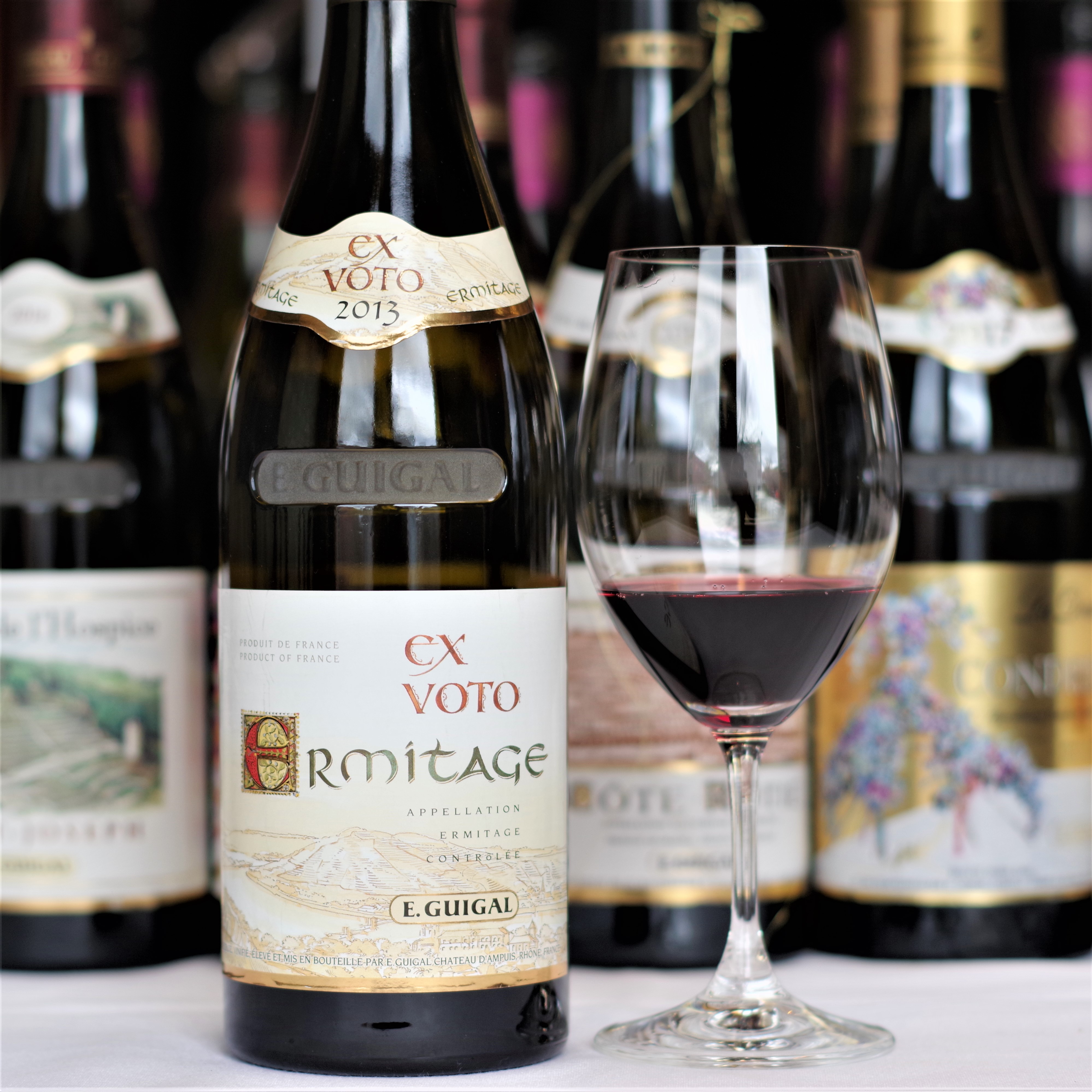 Ex voto 2013
Absolument massif et robuste dans le style. C'est un grand ermitage même pour un ermitage.