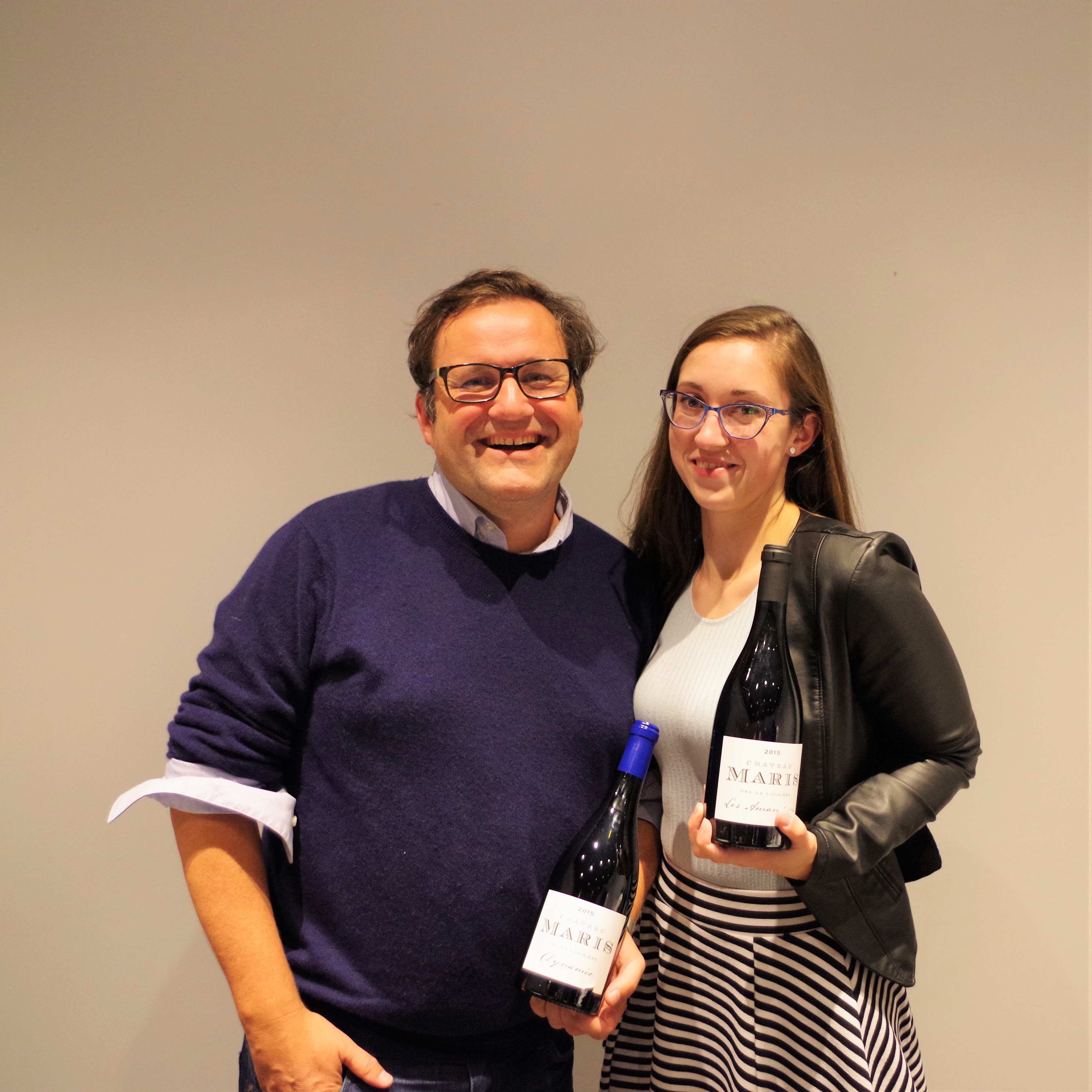 Château Maris is the story of a faltered and breathless vineyard in a rising appellation at the foot of the black mountains, Minervois La Livinière, that came back to life in some way. The organic and biodynamic approach was a necessity for the vineyard survival. Minervois-La-Livinière is a six-village zone disciplined and well-organised enough to have won itself cru status in 1997, and which is now hoping to push on further, dropping the 'Minervois' bit. With only a handful of producers and a yearly local selection of top wines called La Livinage, it's one of the smallest but most discussed region of Languedoc. This unique terroir is a rich opportunity with investment coming in but also one that needs to be taken care of. Château Maris sold their new cellar to the Cazes family in order to build one that pushes the limit of sustainable. A cellar made entirely from hemp bricks took seven and a half year to build but is 100% biodegradable and carbon negative.
Château Maris, minervois Bio 2016
The simpliest wine of the estate outside of the Livinière appellation is filled with a nice simplicity and purity of the fruit character. It's made from the younger vines of the estate.
Natural Selection Syrah 2016
Funny enough, the bright green label was a huge mistake. It seems like soy ink on recycled paper gives this type of color. The wine is well-spice. The taste has quite the intensity but with a hint of reduction. Overall, freshness rules.
💙La touge, minervois 2015
A blend of Syrah, grenache and carignan with a very serious syrah character but the price is ridiculously low. We get the soft side of the syrah not just the pepper.
Les planels, la livinière 2014
Superb fruits as much on the  nose than on the palate but overall a bomb filled with taste and a maximum of maturity.
💙Les Amandiers, la livinière 2015
This was my favourite parcel wine. To quote owner Jacques Hermiou: " This is a syrah: We take you by the shoulders, We shake you and you will love me!" This gives an idea of Jacques' character but also how "in your face" the wine is. Nothing to hide, everything to share and love.
💙Dynamic, la Livinière, 2015
Softer and sleekier than Les Amandiers, this is wine that shows complexity yet a very precise and chic approach. It's the hand sewn, high end couture of wine. Fresh, lush fruits are joined by red licorice, earthy notes and spices. All in a very integrated, blended, aromatic way.
Château Maris, c'est l'histoire d'un vignoble essouflé dans une appellation en croissance au pied des montagnes noires, Minervois La Livinière, qui a repris vie. L'approche biologique et biodynamique était une nécessité pour la survie du vignoble. Minervois-La-Livinière est une zone de six villages suffisamment disciplinée et bien organisée pour s'être imposée comme un cru en 1997, et qui espère maintenant aller plus loin en abandonnant le 'Minervois'. Avec seulement une poignée de producteurs et une sélection locale annuelle de grands vins appelée La Livinage, c'est l'une des régions les plus petites mais les plus discutées du Languedoc. Ce terroir unique est une opportunité riche en investissements, mais aussi une r.gions qui a besoin de petits soins. Château Maris a vendu sa nouvelle cave à  la famille Cazes pour en construire une qui repousse les limites du développementdurable. Il a fallu sept ans et demi pour construire une cave entièrement en briques de chanvre, mais 100% biodégradable et négatif en carbone.
Château Maris, minervois Bio 2016
Le vin le plus simple du domaine en dehors de l'appellation Livinière est rempli d'une belle simplicité et pureté du caractère fruité. Il est fabriqué à  partir des plus jeunes vignes du domaine.
Sélection Naturelle Syrah 2016
Assez drôle, l'étiquette verte brillante était une énorme erreur. Il semble que l'encre de soja sur papier recyclé donne ce type de couleur. Le vin est bien épicé. Le goût a assez empreint d'intensité mais avec une pointe de réduction. Dans l'ensemble, la fraîcheur règne.
💙La touge, minervois 2015
Un mélange de syrah, grenache et carignan avec un caractère très sérieux de syrah mais le prix est ridiculement bas. Nous obtenons le côté doux de la syrah, pas seulement le poivre.
Les planels, la livinière 2014
De superbes fruits autant sur le nez que sur le palais mais globalement une bombe remplie de goût et d'un maximum de maturité.
💙Les Amandiers, la livinière 2015
C'était mon vin parcellaire préféré. Pour citer l'un des propriétaires, Jacques Hermiou: "C'est une syrah: on te prend par les épaules, on te secoue et tu vas m'aimer!" Cela donne une idée du caractère de Jacques mais aussi de l'expression en force du vin. Rien à  cacher, tout à  partager et à  aimer.
💙Dynamique, la Livinière, 2015
Plus doux et plus lisse que Les Amandiers, c'est un vin qui montre une complexité et une approche très précise et chic. C'est la haute couture, cousu main, du vin. Des fruits frais et luxuriants sont accompagnés de réglisse rouge, de notes terreuses et d'épices. Le tout de manière très intégré, mélangé et aromatique.