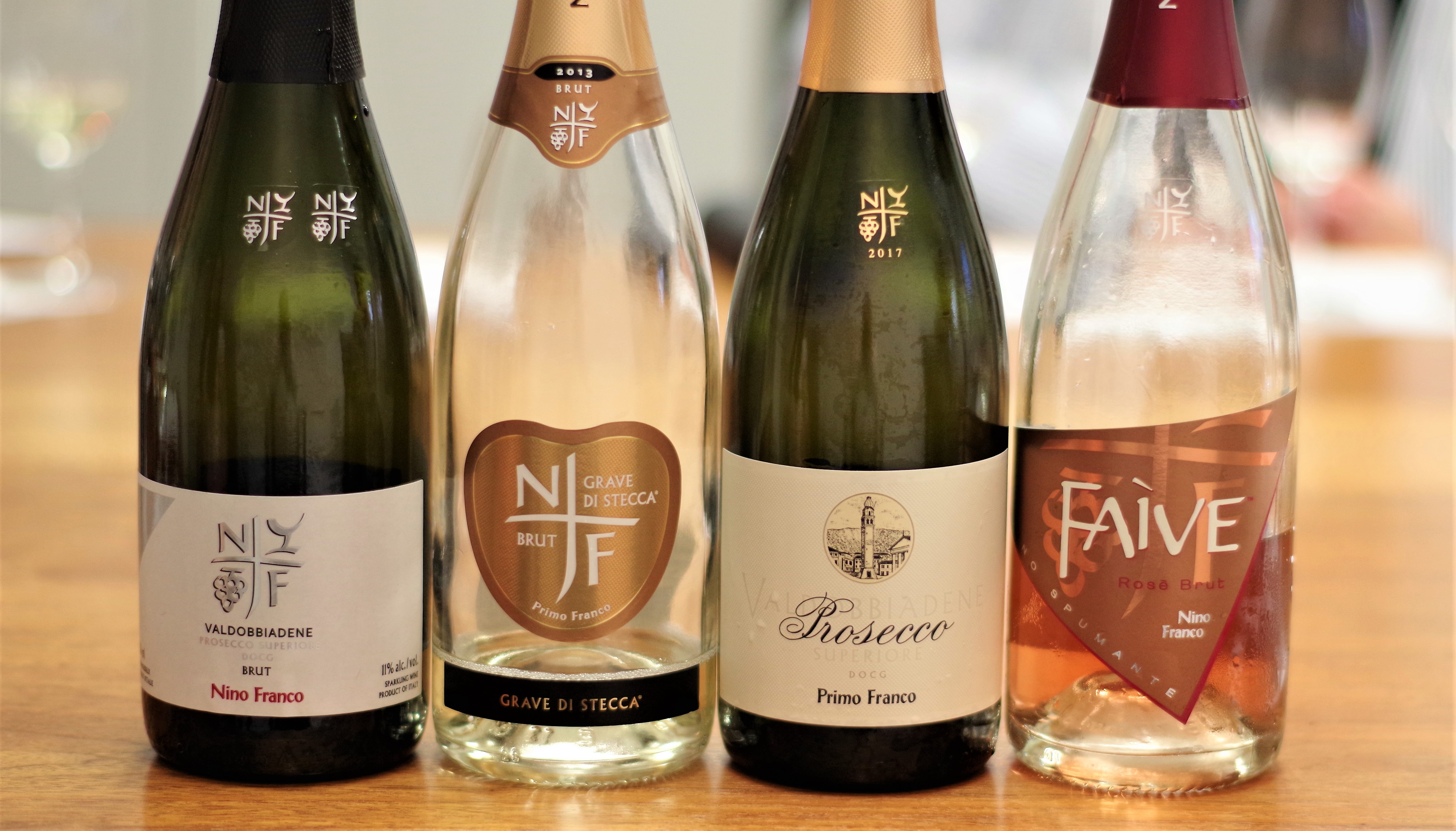 Prosecco is going crazy right now! Seriously, sales could be compared to furious madness! And it's a global phenomenon nonetheless. Last year 530 million bottles have been sold under the Prosecco label for 92 million under the DOCG. Although obviously loved and appreciated, it feels as this unique style is not truly understood. Sometimes considered as just cheap sparkling, it couldn't further from the truth, except maybe for the prices, prices are good whatsoever. Without further ado, let's take a look at these easy drinking bubbles.
 First of all, the name is source of much confusion. Before 2009, the name Prosecco was used to designate the grape variety known today as Glera. It's the one true variety for Prosecco sparkling and is hardly found anywhere else. In 2009, 'Prosecco' was completely removed from the International list of vine varieties from the International Organisation of Vine and Wine (OIV). The name Glera which is a local synonym was choosen as official name.If this wasn't enough, there's also a town called Prosecco. More a village than an actual city, it's a suburb of Trieste and where everything started for this superstar beverage.
2009 was the official establishement of the Prosecco DOC and Prosecco Superiore DOCG. After a multitude of frauds and hanky-panky use of the term around the world, Prosecco needed stricker regulations. With the name changed they could finally apply to be geographically delimited.
Glera might be the one true grape but others are also allowed. Proseccco can also be made with Perera, Bianchetta, and Verdiso, Chardonnay, Pinot Gris, and Pinot Noir although very little are actually planted.By law, Prosecco has to be 85% Glera. Glera is a very floral and fruity wine that is quite expressive and may even get melon smell when ripe enough.
The vast majority of Prosecco is made using the tank or Charmat method. This is the aspect you need to thank for the low price but also part of the style.
Prosecco is not only made in Veneto. Acatually, the approximate 20 000hectares under vine of the the DOC is separated between five provinces in the Veneto (Treviso, Venice, Vicenza, Padua, Belluno) and four provinces in Friuli-Venezia-Giula (Gorizia, Pordenone, Trieste and Udine). The DOCG is on the hills between the towns of Conegliano and Valdobbiadene but also include the village of Asolo. Within this hill, you can find the Superiore di Cartizze, the most concentrated expression of Prosecco and often the sweetest too.
Prosecco is getting precisely delimited. While the differenciation between the DOC and Superiore DOCG is quite helpful in understanding quality and styles of Prosecco. The Consorzio recently-introduced the Rive delimitations, which are named after particular sub-zones with distinct and high-quality terroirs. "RIVE" would be the equivalent of Single vineyards. This is where you'll find quality-focused Prosecco. There's currently 43 villages which producers may claim as sub denomination or 'Rive di'.
Quality levels hierarchy
The base appellation for Prosecco wine made in the region of Treviso.
Conegliano, Valdobbiadene, and Asolo
Prosecco Superiore Rive DOCG
43 specific single vineyards in the Coneglio-Valdobiaddene district. Ex: San Floriano, San Pietro di Barbozza, Ogliano, Guia
Prosecco Superiore di Cartizze DOCG
106 hectaresof remarkably steep vineyards in the Valdobbiadene communes of San Pietro di Barbozza, Santo Stefano, and Saccol.
7-Different styles of Prosecco are decided based on sparkling level and sweetness level. Prosecco can be fully sparkling, Frizzante or even Still (Tranquilo). The sweetness level is a controversial aspect for many consumers. Still, wrongfully associated with a negative note. Sweetness in Prosecco, and in any sparkling really, is a question of Balance. A balance of Acidity and sugar to create a soft and pleasant taste. Not enough sugar and the wines might be breaking your teeth from the scathing acidity, too sweet and the wine might feel heavy and dull.
8- Carpené Malvoti was the first to produce a Sparkling Prosecco, this was back in 1868. Before, Prosecco were just classic still and simple wines.
9- There might be Prosecco Rosé in a near future. After the extremely rich 2018 vintage, a high demand and so many producers starting to produce 'Declassified rosé sparkling', there's a heated debate about whether or not to allow rosé winemaking into the appellation. For the moment it's not yet allowed but definitely being discussed. There's a traditional red grape variety which is still being grown in the region called Raboso. It might become the source for color along with Pinot noir.
10- Be careful which producer you choose. Here's a lot of huge cooperative that takes a big part of the market. The likes of Lamarca, and Bosco Malera are extremely marketed but doesn't express the true potential of Prosecco. There's other names that are as famous yet much more quality-focused such as Bisol or Nino Franco.
10 choses à savoir sur le Prosecco
La popularité du Prosecco déraille! Sérieusement, les ventes pourraient être comparées à  de la folie furieuse! C'est néanmoins un phénomène mondial. L'année dernière, 530 millions de bouteilles ont été vendues sous le label Prosecco pour 92 millions au titre du DOCG. Bien que visiblement aimé et apprécié, il semble que ce style unique ne soit pas vraiment compris. Parfois considéré comme juste bon marché, ça ne pourrait pas être plus loin de la vérité, sauf peut-être pour le prix, les prix sont bons quoi que ce soit. Sans plus tarder, apprenons sur ces bulles faciles à  boire.
1- Tout d'abord, le nom est source de confusion. Avant 2009, le nom Prosecco était utilisé pour désigner le cépage connu aujourd'hui sous le nom de Glera. C'est la vraie variété pour le mousseux Prosecco et on ne la trouve que peu ailleurs. En 2009, «Prosecco» a été complètement retiré de la liste internationale des variétés de vigne de l'Organisation internationale de la vigne et du vin (OIV). Le nom Glera, synonyme local, a été choisi comme nom officiel.
Si cela ne suffisait pas, il y a aussi une ville appelée Prosecco. Plus un village qu'une ville en fait, c'est une banlieue de Trieste où tout a commencé pour cette boisson de superstar.
2- En 2009 a eu lieu l'établissement officiel de l'appellation Prosecco DOC et Prosecco Superiore DOCG. Après une multitude de fraudes et l'utilisation abusive du terme dans le monde entier, Prosecco avait besoin de réglementations plus strictes. Avec le nom changé, il était finalement possible de délimiter la zone géographiquement.
3- Le Glera est le cépage officiel du prosecco, mais d'autres sont également autorisés. Proseccco peut également être produit avec du Perera, Bianchetta, Verdiso, Chardonnay, Pinot Gris et Pinot Noir, même si très peu sont réellement plantés. En vertu de la loi, le Prosecco doit contenir 85% de Glera. Le Glera est un vin très floral et fruité qui est assez expressif et peut même avoir une odeur de melon quand il est assez mûr.
4- La grande majorité des Prosecco sont fabriqués avec la méthode cuve close ou Charmat. C'est l'aspect que vous devez remercier pour le bas prix mais aussi pour le style.
5- Prosecco n'est pas seulement fabriqué en Vénétie. Dans l'ensemble, les quelque 20 000 hectares de vigne de la DOC sont séparés entre cinq provinces de la Vénétie (Trévise, Venise, Vicence, Padoue, Belluno) et quatre provinces du Frioul-Vénétie-Julienne (Gorizia, Pordenone, Trieste et Udine). La DOCG se trouve sur les collines entre les villes de Conegliano et Valdobbiadene, mais comprend également le village d'Asolo.
Dans cette colline, vous pouvez aussi trouver Superiore di Cartizze, l'expression la plus concentrée de Prosecco et souvent la plus douce.
6- Prosecco commence à  se délimiter plus précisément. Alors que la différenciation entre DOC et Superiore DOCG est très utile pour comprendre la qualité et les styles de Prosecco. Le Consorzio a récemment introduit les délimitations de Rive, qui portent le nom de sous-zones particulières présentant des terroirs distincts et de grande qualité. "RIVE" serait l'équivalent de parcelles. C'est là  que vous trouverez le Prosecco axé sur la qualité. Il y a actuellement 43 villages que les producteurs peuvent revendiquer comme sous-dénomination ou «Rive di».
Hiérarchie des niveaux de qualité
L'appellation de base du vin Prosecco fabriqué dans la région de Trévise.
Conegliano, Valdobbiadene et Asolo
Prosecco Superiore Rive DOCG
43 vignobles uniques dans le district de Coneglio-Valdobiaddene. Ex: San Floriano, San Pietro di Barbozza, Ogliano, Guia
Prosecco Superiore di Cartizze DOCG
106 hectares de vignobles remarquablement abrupt dans les communes de Valdobbiadene: San Pietro di Barbozza, Santo Stefano et Saccol.
 
7- Différents styles de Prosecco sont décidés en fonction du niveau de bulles et du niveau de sucre. Le Prosecco peut être entièrement pétillant, frizzante ou encore tranquille (Tranquilo). Le niveau de sucre est un aspect controversé pour de nombreux consommateurs. Toujours associé à  tort à  une note négative. La douceur dans le Prosecco, et dans tous les vins pétillant vraiment, est une question d'équilibre. Un équilibre d'acidité et de sucre pour créer un goût doux et agréable. Pas assez de sucre et les vins peuvent avoir une acidité cinglante, trop sucré et le vin peut se sembler lourd et terne.
8- Carpené Malvoti a été le premier à  produire un Prosecco Pétillant, c'était en 1868. Auparavant, le Prosecco n'était que des vins simples et classiques.
9- Il pourrait y avoir des Prosecco Rosé dans un avenir proche. Après le millésime 2018 extrêmement riche, une forte demande et un nombre important de producteurs qui commencent à produire du «rosé mousseux déclassé», il y a un débat animé sur l'autorisation ou non de la vinification rosée dans l'appellation. Pour le moment, ce n'est pas encore permis, mais on en discute définitivement. Il existe un cépage rouge traditionnel qui est encore cultivé dans la région appelée Raboso. Il pourrait devenir la source de couleur avec le pinot noir.
10- Faites attention au producteur que vous choisissez. Il y a de plus en plus d'énormes coopératives qui prennent une grande part du marché. Les sociétés comme Lamarca et Bosco Malera sont extrêmement commercialisées, mais n'expriment pas le véritable potentiel du Prosecco. Il existe d'autres noms aussi célèbres mais centrés sur la qualité tels que Bisol ou Nino Franco.