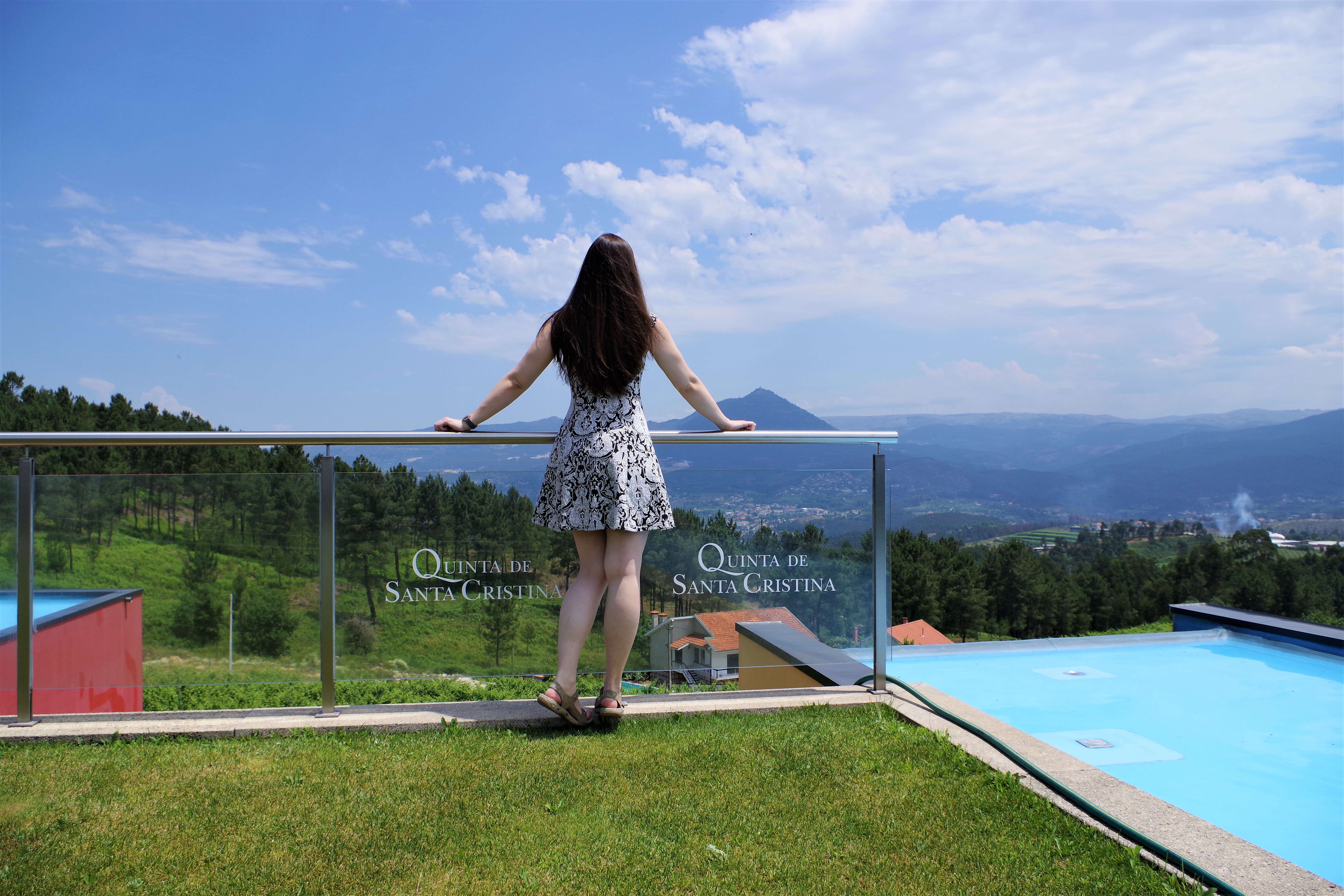 Do you know Batoca? It's a very rare, abandonned and rustic white grape variety that is grown at Quinta de Santa Cristina. It is such a high-maintenance grape, that they are the only estate to produce a 100% Batoca.
Quinta de Santa Cristina's is the main estate of the Garantia Das quintas company that was founded in 2004. Their brand new, modern winery was recently built in the privileged location in Celerico de Basto. It has an exceptional view of the Marão and Alvão Mountains as well as the valley below. Beside the unusual Batoca, they have 11 different varieties planted on their vineyards. The new winery could not be prettier with top of the line equipment. In addition to the latest technologies, they also have a granite Lagares, where some of the wines are still foot treaded as well as a pool over the facilities to cool down the sometimes excessive temperatures.
What makes this place so unique is beside the production. A special attention was attributed to wine tourism. Special routes were designated in the vineyards with informative cards, there's a very extensive and celebrated camellia garden and visitors can even plant their own vines.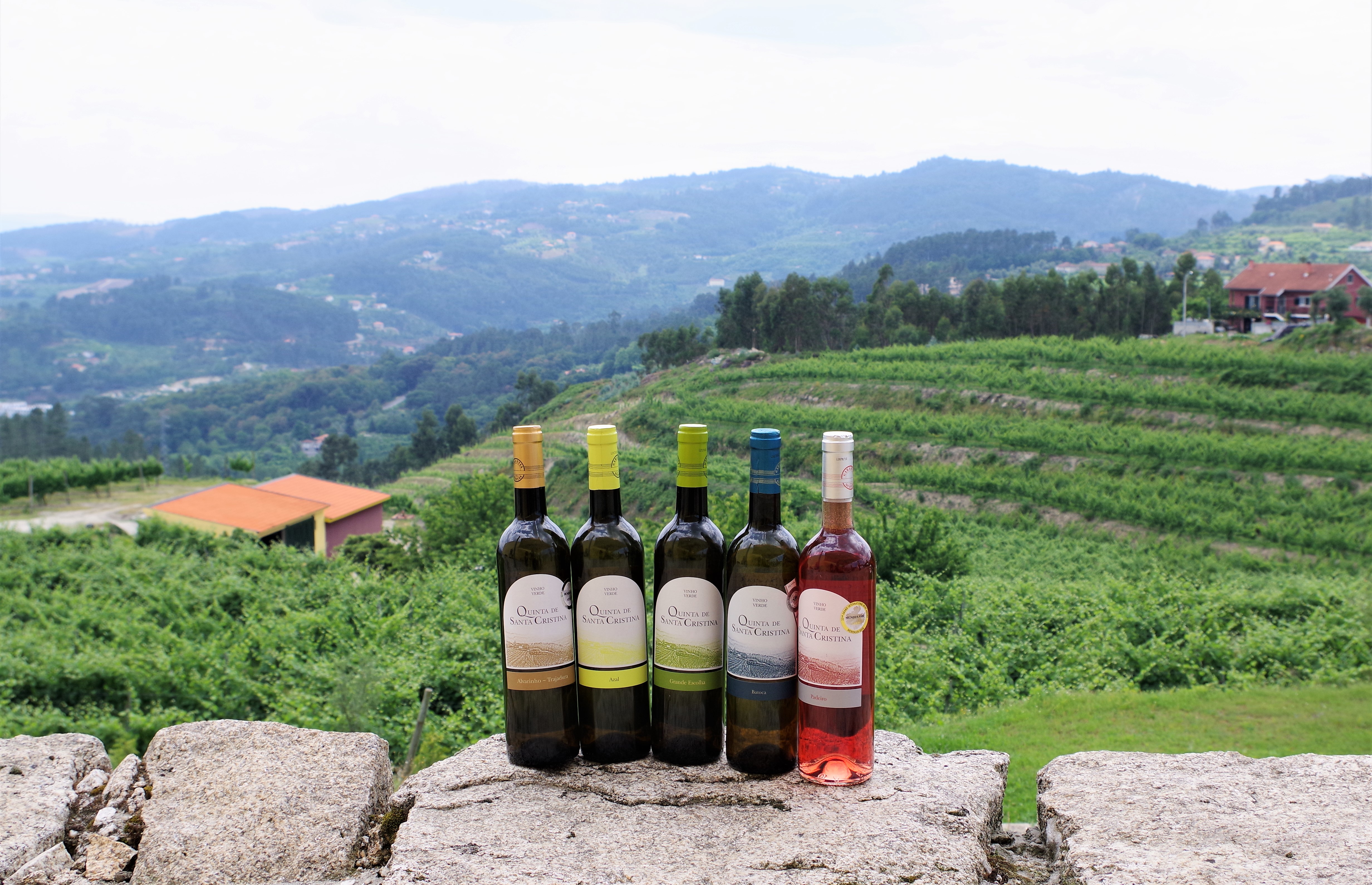 💙 Batoca, 2017
This varietal wine is weel worth the trouble. It makes an amazing textured and saline wine. It's very aromatic and crispy with scathing acidity. You can feel how rustic and savory this unique grape is.
Grande Escolha, 2017
This is a very fresh and lovely wine with acidity through the charts and a prickly sensation. Strong citrus notes turns into crushed stone and salt towards the long finale.
Alvarinho – Trajadura, 2017
This almost 50/50 blend is surprisingly closed on the nose but has an explosive taste. This difference in intensity is not helping the balance of the wine. I think beside the other very characterful wines of the estate, it felt short and dulled.
💙 Azal, 2017
Delicate aromas and puckering, tight acidity. It does taste like the most refreshing lemonade on a hot summer day but a fancy lemonade with cute flowers and herbs.
💙 Avesso, 2017
Again, the varietal wines of Quinta de Santa Cristina does stand out with impressive quality and balance. This Avesso has the exotic characteristic it is known to get in the Basto region but joined with subtle bread crumbs aromas. The slight carbonation is almost camouflaged from the perfect crispness.
Loureiro – Alvarhino 2017
Meant to combined the freshness of Loureiro and the depth of Alvarinho, this proved to be an evolving wine with a simple start that slowly turns to a more fleshy style with orange tree and exotic aromas.
Other wines of the portfolio include two Espumante (sparkling) made from traditional method. One is made of Arinto and the other is a very interesting red sparkling made of Vinhao. It's reminiscent of some deep, intense Lambrusco.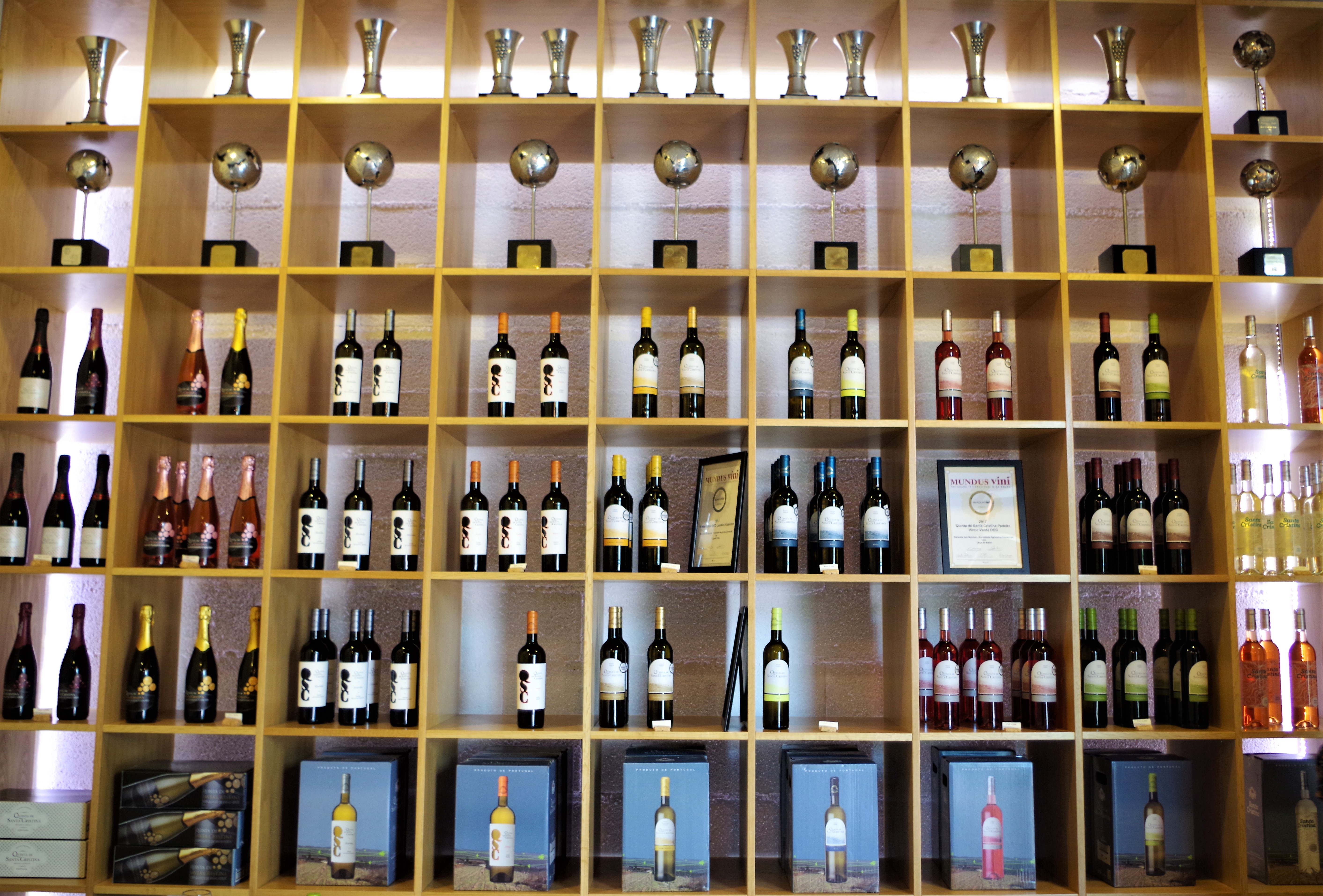 Quinta de Santa Cristina
Connaissez-vous le Batoca? C'est un cépage blanc très rare, abandonné et rustique cultivé chez Quinta de Santa Cristina. C'est un cépage d'un tel entretien qu'il est le seul domaine à  produire un 100% Batoca.
Quinta de Santa Cristina est le domaine principal de la compagnie Garantia Das quintas fondée en 2004. Son tout nouveau vignoble moderne a été récemment construit dans l'emplacement privilégié de Celerico de Basto. Il a une vue exceptionnelle sur les montagnes Marão et Alvão ainsi que sur la vallée en contrebas. A côté de l'inhabituel Batoca, ils ont 11 variétés différentes plantées sur leurs vignobles. La nouvelle cave ne pourrait pas être plus jolie avec l'équipement haut de gamme. En plus des dernières technologies, ils ont aussi un Lagares de granite, où certains des vins sont encore piétinés ainsi qu'une piscine sur les installations pour refroidir les températures parfois excessives.
Ce qui rend cet endroit si unique est à  côté de la production. Une attention particulière a été attribuée à  l'Å"notourisme. Des routes spéciales ont été désignées dans les vignes avec des cartes informatives, il y a un jardin de camélias très vaste et célèbre et les visiteurs peuvent même planter leurs propres vignes.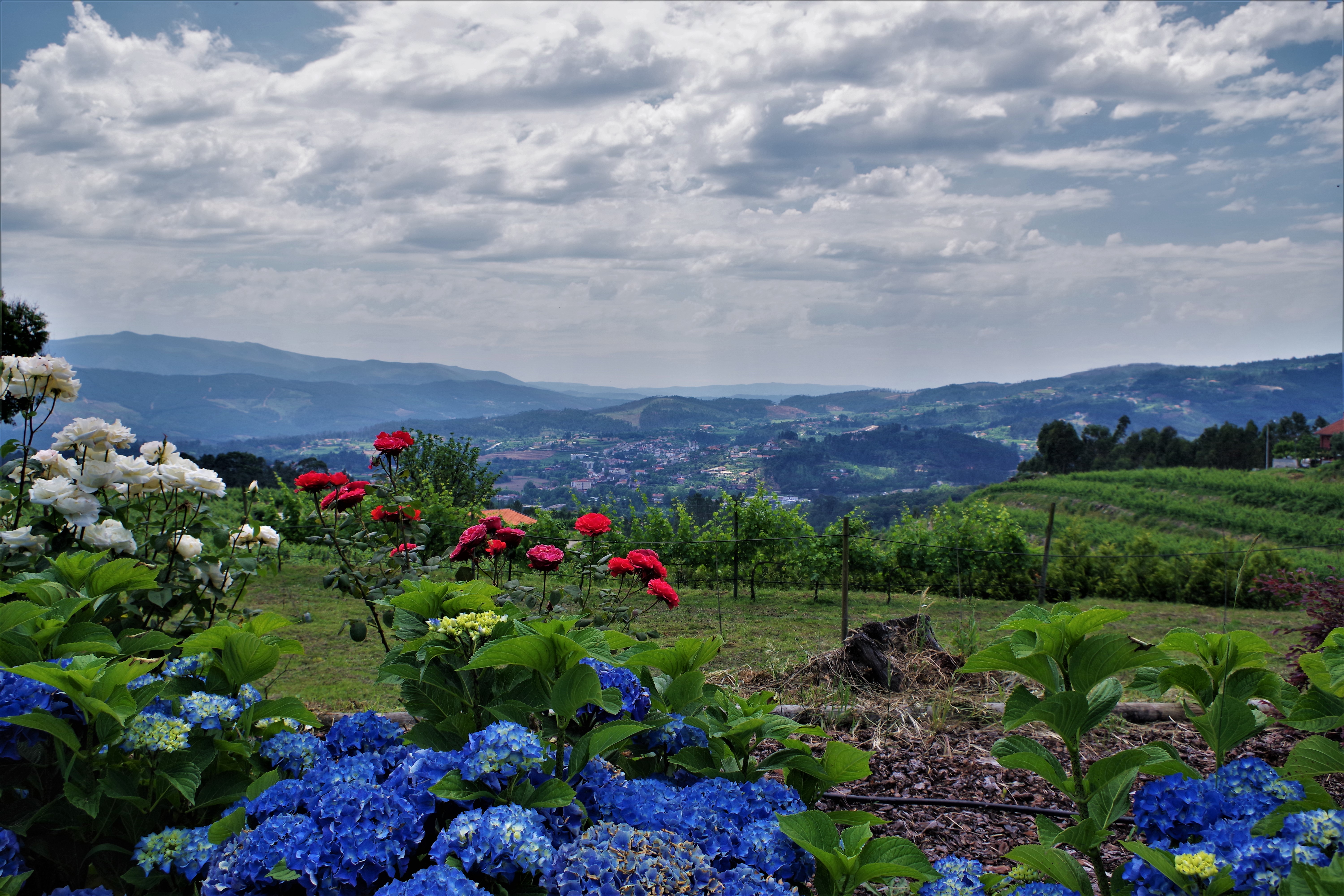 💙 Batoca, 2017
Ce vin vaut vraiment le coup. Il fait un vin texturé et salin incroyable. C'est très aromatique et croustillant avec une acidité cinglante. Vous pouvez sentir l'aspect rustique et savoureux de ce cépage unique.
Grande Escolha, 2017
C'est un vin très frais et charmant avec de l'acidité dans le tapis et une sensation piquante. De fortes notes d'agrumes se transforment en pierre concassée et en sel vers la longue finale.
Alvarinho – Trajadura, 2017
Ce mélange presque 50/50 est étonnamment fermé sur le nez, mais a un goût explosif. Cette différence d'intensité n'aide pas l'équilibre du vin. Je pense qu'à  côté des autres vins très caractéristiques du domaine, il parait plutôt court et émoussé.
💙 Azal, 2017
Arômes délicats et une acidité serrée. Il a le goût de la limonade la plus rafraîchissante par une chaude journée d'été, mais une limonade de fantaisie avec des fleurs et des herbes mignonnes.
💙 Avesso, 2017
Encore une fois, les monocépages de Quinta de Santa Cristina se distinguent par leur qualité et leur équilibre. Cet Avesso a la caractéristique exotique qu'il est connu pour obtenir dans la région de Basto, mais rejoint par des arômes subtils de miettes de pain. La légère carbonatation est presque camouflée par la fraicheur parfaite.
Loureiro – Alvarhino 2017
Conçu pour combiner la fraîcheur du Loureiro et la profondeur de l'Alvarinho, ce vin s'est avéré être évolutif avec un début simple qui tourne lentement vers un style plus charnu avec des arômes d'oranger et exotiques.
Les autres vins du domaine comprennent deux Espumante (mousseux) fabriqués selon la méthode traditionnelle. L'un est fait d'Arinto et l'autre est un mousseux rouge très intéressant fait de Vinhão. Il rappelle quelque Lambrusco profond et intense.