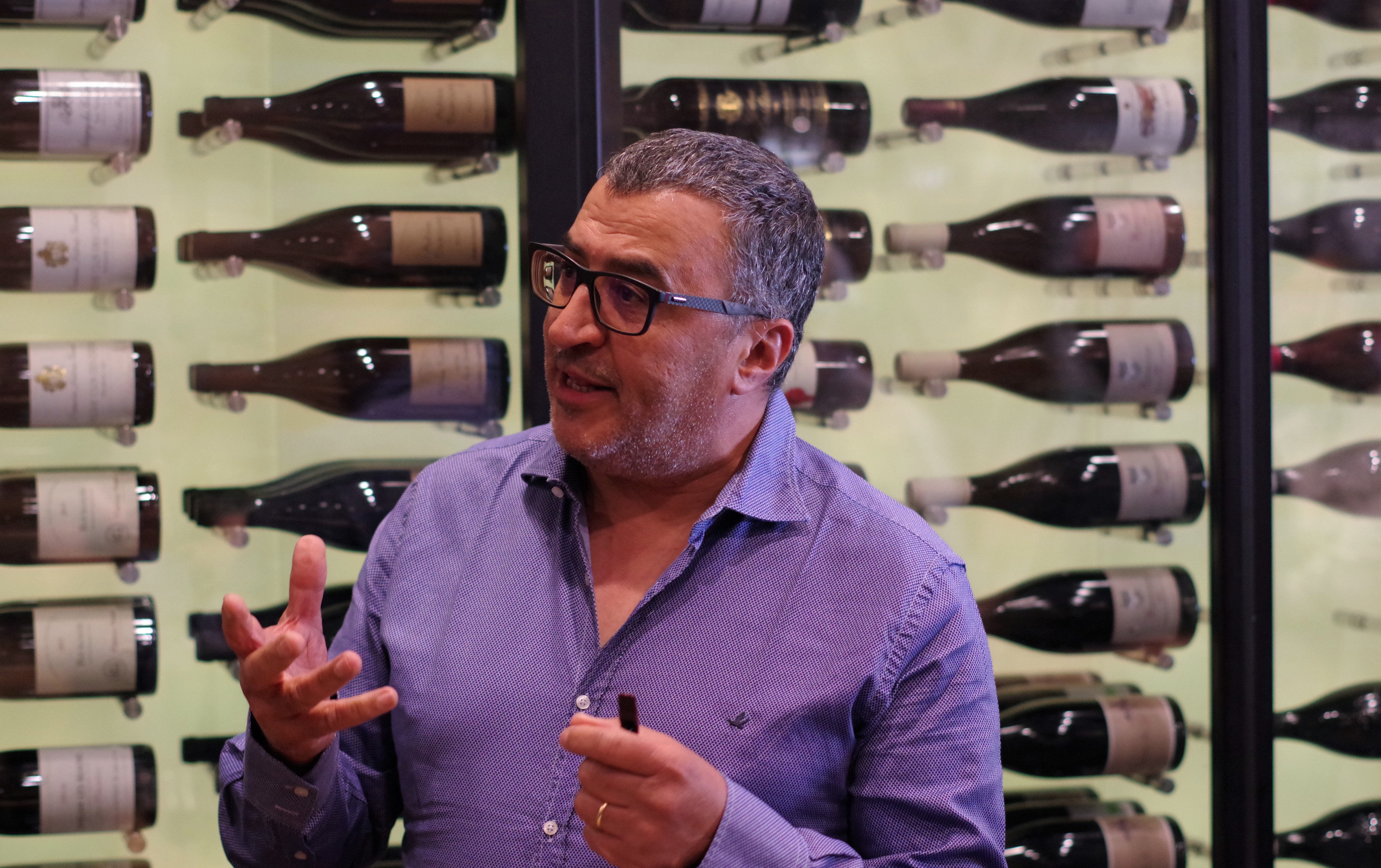 Lucien Lemoine is not a character in itself, but only a nickname. Mounir Saouma and Rotem Brakin have launched this small house dedicated entirely to the first and grand cru of Burgundy. They set their maximum production at 100 pieces per year to be able to do things "by hand" and with the utmost precision. The production is based on the terroir and the characteristics of each vintage. The result is an impressive palette of premier cru and grand cru with insignificant doses of sulfur, a millimetered ageing. A tailored production to get the best of what Chardonnay and Pinot Noir can offer.
2015 is a vintage of tension. Burgundy has produced incredibly ripe wines, but there is a problem. Ripe wines are fragile wines. So even though maturity was well established, production needed extra precaution.
In the end, no matter what your position on winemaking methods or your favourite cru are, when you put your nose in a glass of Lucien Lemoine, there is emotion, a sparkle of excitement. The kind of wines that get me giggling with anticipation.
Lucien Lemoine n'est pas un personnage en soi, mais seulement un surnom. Mounir Saouma et Rotem Brakin ont lancé cette petite maison dédiée entièrement au premier et grand cru de Bourgogne. Ils ont fixé leur production maximale à  100 pièces par an pour pouvoir faire les choses "à  la main" et avec la plus grande précision. La production se base sur le terroir et les caractéristiques de chaque cru. Le résultat est une palette impressionnante de premier cru et grand cru avec des doses de souffre insignifiante, un élevage millimétré. Du sur mesure pour aller chercher le meilleur de ce que peut offrir le chardonnay et le Pinot noir.
2015 est un millésime de tension. La bourgogne a produit des vins incroyablement mûrs, mais il y a un problème. Des vins mûrs, c'est des vins fragiles. Alors même si la maturité était bien établie, la production a eu besoin de précaution supplémentaire.
Au final, peu importe votre position face aux méthodes de vinification ou votre cru préférés, lorsqu'on met le nez dans un verre de Lucien Lemoine, il y a de l'émotion, un pétillement d'excitation.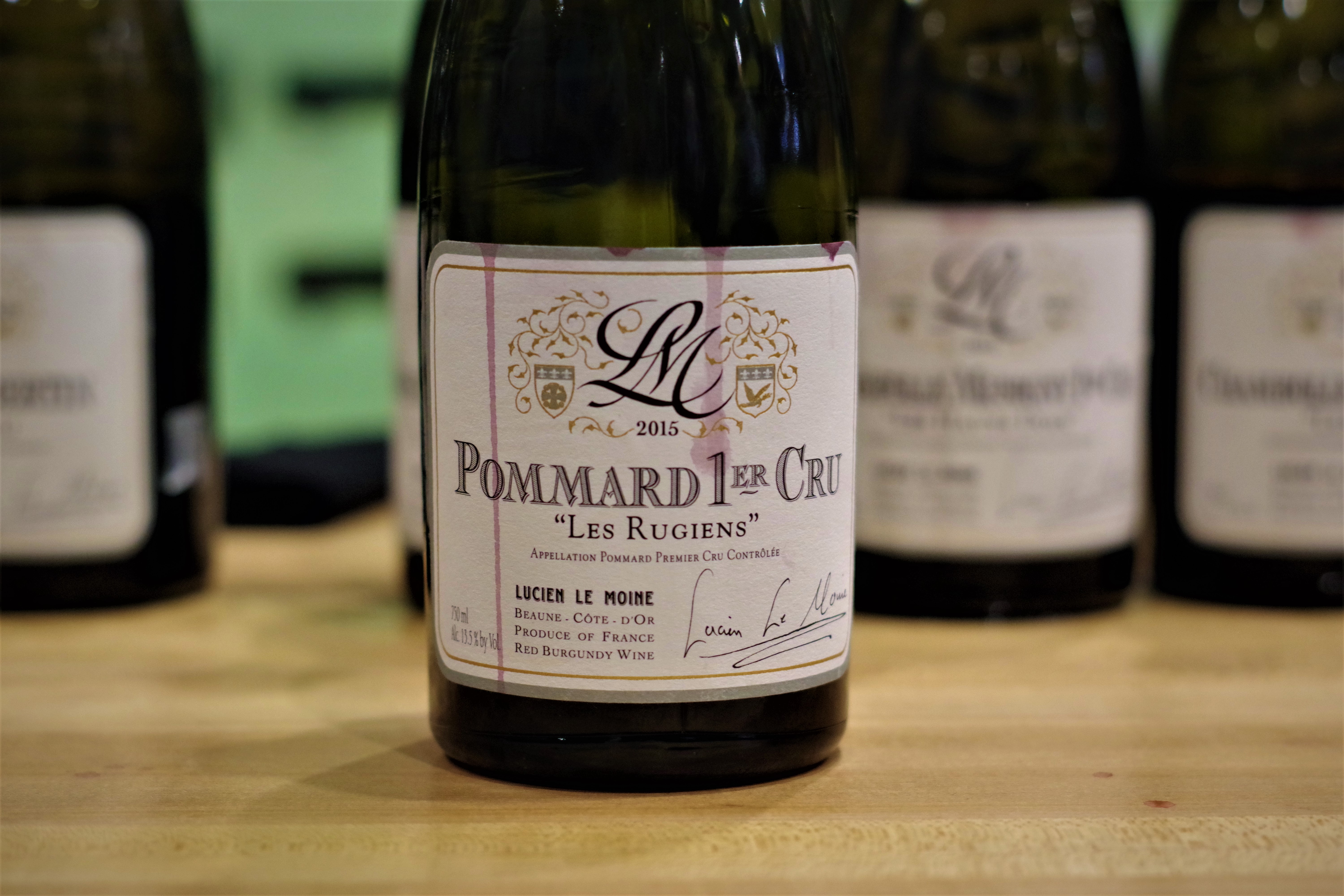 Pommard 1er cru 'Les rugiens' 2015
The name 'Les rugiens' comes directly from the ground which is of a red and frank color. A particular land that gives a particular first thought too. This pommard has a bright color, but has a shift in the bouquet that is soft, delicate aromas of subtle red fruits and the rather explosive, robust and earthy palate. A pleasant surprise, and it tastes forever in the final.
Le nom 'Les rugiens' vient directement du sol qui est d'une couleur rouge et franche. Une terre particulière qui donne un premier cru particulier aussi. Ce pommard est d'une couleur éclatante, mais présente un décalage en le bouquet qui est doux, sur des arômes délicat de fruits rouges subtils et le palais plutôt explosif, robuste et terreux. Une agréable surprise, et ça goûte pour toujours en finale.
Chambolle-Musigny 1er 'Les charmes' 2015
Located on the platform of Chambolle, this wine is cloudy in its center and very clear on the rim. It is delicate, floral and very 'Charming'. It does honour to the name of the Lieu-dit. Soft and silky, it is of a refined elegance.
Situé sur la plateforme de Chambolle, ce vin est trouble en son centre et très clair sur le pourtour. Il est délicat, floral et très 'Charmeur'. Il fait honneur au nom du lieu-dits. Doux et soyeux, il est d'une élégance raffinée.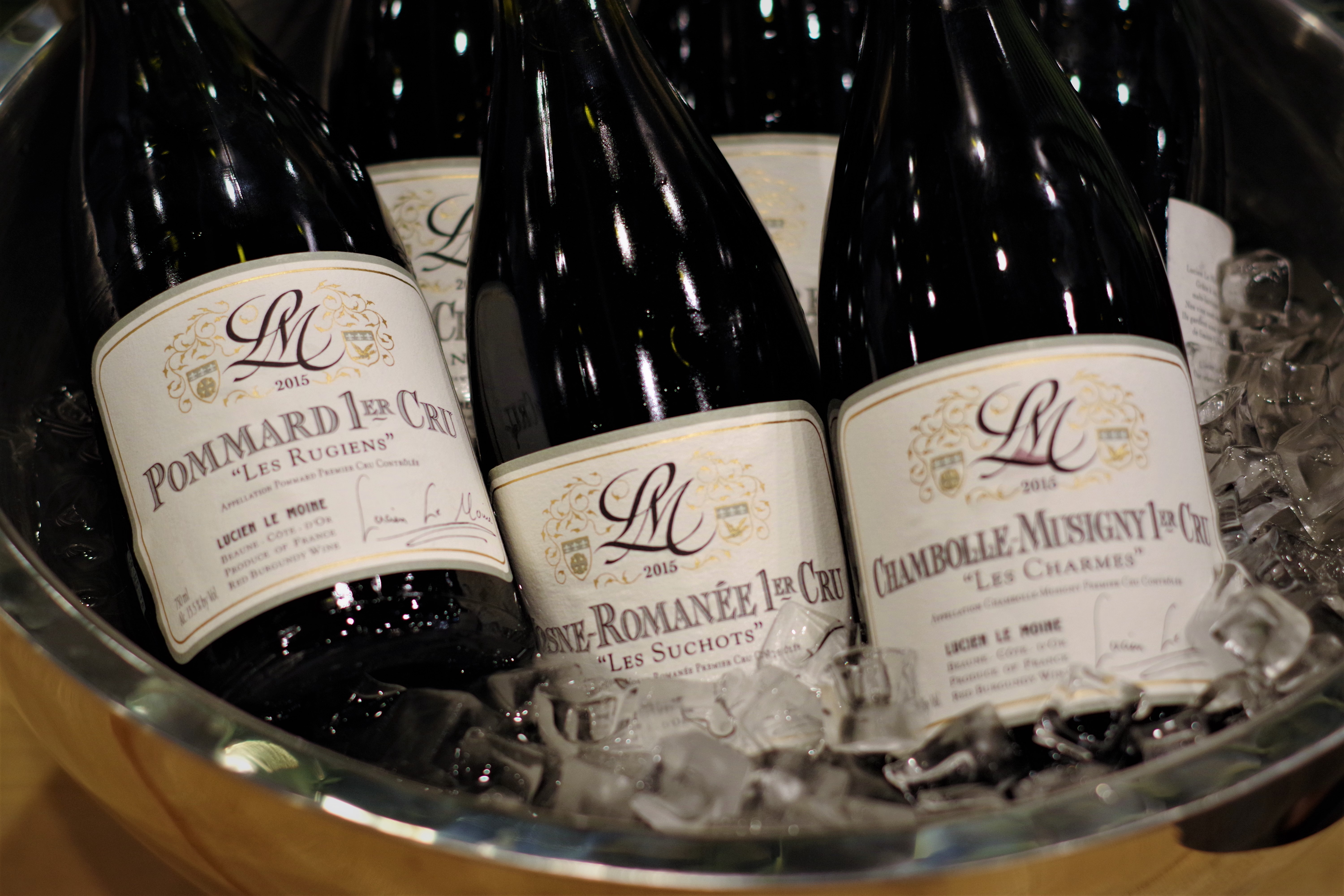 Chambolle-Musigny 1er 'Les haut Doix' 2015
A very expressive and very fleshy Chambolle-Musigny, but also very textured. Aromas of cranberries and juicy cherries are replaced in the mouth by a more pronounced taste, and a sandy and poignant texture.
Un Chambolle-Musigny très expressif et bien en chair, mais aussi très texturé. Les arômes de canneberges et cerises juteuses sont remplacés en bouche par un goût plus prononcé, et une texture sablonneuse et poignante.
Vosne-Romanée 1er ' Les Suchots'
'Les Suchots', in fact, is a crack between 4 grand cru. It is this drop, the difference in soil and the flow of water that has earned it a lesser status than its neighbors (Romanée Saint-Vivant, Richebourg,      Échezeaux, Romanée-Conti). However, this aspect of the field has been an asset since 2003, while many places have suffered during the drought, 'The Suchots' is still well hydrated and drained. It also gives it a denser color, more taste and more intensity. It is characterized by spicy aromas, a touch of licorice and sweet spices.
'Les suchots', en fait, c'est un creu entre 4 grand cru. C'est cette dénivelation, la différence de sol et l'écoulement d'eau qui lui a valu un statut moins grand que ses voisins (Romanée Saint-Vivant, Richebourg, Échezeaux, Romanée-Conti). Toutefois, cet aspect du terrain c'est avéré un atout depuis 2003, alors que plusieurs lieux-dits ont souffert à l'occasion de sécheresse, 'Les Suchots' reste toujours bien hydraté et drainé. Ça lui donne aussi une couleur plus dense, plus de goût et plus d'intensité. Il est caractérisé par des arômes épicés, une touche de réglisse et d'épices douces.
Mazis- Chambertin Grand Cru 2015
Mazis-Chambertin has nothing to prove to anyone, but I find that in youth, they are very shy wines. This one is not the exception, despite its superb complexity, it remains well closed. Not too marked by the fruit except a subtle currant, it emanates rather smoky aromas, BBQ almost calcined. The coarse tannins confirm that it needs time, this youngster.
Mazis-Chambertin n'a plus rien à prouver à personne, mais je trouve qu'en jeunesse, ce sont des vins très timide. Celui-ci n'est pas l'exception, malgré sa superbe complexité, il reste bien fermé. Pas trop marqué par le fruit sauf une subtile groseille, il émane plutôt d'arômes fumé, de BBQ presque calciné. Les tannins à gros grains confirment qu'il a besoin de temps, ce jeunot.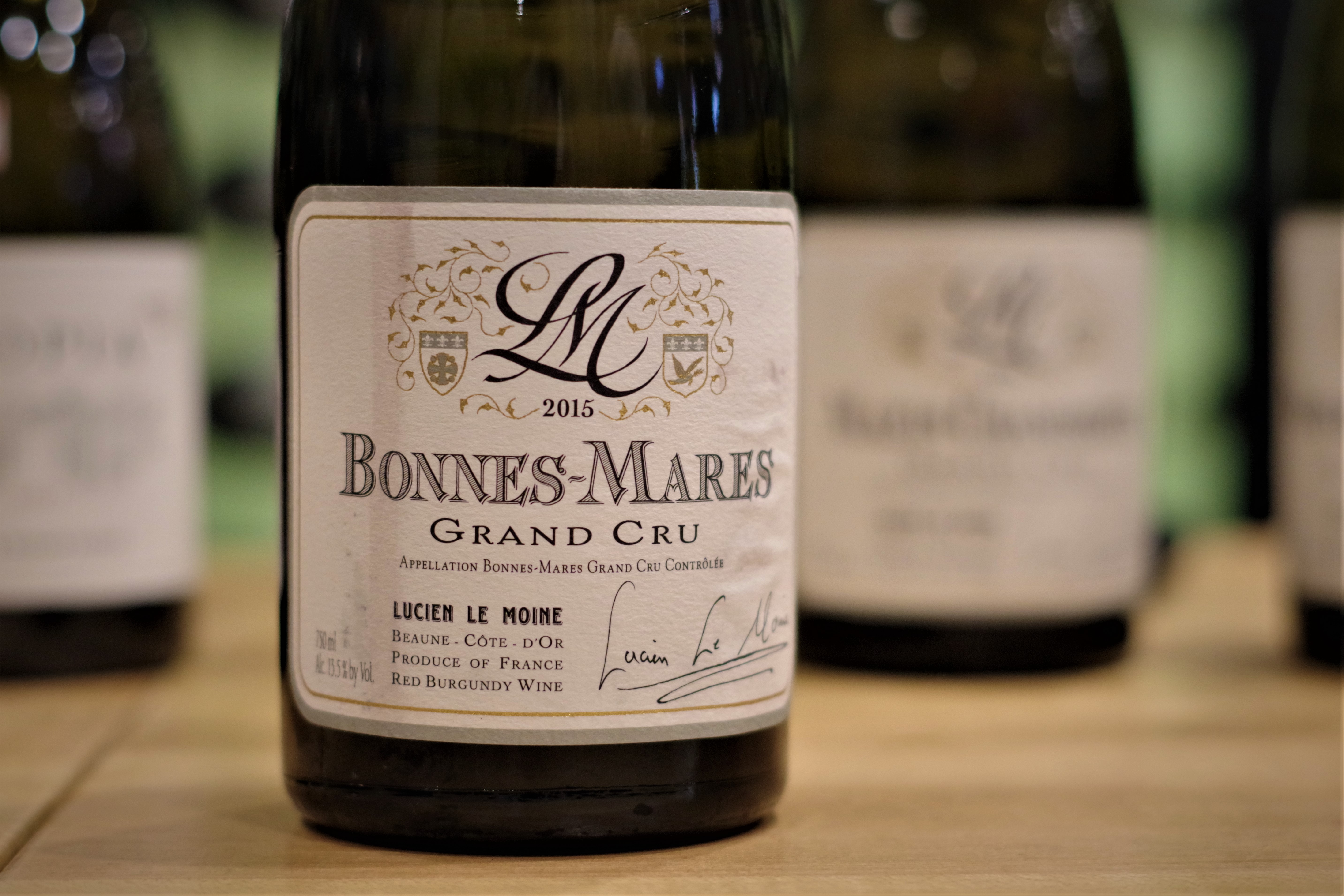 Bonnes Mares Grand cru 2015
Mr. Mounir Saouma asserted that: "We can criticize any wine, but not Bonnes Mares" Bonne Mares, it's a little all at the same time, as much in the glass as in the vineyard. This Grand Cru is exposed both north and south, on white, limestone and dark soils too. This 2015 is very pale and clear, leaving all the attention to the aromas. A combination of freshness, complexity and evolution, each sip is different.
Mr. Mounir Saouma a affirmé que : « On peut critiquer n'importe quel vins, mais pas Bonnes Mares » Bonnes mares c'est un peu tout en même temps, autant dans le verre que dans le vignoble. Ce Grand cru est exposé à la fois au nord et au sud, sur des sols blancs, calcaire et sombres aussi. Ce 2015 est très pale et clair, laissant toute l'attention aux arômes. Une combinaison de fraicheur, de complexité et d'évolution, chaque gorgée est différente.
Meursault 1er cru 'Porusot' 2015
This is a serious wine lenght-wise. It's a very fresh chardonnay but a little tight at first. It needs decanting and time to open up and show its true complexity. Beside the main aromas of popcorn kernels and crushed rocks, some subtle apricot, white tea and fresh pears are hidden at first. Once it shows its true color, it gets impressively refined and complex.
C'est un vin sérieux en longueur. C'est un chardonnay très frais mais un peu serré au début. Il a besoin de décantation et de temps pour s'ouvrir et montrer sa vraie complexité. À côté des arômes principaux de grains de pop-corn et des roches concassées, on découvre d'abord de subtils abricots, du thé blanc et des poires fraîches. Une fois qu'il montre sa vraie couleur, il devient incroyablement raffiné et complexe.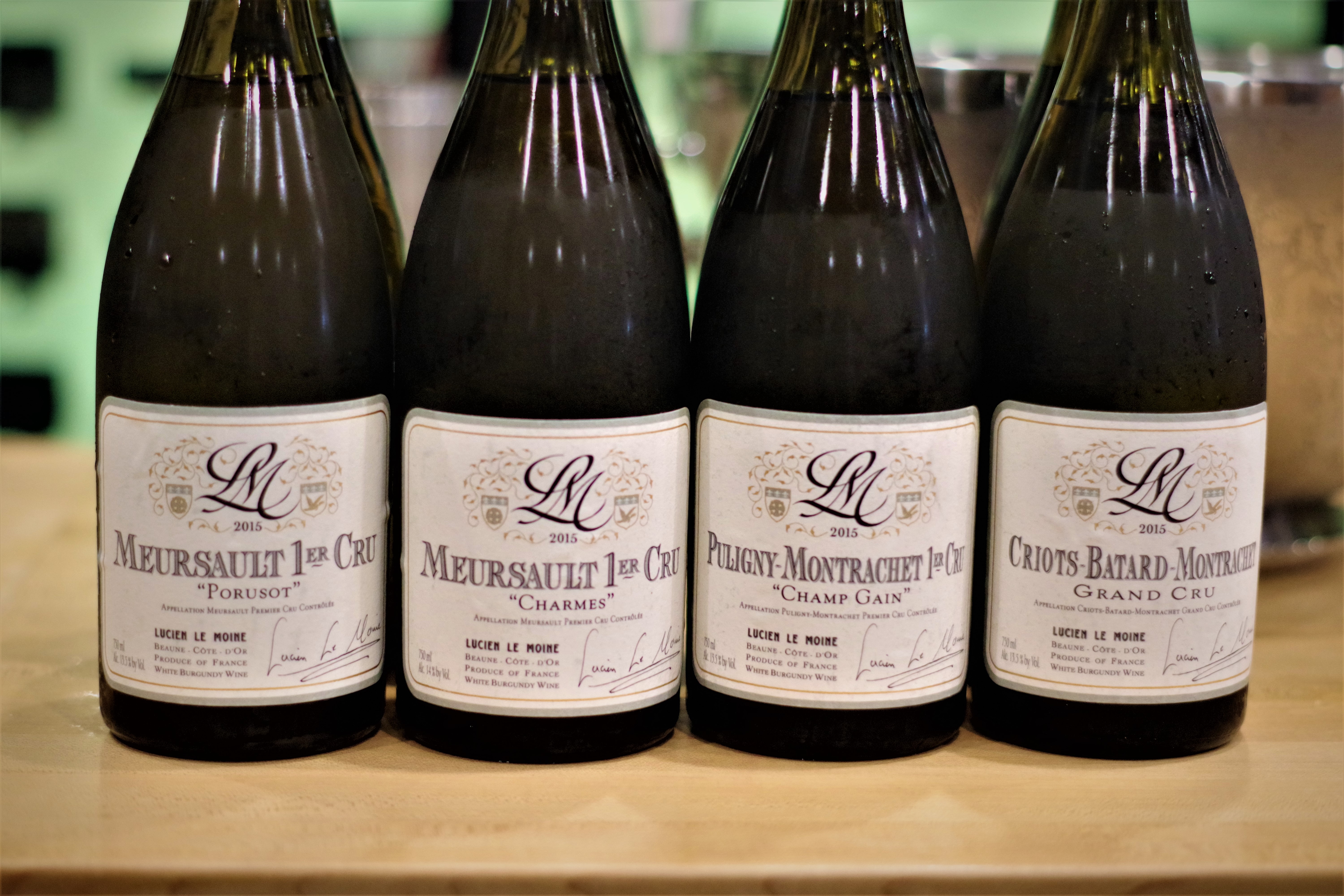 Meursault 1er cru 'Charmes' 2015
This 'Charmes' is delicate and intricate like a refined lace piece, boasting lovely floral arrangement aromas with smokiness, buttery corn, bold honey and a very tense and textured minerality. It's rich, precise, layered with thirst-quenching acidity.
Ce 'Charmes' est délicat et complexe comme une dentelle raffinée, offrant de jolis arômes floraux avec du fumage, du maïs au beurre, du miel gras et une minéralité très tendue et texturée. C'est riche, précis, étagé avec une acidité désaltérante.
Puligny-Montrachet 1er cru 'Champ Gain' 2015
This is the stuff! Delicate and subtle on the nose but with a burst of flavors on the palate that lures your taste buds. Even with this intensity, it feels light-bodied and effortlessly delicious. The lingering finale has slight hints of mint and popcorn that built up the complexity.
Une bombe! Délicat et subtil sur le nez mais avec une explosion de saveurs en bouche qui attire vos papilles. Même avec cette intensité, il y a une légèrement et un délice sans effort La finale persistante a de légères notes de menthe et de pop-corn qui ont construit la complexité.
Criots Bâtard-Montracget Grand cru 2015
Criots-Bâtard-Montrachet is a small Grand Cru site located within the commune of Chassagne Montrachet, next to Puligny. It borders Bâtard-Montrachet on the North and Chassagne-Montrachet on the South, and is the smallest of Burgundy's white Grand Crus, at only 1.57 ha.  Mounir describes this wine as "a bridge between the body of Bâtard and the class of Montrachet. " He even described it as "the least of the Montrachets except when it benefits from the maturity of the Chassagne-Montrachet side, as in 2015." For now, very little fruits are showing, rather oatmeal, nougat, walnuts, white chocolate and light spices. It doesn't have the exotic characteristics nor the suppleness of past vintages, for now.
Criots-Bâtard-Montrachet est un petit site Grand Cru situé sur la commune de Chassagne Montrachet, à  côté de Puligny. Bordant Bâtard-Montrachet au nord et Chassagne-Montrachet au sud, il est le plus petit des grands crus blancs de Bourgogne, avec seulement 1,57 ha. Mounir décrit ce vin comme «un pont entre le corps de Bâtard et la classe du Montrachet». Il l'a même qualifié de «moindre des Montrachets sauf quand il bénéficie de la maturité du côté Chassagne-Montrachet, comme en 2015.» Pour l'instant, très peu de fruits se montrent, plutôt gruau, nougat, noix, chocolat blanc et épices légères. Il n'a pas les caractéristiques exotiques ni la souplesse des millésimes passés, pour le moment.