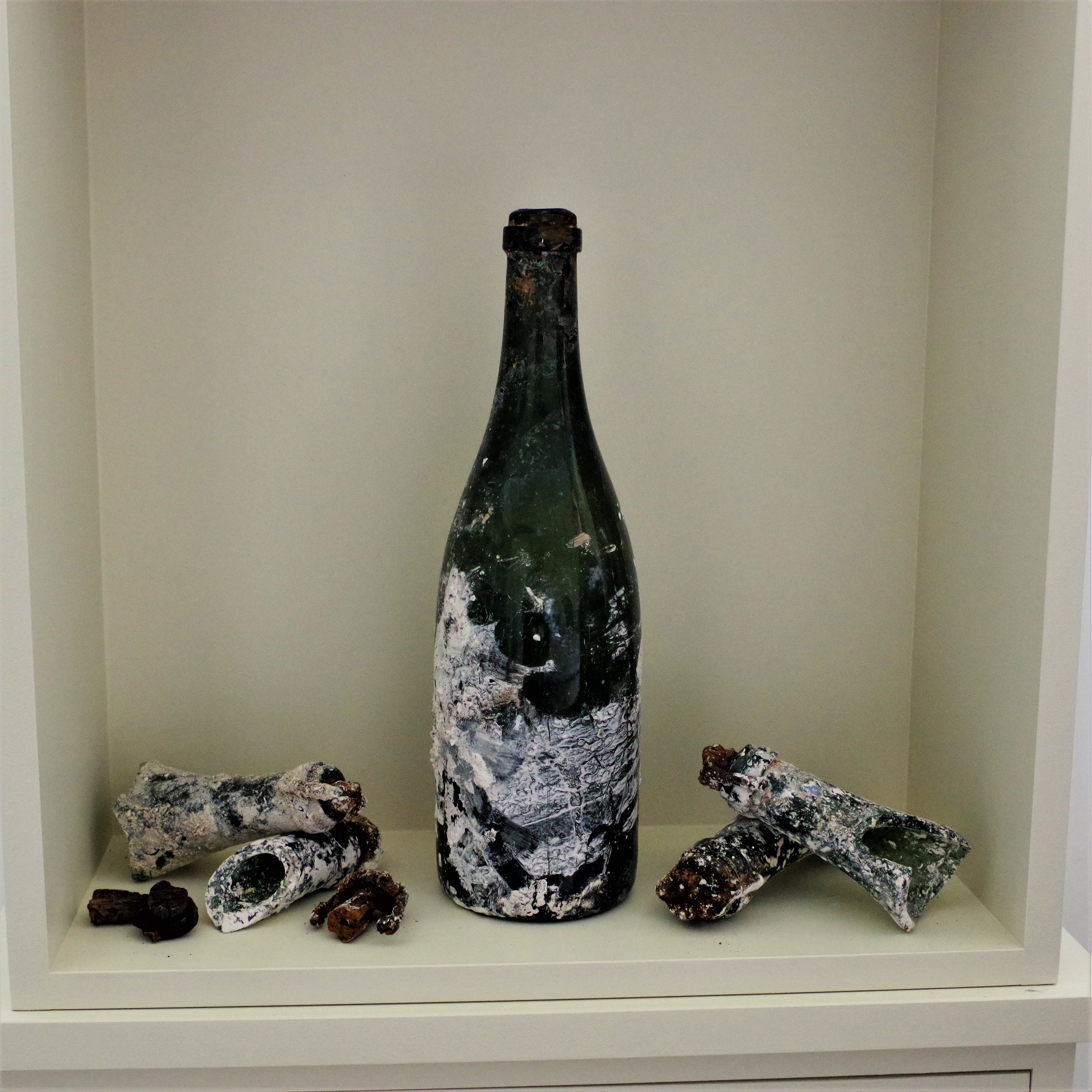 One of the broken 100 years-old bottles
All eyes are on Pol Roger recently. The unexpected and fortuitous discovery is keeping the industry and all Pol Roger lovers on alert and attentive. In 1900, only a year after Maurice and George Pol Roger (a special decree allows them to take on the full name as surname) succeeded their father, two stories of the cellars and buildings collapsed suddenly. Five hundred casks and one and a half million bottles were lost. This was a disaster was a complete one, part of the huge cellars, buildings, full barrels, bottles equipment were all lost; neighboring walls heavily cracked, the floor of the streets Henri le Large and Godard-Roger cracked and the ground in all this part descended more than 4 meters. Multiple tries had been made since to reach the tunnels and rescue some of the lost treasure but none were successful due to the fragile and dangerous environnement until now.
January 15th was a joyful day as the first bottle survivor was found after extensive, careful and delicate research. After meticulous research, a void was discovered with various traces of broken glass and a single one that seemed complete. 26 bottles of unsure vintages are now stored and hidden (I've seen them but don't tell). Researches will definitely continue even if there's struggle along the way. The strong rain and very wet climate Champagne has experienced lately makes the chalk very fragile and impossible to excavate safely. Multiples specialised companies in chalk quarries have been contacted to assure decent research but for now, none of them wants to take the charge and burden of such an important and significant task.  It's still a story in progress, a story to be told. Filled with hope and expectations, Mister Laurent D'harcourt, house's director, tells this epic tale with passion and expectation. Best scenario: hundreds and hundreds of bottles are found and the whole wine world fights to get a sip. Anyway, even if there's no more treasure to be found, it's already becoming a legendary cliffhanger.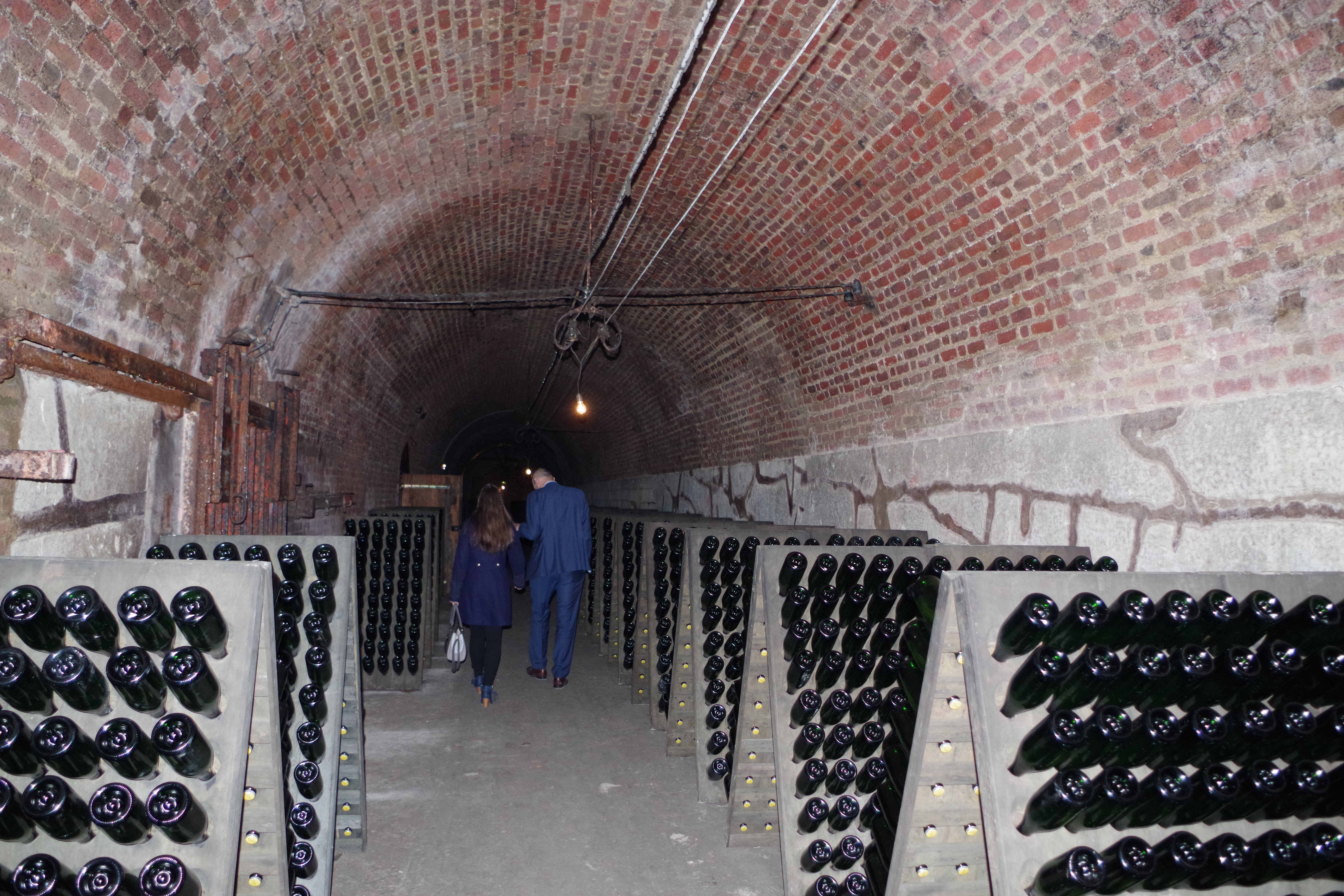 Tous les regards sont tournés vers Pol Roger récemment. La découverte inattendue et fortuite garde l'industrie et tous les amoureux de Pol Roger en alerte et attentifs. En 1900, seulement un an après que Maurice et George Pol Roger (un décret spécial leur permet de prendre le nom complet en tant que nom de famille) aient succédé à  leur père, deux étages des caves et des bâtiments se sont effondrés soudainement. Cinq cents tonneaux et un million et demi de bouteilles ont été perdus. Ce fut un désastre complet, une partie des immenses caves, des bâtiments, des barils pleins, des bouteilles, de l'équipement furent tous perdus; les murs voisins fortement fissurés, le sol des rues Henri le Large et Godard-Roger se fissurait et le sol dans toute cette partie a descendu de plus de 4 mètres. Plusieurs tentatives ont été faites depuis pour atteindre les tunnels et sauver une partie du trésor perdu, mais aucun n'avait réussi en raison de l'environnement fragile et dangereux, jusqu'à  présent.
Le 15 janvier a été une journée joyeuse car la première bouteille survivante a été trouvée après des recherches approfondies, minutieuses et délicates. Après des tests méticuleux, un vide a été découvert avec diverses traces de verre brisé et une seule rescapée qui semblait complète. 26 bouteilles de millésimes incertains sont maintenant stockées et cachées (je les ai vus mais il ne faut pas le dire). Les recherches vont certainement continuer même s'il y a des embûches en cours de route. La forte pluie et le climat très humide que la Champagne a connu récemment rendent la craie très fragile et impossible à  excaver en toute sécurité. Des sociétés spécialisées dans les carrières de craie ont été contactées pour assurer des recherches décentes mais pour l'instant, aucune d'entre elles ne veut assumer la charge et le fardeau d'une tâche si importante et si significative. C'est toujours une histoire en cours, une histoire à  suivre. Rempli d'espoir et d'attente, Monsieur Laurent D'Harcourt, directeur de la maison, raconte avec passion et prévision ce récit épique. Meilleur scénario: des centaines et des centaines de bouteilles sont trouvées et tout le monde du vin se bat pour en avoir une gorgée. Quoi qu'il en soit, même s'il n'y a pas plus de trésors, ça deviendra un récit légendaire, plein de suspense.