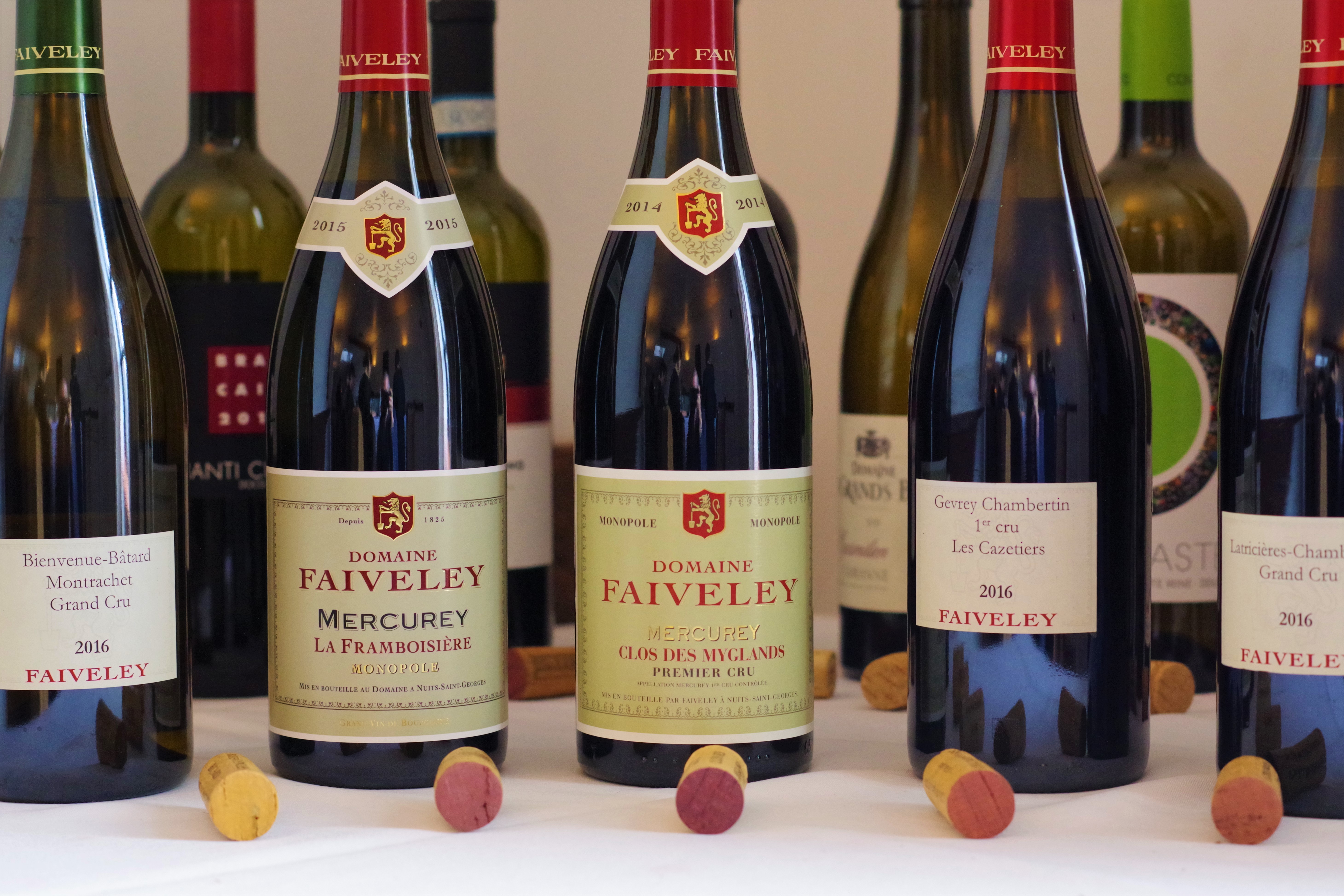 This illustrious company has been based in Nuits St Georges since 1825. Pierre Faiveley was the notorious founding father. It has grown through time, both in Côte d'or and côte chalonnaise to become one if not the biggest estate in Burgundy with an impressive total of 130 hectares under vine.
The new and seventh generation with Erwan and Ève Faiveley at the head since 2007 has brought a lot of changes within the estate, a remodelling and breath of fresh air. First, many purchases truly expanded the Faiveley's opportunity: Domaine Annick Parent (Pommard, Volnay and Monthélie), Domaine Monnot in 2008 (various Puligny-Montrachet vineyards including grands crus Bienvenues-Bâtard-Montrachet and Bâtard-Montrachet), contract to farm the vineyards of Domaine Matrot-Wittersheim in Meursault and Blagny, 72 ha in Côte Chalônnaise and in 2016 a small parcel of Musigny and the quite famous Domaine Billaud-Simon in Chablis. Faiveley is less and less of a négociants and own 80% of their needed vines. Following these extansive acquisition, a change of style also followed. Erwan Faiveley once confessed that: 'Wines made before 2012 don't represent faiveley today'. Wines before were more extracted and robust as today, the wines tends toward a very fresh style. It's a complete u-turn for this serious producer. With all these labels and additions it's hard to stay up-to-date. Here's an approximate of all of their parcels.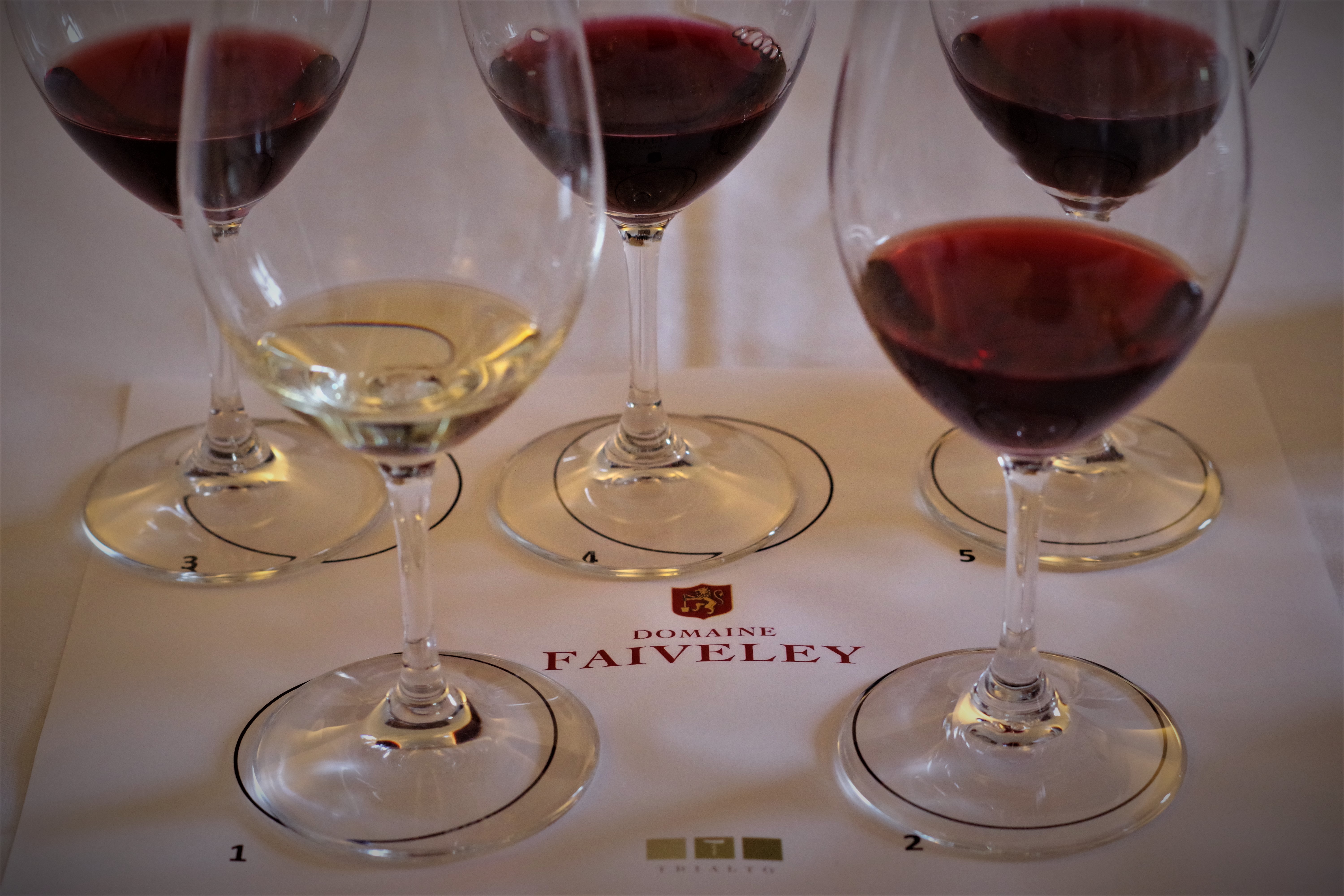 Cette illustre compagnie est basée à  Nuits St Georges depuis 1825. Pierre Faiveley était le père fondateur. Le domaine a grandi au fil du temps, en Côte d'or et en côte chalonnaise pour devenir l'un des plus grands domaines viticoles de Bourgogne avec un total impressionnant de 130 hectares en vigne.
La nouvelle et septième génération avec Erwan et Ève Faiveley à  la tête depuis 2007 ont apporté beaucoup de changements au sein du domaine, un remodelage et une bouffée d'air frais. Tout d'abord, de nombreux achats ont véritablement élargi l'opportunité Faiveley: Domaine Annick Parent (Pommard, Volnay et Monthélie), Domaine Monnot en 2008 (différents vignobles Puligny-Montrachet dont Grands Crus Bienvenues-Bâtard-Montrachet et Bâtard-Montrachet), contrat d'exploitation des vignobles du Domaine Matrot-Wittersheim à  Meursault et Blagny, 72 ha en Côte Chalonnaise et en 2016 une petite parcelle de Musigny et le très célèbre Domaine Billaud-Simon à  Chablis. Faiveley est de moins en moins un négociant et possède 80% des vignes nécessaires à  sa production. Suite à  cette acquisition extensible, un changement de style a également suivi. Erwan Faiveley a confessé une fois que: «Les vins fabriqués avant 2012 ne représentent pas Faiveley aujourd'hui». Les vins d'avant étaient plus extraits et robustes qu'aujourd'hui, les vins tendent vers un style très frais. C'est un demi-tour complet pour ce producteur sérieux. Avec toutes ces étiquettes et ajouts, il est difficile de rester à  jour. Voici une approximation de toutes leurs parcelles.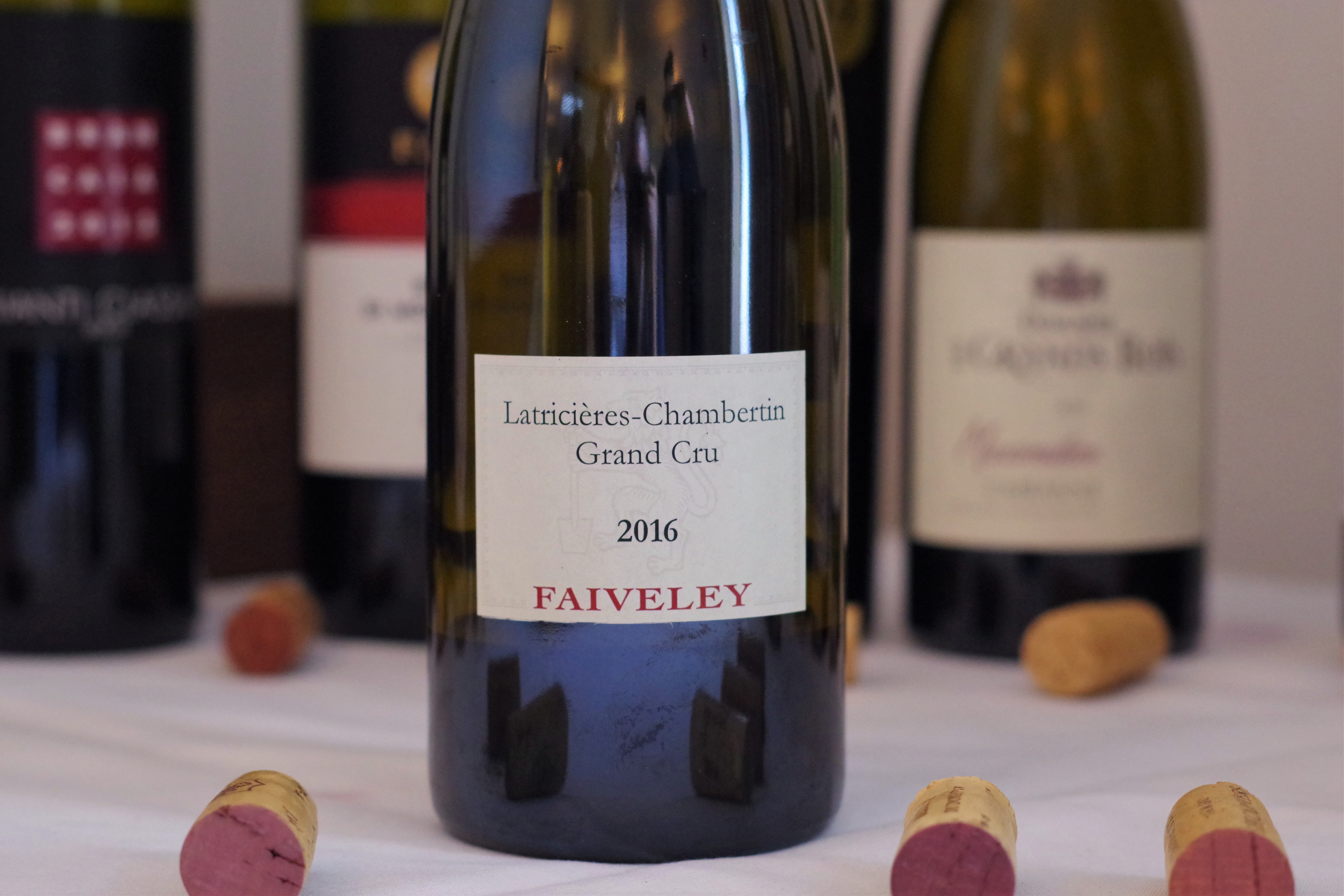 | | | | |
| --- | --- | --- | --- |
| Faiveley Parcels | size | Previous owner and purchase | Acquired in |
| Chablis | 20 ha | Domaine Billaud- Simon | 2016 |
| Â  | | | |
| Côte de Beaune | | | |
| Ladoix rouge | 0.6 ha | | |
| Ladoix Blanc | 3 ha | | |
| Monthélie | | Domaine Annick-Parent | 2007 |
| Monthélie Premier Cru 'Les Duresses' | 0.3 ha | Domaine Annick-Parent | 2007 |
| Monthélie 1er Cru "Les Champs Fulliot" | 0.3 ha | Domaine Annick-Parent | 2007 |
| Beaune | | | |
| Beaune Premier Cru 'Clos de l'Ecu' monopole | 2 ha | Purchased by François Faiveley | 2003 |
| Corton | | | |
| Corton Charlemagne Grand cru | 0.8 ha | | 1873 |
| Corton Grand Cru 'Clos des Cortons Faiveley' | 3 ha | | 1873 |
| Puligny-Montrachet | 5 ha | Domaine Monnot | 2008 |
| Puligny-Montrachet 1er Cru "Les Referts" | 0.4 ha | Domaine Monnot | 2008 |
| Puligny-Montrachet 1er Cru "Champ Gain" | 1 ha | | 2014 |
| Puligny-Montrachet 1er Cru "La Garenne" | 0.2 ha | Domaine Monnot | 2008 |
| Bâtard-Montrachet | 0.3 ha | Domaine Monnot | 2008 |
| Bienvenues-Bâtard-Montachet | 0.5 | Domaine Monnot | 2008 |
| Pommard | | | |
| Pommard "Les Vaumuriens" | 0.2 ha | Domaine Annick-Parent | 2007 |
| Pommard 1er Cru "Les Rugiens" | 0.5 ha | Domaine Annick-Parent | 2007 |
| Volnay | | | |
| Volnay 1er Cru "Fremiets" | 0.7 ha | Domaine Annick-Parent | 2007 |
| | | | |
| | | | |
| Côte de Nuits | | | |
| Nuits-saint-Georges | 3 ha | | |
| Nuits-Saint-Georges "Les Lavières" | 1 ha | By François Faiveley | 1873 |
| Nuits-Saint-Georges "Les Argillats" | 0.5 ha | By François Faiveley | 1976 |
| Nuits-Saint-Georges 1er Cru "Aux Chaignots" | 0.7ha | By François Faiveley | 1976 |
| Nuits-Saint-Georges 1er Cru "Les Saint-Georges" | 0.2 ha | | 1893 |
| Nuits-Saint-Georges 1er Cru "Les Damodes" | 0.8 ha | By François Faiveley | 1976 |
| Nuits-Saint-Georges 1er Cru "Les Porêts Saint-Georges" | 1.7 ha | First purchase of the house | 1830s |
| Gevrey- Chambertin | | | |
| Gevrey-Chambertin "Vieilles Vignes" | 7 ha | Domaine Dupont-Tisserandot | 2013 |
| Gevrey-Chambertin "Les Marchais" | 1 ha | | |
| Gevrey-Chambertin "Clos Prieur" | 0.6 ha | Domaine Dupont-Tisserandot | 2013 |
| Gevrey-Chambertin 1er Cru "Les Cazetiers" | 4 ha | Purchased by Guy Faiveley + parcels of Domaine Dupont-Tisserandot | 1935 + 2013 |
| Gevrey-Chambertin 1er Cru 'Les Lavaux Saint-Jacques' | 1 ha | Domaine Dupont-Tisserandot | 2013 |
| Gevrey-Chambertin 1er Cru "La Combe aux Moines" | 1.2 ha | | |
| Gevrey-Chambertin 1er Cru "La Perrière" | 0.1 ha | | |
| Gevrey-Chambertin "La Justice" | 0.5 ha | | |
| Gevrey-Chambertin 1er Cru "Craipillot" | 0.1 ha | | |
| Gevrey-Chambertin 1er Cru "Petite Chapelle" | 0.2 ha | Domaine Dupont-Tisserandot | 2013 |
| Gevrey-Chambertin 1er Cru 'Clos des Issarts' monopole | 0.6 ha | Purchased after 50 years of lease | 2003 |
| Grand cru | | | |
| Chambertin-Clos de Bèze " Les Ouvrées Rodin" Grand Cru | 0.3 ha | Purchased by Guy Faiveley | 1935 |
| Chambertin-Clos de Bèze Grand Cru "Grands Rangs", "Clos de Bèze Haut" and "Vieilles Vignes". | 1 ha | Purchased by Guy Faiveley | 1935 |
| Charmes- Chambertin Grand cru | 0.8 ha | Domaine Dupont-Tisserandot | 2013 |
| Mazis-Chambertin Grand Cru | 1.5 ha | Domaine Dupont-Tisserandot | 2013 |
| Latricières-Chambertin Grand Cru | 1.2 ha | Purchased by Guy Faiveley | 1935 |
| Chambolle-Musigny | | | |
| Chambolle-Musigny 1er Cru "La Combe d'Orveau" | 0.2 ha | | |
| Chambolle-Musigny 1er Cru "Les Fuées" | 0.2 ha | | |
| Musigny Grand cru | 0.1 ha | From the Dufouleur family | 2015 |
| Marsannay | 1.8 ha | Domaine Dupont-Tisserandot | 2013 |
| Marsannay "Les Echezeaux" | 1 ha | Domaine Dupont-Tisserandot | 2013 |
| Echezeaux "En Orveaux" Grand Cru | 0.8 ha | | |
| Clos-de-Vougeot Grand Cru | 1.3 ha | | 1911 |
| | | | |
| Côte Chalonnaise | 72 ha | | |
| Mercurey | 4 ha | | |
| Mercurey Blanc | 1.8 ha | Purchased by François Faiveley | 1976 |
| Mercurey "Les Mauvarennes" | 12 ha | Purchased by François Faiveley | 1976 |
| Mercurey Les Mauvarennes blanc | 1 ha | Purchased by François Faiveley | 1976 |
| Mercurey "Les Villeranges" | 6 ha | Purchased by François Faiveley | 1976 |
| Mercurey "Vieilles Vignes" | 4 ha | Purchased by François Faiveley | 1976 |
| Mercurey 'La Framboisière' Monopole | 10 ha | Purchased by Guy Faiveley after 30 years of lease | 1963 |
| Mercurey "Clos Rochette" Monopole | 5 ha | Purchased by Guy Faiveley after 30 years of lease | 1963 |
| Mercurey "Clos Rond" Monopole | 4 ha | By François Faiveley | 1976 |
| Mercurey 1er 'Clos des Roy' | 2.5 ha | Purchased by Guy Faiveley after 30 years of lease | 1963 |
| Mercurey 1er Cru 'Clos des Roy' – La favorite | 0.4 ha | Purchased by Guy Faiveley after 30 years of lease | 1963 |
| Mercurey 1er Cru 'Clos des Myglands' Monopole | 6 ha | Purchased by Guy Faiveley after 30 years of lease | 1963 |
| Rully | | | |
| Rully "Les Villeranges" | 0.3 ha | Purchased by Guy Faiveley after 30 years of lease | 1963 |
| Rully "Les Villeranges" blanc | 5 ha | Purchased by Guy Faiveley after 30 years of lease | 1963 |
| Givry | | | |
| Givry "Champ-Lalot" | 3 ha | | |
| Givry "Champ-Lalot" blanc | 1 ha | | |
| Montagny | 5 ha | Purchased by François Faiveley | 1976 |
| Montagny premier Cru 'Les Las' | 0.2 ha | Purchased by François Faiveley | 1976 |
| | | | |