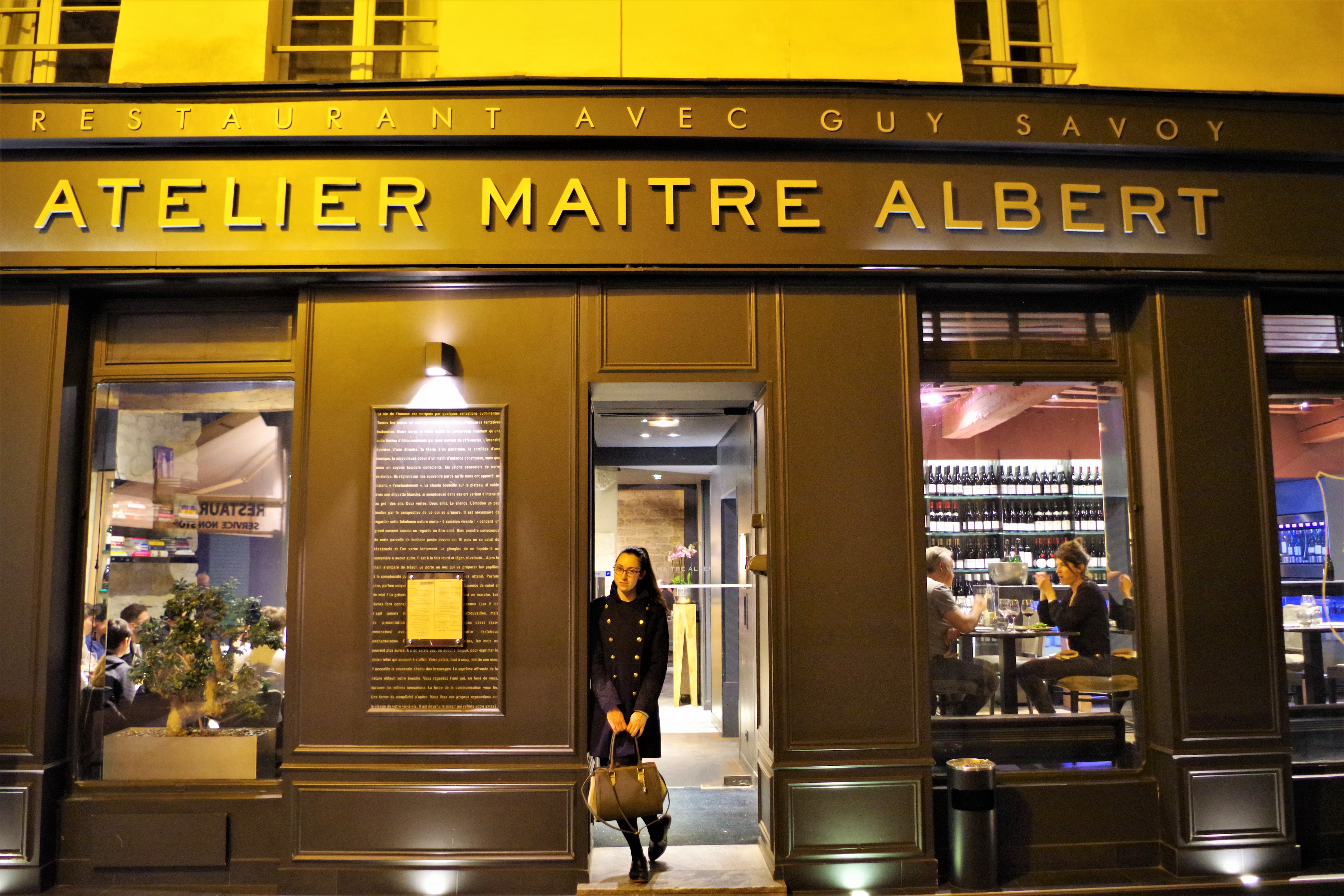 Atelier Maître Albert is the cutest, not-so-little upscale Rotisserie. It may be an annex of the famous house Guy Savoy, but the high-end gastronomic side has been replaced by comfy, heart-warming, home- style kind of cooking and ambiance. With a prime location near Notre-dame, in a quiet street of the mazy 5th district, the chic charcoal-colored establishment seems very popular both with locals and tourists. It's a contemporary sight for a very old part of Paris.
The dining room is separated in a duality of space. One side is the Vinotheque, perfect for a quick lunch or to stare at their whole wine collection all night. The other side is way cosier, intimate with a fireplace, dimmed lights, the roasting wall of the kitchen and just a warmer feeling overall.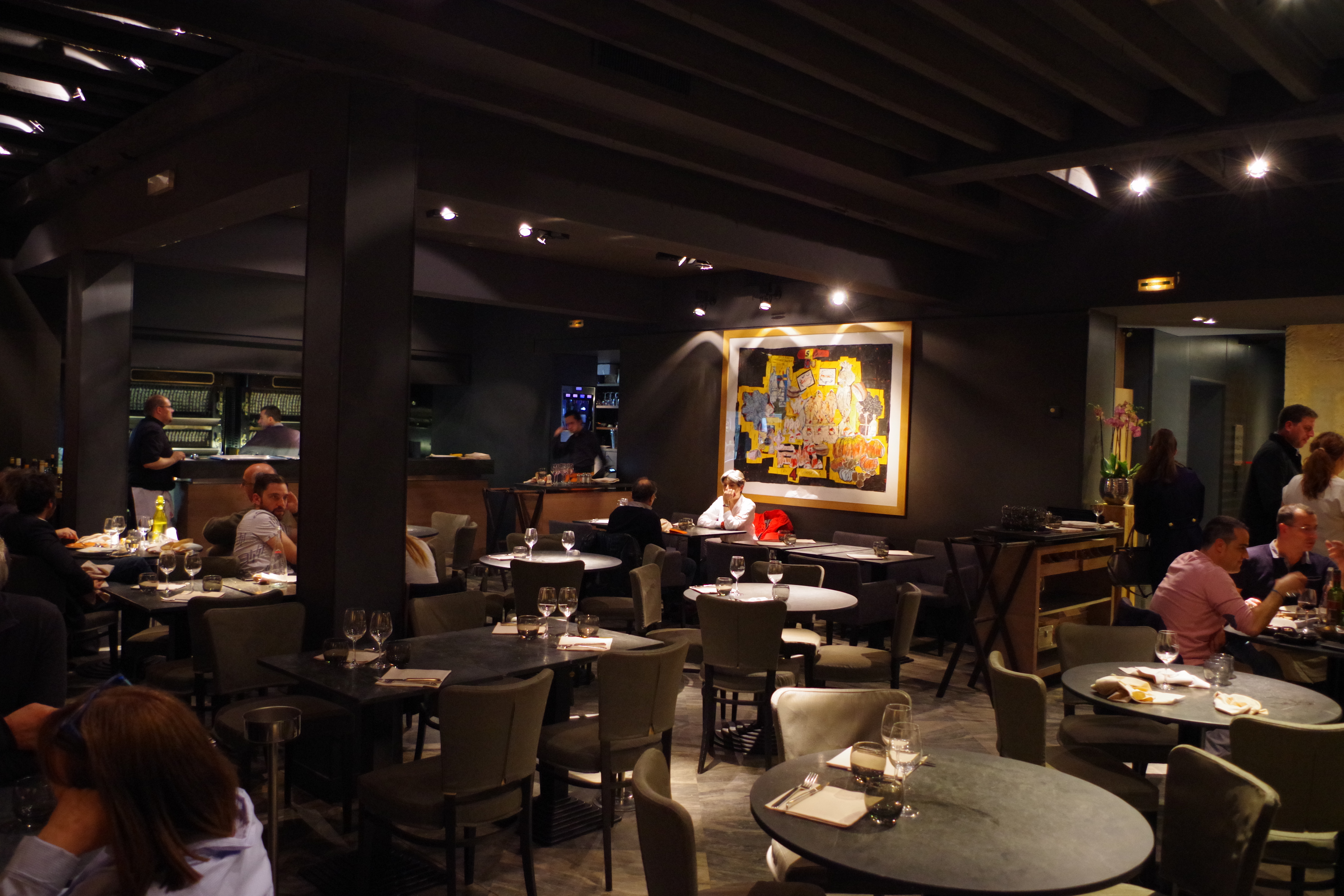 The menu is based on the very idea of conviviality and liveliness. The small amuse-bouches were a nice touch and made the very little wait for the efficient running around staff to come take the order. My entrée was a superbly rich velouté poured directly before me in a filled saucepan. My friend had the seasonal salad and sauteed chicken livers which was highly appraisable in intensity of flavour. Main dishes were, plates to share, a choice of spit-grilled meats, vegetables and fish with some cheesy gratin as side dishes. It's simply delicious and copious.
It was a fantastic roasty diner I'll definitely try (and fail) to reproduce home. So, I guess I'll have to go back next time I'm in Paris.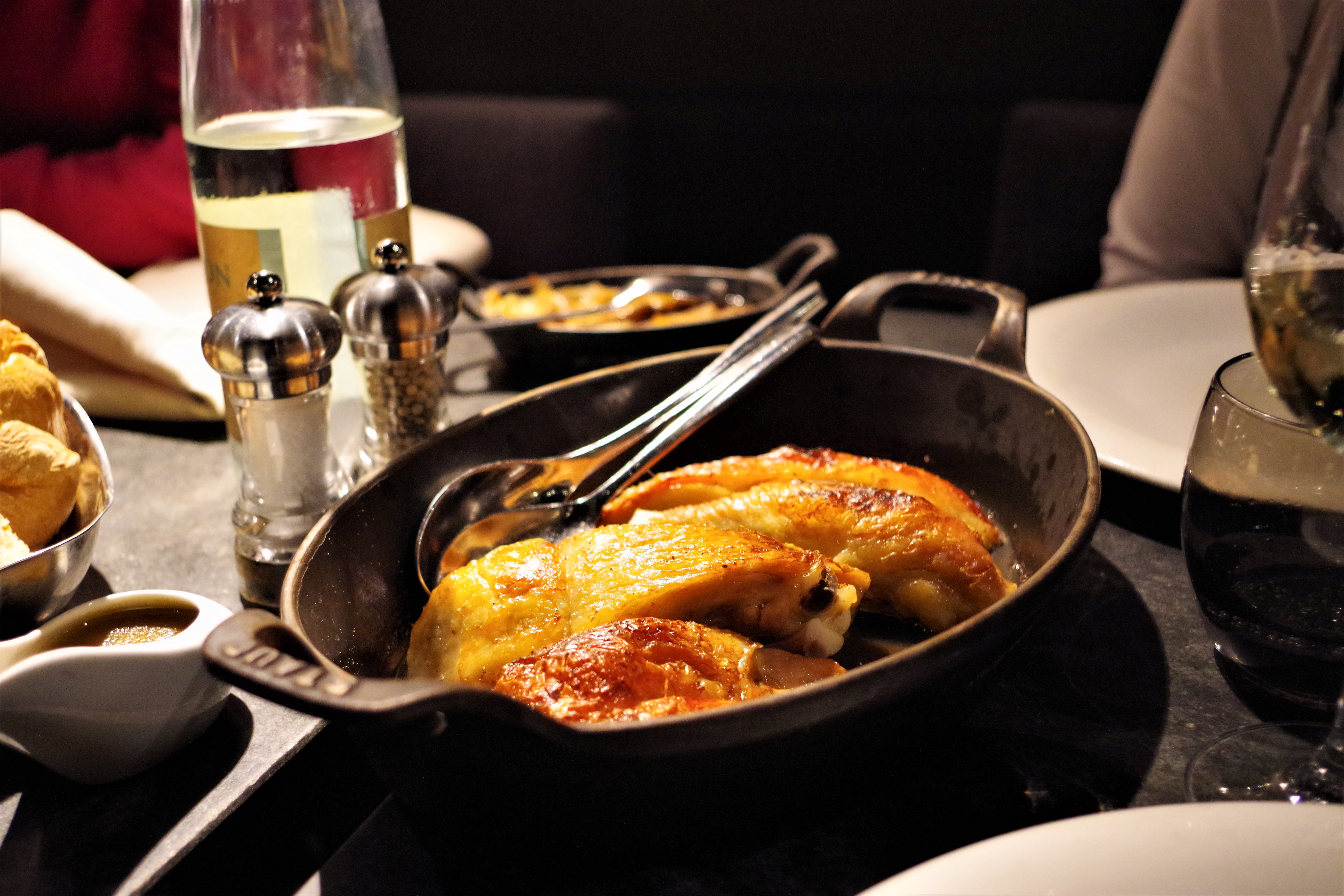 L'Atelier Maître Albert est la rôtisserie haut de gamme la plus mignonne,. Il s'agit d'une annexe de la célèbre maison Guy Savoy, mais le côté gastronomique haut de gamme a été remplacé par un style de cuisine et d'ambiance confortable et chaleureux. Bénéficiant d'un emplacement privilégié à  proximité de Notre-Dame, dans une rue calme du 5ème arrondissement, l'établissement chic au teinte de charbon de bois semble très populaire tant auprès des habitants que des touristes. C'est un spectacle contemporain pour une très vieille partie de Paris.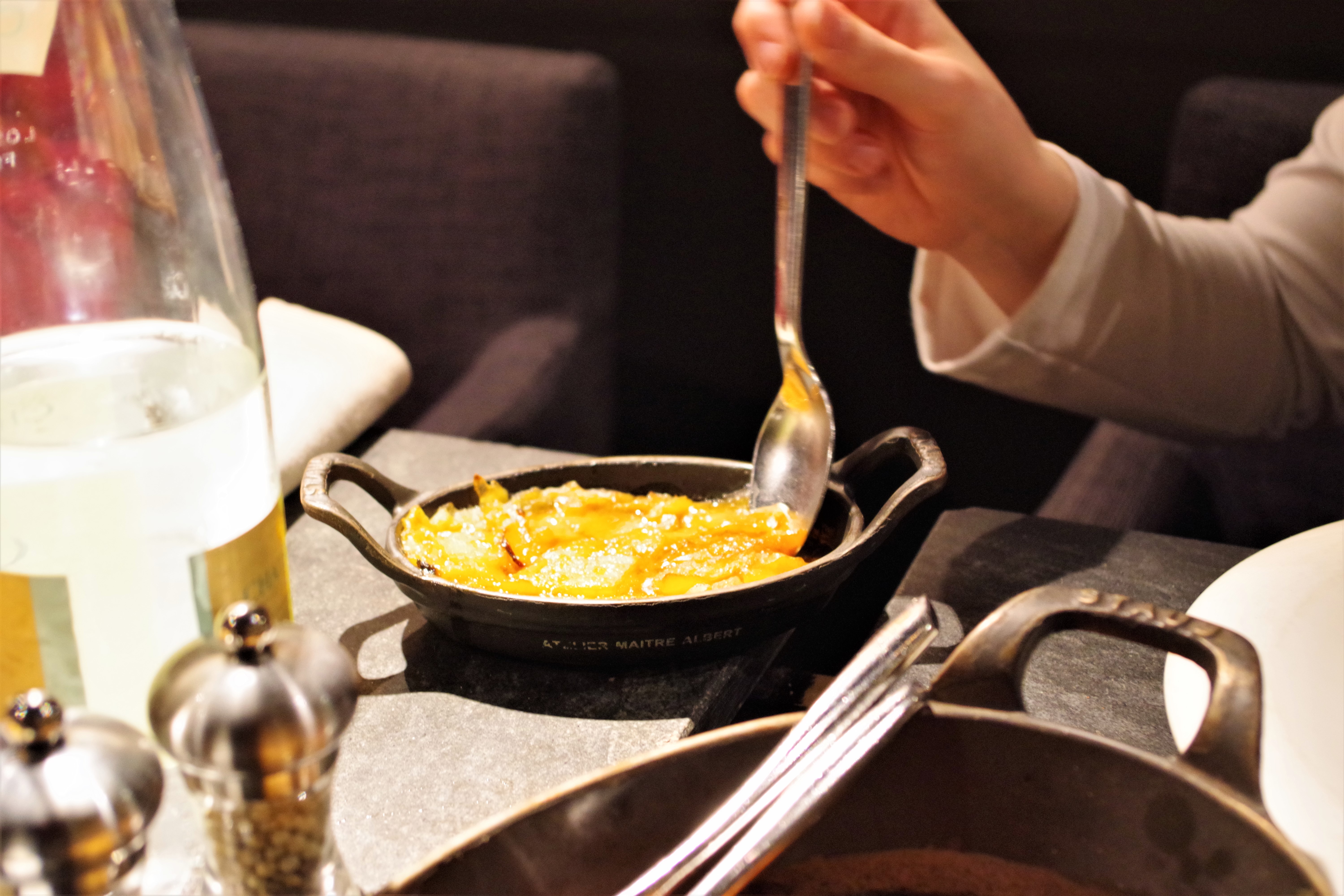 La salle à  manger est séparée dans une dualité d'espace. D'un côté est la Vinothèque, parfait pour un déjeuner rapide ou pour regarder toute leur collection de vins toute la nuit. L'autre côté est bien plus confortable, intime avec une cheminée, des lumières tamisées, le mur de grillades de la cuisine et juste un sentiment plus chaleureux dans l'ensemble.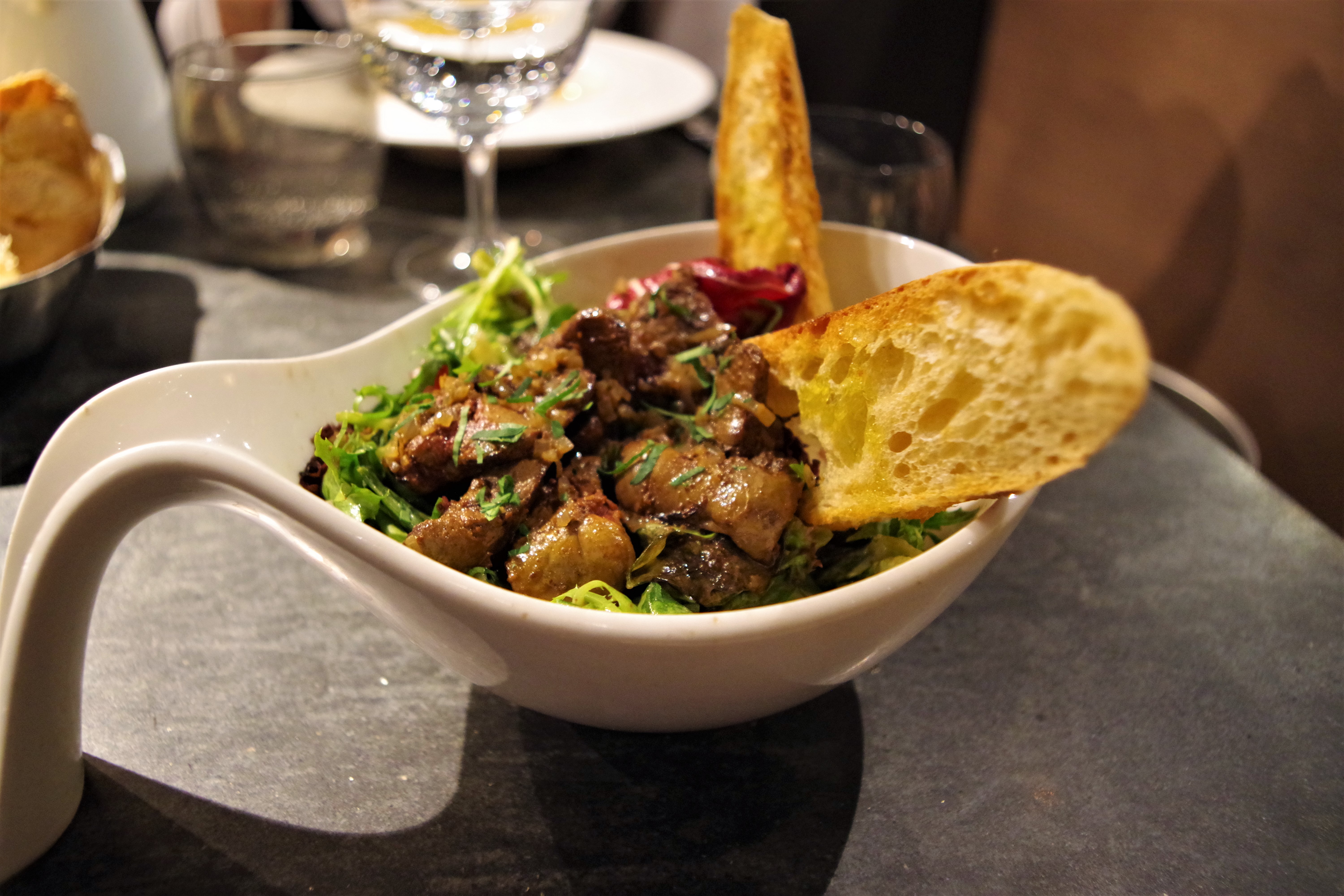 Le menu est basé sur l'idée même de convivialité et de vivacité. Les petits amuse-bouches étaient une bonne idée et ont fait le très petit temps d'attente pour la course efficace du personnel à  venir prendre la commande. Mon entrée était un velouté superbement riche versé directement devant moi dans un saucier rempli. Mon ami avait la salade de saison au foie de poulet sautés qui étaient très appréciables en intensité de saveur. Les plats principaux étaient des assiettes à  partager, un choix de viandes grillées à  la broche, de légumes et de poisson avec des gratins fromagés comme plats d'accompagnement. C'est simplement délicieux et copieux.

C'était un diner rôti fantastique que je vais certainement essayer (et échouer) de reproduire à  la maison. Donc, je suppose que je devrai y retourner la prochaine fois que je serai à  Paris.