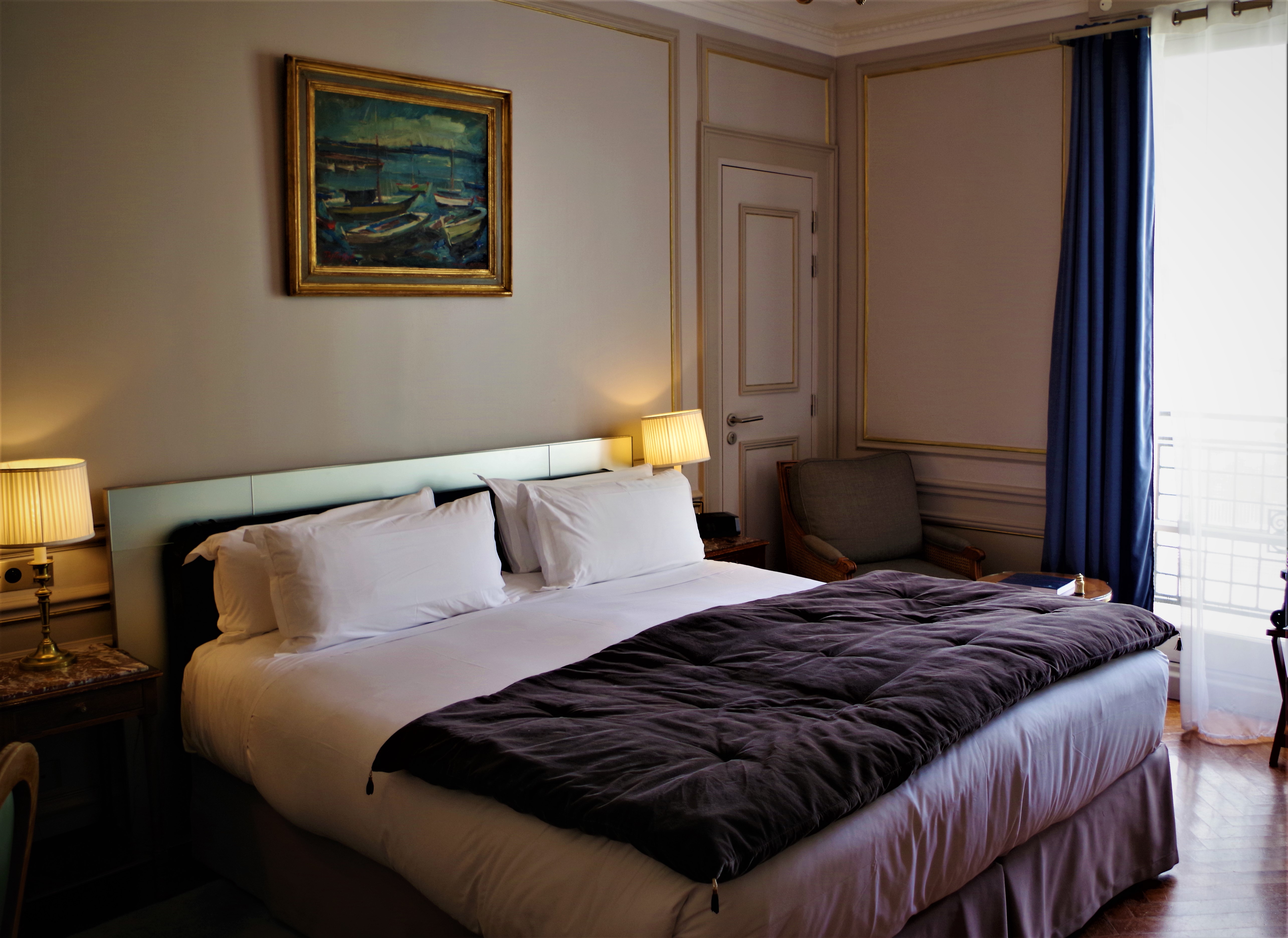 A corner away from the very lively Avenue des Champs Élysées, is this very fancy, discreet and chic hotel called the Lancaster. It's just one of the many more luxurious and high-end hotels in the district but it has a way to stand out from the crowd. There's a saying in French, "aux petits soins" it means being well taken care for and it's exactly the experience we had. The room are absolutely gorgeous with a very traditional but chic style and it's been a while since I've had a bed so fluffy and comfy.
Like any good old establishment, The Lancaster also has its story to be told. It was built as a private residence in 1889, and still has that private ambiance. Some famous names have established residence in those apartments like Marlene Dietrich, famous german actress and singer to which memory to best suite is now dedicated and named after.
Beside all this comfort, style, luxury and perfect service, what I liked the most about the Lancaster can be found, on the walls, all around the hotel, in different sizes shapes and sizes. I'm talking about the hotel's several original paintings on display, including numerous portraits by Russian artist Boris Pastoukhoff who lived there in the 1930s along with other antiques.
La Table du Lancaster, the Michelin star restaurant is supervised by Master Chef, Julien Roucheteau. Even the buffet breakfast is served at the starred restaurant for a starred price of 42 euros. I haven't had the chance to experience Chef Roucheteau's culinary excellence, but I've heard masses on his expertise.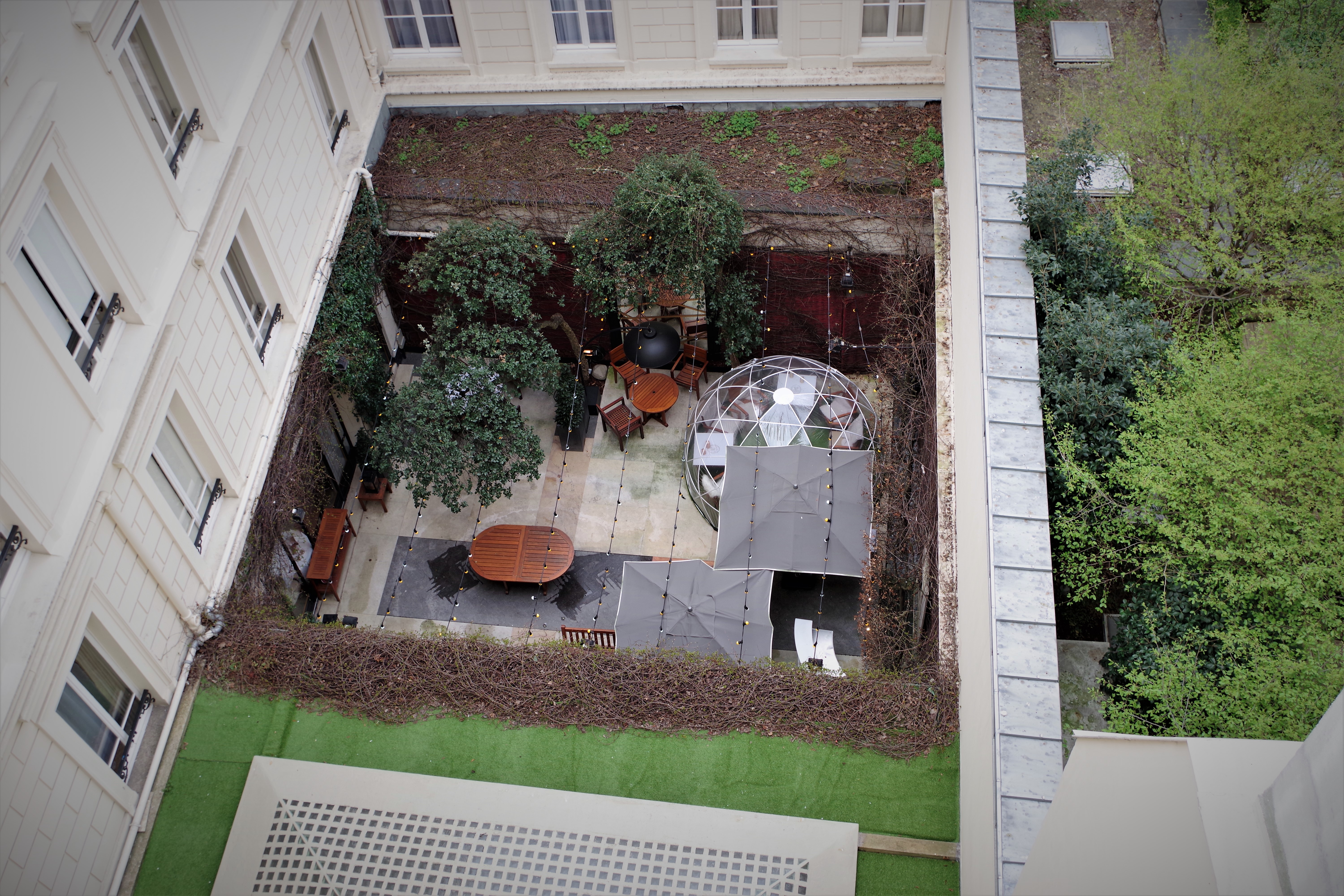 Lancaster – Chic à  la française
À un coin de l'Avenue des Champs Élysées, très animée, est cet hôtel très chic, discret boutique hotel appelé le Lancaster. C'est juste l'un des nombreux hôtels les plus luxueux et haut de gamme du quartier, mais il a un moyen de se démarquer de la foule. Il y a un dicton en français, «aux petits soins», qui signifie être bien pris en charge et c'est exactement l'expérience que nous avons eue. La chambre est absolument magnifique avec un style très traditionnel mais chic et ça fait longtemps que j'ai eu un lit aussi moelleux et confortable.
Comme tout bon établissement antique, le Lancaster a aussi son histoire à raconter. Il a été construit en tant que résidence privée en 1889, et a toujours cette ambiance privée. Certains noms célèbres ont établi résidence dans ces appartements comme Marlene Dietrich, célèbre chanteuse et actrice allemande à qui la meilleure suite est maintenant consacrée et nommée à sa mémoire.
Aux côtés de tout ce confort, style, luxe et service parfait, ce que j'ai aimé le plus au sujet du Lancaster peut être trouvé, sur les murs, tout autour de l'hôtel, dans différentes tailles et formes. Je parle des nombreuses peintures originales exposées dans l'hôtel, y compris de nombreux portraits de l'artiste russe Boris Pastoukhoff qui y a vécu dans les années 1930 avec d'autres antiquités.
La Table du Lancaster, le restaurant étoilé Michelin, est encadré par le chef cuisinier, Julien Roucheteau. Même le petit déjeuner buffet est servi au restaurant étoilé au prix de 42 euros. Je n'ai pas eu l'occasion de faire l'expérience de l'excellence culinaire du Chef Roucheteau, mais j'ai beaucoup entendu parler de son expertise.