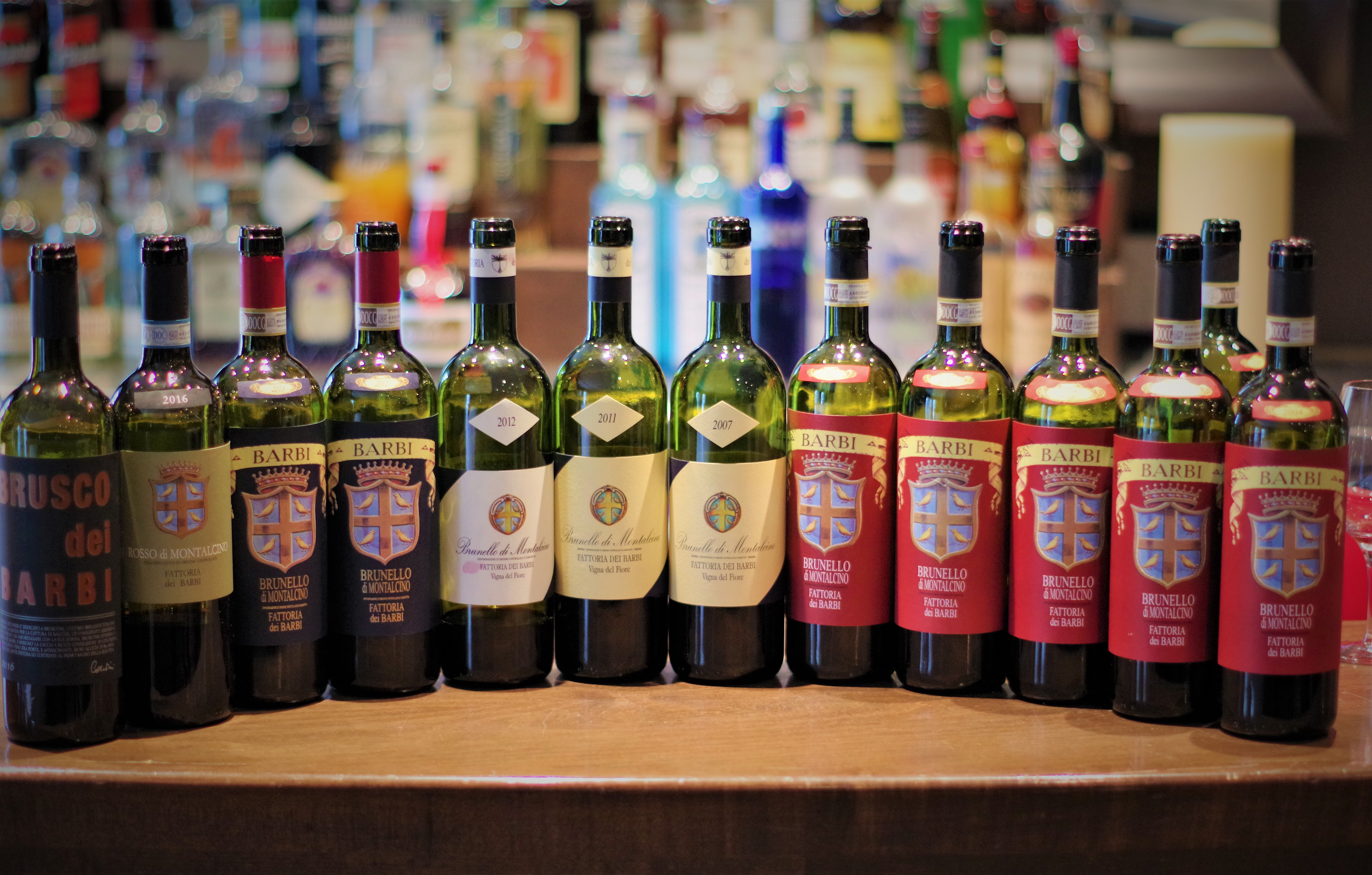 As the first Brunello imported in the USA, and with a growing part of the production destined to export, 55% going towards 60%, Fattoria dei Barbi  is a historic estate that continues to be a pioneer in Tuscan wines. If the name doesn't sound a clue, the very recognizable blue label might. This Brunello is he benchmark of the estate, consistent, classic and made every year, independently of the vintage conditions. This iconic brand has been imported by Mark Anthony for now 18 years and was already part of the Quebec market before that.
The estate is one of only five in Montalcino that have continuously operated for over 100 years. The Colombini family has owned land in Montalcino since 1352, but only acquired Fattoria dei Barbi in the end of the 18th century. They were one of the first families, right after Biondi-Santi, to produce brunello. This might just appear as the past for you, but for old world classic wines like this, history, status and tradition is part of the wine. And again, without a rich past, the cellar wouldn't be as full. It hides some very ancient treasures and visitors might get a sight of Brunellos and Vin santos dating back to 1870.
As soon as the servers started pouring the samples, the whole room was filled with the magical smell of the wines. It's a lovely moment announcing the start of a very pleasant tasting.
BRUSCO & ROSSO
What's the difference? Rosso is an official DOC, it's made of 100% sangiovese and just shows the potential of elegance of this majestic grape varieties. It's not a very restrictive DOC and there's many style of Rosso and it's sometimes called the Picolo Brunello ( small Brunello) But this one stands on its own. The Brusco Was first produced in the late 60s. It's a deposited name only Barbi can use and it's made as an approachable wine with 10% Merlot. Kind of the first ever Montalcino's Super Tuscans. It's a vibrant, unoaked pizza wine.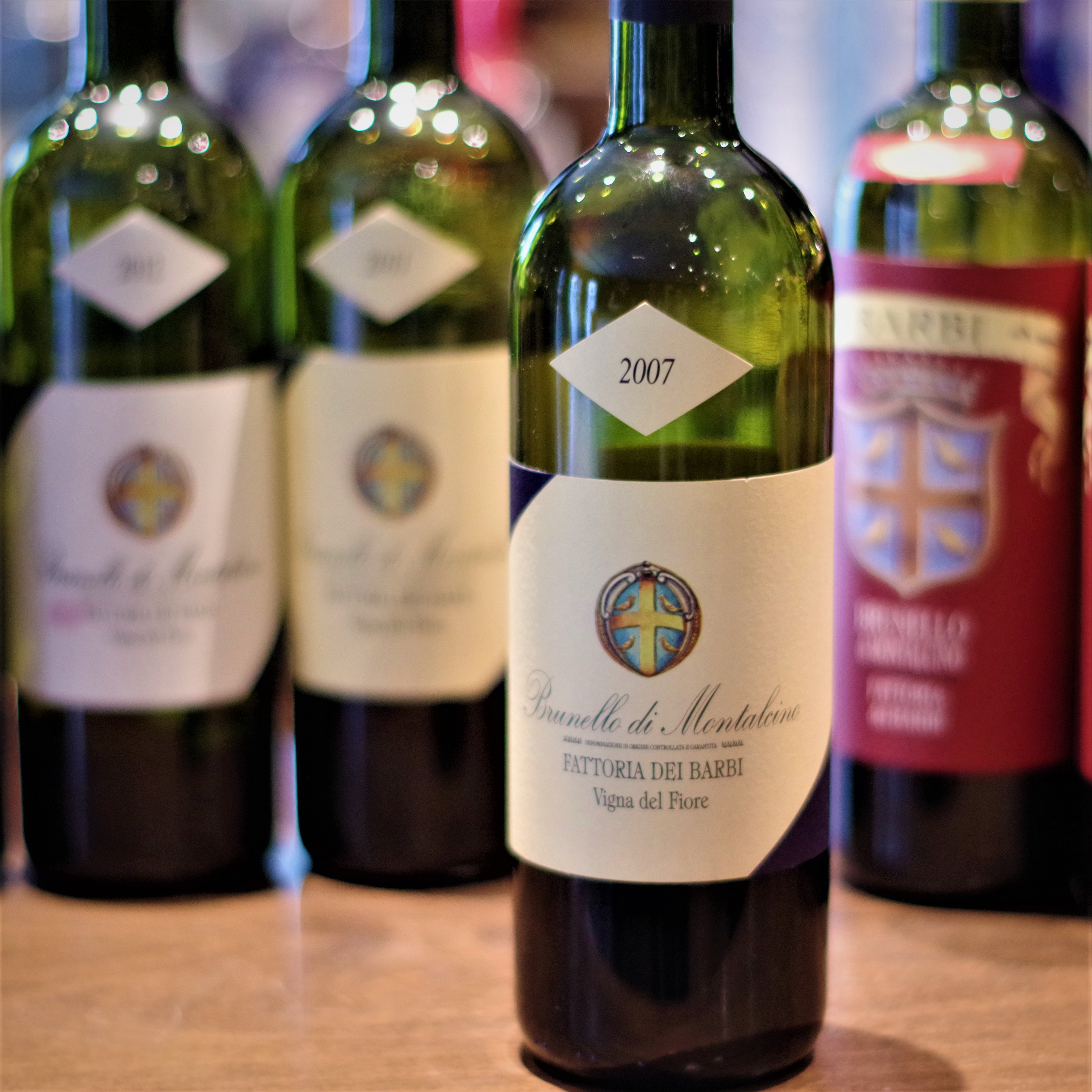 VIGNA DEL FIORE
Created by Francesca Colombini in 1981 as her 50th anniversary self-proclaimed gift, this is the very feminine and winsome single vineyard of the estate. It literally means Flower vineyard but in fact it relates to the local river called Fiore. It is broad with an incredible expression and substance, especially in the voluptuous 2007.
RISERVA
Opinions differ concerning which wine of Fattoria dei barbi is the best one between Vigna del Fiore and the Riserva. I guess this is personal opinion. The riserva is definitely more reserved, and open up slower. It doesn't give itself right away and you have to wait for it to open up. It is more structured and mature. 2011 is showing a great concentration. 2010 has yet discovered who it will be. It is very shy. 2007 was a warm vintage and is more drying. 2006 is a round and gentle vintage, with lots of freshness and superb length. However, 2004 was a tight and hard vintage, it's reductive and misses the structure of other vintages.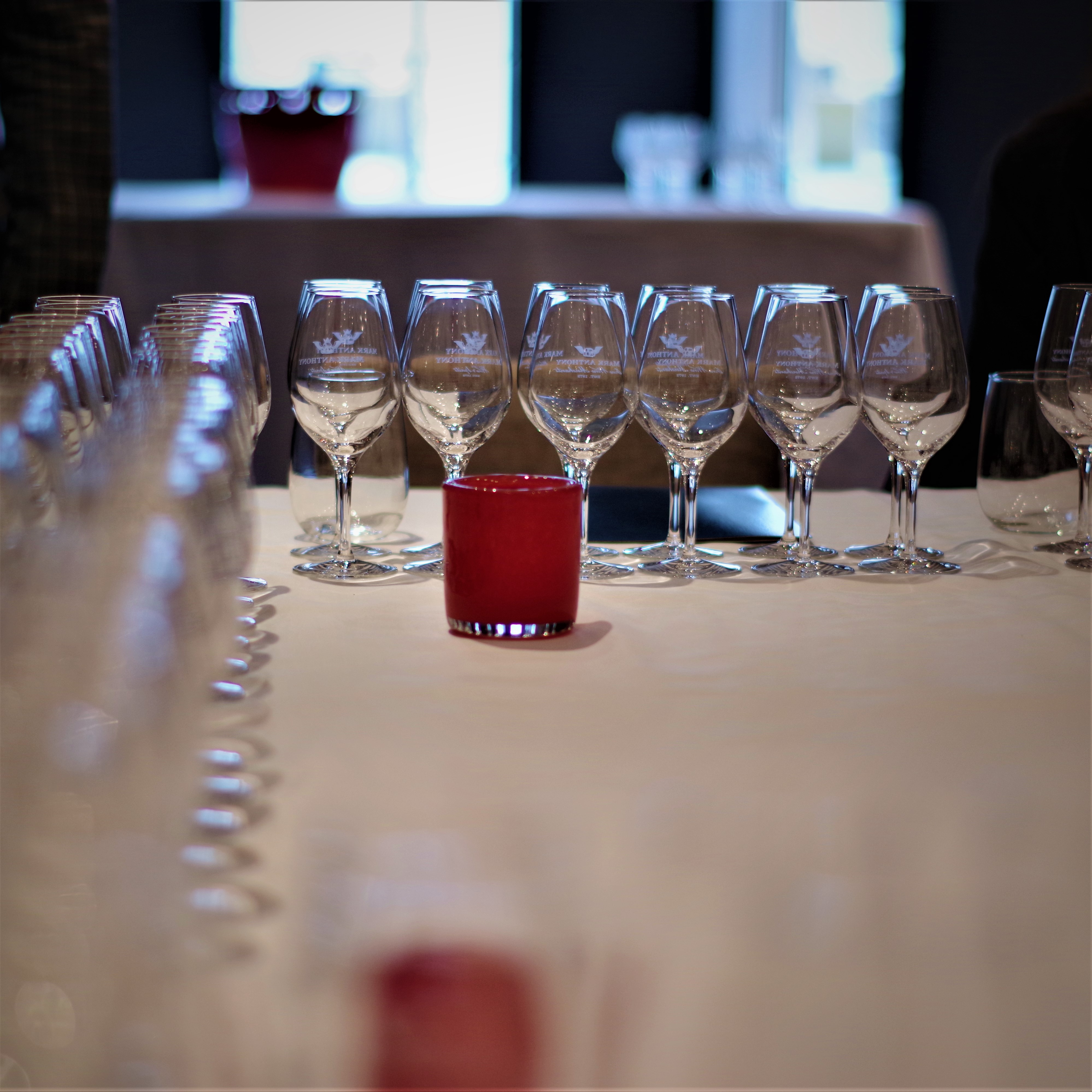 Fattoria dei Barbi
En tant que premier Brunello importé aux États-Unis, et avec une part croissante de la production destinée à  l'exportation, 55% allant vers 60%, Fattoria dei Barbi est un domaine historique qui continue d'être un pionnier des vins toscans. Si le nom ne sonne pas un indice, l'étiquette bleue très reconnaissable pourrait. Ce Brunello est la référence du domaine, consistant, classique et fabriqué chaque année, indépendamment des conditions du millésime. Cette marque emblématique a été importée par Mark Anthony depuis maintenant 18 ans et faisait déjà  partie du marché québécois auparavant.
Le domaine est l'un des cinq à  Montalcino ayant fonctionné en continu pendant plus de 100 ans. La famille Ccolombini a possédé des terres à  Montalcino depuis 1352, mais a seulement acquis Fattoria dei Barbi à  la fin du 18ème siècle. Ils ont été l'une des premières familles, juste après Biondi-Santi, à  produire du brunello. Cela pourrait sembler juste le passé pour vous, mais pour les vins classiques du vieux monde comme celui-ci, l'histoire, le statut et la tradition font partie du vin. Et encore, sans passé riche, la cave ne serait pas aussi pleine. Il cache des trésors très anciens et les visiteurs pourraient avoir un aperçu de Brunellos et Vin Santos datant de 1870.
Dès que les serveurs ont commencé à  verser les échantillons, toute la pièce était remplie de l'odeur magique des vins. C'est un joli moment qui annonce le début d'une dégustation très agréable.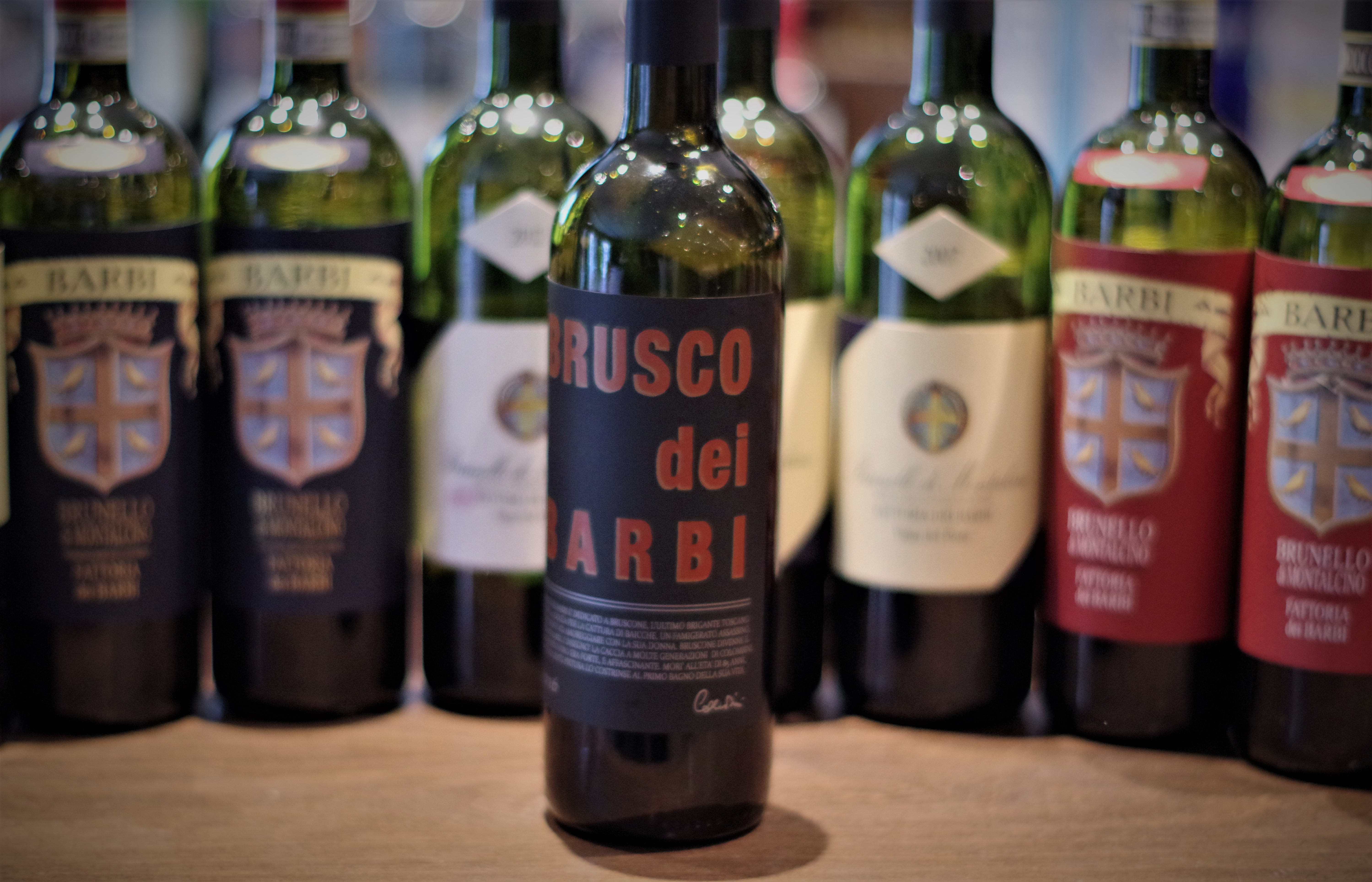 BRUSCO & ROSSO
Quelle est la différence? Rosso est une DOC officiel, 100% sangiovese et montre le potentiel d'élégance de ce cépage majestueux. Ce n'est pas une DOC très restrictive, il y a beaucoup de style de Rosso et il sont parfois appelés Picolo Brunello (petit Brunello), mais celui-ci se distingue seul. Le Brusco a été produit pour la première fois à  la fin des années 60. C'est un nom déposé que seul Barbi peut utiliser. C'est un vin accessible avec 10% de merlot. Une sorte de premier Super Toscans de Montalcino. C'est un vin de pizza, très vibrant.
VIGNA DEL FIORE
Créée par Francesca Colombini en 1981 comme cadeau autoproclamé pour son 50e anniversaire, c'est une parcelle unique et très féminine de la propriété. Il signifie littéralement vignoble de fleur, mais en fait, il se rapporte à  la rivière locale appelée Fiore. Il est large avec une expression et une substance incroyables, surtout dans le voluptueux 2007.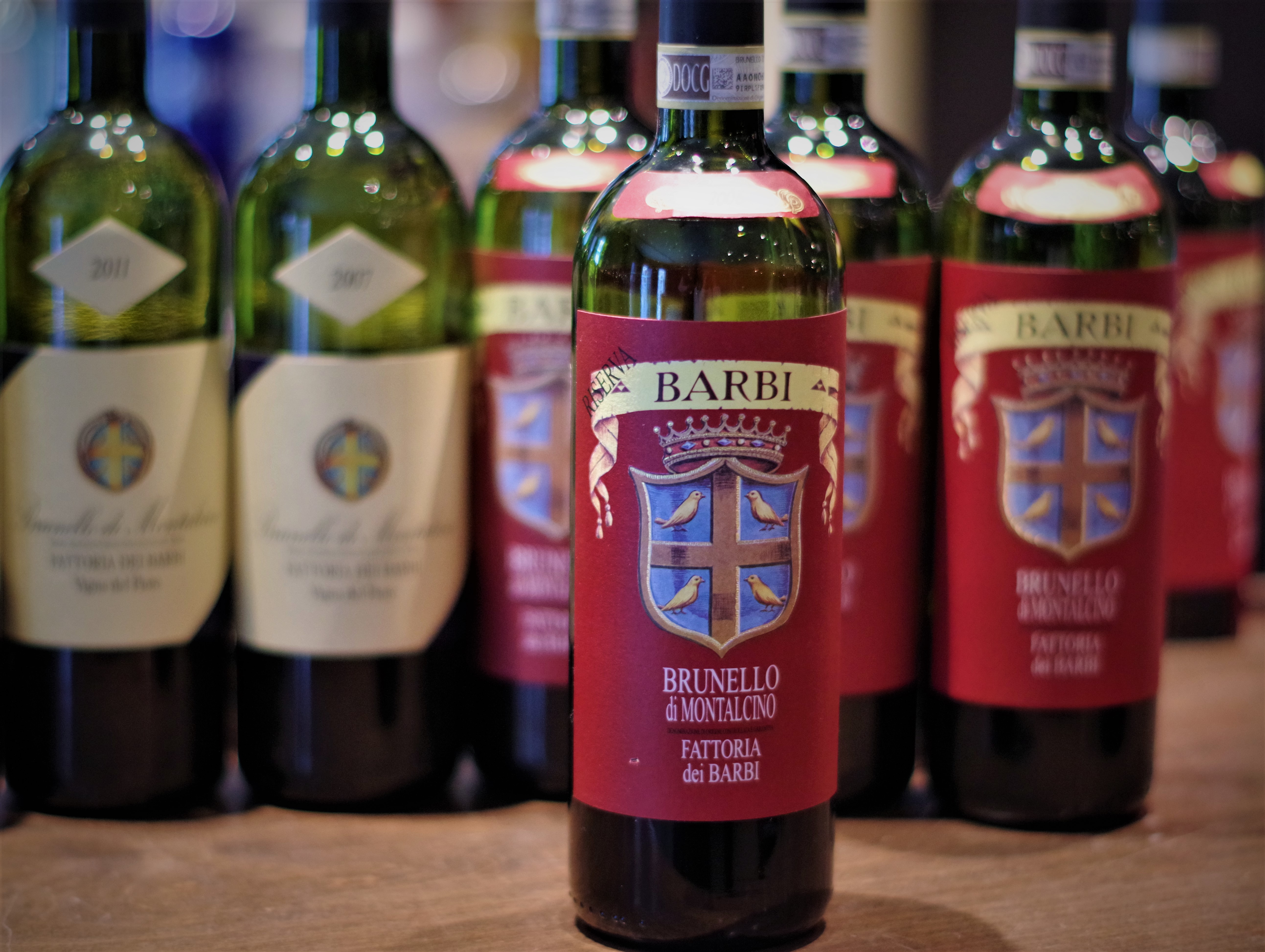 RISERVA
Les opinions divergent quant à  savoir quel vin de Fattoria dei barbi est le meilleur entre Vigna del Fiore et le Riserva. Je suppose que c'est une opinion personnelle. Le riserva est définitivement plus réservé et s'ouvre plus lentement. Il ne se donne pas tout de suite et il faut attendre qu'il s'ouvre. Il est plus structuré et mature. 2011 montre une grande concentration. 2010 n'a pas encore découvert qui il sera. Il est très timide. 2007 a été un millésime chaud et plus sec. 2006 est un millésime rond et doux, avec beaucoup de fraîcheur et une longueur superbe. Cependant, 2004 a été un millésime serré et dur, il est réducteur et manque la structure des autres millésimes.