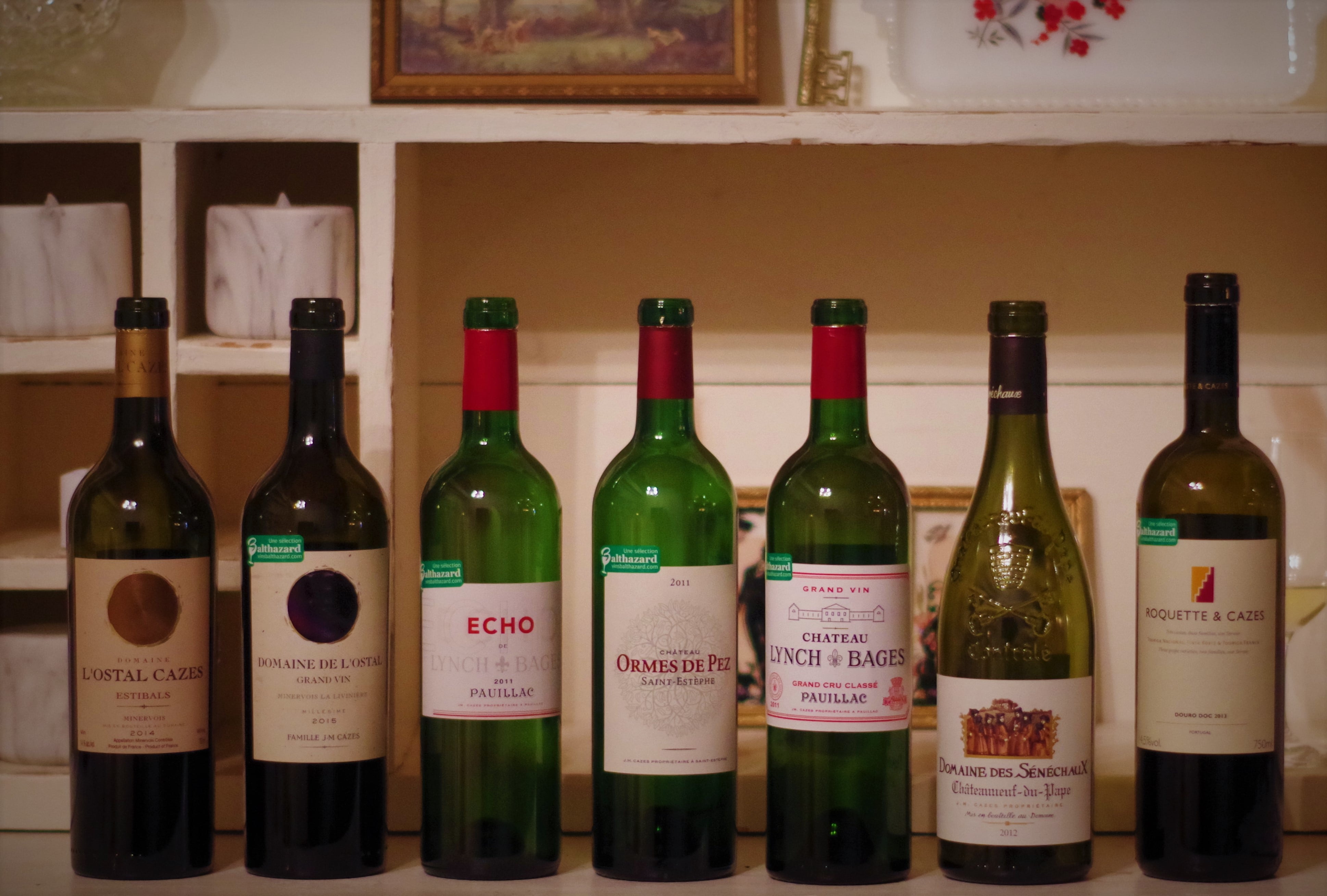 I've already wrote about one branch of the Cazes family, Sylvie Cazes and the wines of Château Chauvin but it's about time I address the main J M Cazes dynasty. Jean-Michel Cazes is the owner of Château Lynch-Bages, Ormes- de Pez, the luxurious relais & Chateau Cordeillan-Bages and, perhaps, the greatest ambassador for Bordeaux in his generation.
Requested in 1987 by Axa, he participated in the construction of Axa-Millésimes, which he managed for 14 years. In 1988, he acquired new properties: Villa Bel-Air in Graves, then La Livinière in Languedoc, renamed L'Ostal Cazes and, in 2005, Domaine des Sénéchaux in Châteauneuf-du-Pape. He also creates new wines, in Portugal and Australia, in partnership with family companies. In 1992, the Michel Lynch wine brand completed the range. Today, it is his son Jean-Charles Cazes who has been managing the domains of the JM Cazes Family since 2006. He has a tough act to follow. Jean-Charles has plenty to keep him busy: a new winery to build at Lynch-Bages (to be completed in 2019); a new wine project in the Douro Valley, Xisto; a generic third wine, Pauillac de Lynch-Bages; Château Les Ormes de Pez in St-Estèphe; Domaine des Sénéchaux in Châteauneuf-du-Pape; L'Ostal Cazes in Minervois; Tapanappa in Australia; and the wine merchant business, J.M. Cazes Sélection. A portfolio that is diverse in style and provenance but always focused on quality and the best local expression.
I had the pleasure to meet the great Jean-Michel's daughter, Kinou Cazes-Hachemian, in town with Cordeillan- Bages' chef, Julien Lefebvre for the Montreal en Lumières event. She's an incredibly friendly and kind character. She's responsible for finding all the designer creations and works of art that can be admired throughout the Lynch-Bages Wineries and in the boutiques of the village of Bages. Thus we can say she's behind the image of J.M. Cazes.
Lynch-Bages, Echo and Pauillac de lynch-Bages
I don't think this castle needs any introduction. At the entrance of the appellation, this wine has the power and finesse combination of Pauillac yet an outstanding precise and consistent backbone.
Lesser known from its rarity, Blanc de lynch-bages born in 1990 made with the three traditional grapes is a fresh and crisp beauty yet just a tease as it's almost impossible to find.
Château Haut-Bages Averous was the name of the former Pauillac estate acquired by André Cazes and was the domaine's second wine from 1976 onwards. It was renamed Echo de Lynch-Bages as of the 2008 vintage. It is a very deep and expressive wine with a strong depth of aromas.
Ormes de pez
At the time of the French Revolution, the current property was called the Domaine de Pez (meaning "peace" in the local dialect). As for the elms ("ormes") that have appeared on the bottle labels since 2003, they grew on the grounds of the domaine until this mythical variety of tree ceased to grow in Europe in the 1950's.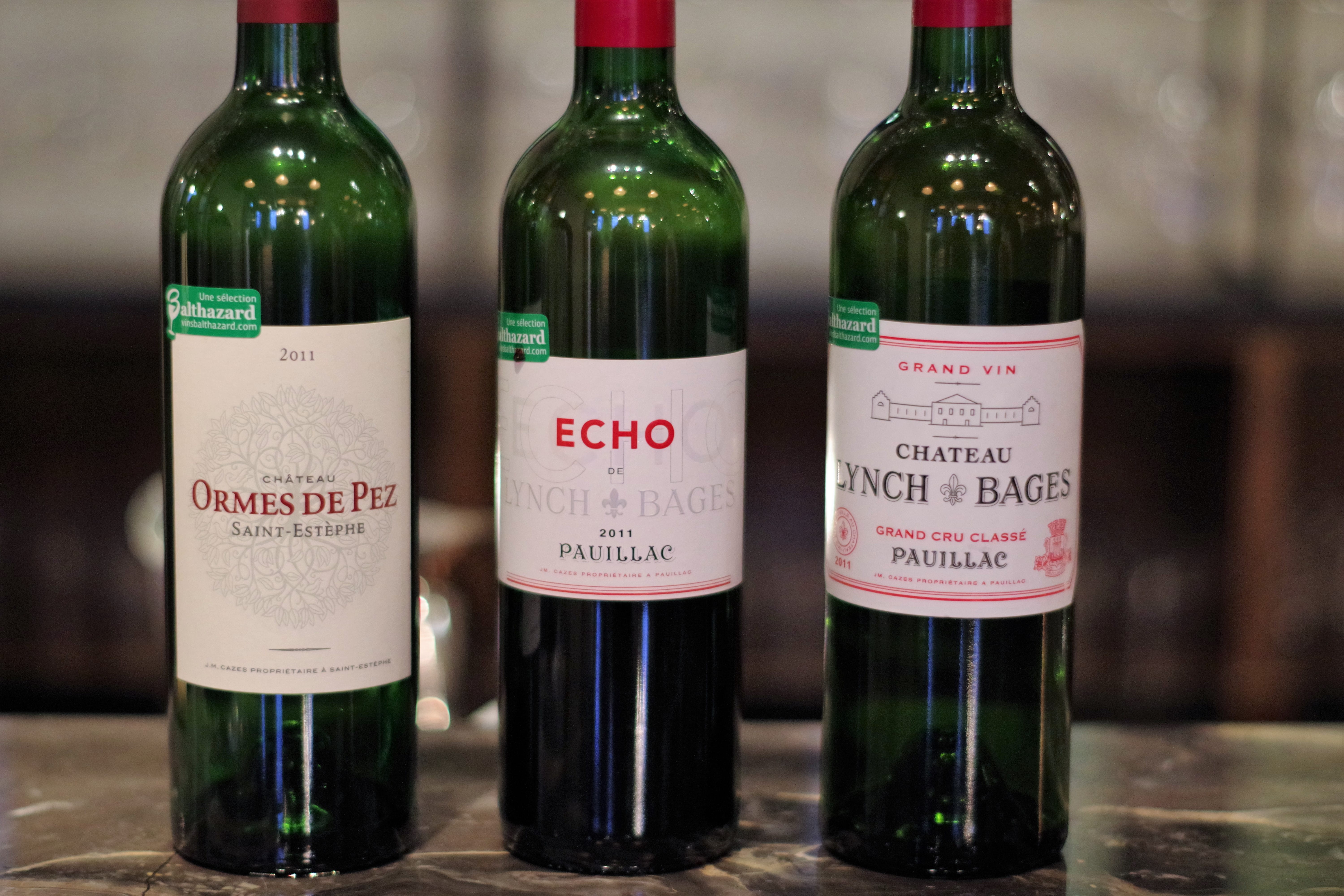 Domaine des Sénéchaux
The Domaine des Sénéchaux counts itself amongst the oldest vineyards in Castro Novo, the birthplace of the historical "vins du pape" and the creation of AOCs. It owes its name to the domaine's key vineyards in the Bois Sénéchaux area. A smooth yet robust Chateauneuf-du-pape that interprets the finesse and complexity of the art of blending. Under the responsibility of Bernard Tranchecoste ensures that the style of Chateauneuf-du-Pape is fully expressed.
Domaine L'ostal Cazes
Domaine L'ostal Cazes takes place in La Livinière, a village at the foot of the Montagne Noire, the birthplace of the finest vineyards in the Minervois. Minervois-La-Livinière is a six-village zone disciplined and well-organised enough to have won itself cru status as long ago as 1999, and which is now hoping to push on further, dropping the 'Minervois' bit. With only a handful of producers and a yearly local selection of top wines called La Livinage, it's one of the smallest but most discussed region of Languedoc.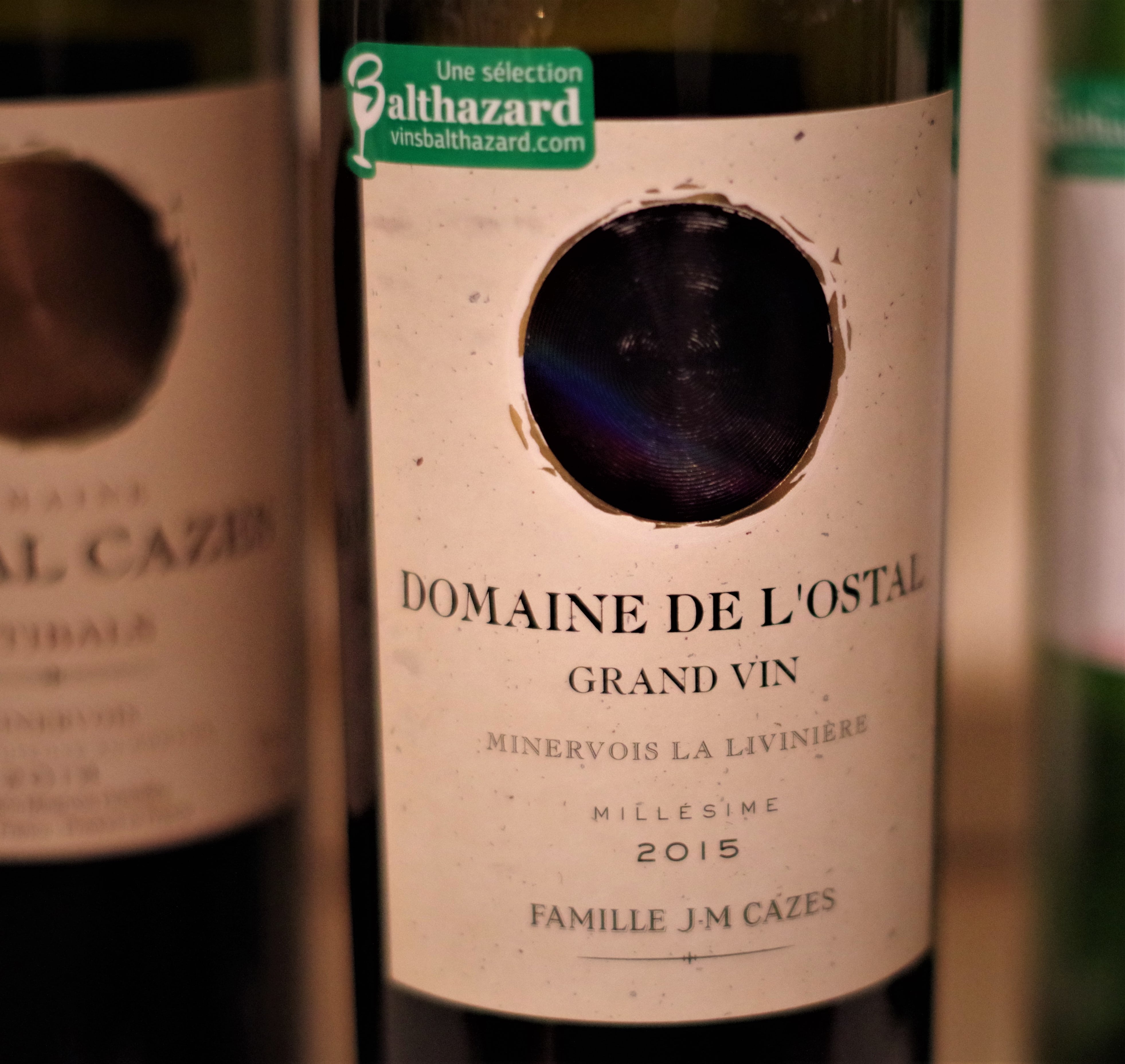 J'ai déjà  écrit sur une branche de la famille Cazes, Sylvie Cazes et les vins de Château Chauvin mais il est temps que je m'adresse à  la principale dynastie JM Cazes. Jean-Michel Cazes est propriétaire du Château Lynch-Bages, Ormes-de-Pez, du luxueux relais & Châteaux Cordeillan-Bages et, peut-être, le plus grand ambassadeur de Bordeaux de sa génération.
Requisitionné en 1987 par Axa, il participe à  la construction d'Axa-Millésimes, qu'il dirige depuis 14 ans. En 1988, il acquiert de nouvelles propriétés: Villa Bel-Air dans les Graves, puis La Livinière en Languedoc, rebaptisée L'Ostal Cazes et, en 2005, Domaine des Sénéchaux à  Châteauneuf-du-Pape. Il crée également de nouveaux vins, au Portugal et en Australie, en partenariat avec des entreprises familiales. En 1992, la marque de vin Michel Lynch complète la gamme. Aujourd'hui, c'est son fils Jean-Charles Cazes qui gère les domaines de la famille JM Cazes depuis 2006. Il a une lourde tâche à  suivre. Jean-Charles a beaucoup à  faire pour l'occuper: une nouvelle cave à  construire à  Lynch-Bages (à  terminer en 2019); un nouveau projet de vin dans la vallée du Douro, Xisto; un troisième vin générique, Pauillac de Lynch-Bages; Château Les Ormes de Pez à  St-Estèphe; Domaine des Sénéchaux à  Châteauneuf-du-Pape; L'Ostal Cazes dans le Minervois; Tapanappa en Australie; et l'activité de négoce de vins, J.M. Cazes Sélection. Un portefeuille diversifié en termes de style et de provenance mais toujours axé sur la qualité et la meilleure expression locale.
J'ai eu le plaisir de rencontrer la fille du grand Jean-Michel, Kinou Cazes-Hachemian, en compagnie du chef de Cordeillan- Bages, Julien Lefebvre, pour l'événement Montréal en Lumières. Elle est un personnage incroyablement amicale et gentille. Elle est responsable de trouver toutes les créations et Å"uvres d'art qui peuvent être admirées dans les caves de Lynch-Bages et dans les boutiques du village de Bages. Ainsi, nous pouvons dire que d'une façon, elle est derrière l'image de J.M. Cazes.
Lynch-Bages, Echo et Pauillac de Lynch-Bages
Je ne pense pas que ce château ait besoin d'une introduction. A l'entrée de l'appellation, ce vin possède la puissance et la finesse de Pauillac, une épine dorsale exceptionnelle et précise.
Moins connu de par sa rareté, Blanc de lynch-bages né en 1990 avec les trois cépages traditionnels est une beauté fraîche et croustillante mais juste une allumeuse car il est presque impossible d'en trouver.
Château Haut-Bages Averous était le nom de l'ancien domaine de Pauillac acquis par André Cazes et était le deuxième vin du domaine à  partir de 1976. Il a été rebaptisé Echo de Lynch-Bages à  partir du millésime 2008. C'est un vin très profond et expressif avec une forte profondeur d'arômes.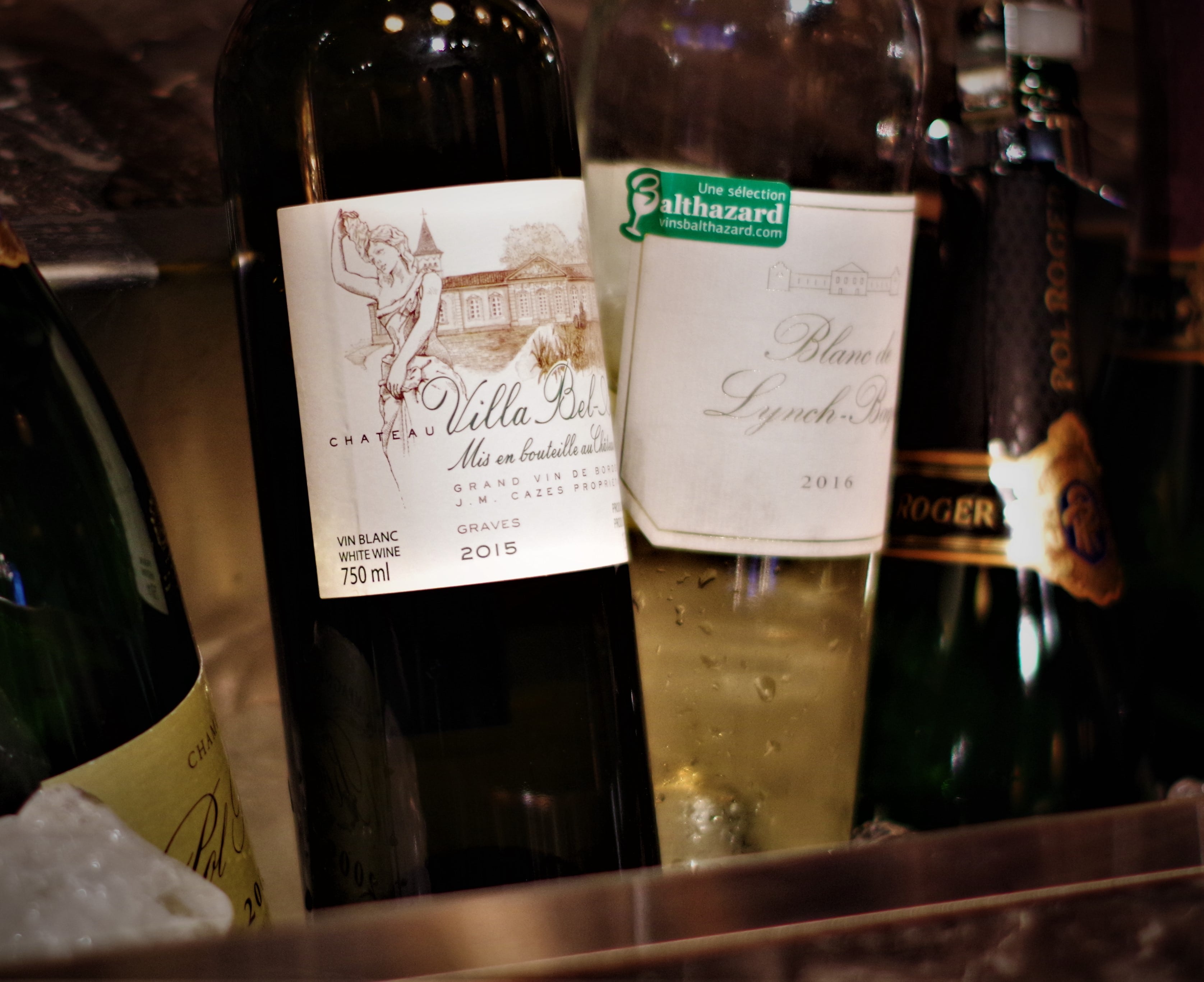 Ormes de pez
À l'époque de la Révolution française, la propriété actuelle s'appelait le Domaine de Pez (signifiant «paix» dans le dialecte local). Quant aux ormes apparus sur les étiquettes des bouteilles depuis 2003, ils ont poussé sur les terres du domaine jusqu'à  ce que cette variété mythique d'arbres cesse de croître en Europe dans les années 1950.
Le Domaine des Sénéchaux compte parmi les plus anciens vignobles de Castro Novo, berceau des vins du pape historiques et de la création des AOC. Il doit son nom aux principaux vignobles du domaine du Bois Sénéchaux. Un Chateauneuf-du-pape doux et robuste à  la fois qui interprète la finesse et la complexité de l'art de l'assemblage. Sous la responsabilité de Bernard Tranchecoste veille à  ce que le style de Châteauneuf-du-Pape soit pleinement exprimé.
Domaine L'ostal Cazes
Le Domaine L'ostal Cazes se déroule à  La Livinière, village au pied de la Montagne Noire, berceau des plus beaux vignobles du Minervois. Minervois-La-Livinière est une zone de six villages disciplinée et bien organisée, qui a remporté le statut de cru dès 1999, et qui espère maintenant aller encore plus loin, en laissant tomber le «Minervois». Avec seulement une poignée de producteurs et une sélection locale annuelle des meilleurs vins appelés La Livinage, c'est l'une des régions les plus petites mais les plus discutées du Languedoc.