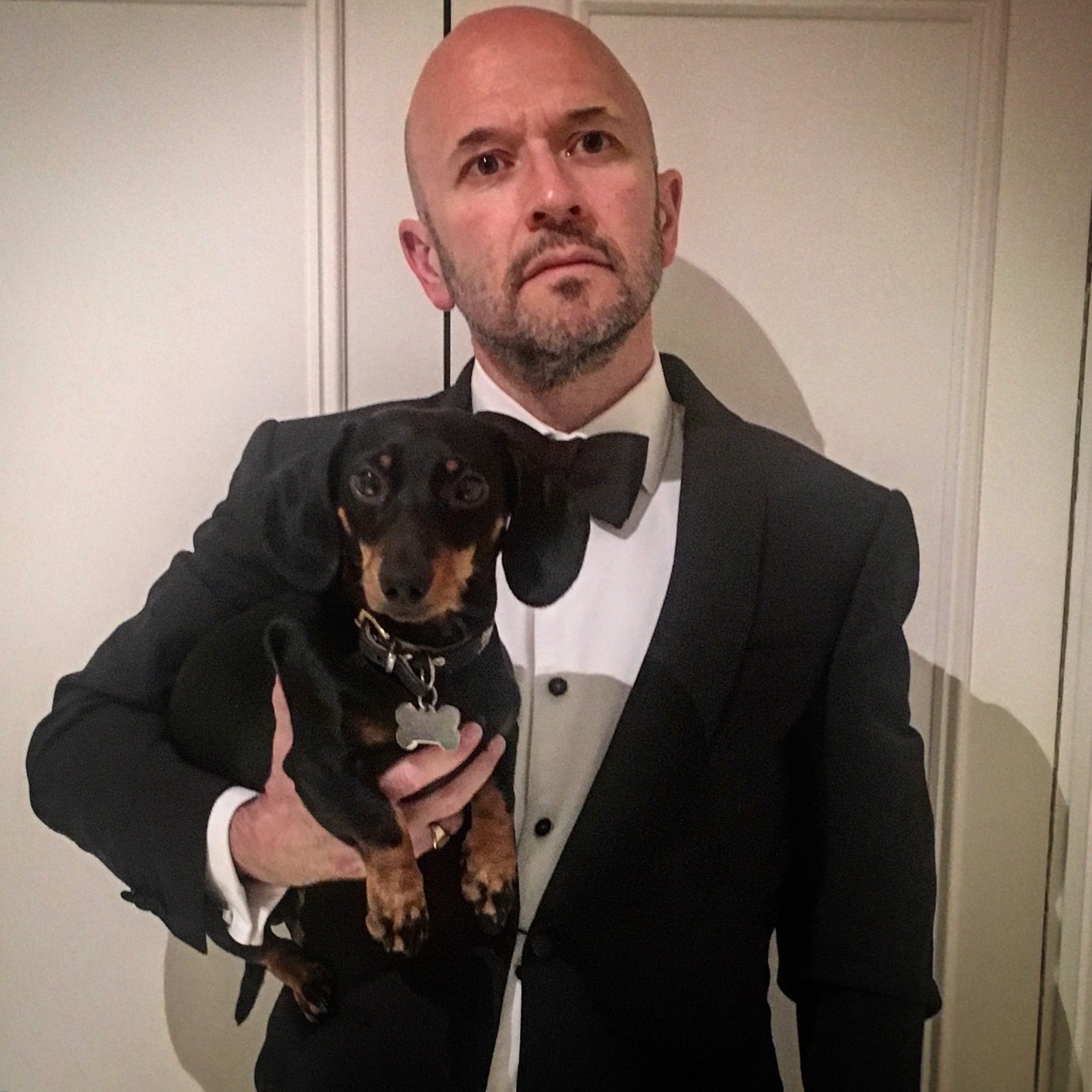 If like me, you've been completely addicted to the first season of The Wine Show, then Joe Fattorini don't need any introduction. The show has achieved the hard task to present the wine world to mainstream drinkers and non-experts but in a fresh and fun way that also appealed to the professionals and invested wine lovers.
For the last 20 years Joe has sold wine at Bibendum, one of the UK's leading wine merchants. But now, he's become more than just a wine expert and Obi Wine Kenobi. He is a presenter on television and Radio, a public speaker, a newspaper and magazine columnist and has recently been awarded the International Wine and Spirit Wine Communicator of the Year award which seems definitely well deserved.
(Spoiler alert on season 2 of wine show destinations)
Si comme moi, vous avez été complètement accro à  la première saison de The Wine Show, alors Joe Fattorini n'a besoin d'aucune introduction. Le spectacle a accompli la tâche difficile de présenter le monde du vin pour les buveurs réguliers et les non-experts, mais d'une manière fraîche et amusante qui a également attiré les professionnels et les amateurs de vin investis.
Au cours des 20 dernières années, Joe a vendu du vin à  Bibendum, l'un des meilleurs marchands de vins du Royaume-Uni. Mais maintenant, il est devenu plus qu'un expert en vin et Obi Wine Kenobi. Il est présentateur à  la télévision et à  la Radio, un grand conférencier, un chroniqueur de journaux et de magazines et a récemment reçu le prix International Wine and Spirit Wine Communicator of the Year qui semble certainement bien mérité.
(Dévoilement des destinations de la saison 2 de Wine Show)
When did you realize that wine was a passion?
I was very young really. I remember I had a wine book I was obsessed with when I was about nine at school. It was a boarding school and the priests didn't consider it 'improving reading'. But by the time I could drink I had already learned about the wines of the world and their history and what made them special. Even if I hadn't drunk many of them. I was lucky, my family used to occasionally let me try some pretty good wine. But I really fell in love with the places and people who made it and the history, rather than just wine itself. But since I turned eighteen I've caught up…
Quand avez-vous réalisé que le vin vous passionnait?
J'étais très jeune vraiment. Je me souviens que j'avais un livre de vin dont j'étais obsédé quand j'étais à  l'école vers neuf ans. C'était un pensionnat et les prêtres ne le considéraient pas comme « une lecture constructive ». Mais au moment où je pouvais commencer à  boire, j'avais déjà  appris sur les vins du monde et leur histoire et ce qui les rends spéciaux. Même si je ne n'en avais pas bu beaucoup encore. J'ai eu de la chance, ma famille avait l'habitude de me laisser de temps en temps essayer quelques très bon vin. Mais je suis vraiment tombé en amour avec les lieux, les personnes et l'histoire, plutôt que le vin lui-même. Mais depuis que je l'ai dix-huit ans, je rattrapé …
What is your favorite wine event?
I'd love to do more events to be honest. I speak at Taste of London each year, which is such a paradise for foodies. It's great to talk about wine with so many world-class chefs. And in the US for many years I spoke at the St Michaels Food & Wine Festival in Maryland. It's a fantastic event and brings together a great group of food and wine fans. I'm hoping maybe to go back there. I spoke this year at Vinitaly which was a treat. It's a vast event and every luminary from the European trade and beyond was there. I won the International Wine and Spirit Wine Communicator of the Year prize and this was part of the award.
Quel est votre événement viticole préféré?
J'aimerais faire plus d'événements pour être honnête. Je parle au Taste of London chaque année, qui est un paradis pour les gourmands. C'est génial de parler de vin avec tant de chefs de classe mondiale. Et aux États-Unis pendant de nombreuses années, j'ai parlé au St Michaels Food & Wine Festival du Maryland. C'est un événement fantastique et rassemble un grand groupe d'amateurs de gastronomie et de vin. J'espère peut-être y retourner. J'ai parlé cette année à  Vinitaly qui a été un régal. C'est un vaste événement et chaque sommité du commerce européen et au-delà  était là . J'ai gagné le prix International Wine and Spirit Wine Communicator of the Year et cela faisait partie du prix.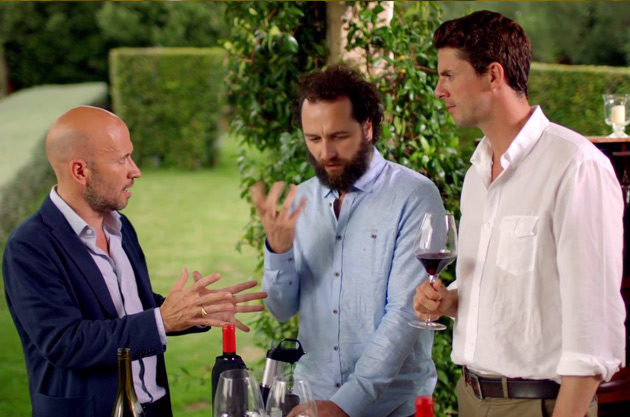 What are your plans for the coming year?
First up we've to finish filming series two of The Wine Show. We're about two thirds of the way through. Already we've been in Argentina, Canada, the USA, Bosnia, Croatia, Georgia, France, Germany, The Basque Country… we're in France and Spain again next week and then Japan. But once that's all done I'd love to spend more time in North America if I could come and speak to events there. We were overwhelmed by the number of people who'd seen The Wine Show when we were filming in California and Canada. Everyone was so generous and the passion for wine is extraordinary.
Quels sont vos projets pour l'année à  venir?
Tout d'abord, nous devons finir de filmer la série deux de The Wine Show. Nous sommes environ au deux tiers du chemin. Nous sommes déjà  aller en Argentine, au Canada, aux États-Unis, en Bosnie, en Croatie, en Géorgie, en France, en Allemagne, au Pays Basque … nous sommes en France et en Espagne à  nouveau la semaine prochaine, puis le Japon. Mais une fois que tout est terminé, j'aimerais passer plus de temps en Amérique du Nord si je pouvais venir parler à  des événements là -bas. Nous étions débordés par le nombre de personnes qui avaient vu The Wine Show quand nous tournions en Californie et au Canada. Tout le monde était si généreux et la passion pour le vin est extraordinaire.
What is the most remarkable bottle you have had the chance to taste?
Easy… it was in series one and I was able to try a 1791 Vin de Constance. A wine and vintage we know Napoleon enjoyed, and from the year Mozart died. It still tastes wonderful. But that doesn't do justice to the magic of drinking a piece of history. I'm lucky though, people are very generous with their wines and I try some astonishing bottles. I've had Lafite '43 twice – the best of the wartime vintages ('45 is really an Armistice vintage). This year someone opened a 1956 Tokaji. Not so old, but filled with significance as it was made just days before the 1956 revolution and was hidden from the authorities for so long.
Quelle est la bouteille la plus remarquable que vous avez eu la chance de goûter?
Facile … c'était pendant la première saison et j'ai pu essayer un Vin de Constance de 1791. Un vin et un cépage que nous savons que Napoléon a  apprécié, et l'année que Mozart est décédé. Il a toujours un goût merveilleux. Mais cela ne rend pas justice à  la magie de boire un morceau d'histoire. Je suis chanceux cependant, les gens sont très généreux avec leurs vins et j'essaie des bouteilles étonnantes. J'ai eu un Lafite '43 deux fois – le meilleur des millésimes de guerre (45 est vraiment un millésime d'Armistice). Cette année, quelqu'un a ouvert un Tokaji de 1956. Pas si vieux, mais rempli de signification comme il l'a été fait quelques jours avant la révolution de 1956 et a été caché aux autorités depuis si longtemps.
Which wine tourism destination is the most interesting in your opinion?
Wow, what a challenge. I think the most interesting place we've been has been Georgia, the cradle of winemaking with an 8,000 year winemaking history and the fascination of Qvevri winemaking. But few places can challenge the striking beauty of Argentina or the bucolic beauty of Tuscany. Or the heritage of Burgundy. Or the… you get what I mean. So many places we make wine just captivate you. I've always left wine show destinations feeling I've learned something quite profound about the world.
Quelle destination oenotouristique est la plus intéressante à votre avis?
Wow, quel défi. Je pense que l'endroit le plus intéressant que nous avons visité était la Géorgie, le berceau de la vinification avec une histoire vinicole de 8 000 ans et la fascination de la vinification en Qvevri. Mais peu d'endroits peuvent contester la beauté frappante de l'Argentine ou la beauté bucolique de la Toscane. Ou l'héritage de la Bourgogne. Ou le … vous voyez ce que je veux dire. Tant d'endroits où nous produisons du vin vous captivent. J'ai toujours quitté les destinations du Wine Show avec le sentiment d'avoir appris quelque chose d'assez profond sur le monde.