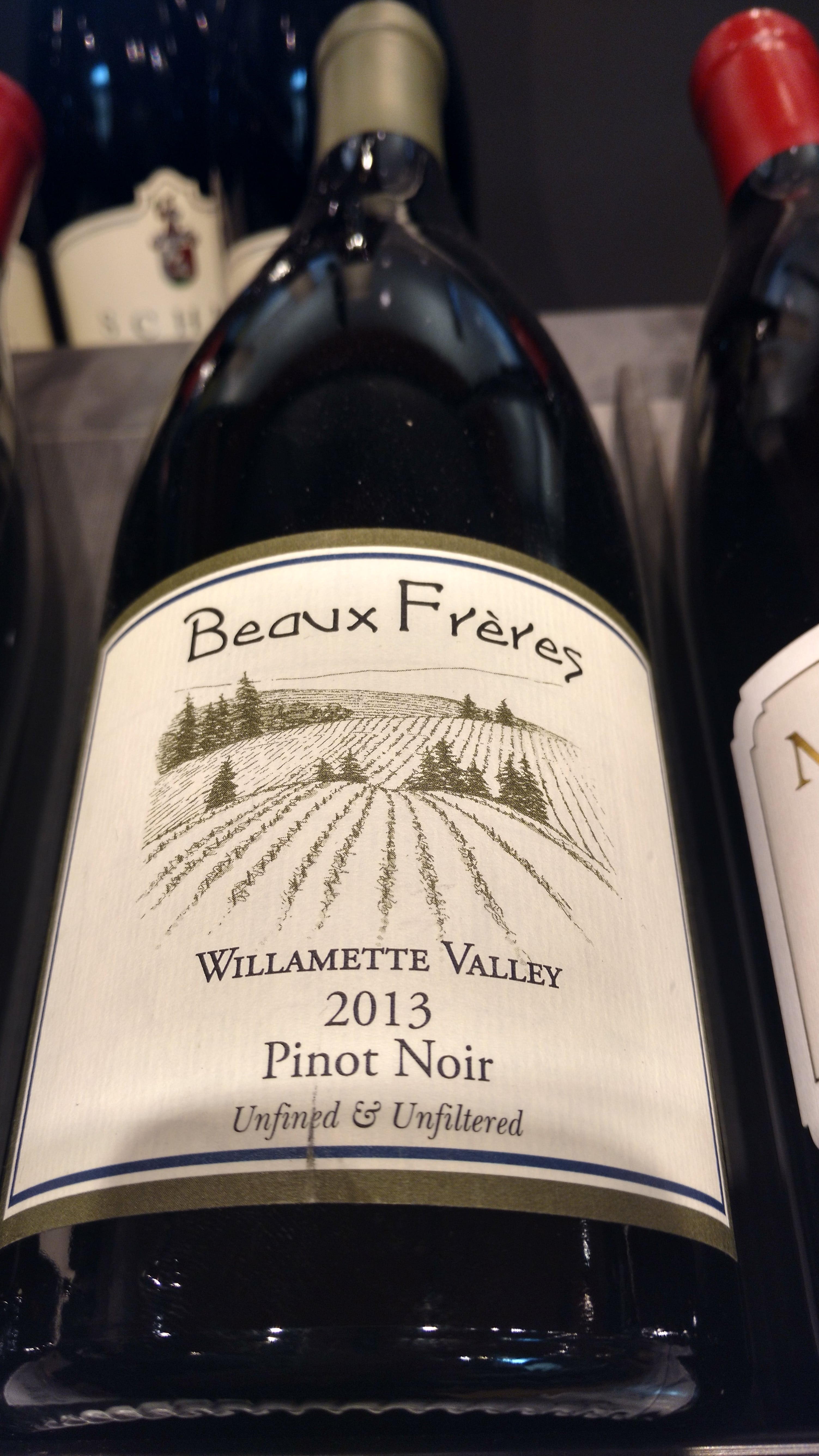 РIn 1987, Michael Etzel and brother-in-law, famous Robert Parker, purchased a run-down pig farm in Ribbon Ridge and established the basis of The Beaux Fr̬res Vineyard.
– While most of the vineyard is planted with different clones of pinot noir, there's also about 1500 vines of Grenache which are cuttings from Châteauneuf-du-Pape estate Rayas. They are the first Grenache vines in Oregon.
РIt is located on a farm atop Ribbon Ridge in the Chehalem Valley near Newberg. There are now two vineyards, the 23 acre Beaux Fr̬res Vineyard and the 10 acre upper terrace planted in 2000, which produce around 105 tons a year.
– Tall and stately Douglas fir trees cover nearly 50 acres of the farm.
– In 1991, one year after the first harvest, a third partner, Robert Roy, joined in as financial support to build the winery.
– All the estate is farmed following biodynamic principles.
– Michael Etzel uses an old fire truck to water compost heaps destined for the vines, and these heaps need 1000 gallons every couple of weeks to help them compost right.
– 2017 marked the winery 25th
– For years, the Oregon winery Beaux Frères used the Belles Soeurs label for all its non-estate wines. However, since 2005, all of the non-estate wines carry the Beaux Frères label with a subhead: "The Willamette Valley."
РBesides the original Pinot Noir vineyard, the upper hill and others, Beaux Fr̬res produces a Gran Moraine Chardonnay. A rare, White Burgundy-inspired wine.
– En 1987, Michael Etzel et son beau-frère, le célèbre Robert Parker, ont acheté une ferme porcine à  Ribbon Ridge et ont établi la base du vignoble Beaux Frères.
– Bien que la plupart des vignes soient plantées avec différents clones de pinot noir, il y a aussi environ 1500 vignes de Grenache qui sont des boutures du domaine Rayas à  Châteauneuf-du-Pape. Ce sont les premières vignes de Grenache en Oregon.
РIl est situ̩ sur une ferme au sommet de Ribbon Ridge, dans la vall̩e de Chehalem pr̬s de Newberg. Il y a maintenant deux vignobles, le vignoble Beaux Fr̬res de 23 acres et la terrasse sup̩rieure de 10 acres plant̩e en 2000, qui produisent environ 105 tonnes par an.
РDe grands et Majestueux sapins de Douglas couvrent pr̬s de 50 acres du domaine.
– En 1991, un an après la première récolte, un troisième partenaire, Robert Roy, s'est joint à  l'équipe comme soutien financier pour construire la cave.
РTout le domaine est cultiv̩ selon les principes biodynamiques.
– Michael Etzel utilise un vieux camion de pompier pour arroser les tas de compost destinés aux vignes, et ces tas ont besoin de 1000 gallons toutes les deux semaines pour les aider à  composter comme il faut.
Р2017 a marqu̩ le 25e mill̩sime.
– Pendant des années, le vignoble Beaux Frères a utilisé le label Belles Soeurs pour tous ses vins qui ne sont pas du domaine. Cependant, depuis 2005, tous ces vins portent le label Beaux Frères avec un sous-titre: "The Willamette Valley".
РOutre le vignoble de Pinot Noir original, la colline sup̩rieure et les autres, Beaux Fr̬res produit aussi un Chardonnay Grand Moraine. Un vin rare, inspir̩ de la Bourgogne.