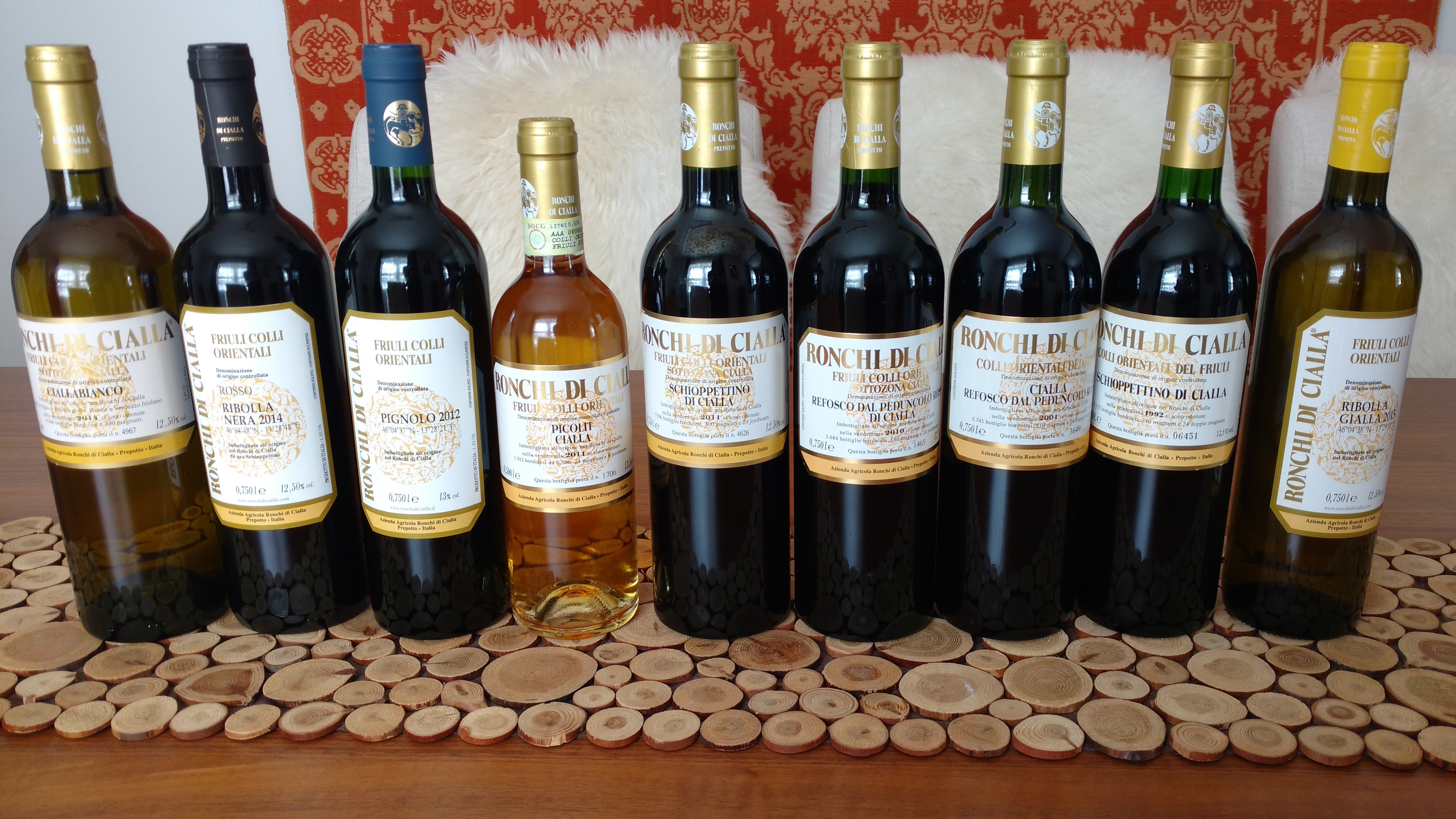 I was fortunate and delighted to receive an invitation from my beloved mentor, Richard Sagala, to taste rare grape varieties from the Friulli Colli Orientali appellation, located in the Friuli-Venezia Giulia region a few kilometers from Udine. The DOC was established in 1970 while Colli Orientali del Friuli Picolit became a separate DOCG in 2006. The hills of Colli Orientali are home to some of the most prestigious vineyards in Friuli. The vine-growing zone is divided into three subregions. To the north is Ramandolo, and its eponymous, very respected dessert wine from Verduzzo. In the center is the town of Cialla and in the extreme south, is Corno di Rosazzo. It seems that the Ribolla Gialla variety was born in this region and continues to develop there today.
The estate Ronchi di Cialla is strictly a family business. While Dina and Paolo Rapuzzi, who founded it in 1970, were attracted to wine culture as a way of life, their children Pierpaolo and Ivan belong to a generation that "grew up with vines". The union of the two generations gave a mixture of modernity and ancient traditional heritages, like the use of these rare grape varieties.
J'ai eu la chance et le très grand plaisir d"être invitée par mon mentor, Richard Sagala, à  déguster des cépages rares de l'appellation Friulli Colli Orientali, situé dans la région Frioul-Vénétie Julienne à  quelques kilomètres d'Udine. La DOC fut établit en 1970 tandisque Colli Orientali del Friuli Picolit est devenu une DOCG séparé en 2006. Les collines de Colli Orientali abritent certains des vignobles les plus prestigieux du Frioul.
La zone viticole est divisée en trois sous-régions. Au nord se trouve Ramandolo, et son vin dessert éponyme et très respecté issu du c.page Verduzzo. Au centre se trouve la commune de Cialla et dans l'extrême sud, se trouve Corno di Rosazzo. Il parait que la variété Ribolla Gialla est née dans cette région, et qu'elle continue de s'y développer aujourd'hui.
Le domaine Ronchi di Cialla est strictement une entreprise familiale. Alors que Dina et Paolo Rapuzzi, qui l'ont fondé en 1970, ont été attirés par la culture du vin comme mode de vie, leurs enfants Pierpaolo et Ivan appartiennent à  une génération qui «a grandi avec des vignes». L'union des deux générations a donné un mélange de modernité et d'anciens héritages traditionels, comme l'usage de ces cépages rares.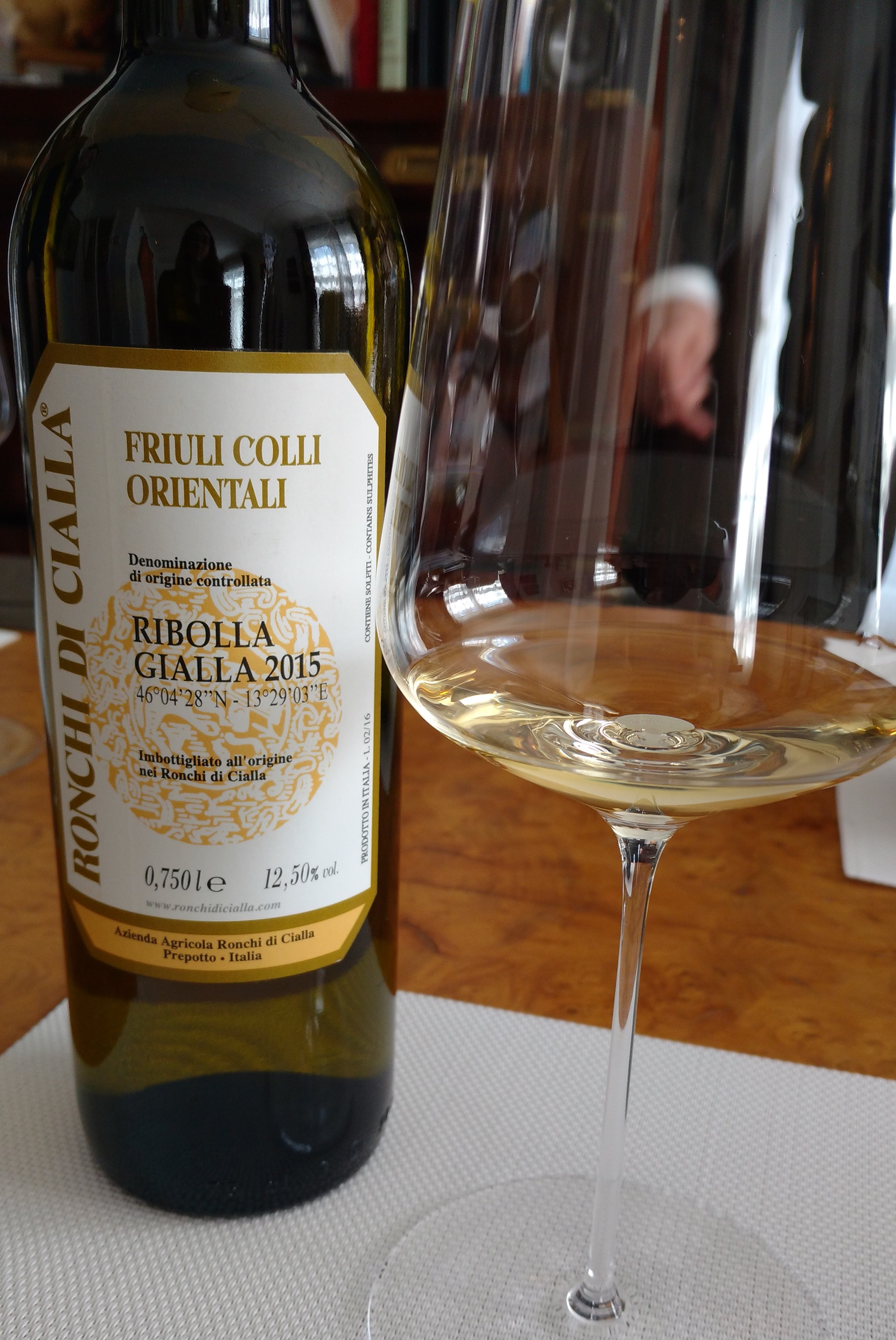 This Ribolla Gialla is very original and delicate. while the first impression is filled with refreshing acidity and aromas reminiscent of lemon pies or lemon cannelé, with some time it develops a great minerality, some white pepper and honeyed notes.
Ce Ribolla Gialla est très original et délicat. Tandis que la première impression est remplie d'acidité rafraîchissante et d'arômes rappelant la tarte au citron ou le cannellé au citron, avec un peu de temps le vin développe une grande minéralité, du poivre blanc et des notes aggréablement miellé.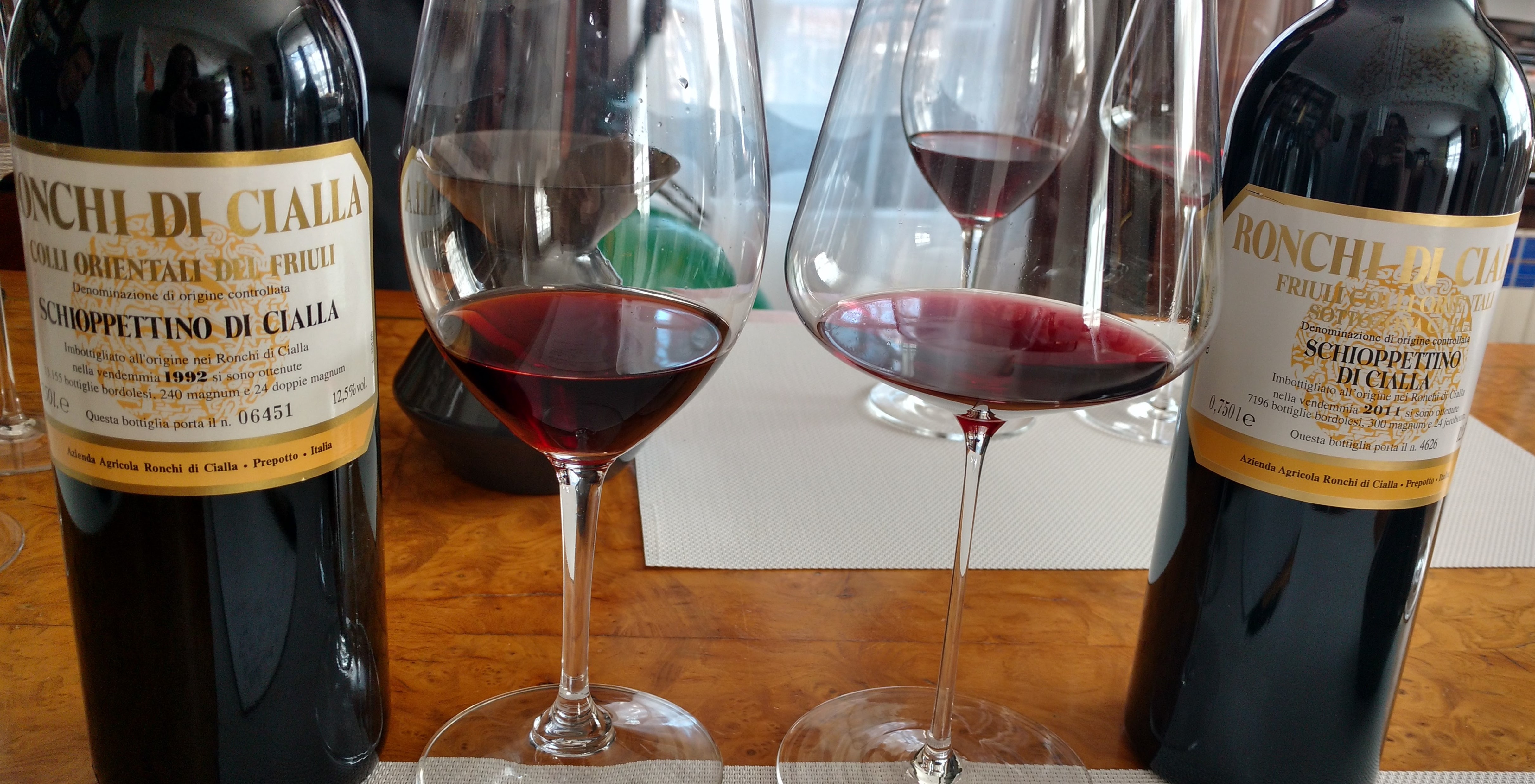 Schioppettino follows the historical events common to all other indigenous grapes grown in Friuli, a big mess! With the appearance of mildew and phylloxera later, has seen fit to remove them and to introduce the most noble French grape varieties. Schioppettino and many other varieties started disappearing. It was the Rapuzzi family, with their goal to cultivate only  native Friulian grape varieties that started the rebirth of schioppettino. 
Ian d'Agata,  director of the International Wine Academy and author of Native wine grape of Italy has described Schioppettino as" a gentler, less muscular and perfumed red wine". The 2011 was in fact quite elegant and refined with lot of personality. Along nice red cherries aromas was a touch of animal and spicy notes. The tertiary aromas were restrained and subtle. As for the 1992, I believe it was passed its best, the nose was similar to an old tawny with dried figs, olives and coffee but it was flavorless.
Le Schioppettino a suivi les événements historiques communs à  tous les autres raisins indigènes cultivés au Frioul, un gros désordre! Avec l'apparition de la moisissure et du phylloxéra, certaines authorités on jugé bon de retirer les vignes et d'introduire les cépages français les plus nobles. Le Schioppettino et beaucoup d'autres variétés ont commencé à  disparaître. Ce fut la famille Rapuzzi, dans le but de cultiver uniquement des variétés de raisin frioulan natif qui ont instaurer la renaissance du schioppettino.
Ian d'Agata, directeur de l'Académie Internationale du Vin et auteur de Native wine grape of Italy a décrit le Schioppettino comme «un vin rouge plus doux, moins musclé et parfumé». Le 2011 était en fait assez élégant et raffiné avec beaucoup de personnalité.  Les arômes de cerises rouges sont accompagnés d'une touche de notes animales et épicées. Les arômes tertiaires étaient restreints et subtils. En ce qui concerne le 1992, je crois qu'il est en dégradation, le nez était semblable à  un vieux Tawny aux arômes de figues sèches, olives et café, mais il était sans saveur.