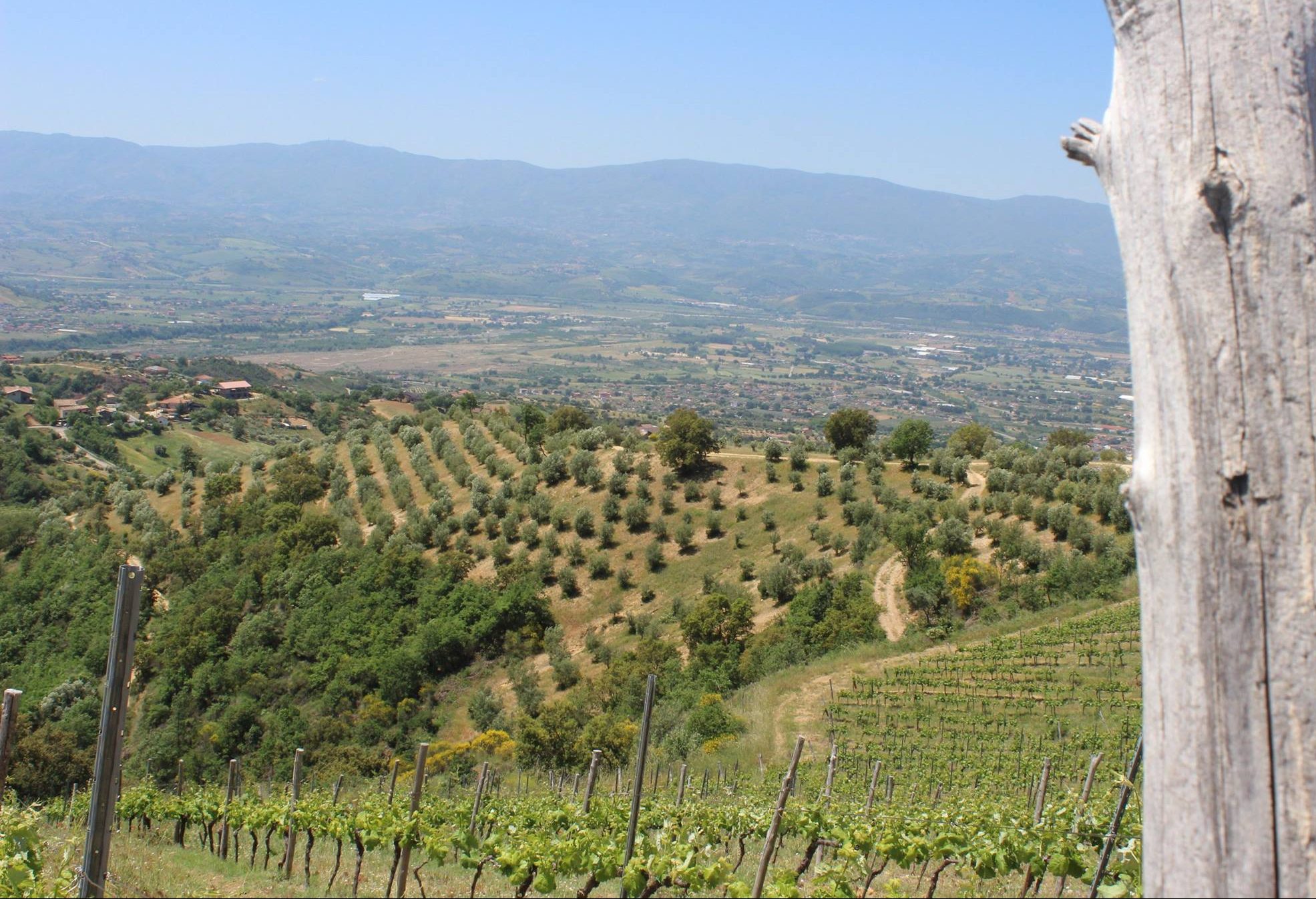 Calabria, located in the South, at the toe of Italy, is one of the smallest wine-producing regions of the country, but it's rich with unique style and local grape varietals to discover. This peninsula between the Ionian Sea and the Tyrrhenian Sea with also has the Apennines Mountains on its Northern Border. The region has enormous potential and a beautiful picturesque landscape.
The Greeks first began vine cultivation there and for many centuries, viticulture was an important cultural and economic aspect for the region. Calabria has a long and proud history of winemaking. Legend has it that the vineyards which covered the coastal hills of the region inspired the ancient Greeks to mint their coins with the title 'Oenotria', the land of wine. It's also said that Calabrian athletes at the ancient Olympic games toasted their triumphs with Krimisa. This wine is thought to be identical to that found today, making it one of the oldest known wines in Europe. After phylloxera, the region has never quite recovered from the loss of its vineyards and struggled to compete with the international development of wine culture. Nonetheless, Wines from Calabria has managed to preserve their rustic and rural character as well as its Southern rich style.

CALABRIA APPELLATIONS
There's a handful of DOCs in Calabria, but most of them are put aside in favor of the more flexible IGTs. For now, there's no DOCG yet in Calabria, but with recent activities and revitalization of the region by younger producers, we might as well expect great things from the region.
CIRÒ: Best known appellation in Calabria, CIRÒ is also known for its rich red wines predominantly from the local Gaglioppo grape variety. It's considered one of the oldest named wines in the world
MELISSA : A neighbor to the better-known Cirò, MELISSA shares the same potential and similar attributes. Melissa Rosso must be based on a 75-95 percent component of Gaglioppo. The balance must be one or more of the dark-skinned Greco Nero and/or one or more of the white grapes Greco Bianco, Malvasia Bianca and Trebbiano Toscana.
LAMEZIA : in LAMEZIA, you'll find mostly blends between Sicilian red varieties Nerello Mascalese and Nerello Capuccio, accompanied by local reds such as Gaglioppo, Greco Nero, Nocera and Calabrese.
SAVUTOÂ : Named after the Savuto River, the local name for Gaglioppo here is Arvino and can make up to 45% of its red blends.
BIVOGNI: Introduced in June 1996, it's the youngest of the region's DOCs. This is an area defined by coastal hills. Bivongi wines remain relatively unknown in the wine world outside Italy. Most of Bivongi wines are red although white and rosé are also allowed.
GRECO DI BIANCOÂ : Unique and interesting, while most of Calabrian wines are red, GRECO DI BIANCOÂ produces exclusively a deep old gold-colored dessert wine, made using the passito method on Greco Bianco grapes.
SANT ANNA ISOLA CAPO RIZZUTO : Following the coastline, only red and rosés are allowed in this appellation. The red blends here are made up of 40 to 60% Gaglioppo and may be blended with six other varieties including two white (Nocera, Nerello Mascalese, Nerello Cappuccio and Malvasia Nera, Greco Nero and Malvasia Bianca) similarily to Côte-Rotie Custom.
SCAVIGNA: Seldom used, Scavigna is a very small DOC, with strict restriction and many producers prefer using IGT status for flexibility.
TERRE DI COSENZA: Terre di Cosenza is a relatively new addition to the DOCs of Calabria, introduced in 2011. It concentrates on the local dark-skinned grape Magliocco (also known as Arvino and Mantonico Nero)
IGTs : Arghillà , Calabria, Costa Viola, Lipuda, Locride, Palizzi, Pellaro, Scilla, Val di Neto, Valdamato
NATIVE GRAPES
There are hundreds of grape varieties native to Calabria that are preserved and prized. They are part of the unique heritage in Calabria and provide a great sense of place and authenticity to the wines of the region.
GAGLIOPPO: Gaglioppo is Sangiovese's rad child and Sicily's Nerello Mascalese 's cousin. It achieves world-class results in Cirò. It produces wines typified by a range of crushed berry flavors, often accented by cherry and spicy secondary notes.
CASTIGLIONE: The Castiglione grape is an exclusive variety of Calabria region, found notably in Terre di Cosenza. Castiglione grapes give a ruby red wine, more or less strong, of vinous aroma and slightly tannic structure.
GRECO NERO: Often used in blends, Greco Nero is part of a large family of grape varieties so-called "Greeks", whose origin and dissemination, although uncertain, is common as they all seem to have derived from grapes imported from the Greek settlers. It can also be known as Grecu Niuru or e Maglioccone (in the area of Bivongi).
MAGLIOCCO: Magliocco is the king of Cosenza. The characteristics of Magliocco Canino are quite distinctive. The taste of this red wine bears an amazing taste of spices and pepper. Along with the intense spicy flavor, this red grape wine also has red – fruity flavor.
NATIVE WHITES
ADDORACA: This extremely rare variety is found in the province of Cosenza where it is used in the production of the dessert wine Moscato di Saracena.
GRECO BIANCO: Greco Bianco can make excellent wines from dry through to fully sweet.
PECORELLO: Pecorello is a minor grape of the Calabria region, present mainly in the province of Cosenza. It gives a pale yellow wine with an intense aroma and a delicate but refreshing palate.
MANTONICO: Mantonico is an impressive white grape variety that was historically used for passito, but has achieved compelling results as a dry wine.
TRY SOME WINES FROM CALABRIA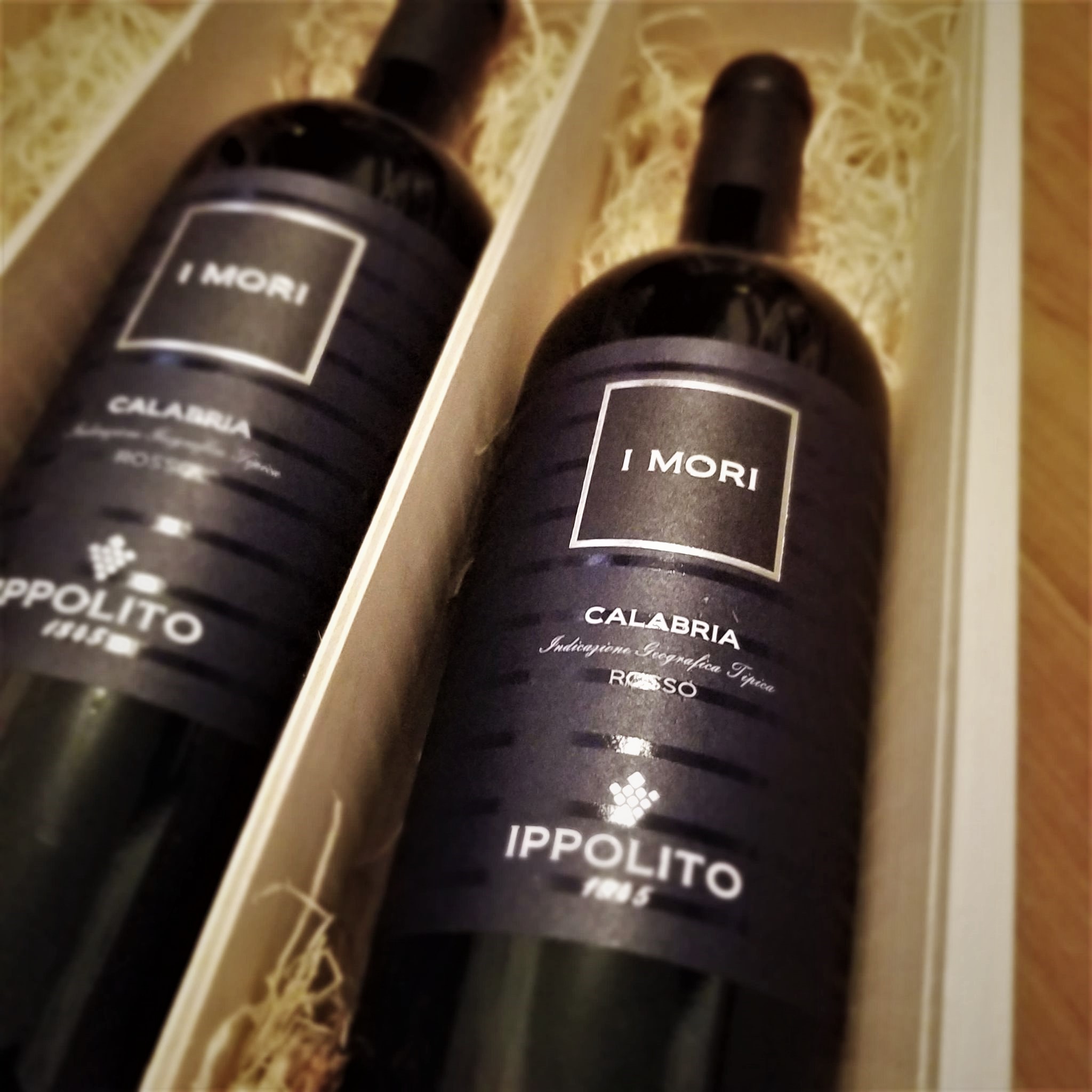 Ippolito 1845 I Mori Calabria 2017
This wine is a blend of the classic and historical Gaglioppo varietal and the more international Cabernet Sauvignon.  Its aromas are definitely rich and thick of ripe fruit, prunes, and dried fruits with a smoky character. It shows signs of ripening under the strong southern Italian sunshine and offers smooth tannins and mouthfeel.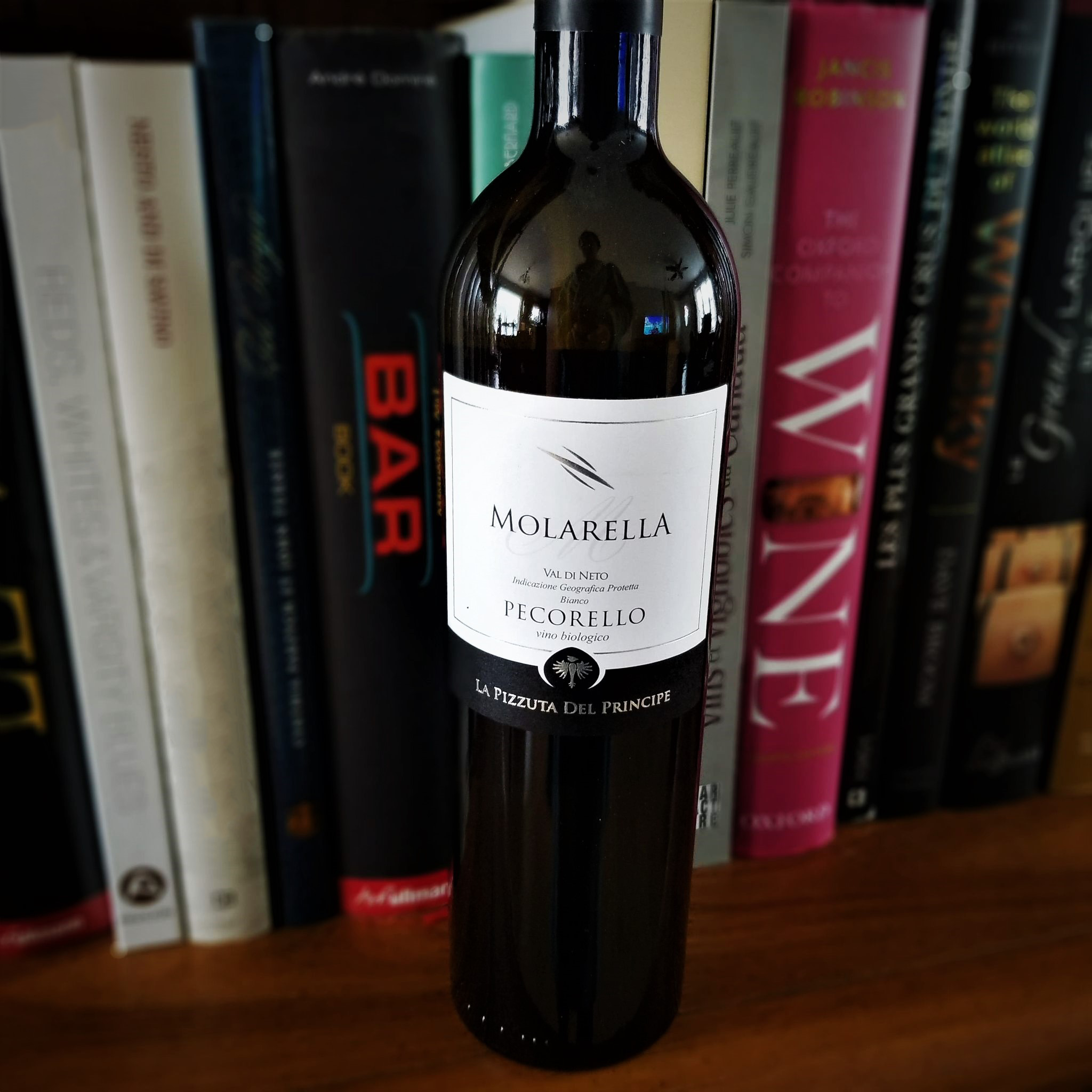 La pizzuta del Principe Molarella Val di Neto 2019
This 100% Pecorello really showcases this varietal potential as a highly refreshing, fragrant dry and mineral white wine.  Pecorello is still unknown to most, but is part of the Calabria viticulture heritage. Ripe yellow apples and floral aromas take up the most place, but there's also hint of crushed rock and a saline finish.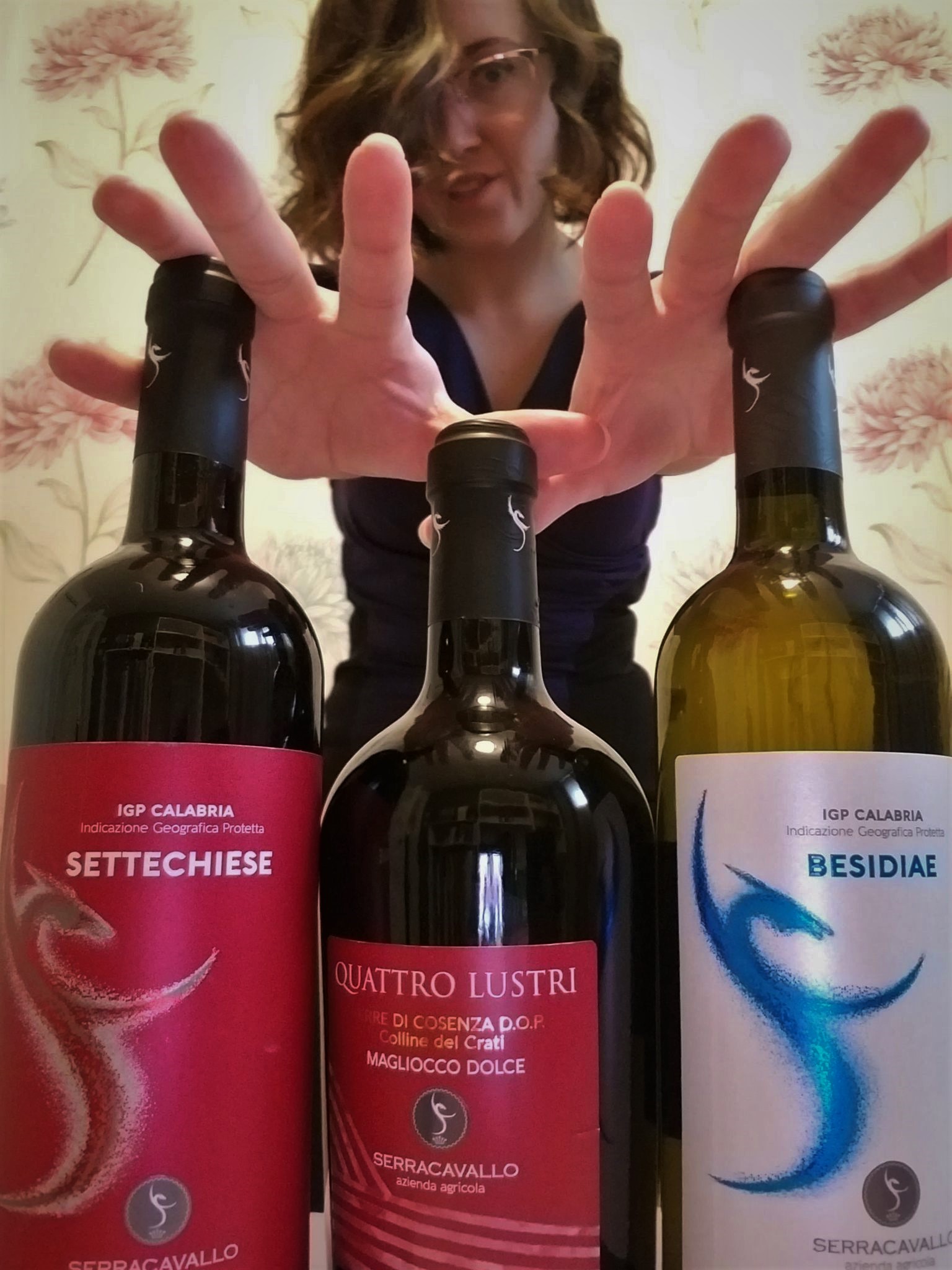 Serracavallo Besidiae Calabria 2019
A blend of 40% Pecorello, 30% Chardonnay, and 30% Riesling. This pale straw-colored wine is soft overall, with delicate notes of pear and apple, plus a distinct note of lime. The palate shows a fresh approach with a chiseled textured and a citric touch
Serracavallo Sette Chiese Calabria 2019
This blend of Magliocco (60 %), and Cabernet Sauvignon (40 %) has an interesting smoky character doubled with vanilla, plum, blackberries, and green tomato leaf. It's light in color with purple reflections, but rich in taste with a consistent, soft palate.
Serracavallo Quattro Lustri Terre di Consenza 2019
Terre di Cosenza is a relatively new addition to the DOCs of Calabria, introduced in 2011. It concentrates on the local dark-skinned grape Magliocco (also known as Arvino and Mantonico Nero) and so is the Quattro Lustri which is 100% Magliocco. On the nose, it opens with aromas of dense wild berries, macerated plum, vanilla, and scrubland. It's very juicy and bright, with a slight perception of sweetness that gives it a smooth and delicious finish.