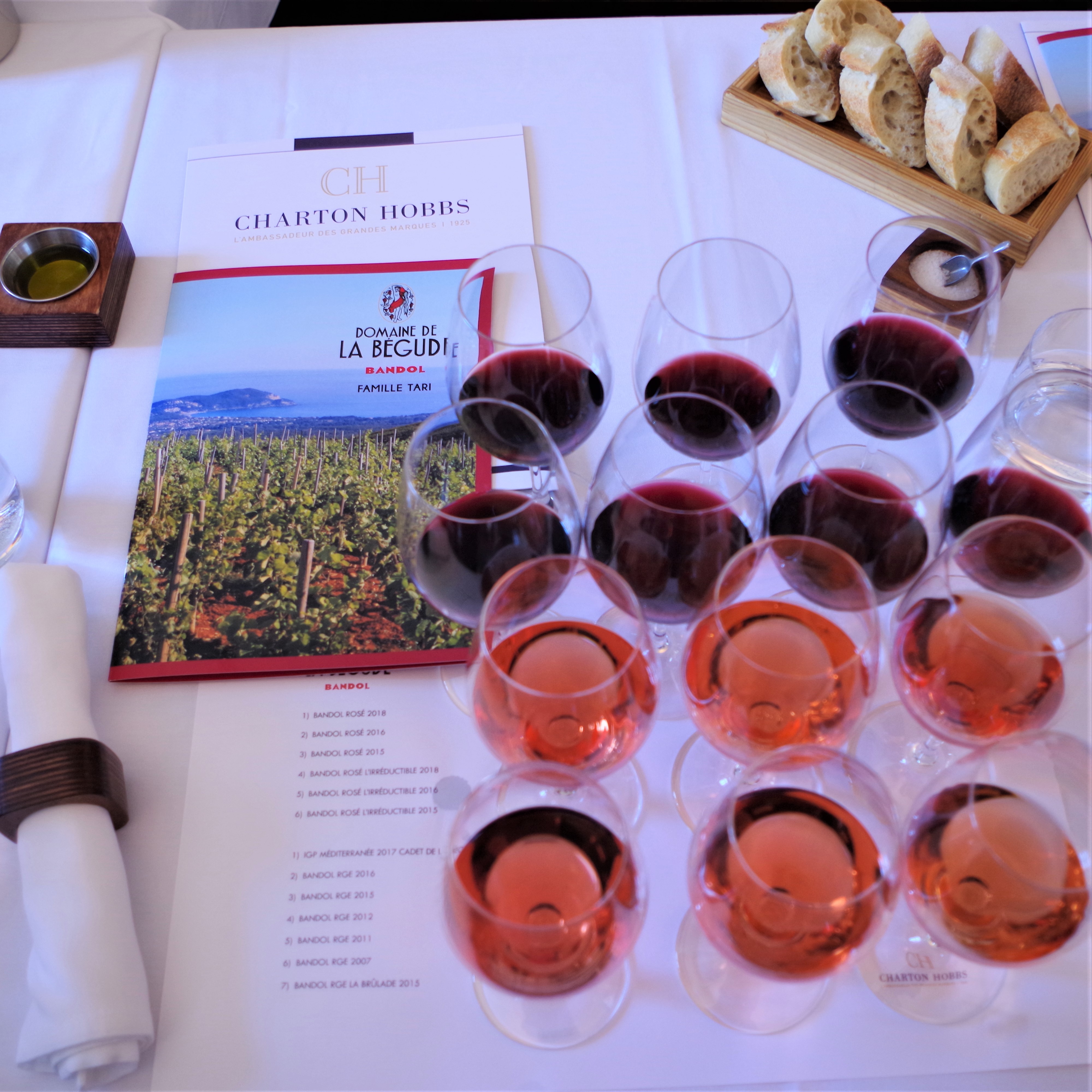 Bandol, the little piece of paradise between Marseille and the Mediterranean is one of the only wine regions dedicated to the unstable and wild Mourvèdre. It is one of Provence's most internationally recognized wine regions. Bandol rosé wines, which account for about a third of total output, are known for their spicy, earthy character and rank among the more distinguished rosés that France has to offer. Even with the amphitheater slopes giving a stunning view over the sea, it is said that Bandol people always looks towards the mountains instead of the sea because their focus is on the terroir. When you get a land with such a unique character as well as an historic production, it's something to be proud of.
There's an important temperature range from the altitude which brings freshness, but also maximal maturity. Getting that perfect phenolic maturity is quite easily achieved every year. Mourvèdre will only ripen reliably in a climate as sunny and hot as that which prevails along the Mediterranean coast. However, the temperature ranges as well as the various Mesoclimates affected by the moderating effect of the Mediterranean Sea, makes up for quite a distinctive vintage variation.
A story in vintages
| | |
| --- | --- |
| From 2004 to 2011 | It was truly the Bandol decade. A few years of excellent vintages with no troubles whatsoever. |
| 2012 | Extremely rainy |
| 2015 | Particular vintage. There was drought but still a lot of humidity in the ground from previous years. It's atypical but filled with energy and exuberance. |
| 2016 | Very limited in Quantity. From a regular 30 hectolitres/hectares it shred to 18. |
| 2018 | The opposite of 2015 that was 3 years of rain followed by a year of drought. 2018 is 3 years of drought followed by a year of heavy rain. |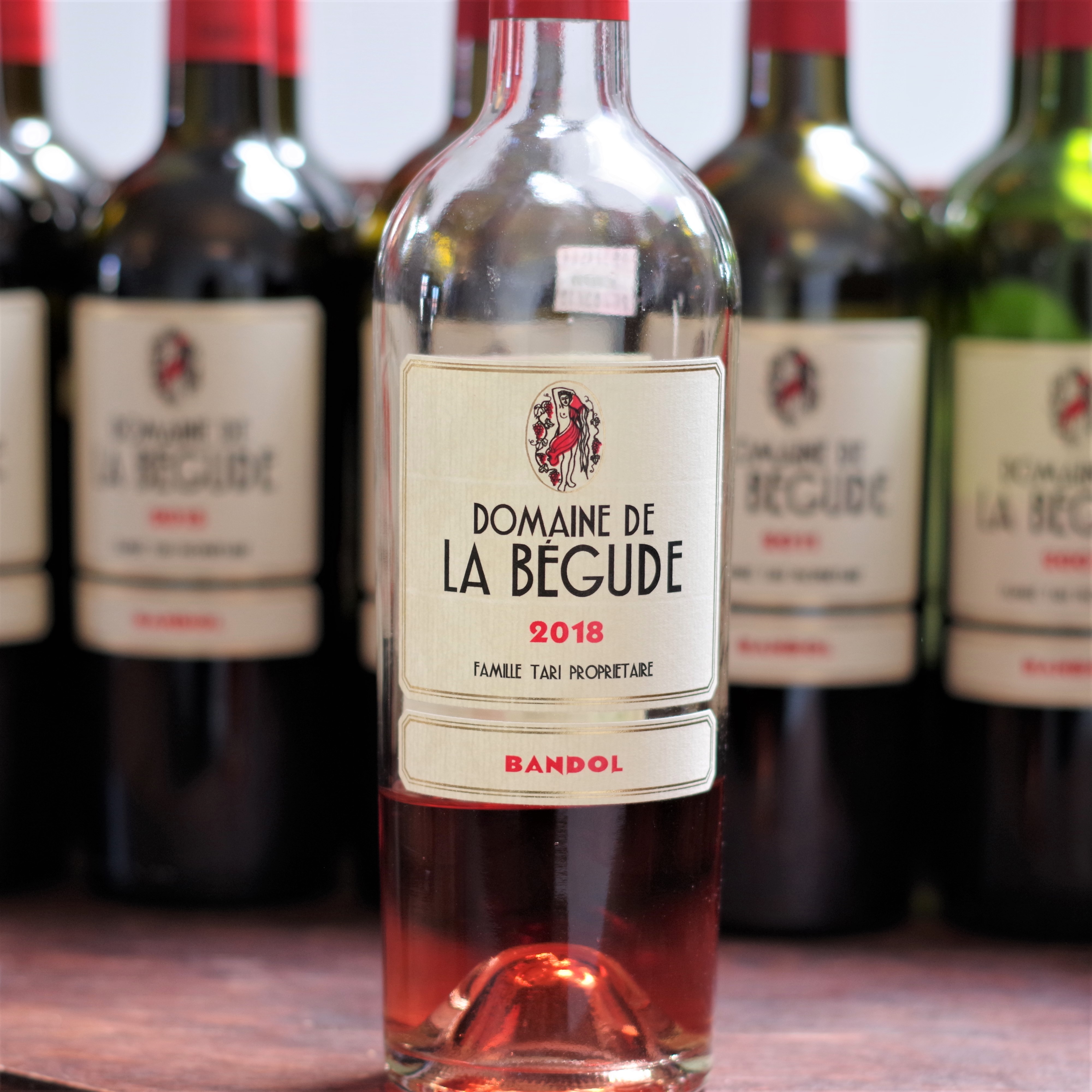 The true color of Rosé.
"When I make wines, I never think about color. "says Guillaume Tari, owner of Domaine de la Bégude. The modern rosé are naked in a certain way. They need to be dressed and regain their original color. There's a lot of prejudice concerning the color of rosé wines, but in the ends, it's only a color. Most of the very pale rosés get there by filtration or other manipulations. It might be trendy, but it's not historically accurate.
Mourvèdre
Mourvèdre is known to be a natural anti-oxidant. This means it is not prone to oxidation and holds up pretty well in time. This being said, it's also quite a troublesome and demanding grape. In Bandol specifically, Mourvèdre strives and evokes the salinity of the terroir. It's a question of how can we make wines that are so fresh in a place that is so hot. Well, of course altitude has a thing or two to say, but the strong mistral winds also has its way. It is so strong that it may break the vines, even if they're carefully trained in Gobelet.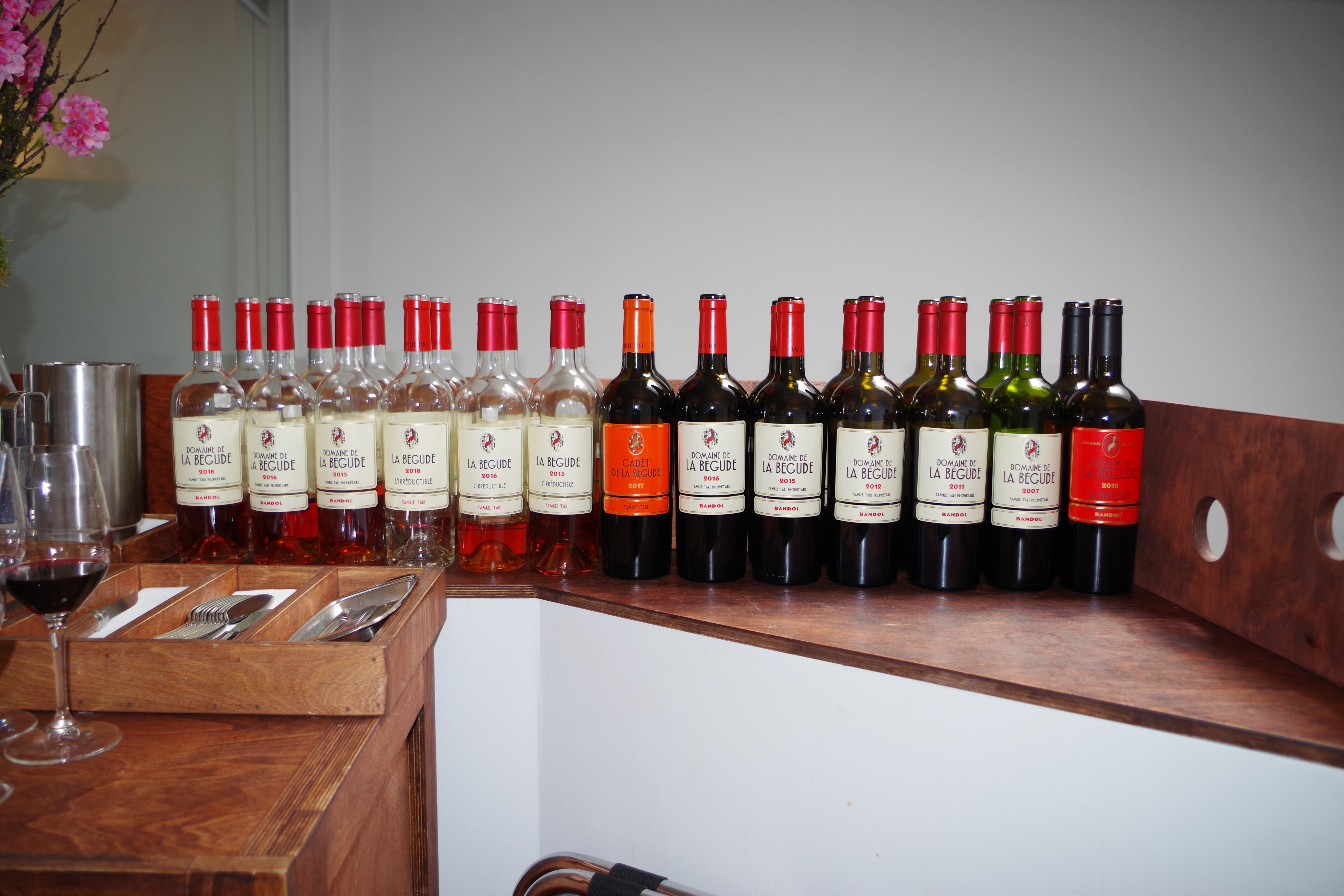 Bandol rosé 2018
This wine was just bottled 15 days before the tasting. There was a strong medicinal aroma that dissipated within about 30 minutes. Besides that, the wine is surprisingly fresh and tight. The fruitiness is candied, and there's a bunch of wildflowers and honeydew melon. The structure is solid, with soft and very light tannins, but an expansive taste.
Bandol rosé 2016
Opened and expressive. The nose is based on citrus fruits, mostly grape fruits, as well as melon and a fresh mineral, salty finish. It shows the Bandol paradox of being a Grand vin, without showing any signs of heat or heaviness.
Bandol rosé 2015
2015 has the same kind of exhuberant intensity, but a fading color in the shade of orange. The nose is extremely developed and mature with aromas of Orange confit, melon skins, a decent bitterness and a resinous hint. The palate is textured and bitter, without being sour. Freshness remains, enough to lift the aromatics and finale.
Bandol Rosé, L'irréductible 2018
The difference between the rosé and the Irréductible is in the percentage of Mourvèdre. While the rosé is about 70 %, the irréductible is almost all Mourvèdre. The idea cam from a test made with old Mourvèdre wines that was vinified as mono varietal and turned out fantastic. We have the wild card of the varietal, with mostly a savory flavor instead of a fruitiness. There's decent bitterness and a strong umami touch that acts as a flavor enhancer.
Bandol Rosé, L'irréductible 2016
Already turning orange, but with a very brilliant state. The wine is all in nuances, complex, layered and wild.
Bandol Rosé, L'irréductible 2015
Very dark and opulent, It's a tight and very animal wine. There's depth and extent from the developped flavors.
Cadet de la bégude 2017
The young vines of the estate are used in this IGP wine. It's made of a third Cinsault, a third Grenache and a third Mourvèdre. The estate is currently replanting syrah to develop later in the cuvée.
Bandol rouge 2016
The first impression is all on spiciness, mostly pungent red pepper. Then comes the fruitiness stampes by the mark of the sunny and dry vintage. Filled with the mix of freshness and maturity, it has a decent texture, but mostly a gritty mouthful.
Bandol rouge 2015
The difference and unique character of the 2015 vintage is even more present in the red wines than in the rosés. In every way, this 2015 is bold, opulent and filled to the brim with energy. Guillaume Tari said that in many cases, Bégude represents the surname of the wine and the vintage is their first name. Even with this sharp personality, it stays harmonious and direct. An immediate thrill.
Bandol rouge 2012
The 2012 shows a lot of sapidity and tang. It's very straight with an intense acidity and even a minty aroma that is almost overwhelming. The fruitiness is still very present with a great maturity and a dried character.
Bandol Rouge 2011
This was the culmination of the surprising decade. 2011 was a great vintage based on concentration and depth. Its awakening was long awaited. It took a while before showing its potential and its true color. As of right now, the wine is developing heavily, but still has a brisk acidity and a dried fruit character. It's like the heathen traits of the Mourvèdre takes up more spaces with age.
Bandol Rouge 2007
The color is still deep, but turns toward a beautiful shade of Orange. It's ripe in every way and fully grown, fully developed. You can feel the solar vintage. The aromas are mixed up, with little leftover fruit and instead a turn on oxidative side. There's a peculiar bloody aroma as well as a slight volatile acidity. We could say it's past its due.
La Brûlade 2015
La brûlade is the result of a small plateau, right in the middle of the property, which is heated by the sun constantly and permanently swept by the strong winds. The vines are planted on unique red soil, the bright red clay that is so unique to Bandol and part of its character. The wine has an intense style, in the extreme. Its balance is surprisingly tailored to its pattern. There's a strong earthy hint as well as a mix of empyreumatic and floral tones. This special plot expresses its identity loud & clear.