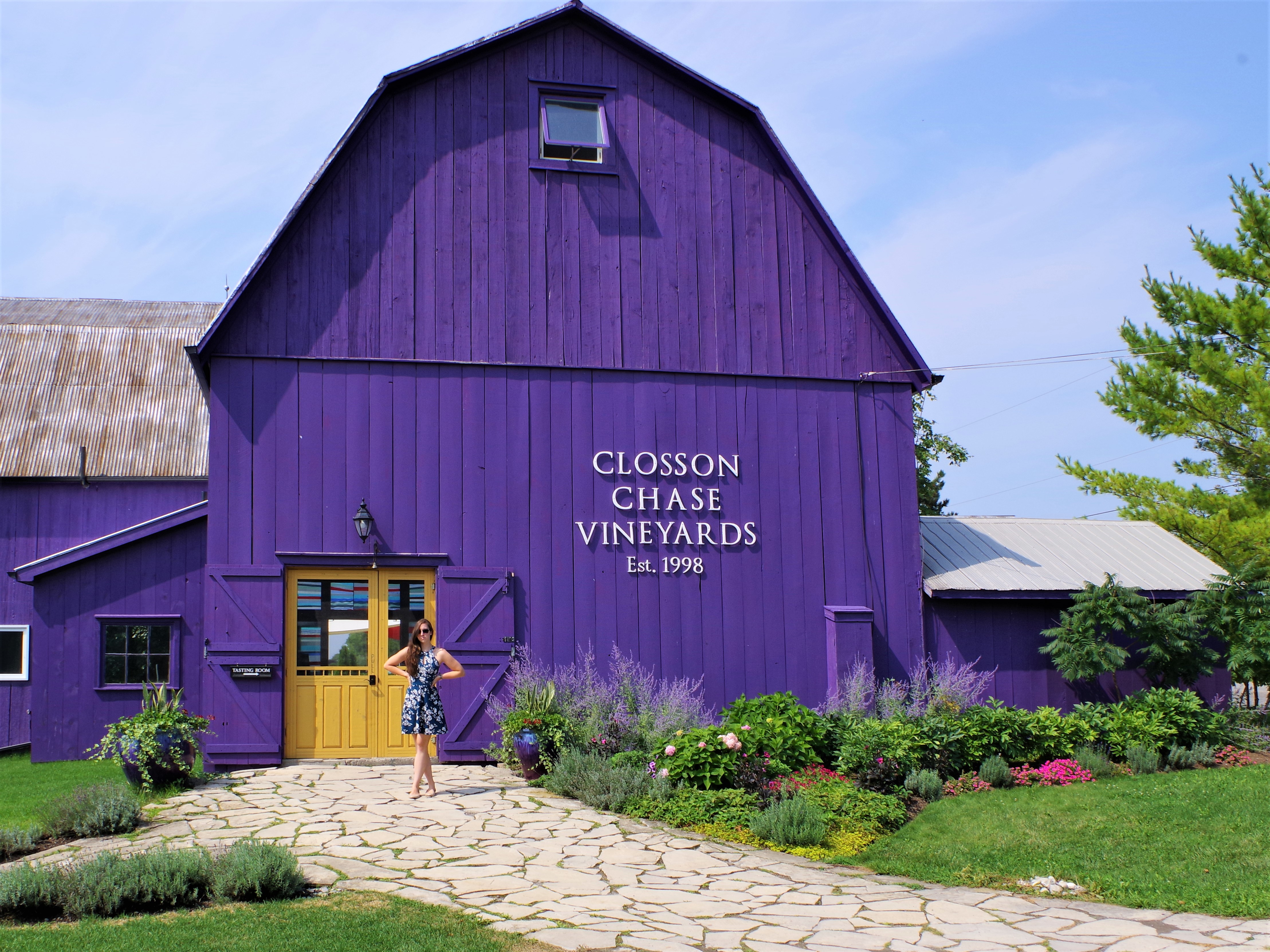 If you have just one stop to make in prince Edward County, I would recommend making it to Closson Chase. The gigantic purple barn is basically the essence of the picturesque county, the place is great and the wines are even better. For a quick stop or a full afternoon of calmly tasting wines in the gorgeous gardens, Closson chase is a Must Stop.
Closson Chase Winery is one of the oldest wineries in Prince Edward County. A boutique sized winery, quality driven with most of their wines coming from their own county vineyards surrounding the Grange on all sides, Closson Chase has mostly impressed me with the quality of their Pinot Noir. Head winemaker Keith Tyers aims for the best expression of the County terroir as possible and also advocates for sustainable practices.
New addition to the estate, this year an old cellar was re-purposed to build the Swinery. An artisanal sandwich eatery, directly on site that will make you want to stay even longer. Local produce are used, of course, as well as great flavours and some exclusive wines to taste like the Churchside 2015 Pinot noir, for example, frost had affected most of the production but what was left, in small quantities was delicious.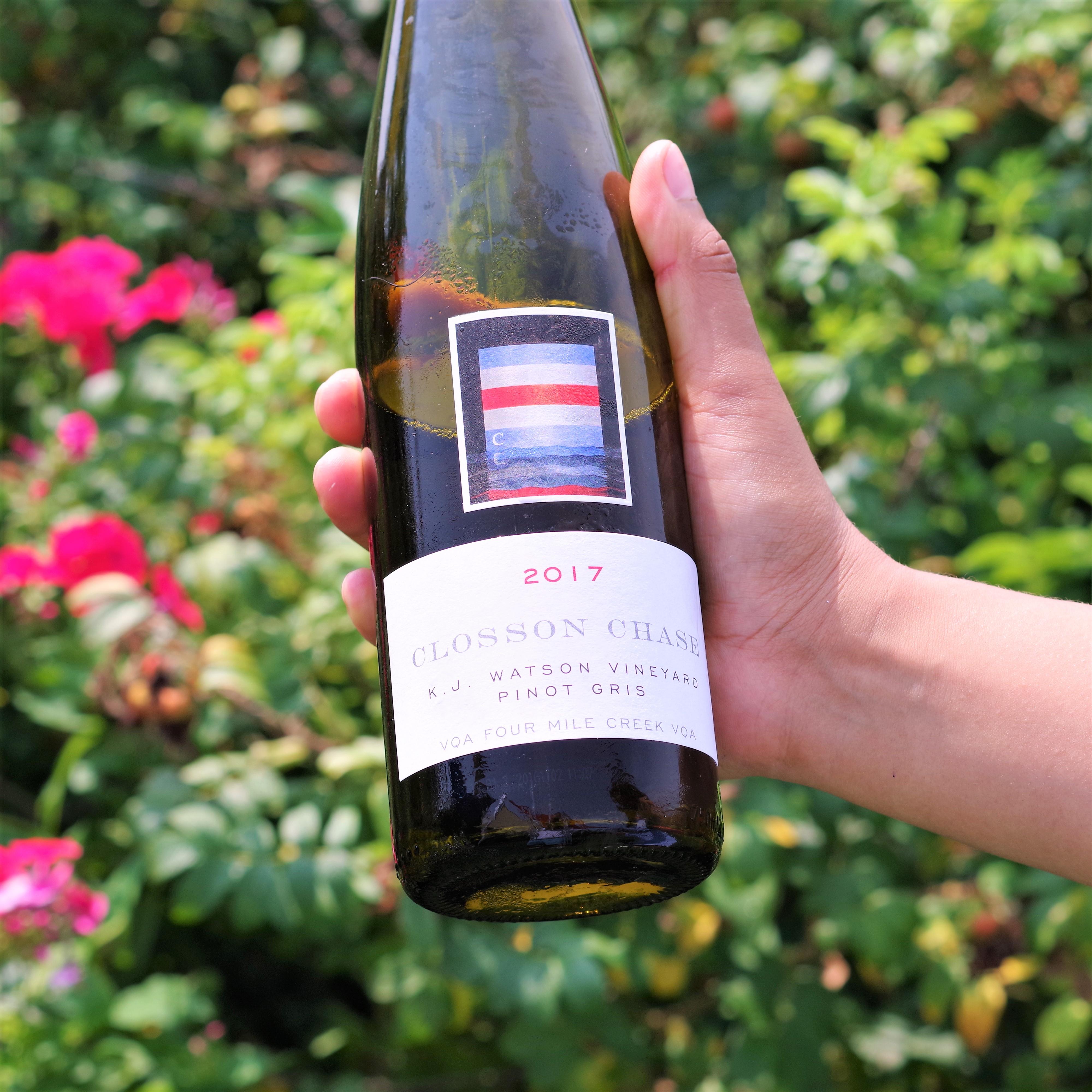 K.J. Watson vineyards Pinot Gris 2017
An interesting Pinot Gris from Four miles creek VQA in a dry and high acidity style. Its expression is mostly based on fleshy orchard fruits with slight stony aromas and a phenolic texture.
Pinot noir 2016
Bright and Light, this Pinot noir is lean and fruit-forward. Dried cheery skins, beets, spices and the minerality that defines the County is all there joined by some lavender floral tones too.
South Clos Chardonnay 2016
100% PEC grapes on the vineyard south of Closson Road. This chardonnay is a rich delight almost opulent compared to all his PEC compatriot. Aromas are scrumptious of Baked apple pie, butterscotch, the very Ontario based butter tarts, but also with oak, pecans and peach preserve.
💙Churchside Pinot Noir 2016
Deliciously surprising, Churchside is without a doubt the jewel of closson chase. It even looks as bright as a ruby. It's a very expressive and lush wine filled with red fruit, cherries and cranberries, earthy notes of beets, cedar and wild mushrooms, herbal tea and a bright, tart acidity.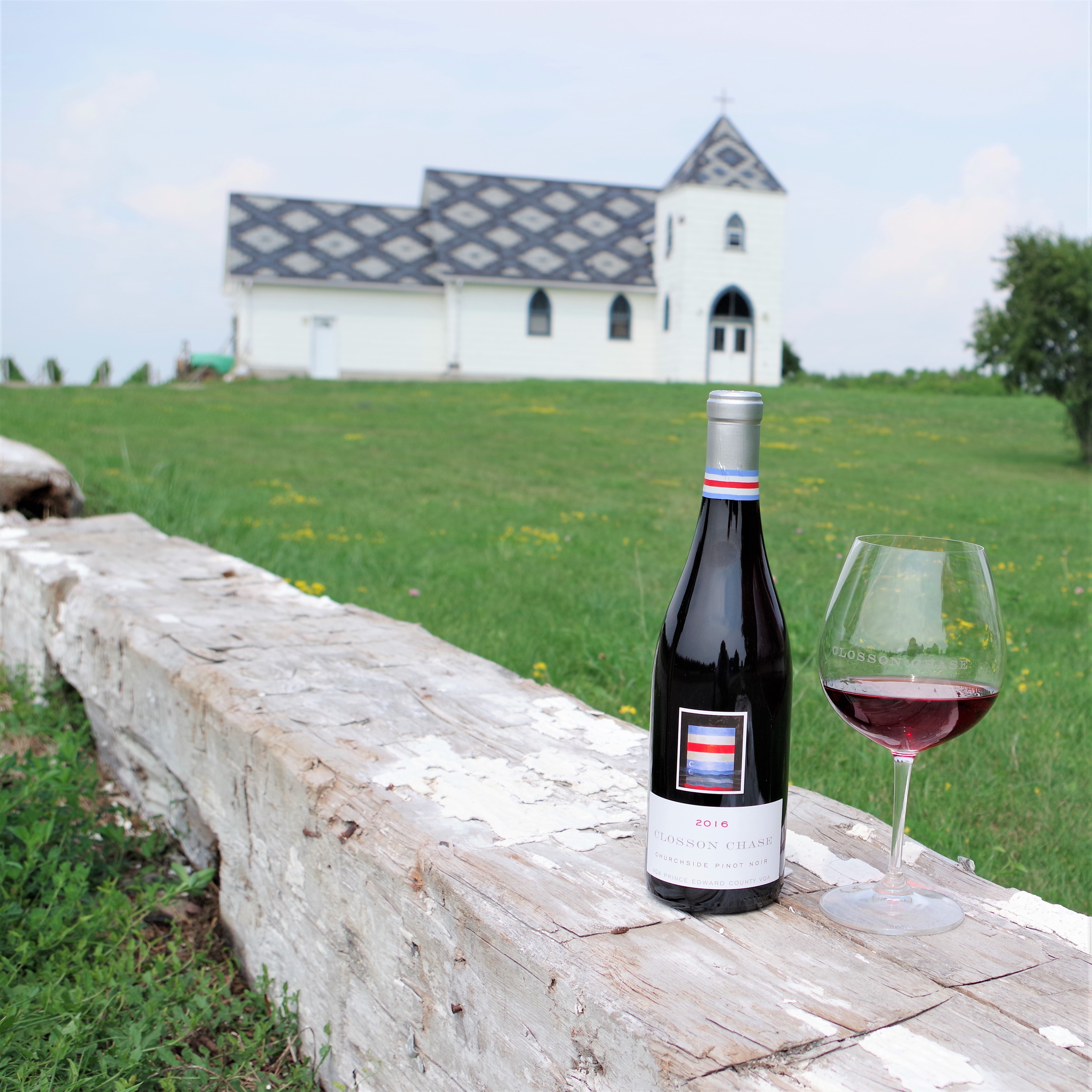 Si vous n'avez qu'un arrêt à  faire à  Prince Edward County, je vous recommanderais de vous rendre à  Closson Chase. La gigantesque Grange pourpre est essentiellement l'image du comté pittoresque, l'endroit est génial et les vins sont encore meilleurs. Pour un arrêt rapide ou une après-midi complète de dégustation de vins dans les magnifiques jardins, Closson Chase est un must.
Closson Chase Winery est l'un des plus anciens vignobles du comté. Un vignoble de petite taille, avec un focus sur la qualité, avec la plupart de leur vins provenant des vignobles entourant la Grange. Closson Chase m'a surtout impressionné par la qualité de son pinot noir. Le chef viticulteur Keith Tyers vise la meilleure expression possible du terroir du comté et plaide également en faveur de pratiques durables.
Nouvel ajout au domaine, cette année, une ancienne cave a été reconvertie pour construire le Swinery. Un restaurant de sandwichs artisanaux, directement sur place qui vous donnera envie de rester encore plus longtemps. Les produits locaux sont utilisés, bien sûr, pleins de saveurs et des vins exclusifs à déguster comme le pinot noir Churchside 2015, par exemple. Le gel avait touché la plus grande partie de la production mais ce qui restait en petites quantités ont fait un vin unique et délicieux.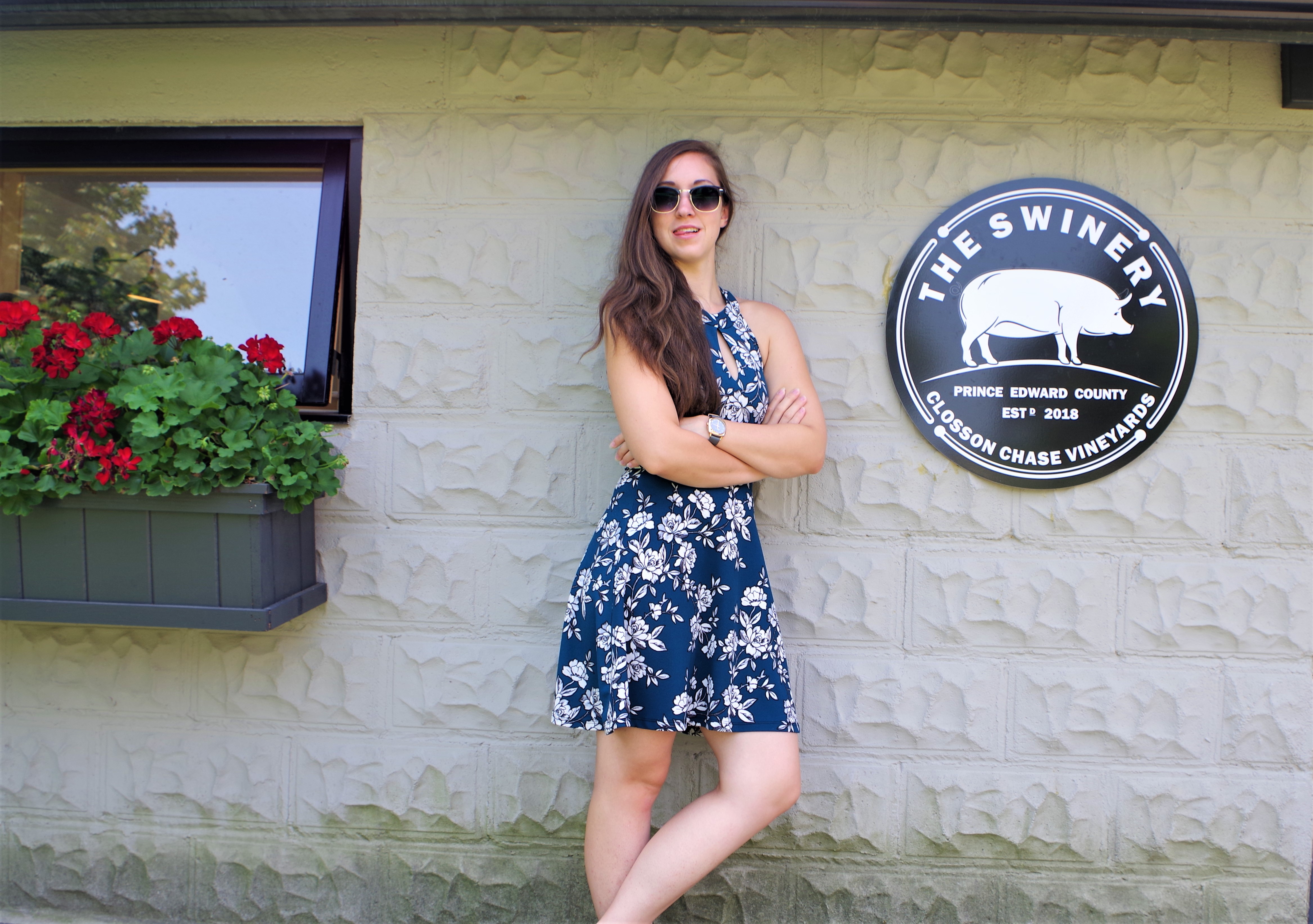 K.J. Vignobles Watson Pinot Gris 2017
Un Pinot Gris intéressant de Four miles creek VQA dans un style sec et à forte acidité. Son expression est principalement basée sur des fruits de verger charnus avec de légers arômes pierreux et une texture phénolique.
Pinot noir 2016
Lumineux et léger, ce pinot noir est mince et fruité. Des peaux séchées, des betteraves, des épices et la minéralité qui caractérisent le comté sont également reliées par des notes florales de lavande.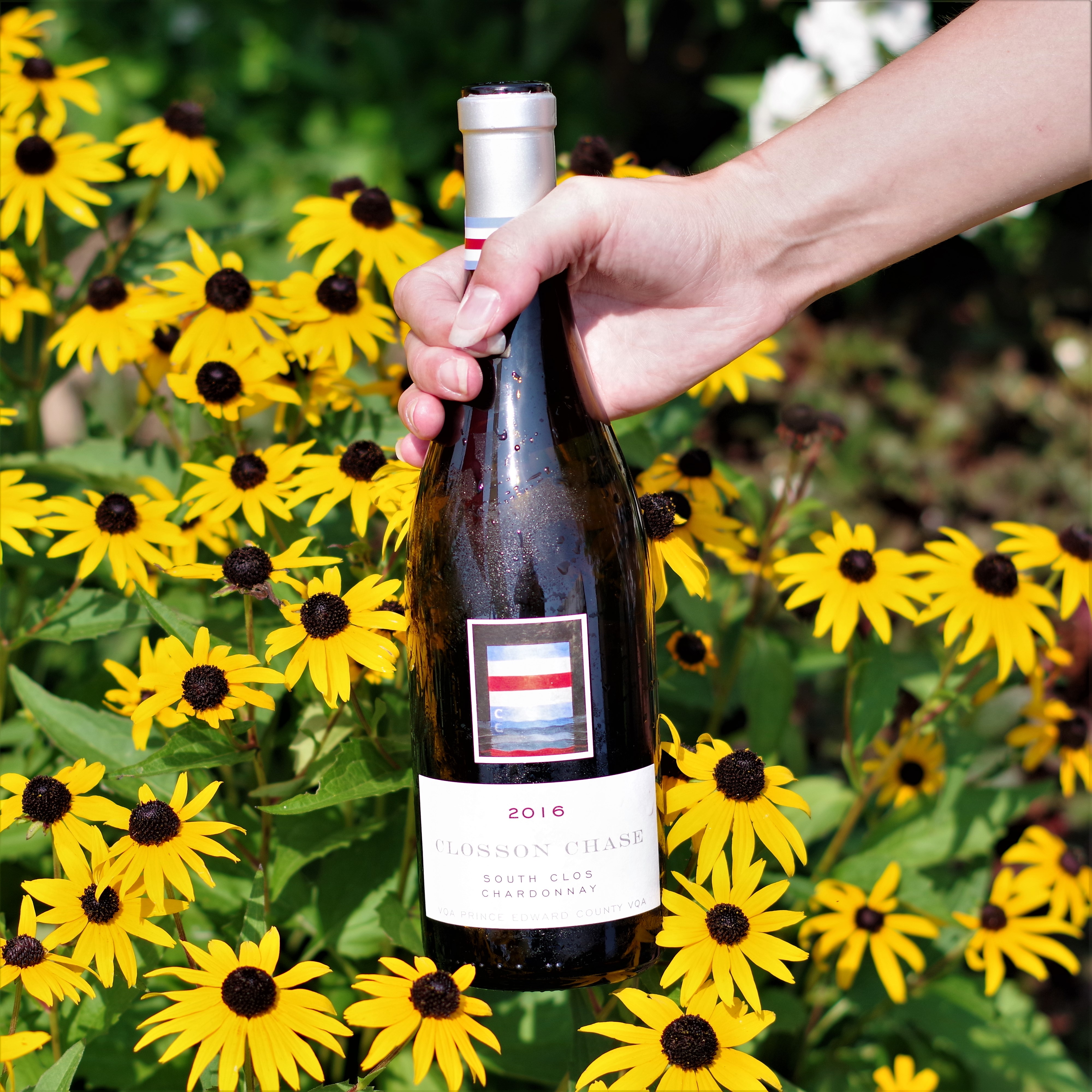 South Clos Chardonnay 2016
100% de raisins PEC sur le vignoble au sud de Closson Road. Ce chardonnay est un délice riche presque opulent par rapport à tous ses compatriotes PEC. Les arômes sont délicieux sur la tarte aux pommes au four, le caramel au beurre, les fameuse sugar tart de l'ontario, mais aussi avec le chêne, les pacanes et les pêches.
💙Churchside Pinot Noir 2016
Délicieusement surprenant, Churchside est sans aucun doute le joyau de Closson Chase. Il a même l'air aussi brillant qu'un rubis. C'est un vin très expressif et luxuriant rempli de fruits rouges, de cerises et de canneberges, de notes terreuses de betteraves, de cèdre et de champignons sauvages, de tisanes et d'une acidité vive et acidulée.