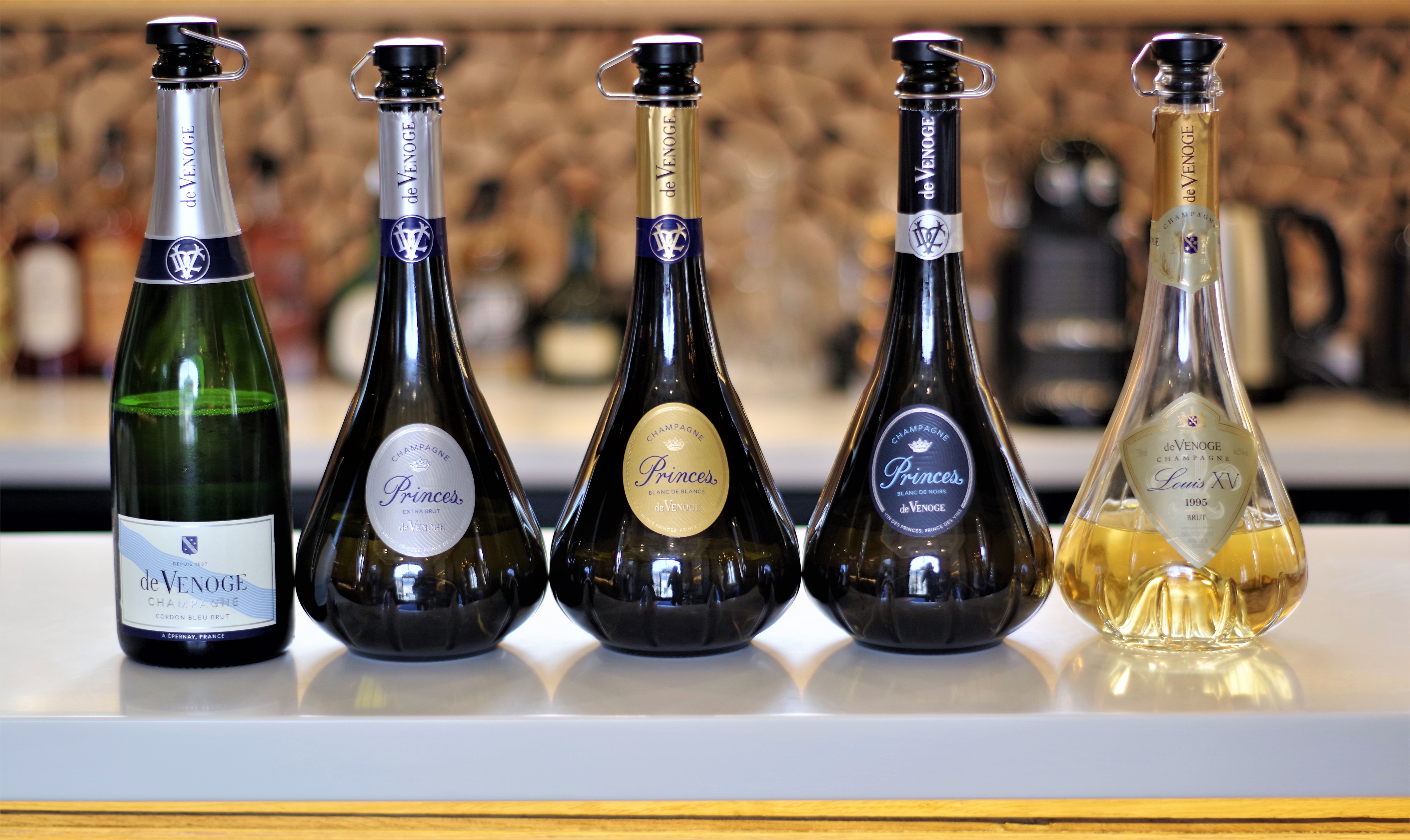 Champagne is something truly unique in many ways. There's an aura and mood surrounding this name that is both precise and mysterious at the same time. It's a mythic and exciting product that reached impressive distinction and status. This prominence has affected the appellation but also brands in a more specific ways. The truth is behind its unique character, the champagne hides a mosaic of micro-terroirs, a vast array of definite styles and overall a multifaceted personality. What is the true differentiation between a bottle and another? What is the authentic spirit and world of each of the prestigious houses?
Probably the most stand-out characteristic of de Venoge is the decanting carafe shaped unique bottle. Although, this particularity has been a considerable quality to bring the Champagne house to fame, it is obviously not limited to a visual aspect. Champagne de Venoge has been driven by a commercial approach for a long time. De Venoge benefited from nobles, aristocrats, "people" and gentlefolks clients around the world and such lovers of the house that they became true worldwide ambassadors for the brand. The house's founder, Henri-Marc de Venoge left his native Switzerland exactly for a commercial enterprise which brought him to Aÿ in 1825, opening a wine trade counter, still not a proper Champagne house until 1837. Since the very start, champagne de Venoge was innovative. First illustrated label was a Revolution started by De Venoge. Instead of the then handwritten label only stating name and vintage, a very golden and bright red label illustrating bottles and bunches of grapes. An extremely extensive collection of old labels, from the house, others and unsure, mysterious origin is one of the treasures preciously kept in the manor.
The products may be separated in three ranges. The Cordon bleu non-vintage judicious expression of the houses style is a blend of the three varieties with abundance of Pinot noir, thus vinosity and roundness. It was a symbol of nobility at its creation in 1864, referring both to the Venoge river and the Saint-esprit order, famous French knighthood. The Champagne des Princes has the famous looking bottles. Also historic cuvees, it was producted again since 2000. The prestige Cuvée of de venoge, Louis XV, is also in the rounded shape but transparent bottle. It's a sophisticated delicacy, royal in appearance and taste.  Other cuvees includes the vin du paradis, historic, unchanged and exotic driven for dessert Champagne. Also, the "20 ans" aged for 20 years and a coteaux champenois.
Noblesse oblige…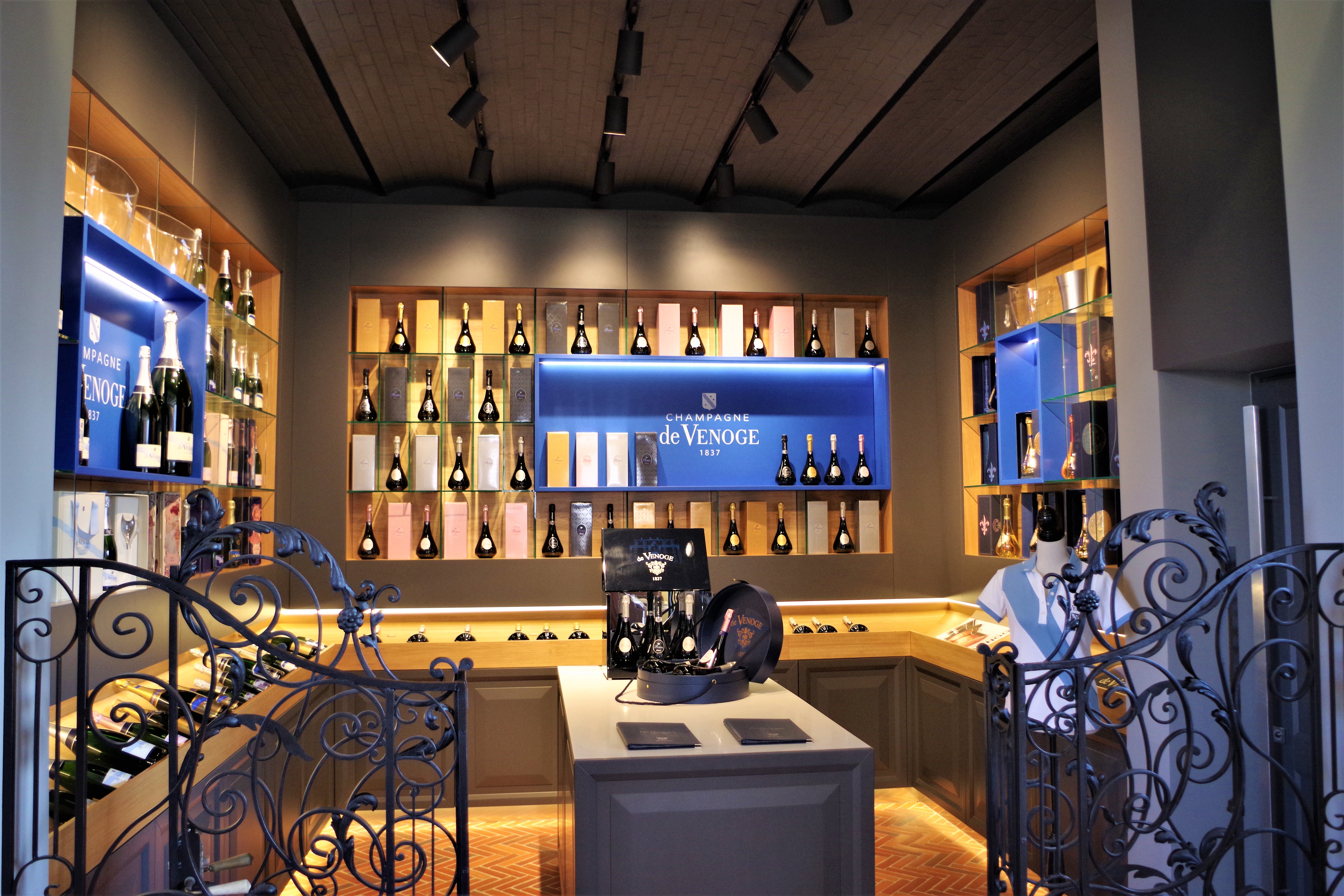 Le Champagne est quelque chose de vraiment unique à  bien des égards. Il y a une aura et une ambiance autour de ce nom à  la fois précis et mystérieux. C'est un produit mythique et passionnant qui a atteint une distinction et un statut impressionnants. Cette importance a affecté l'appellation mais aussi les marques d'une manière plus spécifique. La vérité est que derrière son caractère unique, le champagne cache une mosaïque de micro-terroirs, une vaste gamme de styles définis et une personnalité aux multiples facettes. Quelle est la vraie différenciation entre une bouteille et une autre? Quel est l'esprit et l'univers authentique de chacune des producteurs ou maisons prestigieuses?
Probablement la caractéristique la plus remarquable de Venoge est la bouteille en forme de carafe unique. Bien que cette particularité ait été une qualité considérable pour faire connaître la Maison de Champagne, elle ne se limite évidemment pas à  un aspect visuel. Champagne de Venoge est depuis longtemps animée par une approche commerciale. De Venoge a profité de la noblesse, de l'aristocratie, des clients "people", des gentilshommes du monde entier et des amoureux de la maison pour devenir de véritables ambassadeurs mondiaux de la marque. Le fondateur de la maison, Henri-Marc de Venoge, quitta sa Suisse natale pour une entreprise commerciale qui l'amena à  Aÿ en 1825, ouvrant un comptoir de commerce de vin, pas encore une véritable maison de Champagne jusqu'en 1837. Dès le début, champagne de Venoge innovant. La première étiquette illustrée était une révolution commencée par De Venoge. Au lieu de l'étiquette alors manuscrite indiquant seulement le nom et le cru, une étiquette rouge très dorée et lumineuse illustrant des bouteilles et des grappes de raisin. Une collection extrêmement étendue de vieilles étiquettes, de la maison, d'autres ou parfois d'une origine incertaine et mystérieuse est l'un des trésors précieusement conservés dans le manoir.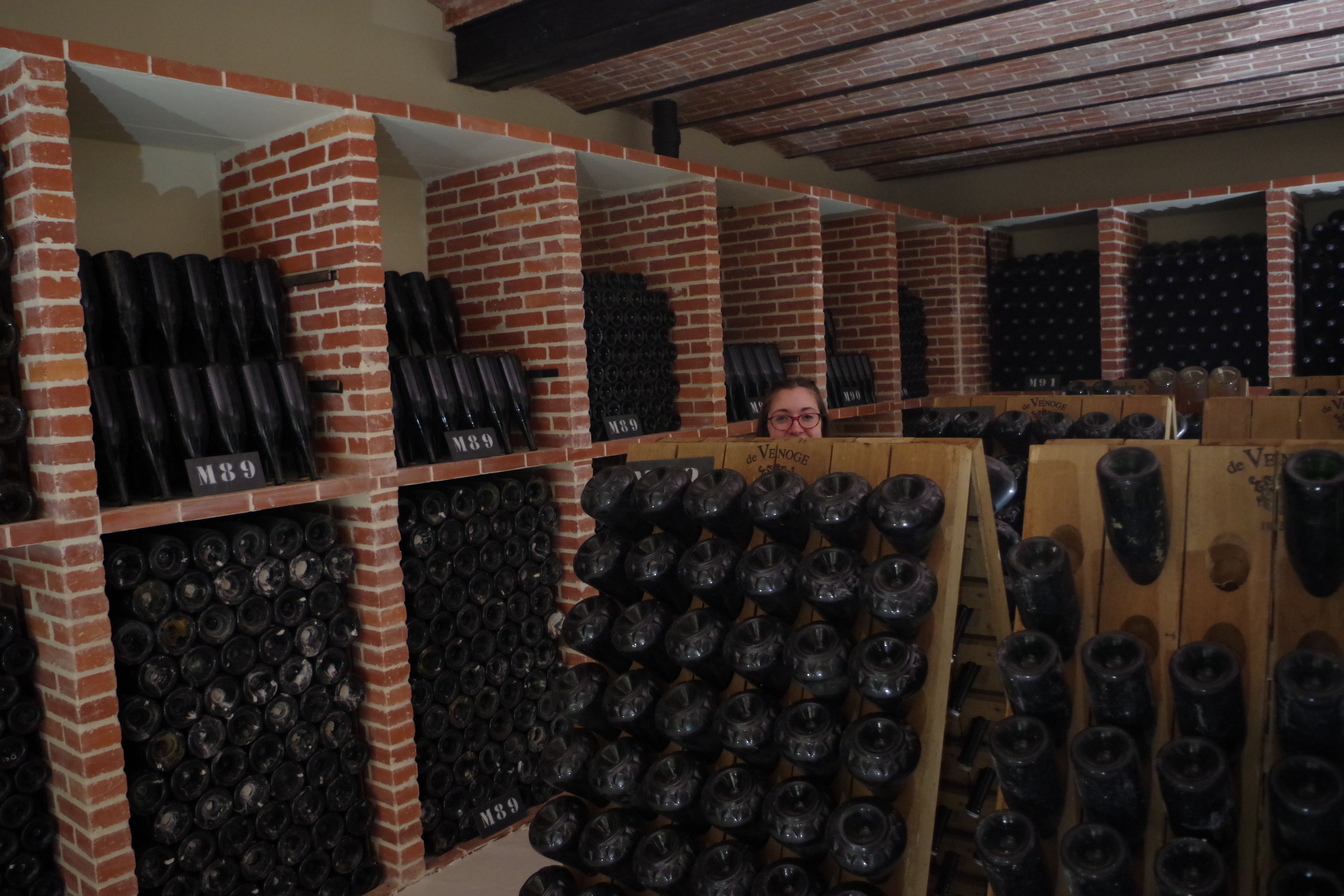 Les produits peuvent être séparés en trois gammes. L'expression judicieuse Cordon bleu non-millésimé du style de la maison est un mélange des trois variétés avec une abondance de Pinot noir, donc vinosité et rondeur. Il fut un symbole de noblesse lors de sa création en 1864, se référant à  la fois à  la rivière Venoge et à  l'ordre de Saint-Esprit, célèbre chevalerie française. Le Champagne des Princes a les fameuses bouteilles. Également cuvées historiques, elle a été produite à  nouveau depuis 2000. La prestigieuse Cuvée de venoge, Louis XV, est aussi dans la forme arrondie mais en bouteille transparente. C'est une délicatesse sophistiquée, d'apparence et de goût royal. D'autres cuvées incluent le vin du paradis, historique, inchangé et exotique conçue pour le dessert.
 
Noblesse oblige…