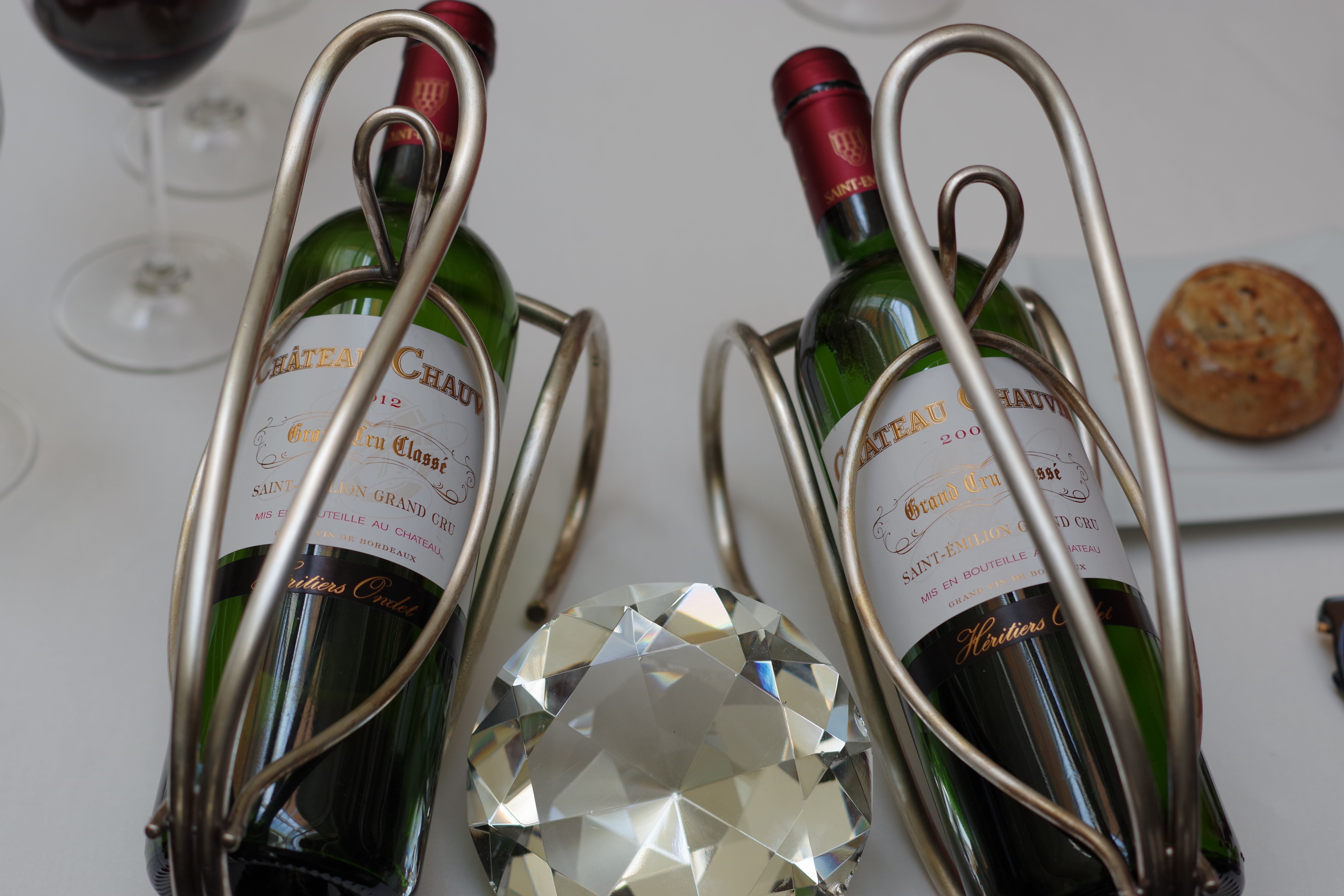 Château Chauvin has first started as part of the bigger fief of Corbin, until it was divided at an auction in1852. Nearly 40 years later, Victor Ondet looking for a "folly", a country residence bought the estate. It is through his ownership and the next Ondet generations that the estate prospered and became part of the original Saint-Émilion classification in 1954 as Grand Cru Classé. The next step of the history is truly a new era. Quite recently, in May 2014, Château Chauvin has been bought by the notorious Sylvie Cazes. The deal marks the first chateau purchase on Bordeaux's right bank for Sylvie Cazes, who is coproprietor of Domaine Jean-Michel Cazes. She named her three children, Pierre, Francois and Julie Regimbeau as joint buyers, alongside herself.
The 15 hectares vineyard, right next to Cheval-Blanc and the Butte de Rol, close to the border with Pomerol, may sometimes slip under the radar of amateurs but it's truly a wine that deserves interest. The quality of the wines has been on a constant refinement since the investments of the last Ondet owners and the passion and Know-how of the Cazes owners.
Château Chauvin a d'abord démarré dans le cadre du grand fief de Corbin, jusqu'à  ce qu'il soit divisé aux enchères en 1852. Près de 40 ans plus tard, Victor Ondet à  la recherche d'une «folly», une résidence de campagne a acheté le domaine. C'est grâce à  sa propriété et aux prochaines générations d'Ondet que le domaine a prospéré et fait partie de la classification originale de Saint-Émilion en 1954 en tant que Grand Cru Classé. La prochaine étape de l'histoire est vraiment une nouvelle ère. Tout récemment, en mai 2014, Château Chauvin a été acheté par la célèbre Sylvie Cazes. L'accord marque le premier achat de château sur la rive droite de Bordeaux pour Sylvie Cazes, copropriétaire du Domaine Jean-Michel Cazes. Elle a nommé ses trois enfants, Pierre, François et Julie Regimbeau comme acheteurs conjoints, à  côté d'elle-même.
Le vignoble de 15 hectares, juste à  côté de Cheval-Blanc et de la Butte de Rol, près de la frontière avec Pomerol, peuvent parfois glisser sous le radar des amateurs mais c'est vraiment un vin qui mérite de l'intérêt. La qualité des vins a fait l'objet d'un raffinement constant depuis les investissements des derniers propriétaires Ondet et la passion et savoir-faire des propriétaires Cazes.
NEW LABEL
With the arrival of the Cazes family, the label has taken a new image. To keep the essence of the estate, the new label was inspired by an old 1929 label found in the archives. A symbol of love for the land and for the terroir was also added: a cupid, emblem of love, on a lion, emblem on the coat of arms of Saint-Émilion.
Avec l'arrivée de la famille Cazes, l'étiquette a pris une nouvelle image. Pour garder l'essence du domaine, le nouveau label a été inspiré par une ancienne étiquette de 1929 trouvée dans les archives. Un symbole d'amour pour la terre et pour le terroir a également été ajouté: un cupidon, emblème d'amour, sur un lion, emblème sur les armoiries de Saint-Émilion.
BORDEAUX SAVEURS
Before starting her journey with Château Chauvin, Sylvie Cazes became unique owner of Bordeaux Saveurs, a very prestigious wine tourism agency providing only tailored, custom experiences of the highest of standards. They provide an expertise, adaptability always personalized and luxurious stays, tours or private special events based around oenology, gastronomy and luxury lifestyle.
Avant de commencer son aventure avec Château Chauvin, Sylvie Cazes est devenue propriétaire unique de Bordeaux Saveurs, une agence de tourisme viticole très prestigieuse fournissant uniquement des expériences sur mesure et personnalisées des plus hautes normes. Ils offrent une expertise, une adaptabilité toujours personnalisée et des séjours de luxe, des visites ou des événements spéciaux privés basés autour de l'Å"nologie, de la gastronomie et du mode de vie haut de gamme.