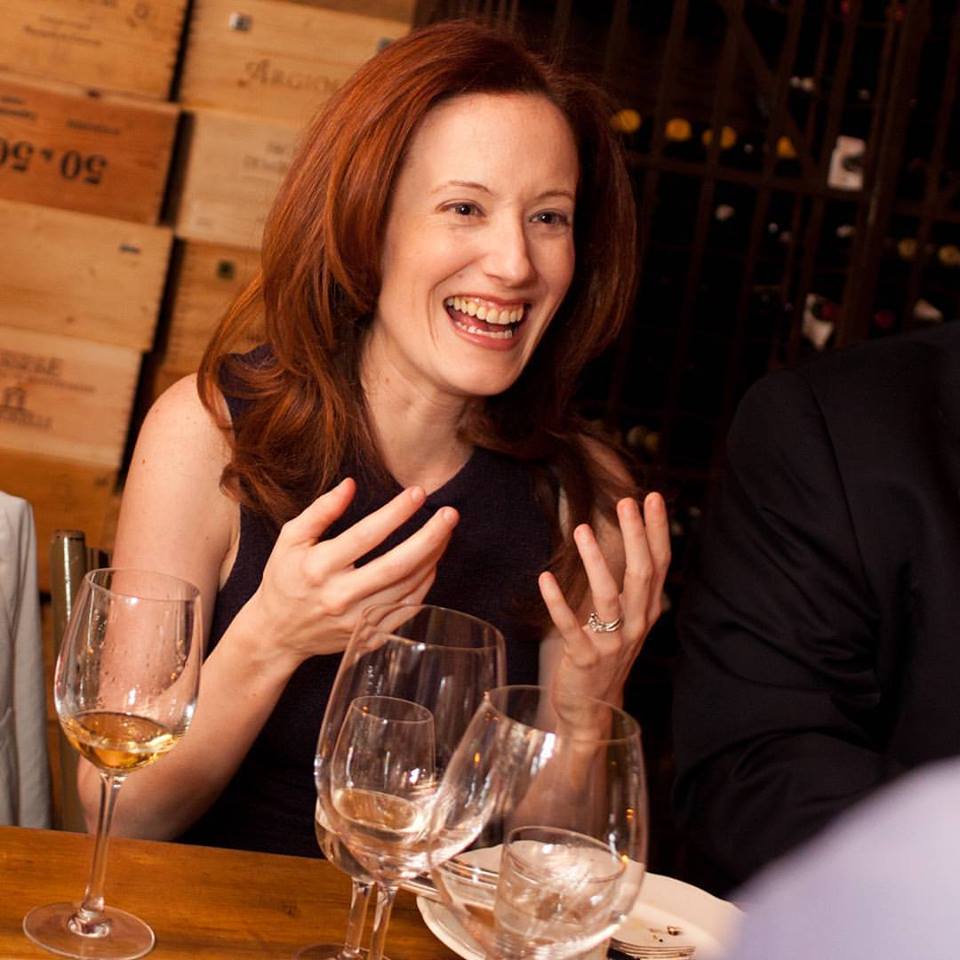 BIO
Cathrine Todd is the founder and editor of Dame Wine®, a successful wine blog with an interest in the people and the sharing aspect surrounding wine. Dame Wine is a WSET Diploma graduate, member of the Circle of Wine Writers, Freelance Wine Writer and the Wine Columnist for La VOCE di New York. The blog was shortlisted for the Roederer 2015 Emerging Wine Writer of the Year, was a Wine Blog Awards' finalist for the 2015 Best New Wine Blog, finalist for 2016 Best Writing on a Wine Blog and finalist for 2016 Best Overall Wine Blog.
With many years of passion and travel, I think that she writes in her own likeable dedicated, meticulous and personalized way.
Cathrine Todd est la fondatrice et rédactrice en chef de Dame Wine®, un blogue de vin réputé pour son intérêt pour les gens et pour le partage entourant les vins. Dame Wine est diplômée du WSETdiploma, membre du Circle of Wine Writers, chroniqueuse vin pour La VOCE di New York. Le blog a été présélectionné pour le Roederer 2015 écrivain émergent de l'année, a été finaliste pour le Wine Blog Awards et Best New Wine Blog en 2015, finaliste pour le Meilleur texte sur un blog de vin et pour Best Global Wine Blog en 2016.
Avec de nombreuses années de passion et de voyage, je pense qu'elle écrit dans son propre style sympathique, dévoué, méticuleux et personnalisé.
When did you realize that wine was a passion?
I first realized that wine was a passion in the fall of 1993 when I first moved to New York City. I was only 18 years old at the time and I had come to NYC not knowing anyone. I quickly met some young artistic people from all around the world, Europe and Asia as well as North America, and we became a temporary family. The first time we had dinner together, as a group, we went over to someone's apartment and sat on the floor because none of us had furniture at the time. We had an indoor, urban picnic with cheeses, meats and a bottle of wine that we bought that night. It was the first time I felt like I truly connected with people…while enjoying a lovely glass of wine. Many of the others started talking about their travels around the world, and so, wine became a passion because it helped to connect me to different people with different backgrounds – expanding my heart, mind and spirit.
Quand avez-vous réalisé que le vin vous passionnait?
J'ai d'abord réalisé que le vin était une passion à  l'automne 1993 lorsque j'ai déménagé pour la première fois à  New York. J'avais seulement 18 ans à  l'époque et j'étais venu à  New York ne connaissant personne. J'ai rapidement rencontré de jeunes gens artistiques du monde entier, de l'Europe et de l'Asie ainsi que de l'Amérique du Nord, et ils sont devenus une famille temporaire. La première fois que nous avons dîné ensemble, en tant que groupe, nous sommes allés à  l'appartement de quelqu'un et nous sommes assis par terre parce qu'aucun d'entre nous n'avait de meubles à  l'époque. Nous avons eu un pique-nique en plein air urbain avec des fromages, des viandes et une bouteille de vin que nous avons acheté cette nuit-là . C'était la première fois que je me sentais vraiment connecté avec les gens … tout en dégustant un joli verre de vin. Beaucoup d'autres ont commencé à  parler de leurs voyages à  travers le monde, et donc, le vin est devenu une passion parce qu'il m'a aidé à  me connecter à  différentes personnes de milieux différents – l'expansion de mon cÅ"ur et de mon esprit.
What is your favorite wine event?
In general, I like to talk to wine producers one on one, or in a small setting, so I can get to know them as a person – although there are certainly a lot of great wine events to taste various types of wines. But if I have to pick only one, I would say, I love going to the Wine Bloggers Conference, and so, that would be my favorite "wine event". For me, wine is about connecting and communicating with people, and the Wine Bloggers Conference brings together people, who love to communicate, from all walks of life. Also, it is interesting to see the different ways people communicate – writing, photos and videos. I've made some great friendships through this conference.
Quel est votre événement viticole préféré?
En général, j'aime parler aux producteurs de vin un à  un, ou dans un petit endroit, afin que je puisse les connaître en tant que personne – bien qu'il y ait certainement beaucoup de grands événements de vin pour goûter divers types de vins. Mais si je dois en choisir qu'un seul, je dirais, aller à  la Wine Bloggers Conference, et donc, ce serait mon" événement de vin" favori. Pour moi, le vin sert à  connecter et communiquer avec les gens, la Conférence des blogueurs du vin rassemble les gens, qui aiment communiquer, de tous les horizons de la vie. En outre, il est intéressant de voir les différentes façons de communiquer – écriture, photos et vidéos. J'ai bâti de grandes amitiés à  travers cette conférence.
What are your plans for the coming year?
For the immediate future, I am going to Catalonia, Spain, in April to explore the wines of Cava, Priorat, Penedes, Pla de Bages and at the beginning of June I am going to Tuscany to have a deeper look into Sangiovese wines. Also, I am going to the Wine Bloggers Conference in Sonoma, California, in November for their 10th Anniversary.
Quels sont vos projets pour l'année à  venir?
Dans le futur immédiat, en avril je vais en Catalogne pour explorer les vins de Cava, du Priorat, du Penedès, du Pla de Bages, et au début du mois de juin je me rends en Toscane pour approfondir mes connaissances sur le Sangiovese. Aussi, j'irai à la Wine Bloggers Conférence à Sonoma, en Californie, en Novembre pour leur 10e anniversaire.
What is the most remarkable bottle you have had the chance to taste?
Around seven years ago, I bought an 1875 D'Oliveira Malvasia Madeira for my husband's birthday – we were both born in 1975. Plus, I had always wanted to drink a Madeira that was over 100 years old since they are known to be the longest lived wines. I have to thank Roy Hersh, founder of www.fortheloveofport.com, for answering my questions of whether this was a good bottle to purchase and he confirmed that he thought this Madeira was excellent. Roy has tasted practically every Port and Madeira vintage that is available on the market. It was the most remarkable bottle of wine with intense richness (caramel and espresso) balanced by thrilling acidity and lovely orange blossom notes with a satin texture and breathtakingly long finish. Also, if that bottle could have talked, I'm sure it could have shared fascinating stories since it had lived on this earth so long.
Quelle est la bouteille la plus remarquable que vous avez eu la chance de goûter?
Il y a environ sept ans, j'ai acheté un 1875 D'Oliveira Malvasia Madeira pour l'anniversaire de mon mari – nous sommes tous deux nés en 1975. De plus, j'avais toujours voulu boire un Madère qui avait plus de 100 ans, car ils sont reconnus pour être les vins qui vivent le plus longtemps. Je dois remercier Roy Hersh, fondateur de www.fortheloveofport.com, pour avoir répondu à  mes questions pour savoir si c'était une bonne bouteille à  acheter et il a confirmé qu'il pensait que ce Madère était excellent. Roy a goûté pratiquement tous les millésimes de Porto et de Madère disponibles sur le marché. C'était la bouteille de vin la plus remarquable avec une richesse intense (caramel et espresso) équilibrée par l'acidité palpitante et de jolies notes de fleur d'oranger avec une texture satinée et une finition à  couper le souffle. Aussi, si cette bouteille aurait pu parler, je suis sûre qu'elle aurait pu partager des histoires fascinantes puisqu'elle a vécu sur cette terre si longtemps.
Which wine tourism destination is the most interesting in your opinion?
Burgundy. Although there are other places that are more visually stunning, South Africa and New Zealand, Burgundy is still close to my heart. My husband and I would just drive around and show up at small producers' wineries/houses and they would invite us in with such wonderful hospitality, although the smaller producers have a tough life with challenging climatic conditions, they have a great passion for life. Some of the fondest memories I have had were with Burgundy producers.
Quelle destination oenotouristique est la plus intéressante à votre avis?
La Bourgogne. Bien qu'il existe d'autres endroits qui sont plus visuellement étonnants, l'Afrique du Sud et la Nouvelle-Zélande, la Bourgogne est toujours proche de mon cÅ"ur. Mon mari et moi allions nous promener dans les vignobles et les maisons des petits producteurs et ils nous invitaient avec une telle hospitalité. Même si les petits producteurs ont une vie difficile avec des conditions climatiques difficiles, ils ont une grande passion pour la vie. Certains des plus beaux souvenirs que j'ai eu étaient avec les producteurs de Bourgogne.