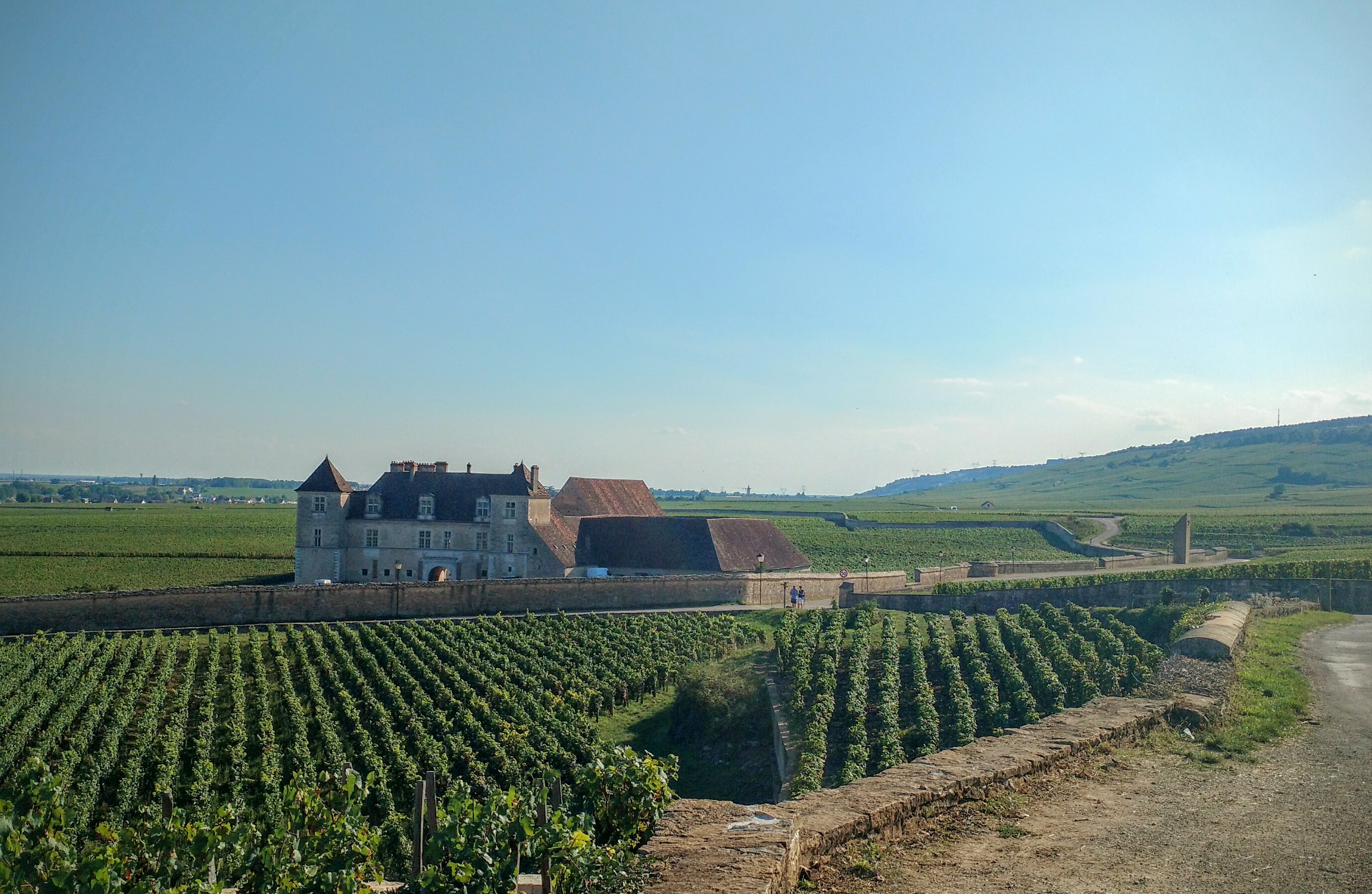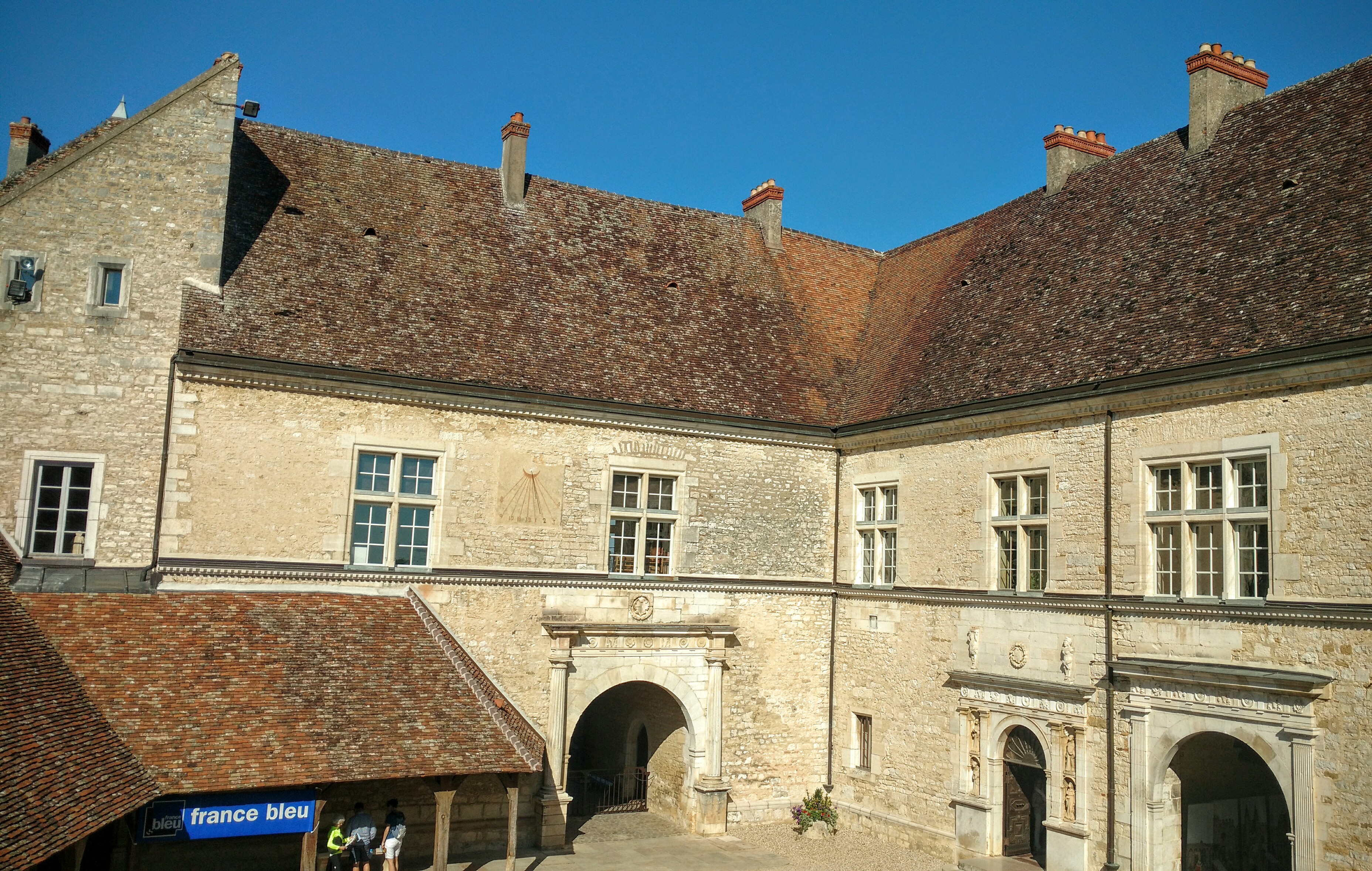 Clear blue skies, juicy vines and a castle is everything you need for a great wine trip. Just outside of the village, Château du Clos de Vougeot really stands out. It would be all alone in the clos if it weren't for the Château de la tour which is also directly in the clos. A long history is linked to those gigantic stone walls. It is the nearby Abbey of Cîteaux, just a little upward the hill, who built this establishment. At first, it was just going to be a wine facility but the Cistercians have now impressed by their grandiose construction.
Un ciel bleu dégagé, des vignes juteuses et un château est tout ce dont vous avez besoin pour un voyage de vin génial. Juste à  l'extérieur du village, le Château du Clos de Vougeot se démarque vraiment. Il serait tout seul dans le clos, s'il n'y avait pas le Château de la tour qui est aussi directement dans le clos. Une longue histoire est liée à  ces murs de pierre gigantesques. C'est l'abbaye de Cîteaux, juste un peu plus loin vers le haut de la colline, qui a construit cet établissement. Au début, il devait seulement être une ferme à  vin, mais les Cisterciens ont impressionné par leur construction grandiose.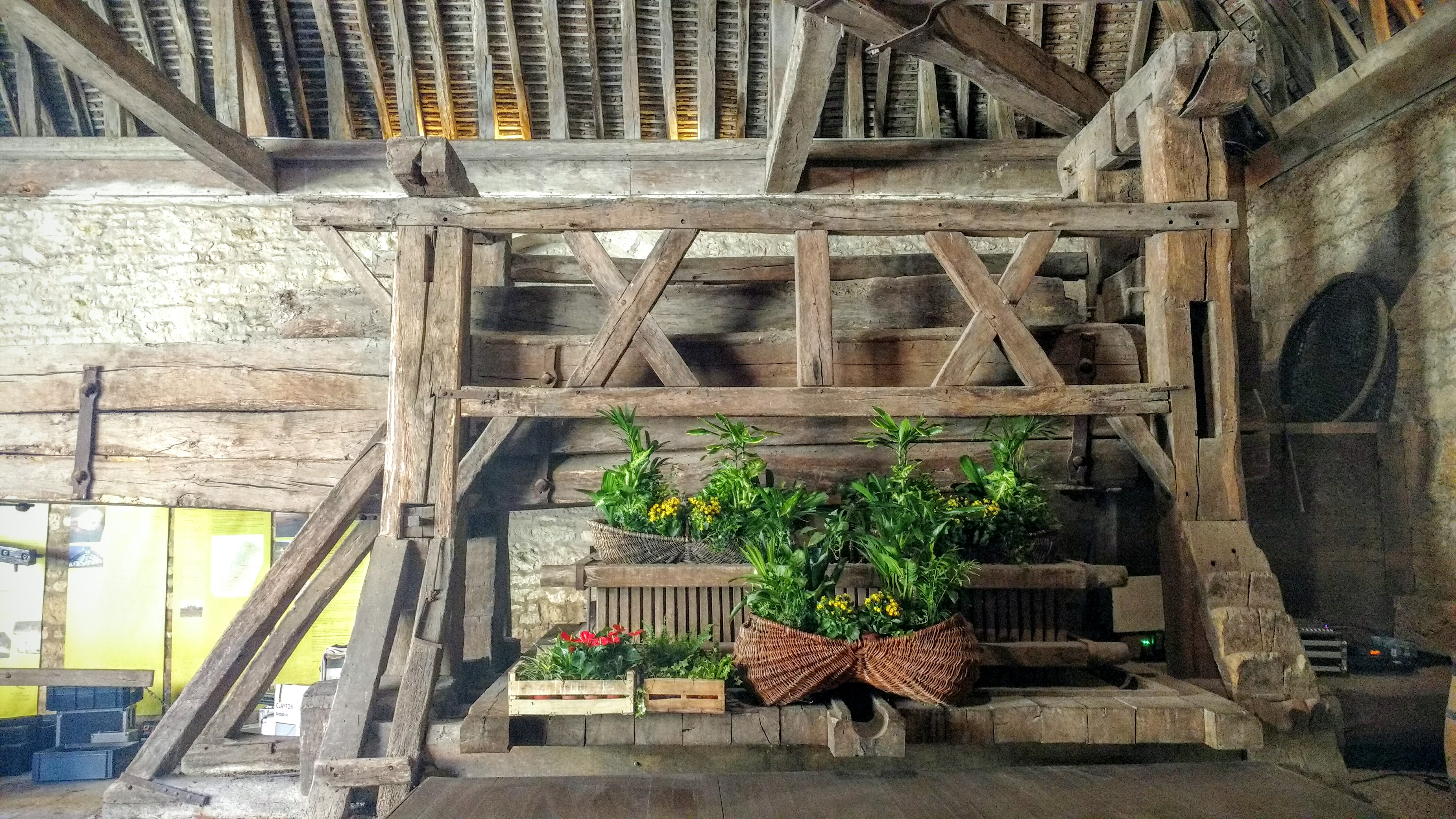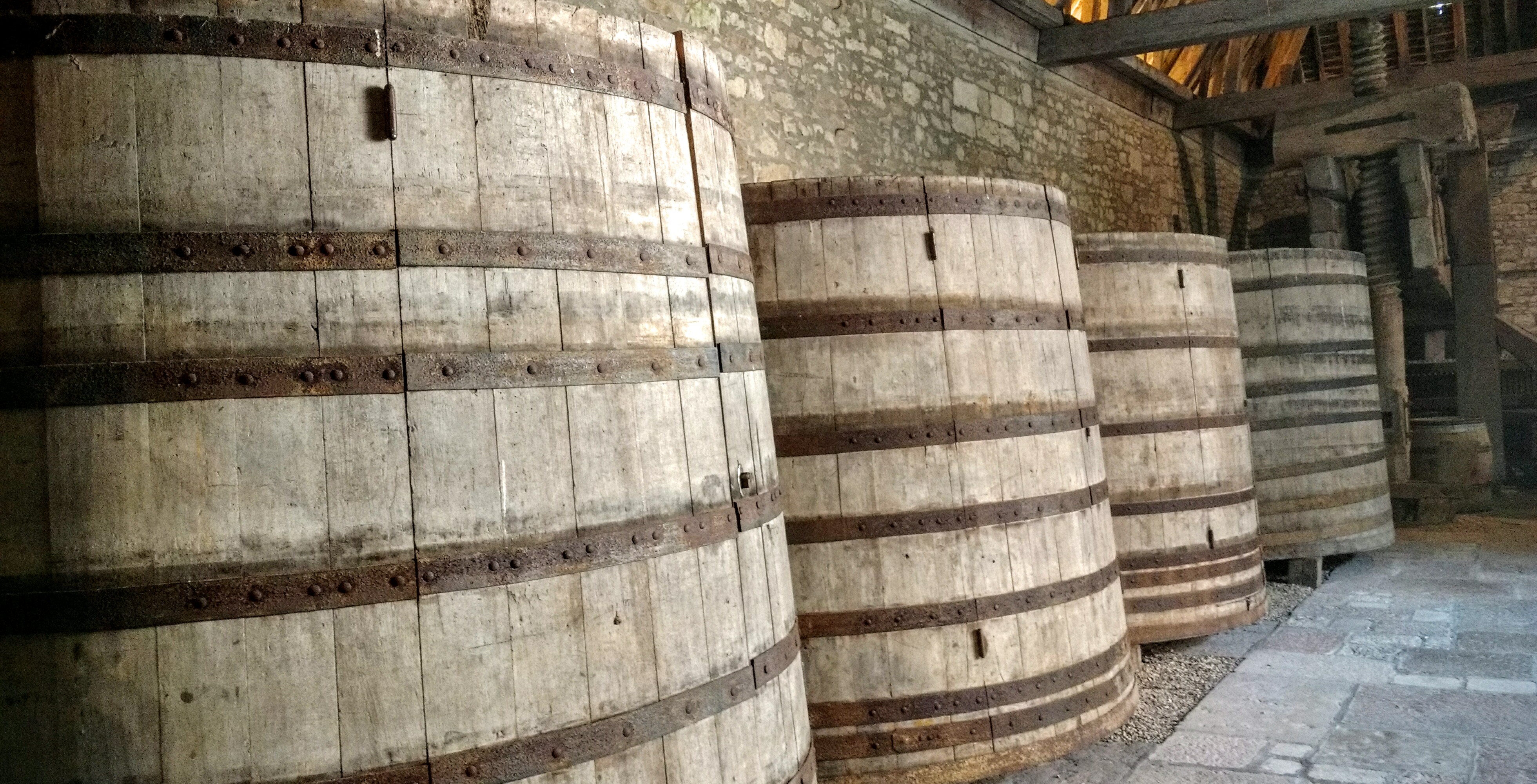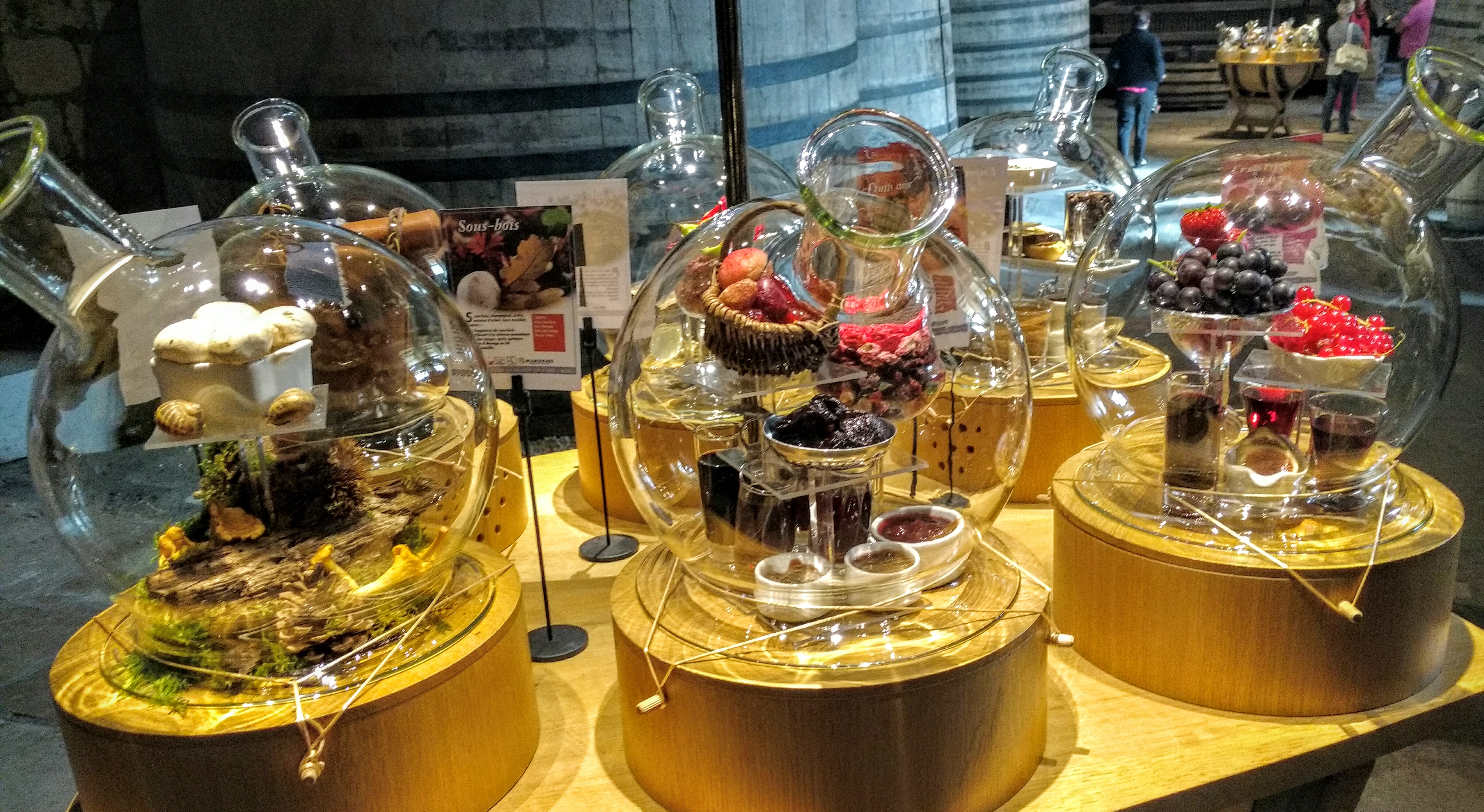 Nowadays, the Castle doesn't produce wine anymore. Even if it is surrounded by the clos de Vougeot vines, it is not theirs to vinify. It mainly holds a historical, symbolical identity in the region, with perfect installations for visits or events. Its main goal is an educational one. Big story-telling panels of the Ducs de Bourgogne lineage are displayed in the old press room, along two of the oldest press in Burgundy and other ancestral casks and materials. École des vins de Bourgogne came up with a creative way of defining aromas characteristics in wine. This very beautiful and colourful installation was also right in the old pressing room of the Château du clos de Vougeot. The globes all had a specific type of aromas with various more detailed aromas mixed inside. What a fun way to introduce tasting.
De nos jours, le château ne produit plus de vin. Même s'il est entouré par les vignes du Clos de Vougeot, elles ne leur appartiennent pas. Le Château maintient essentiellement, une identité symbolique et historique dans la région, avec des installations parfaites pour des visites ou des événements. Son objectif principal est d'ordre pédagogique. De grands panneaux racontant l'histoire de la lignée des Ducs de Bourgogne sont affichés dans l'ancienne salle de presse, avec deux des plus anciennes presse en Bourgogne et d'autres fûts et matériaux ancestraux. L'École des vins de Bourgogne a présenté une façon créative de définir les arômes caractéristiques du vin. Cette installation très belle et colorée était également placée dans l'ancienne salle de pressage du Château du Clos de Vougeot. Les globes avaient tous un type spécifique d'arômes avec divers arômes plus détaillés mélangés à  l'intérieur. Quelle façon amusante d'initier à  la dégustation.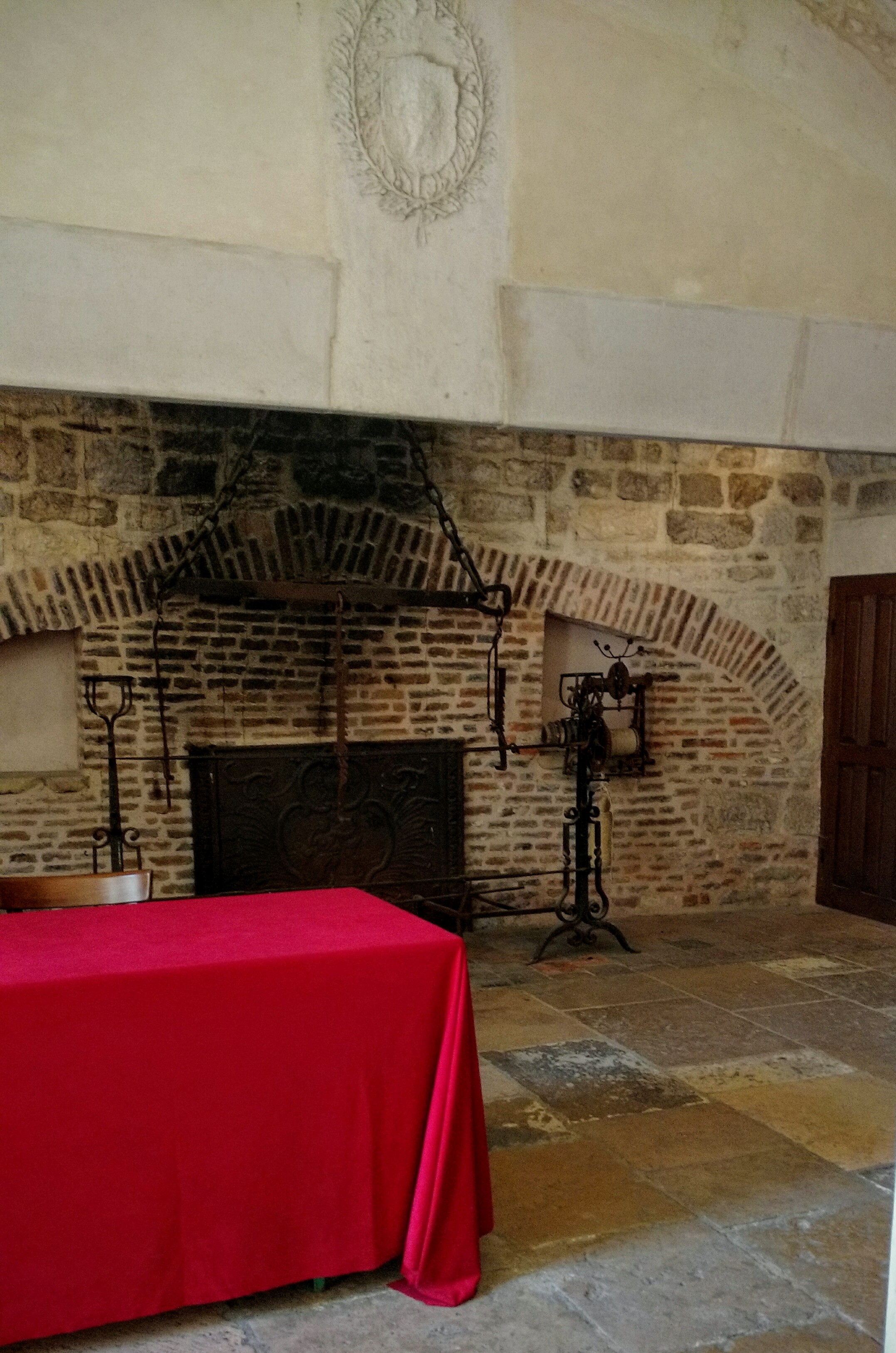 Next to the modern kitchen where the resident team of cooks are preparing meals for every events, is located the old kitchen of the Castle. A lot more modest than the operative one, the main fireplace is the biggest one in all Burgundy said to be adapted to cook a whole cow. Take that, vegetarians!
A côté de la cuisine moderne où l'équipe résidente de cuisiniers prépare des repas pour tous les événements, se trouve l'ancienne cuisine du château. Beaucoup plus modeste que celle opératoire, le foyer principal est le plus grand de toute la Bourgogne supposément adapté pour cuire une vache entière. Dans les dents, les végétariens!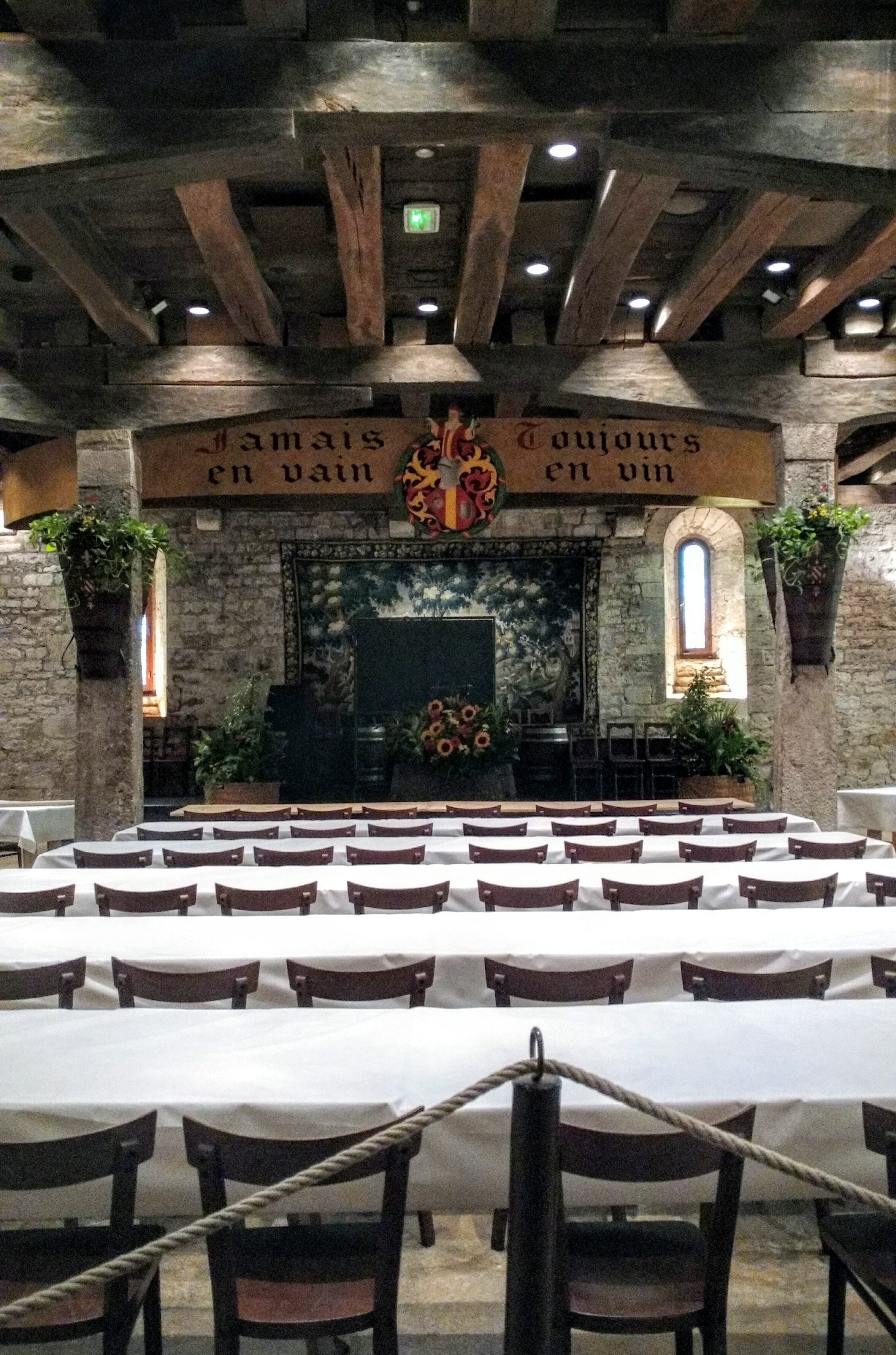 We can't discuss Château du Clos de Vougeot without mentioning the Confrérie des Chevaliers du Tastevin. It is the flagship of the Confrérie and is holding all of their Chapters and celebrations. While they are the main users, the castle is still state property and the confrérie are only tenants. The lease has started in 1934 and is valid for 99 years. That would only leave 17 years left. Aside from the First Glorious day of Bourgorgne on the first Saturday of November, numerous Chapters are celebrated there: Spring, Summer, Autumn, the Equinox, The Roses, Saint-Vincent, Saint-Hubert, etc. These Chapters enable the Confrérie to welcome the most illustrious guests as well as the Chevaliers du Tastevin coming from everywhere in the world. They are to date over 12 000 members.
Nous ne pouvons pas discuter du Château du Clos de Vougeot sans mentionner la Confrérie des Chevaliers du Tastevin. Il est le fleuron de la Confrérie et tient tous leurs Chapîtres et leurs célébrations. Alors qu'ils sont les principaux usagers, le château est toujours la propriété de l'État et la confrérie ne sont en fait que locataires. Le bail a commencé en 1934 et est valable pour 99 ans. Il ne resterait donc que 17 ans. Mis à  part la première Glorieuse de Bourgorgne, le premier samedi de Novembre, de nombreux Chapîtres sont célébrés: Printemps, Été, Automne, Équinoxe, Les Roses, Saint-Vincent, Saint-Hubert, etc. Ces Chapîtres permettent à  la confrérie d'accueillir les plus illustres invités ainsi que les Chevaliers du Tastevin venant de partout dans le monde. Ils seraient à  ce jour plus de 12 000 membres.
Jamais en vain | Toujours en vin.
Never in vain | Always in wine